Patek Philippe, An Exceptional Platinum Tonneau-Shaped Automatic Minute Repeating Perpetual Calendar Wristwatch With Retrograde Date, Moon Phases And Leap Year Indication, REF 5013P, circa2004. Est. HK$ 2,800,000-3,800,000 / US$359,000 – 487,000*. Photo: Sotheby's.
HONG KONG.- Sotheby's Hong Kong Important Watches Autumn Sale 2016 will take place on 5 October at the Hong Kong Convention and Exhibition Centre. Leading the sale is A Ref 5013, Exceptional Platinum Tonneau-Shaped Automatic Minute Repeating Perpetual Calendar Wristwatch with Retrograde Date, Moon Phases and Leap Year Indication, by Patek Philippe. Alongside that, the sale will also present series of rare and complicated pieces from celebrated makers, as well as other cutting-edge modern wristwatches by both established and independent brands alike. Of a special note, a collection of sporty watches from a single owner will also be on offer. The current sale showcasing more than 290 lots totals approximately HK$37,100,000 – 53,400,000/ US$ 4,760,000 – 6,850,000*.
Katharine Thomas, Head of Watches Department, New York and Acting Head of Watches, Asia, commented, "This fall, Sotheby's is pleased to offer a fine selection of watches representing the best of modern Swiss watchmaking for our most discerning connoisseurs. There are rare and sought-after wristwatches, pocket watches and timepieces spanning over a century of the Patek Philippe's finest creations; as well as modern watches encompassing a range of breath-taking complications. We are particularly excited to offer a single owner group of pieces curated by a collector with a sporty and rugged aesthetic. Embodying a spirit of classic taste imbued with youth and masculinity, this collection is perfect for today's gentlemen."
AUCTION HIGHLIGHTS
Patek Philippe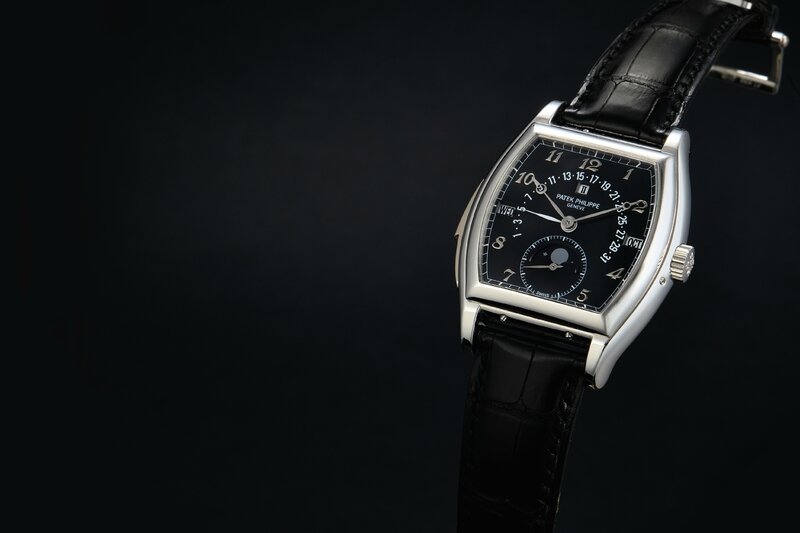 Lot 2289. Patek Philippe, An Exceptional Platinum Tonneau-Shaped Automatic Minute Repeating Perpetual Calendar Wristwatch with Retrograde Date, Moon Phases and Leap Year Indication, Ref 5013P, circa 2004. Est. HK$2,800,000 – 3,800,000 / US$359,000 – 487,000. Photo: Sotheby's.
Launched in 1992, Reference 5013 is one of the most complex wristwatches ever made by Patek Philippe, with a total of 515 parts. It was also the first minute-repeating wristwatch to feature an automatic movement combined with perpetual calendar with retrograde date indication. The retrograde date hand moves along a 270 degree arc and flies back to the first of the month at midnight of the last day of each month. The tonneau-form shape hearkens back to the most celebrated vintage minuterepeating wristwatches by Patek Philippe, such as the Henry Graves Minute Repeating Wristwatch, sold by Sotheby's New York in June 2012 for US$3,000,000.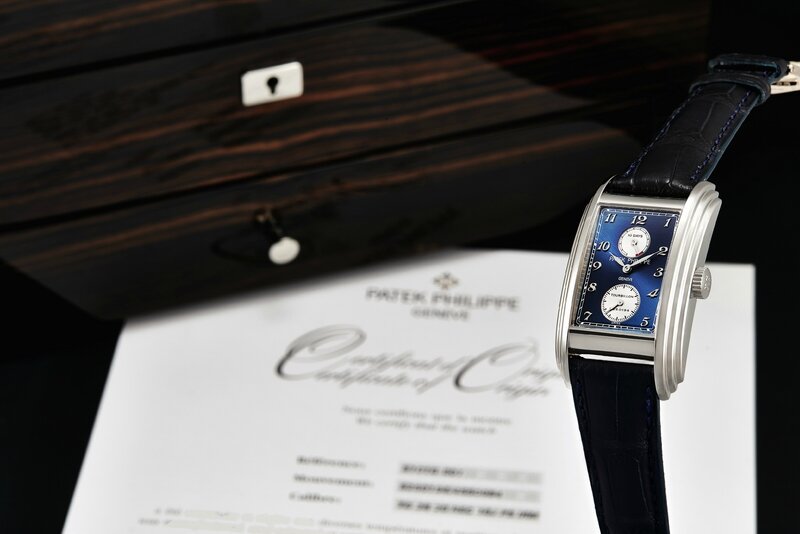 Lot 2291. Patek Philippe, A Fine and Rare White Gold Rectangular Tourbillon Wristwatch With 10-Day Power Reserve Indication, Ref 5101G-001, circa 2011. Est. HK$800,000 – 1,200,000 / US$ 103,000 – 154,000. Photo: Sotheby's.
Sporting an impressive triple-stepped case inspired by Patek Philippe's legendary Art Deco designs, the Ref 5101 carries a combination of two rare complications: a tourbillon and a ten-day power reserve which took the engineers three years to complete. When launched, it was the first of its kind. The tourbillon is showcased on the bridge side as the dominant element of the movement, beautifully revealed through the sapphire crystal display back. The rotating cage alone is composed of 72 miniscule individual parts, yet weighing merely 0.3 grams. It takes a Patek Philippe watchmaker up to three months to produce a Ref. 5101 from beginning to end, and the present lot is precious in that it is one of the only two examples of Ref. 5101 in white gold to be offered at auction.
Modern Wristwatches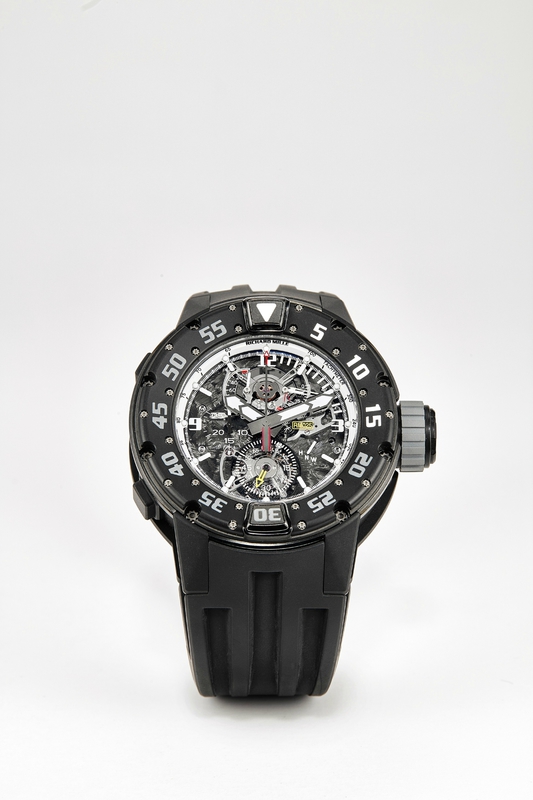 Lot 2128. Richard Mille, A Rare And Innovative Carbon Composite And Titanium Skeletonized Tourbillon Chronograph Diver's Wristwatch With Power Reserve And Torque Indication, RM025, circa 2014. Est. HK$1,200,000- 1,600,000 / US$154,000 – 206,000. Photo: Sotheby's.
With distinctive modern and technical designs, RM025, part of the Richard Mille diver's watch collection, is a testament to Richard Mille's commitment to innovation in the world of horology. The RM025 is a timepiece that is unlike any other Richard Mille creation, not only in its exterior appearance, but also for its ability to deal with one of the world's harshest environments with a water resistance of 300 meters, all the while continuing to preserve the values of traditional Swiss watchmaking. The RM caliber RM025 unites the complication of a tourbillon with the prominent complexities of a chronograph movement – a combination extremely difficult and rarely achieved in watchmaking. Another exotic element is the torque indicator complication that is positioned to the right of the barrel, between 12 and 1 o'clock. This indicator shows the tension of the mainspring, ensuring the chronometer function of the movement.
Lot 2052. A. Lange & Söhne, A Fine And Rare Platinum Rectangular Tourbillon Wristwatch With Patented Stop-Seconds Mechanism, Date And Power Reserve Indication, Cabaret Tourbillon, circa 2011. Est. HK$800,000 - 1,200,000 / US$103,000 – 154,000. Photo: Sotheby's.
In 2008, A. Lange & Söhne introduced the new Cabaret Tourbillon with the first stop-seconds feature ever implemented in a tourbillon calibre. This is the first timepiece of its type that can be set precisely to the second, allowing an accurate synchronisation with an external time source. The case in an elegant rectangular shape exudes charismatic perfection of the Art Deco era. When the crown is pulled, an intricate mechanism sets into motion, putting two V-shaped spring arms into contact with the outer rim of the balance wheel, bringing it to an immediate halt. The ends of the two springs are asymmetrically designed so as to ensure that optimal pressure will be exerted onto stopping the balance, hence guaranteeing utmost accuracy when adjusting time. In addition to the patented stop-second mechanics, the twin mainspring barrel also provides the movement with a power reserve of five days when fully wound.
Single-Owner Collection of Sport Watches
Continuing the success of 'A Private Single-Owner Collection of Important Wines & Watches' in Spring 2015, this enchanting line-up of sporty watches hailing from the same owner takes the auction stage again, tellingly illustrates the refined and zealous taste of a modern-day gentleman. The collection garners a range of timepieces characterised by their youthfulness and masculine charm, encompassing limited editions by prestigious makers such as Audemars Piguet, Panerai and Jaeger-LeCoultre.
Lot 2127. Audemars Piguet, A Pink Gold And Forged Carbon Tourbillon Chronograph Wristwatch With 10-Day Power Reserve, Case H03575 Royal Oak Offshore, circa 2010. Est. HK$800,000 – 1,200,000 / US103,000 – 154,000. Photo: Sotheby's.
Launched in 1993, Audemars Piguet Royal Oak Offshore series has been at the forefront of robust watch styles. Year after year, the collection evolved alongside the brand, taking this innovative spirit to an extreme by embracing high-tech materials like forged carbon and ceramic. This particular timepiece features an openwork dial revealing twin barrels, offering 10-day power reserve with the column wheel chronograph mechanism and tourbillon fully visible. The ruggedness of forged carbon offers a stark contrast against the luxurious elegance exuded by pink gold material, making this a statement timepiece for collectors pursuing individuality and personal taste.