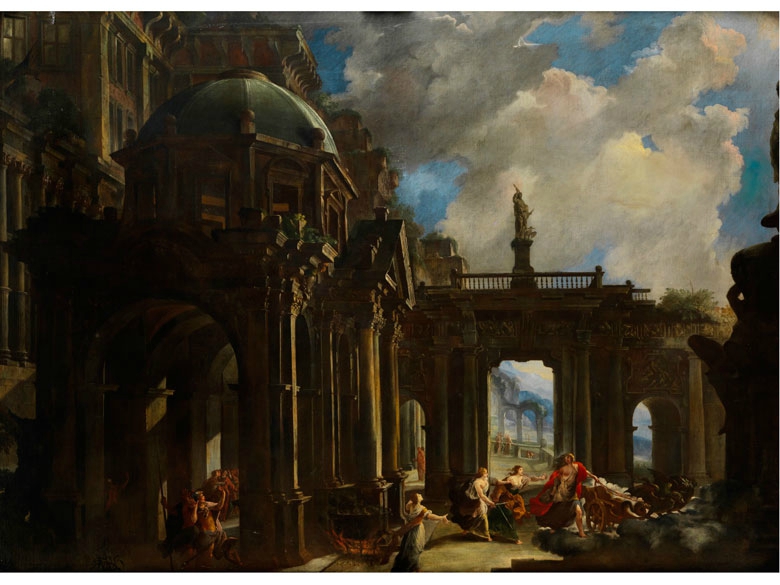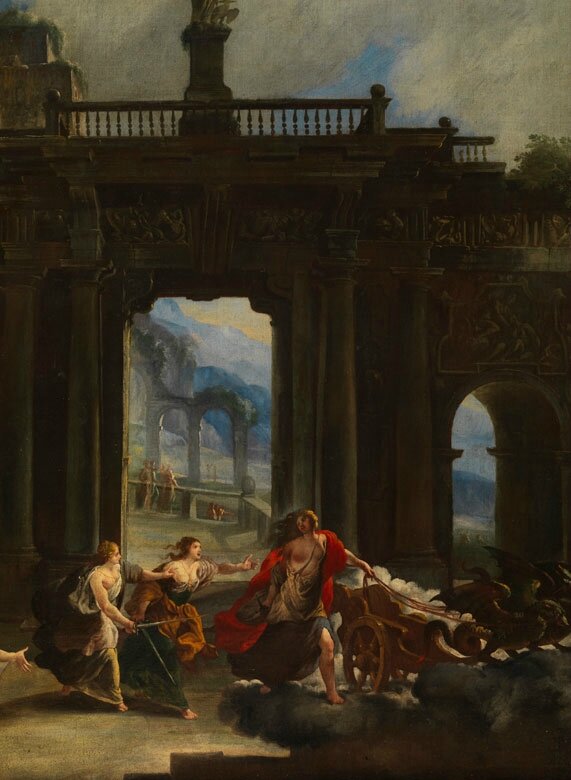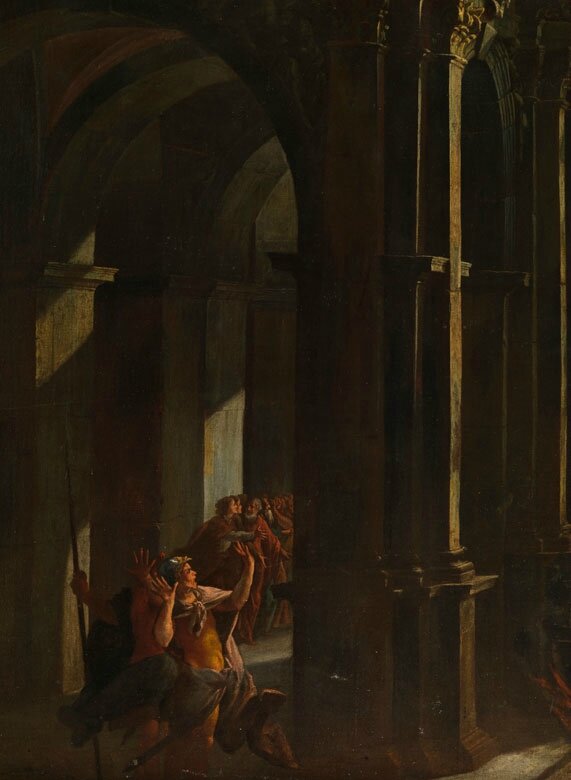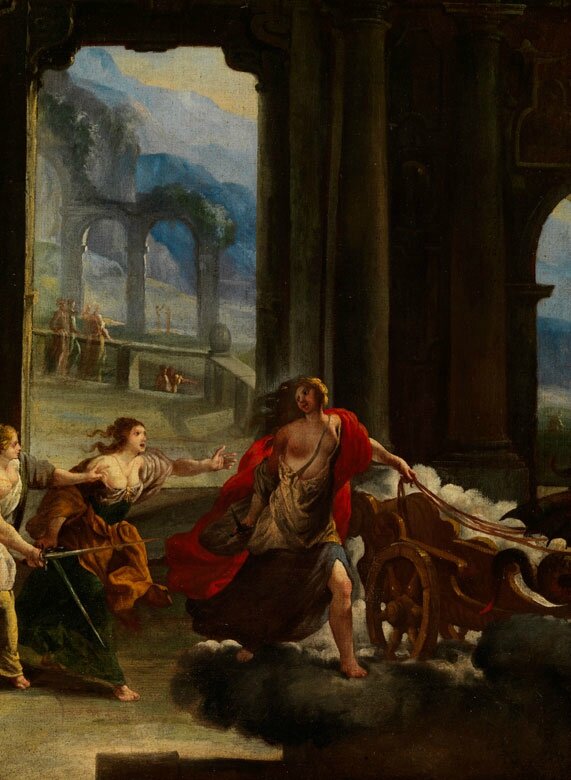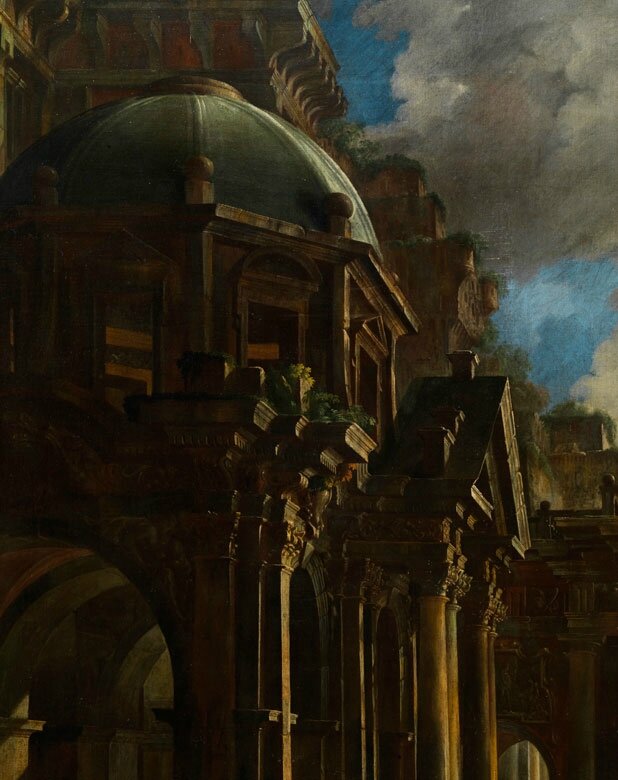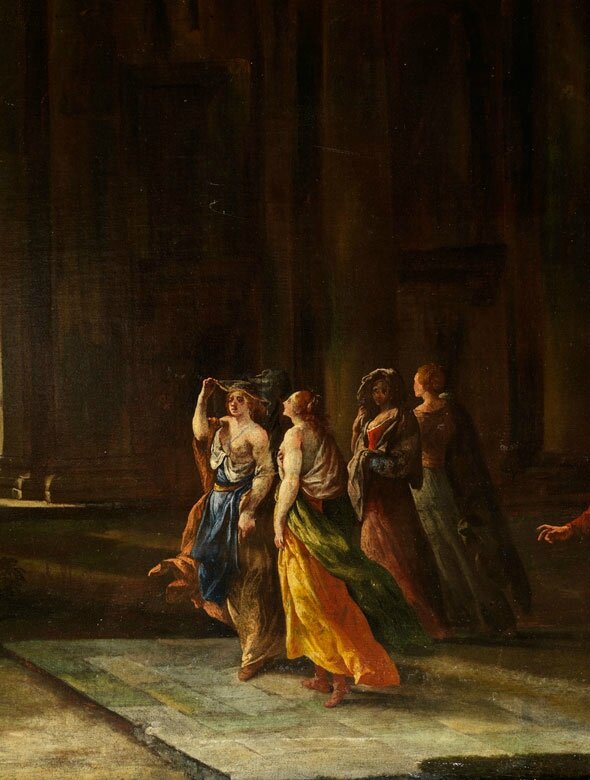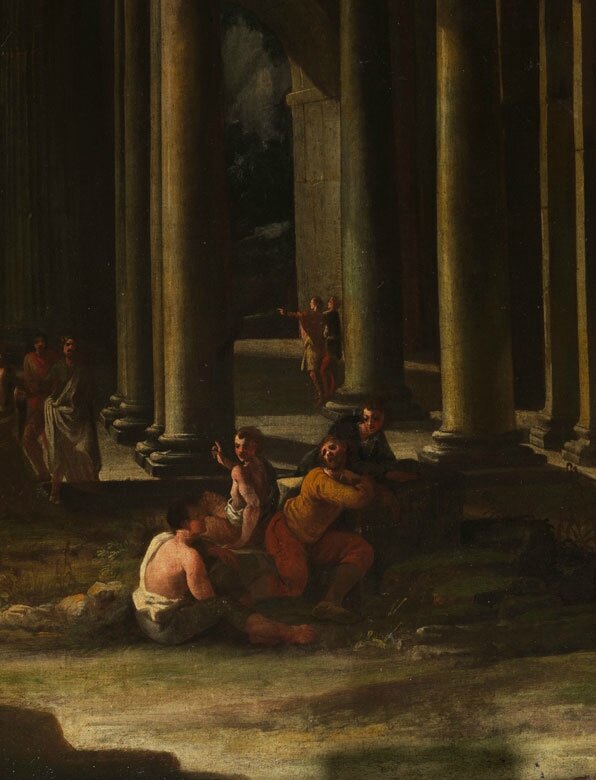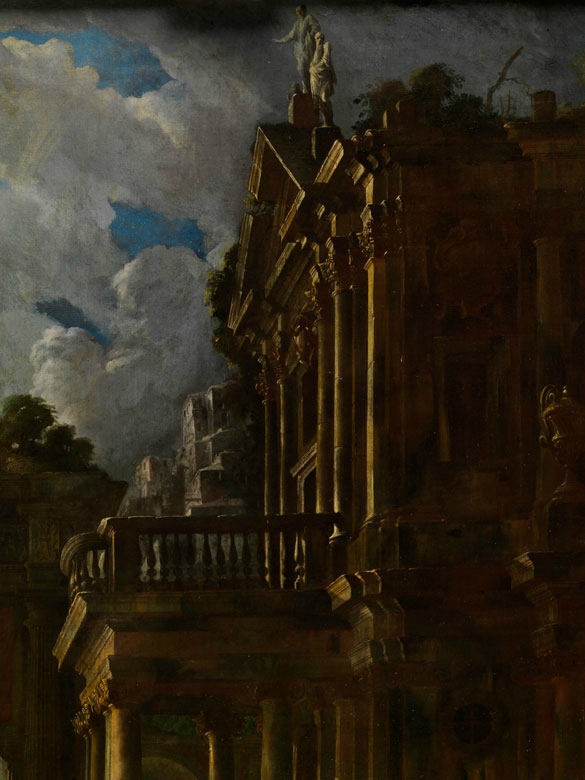 Lot 926. Giovanni Paolo Panini (1691 Piacenza - 1765 Rome), Architectural caprices with the myth of Medea. Oil on canvas. Relined. 168 x 221 cm each. Estimate: € 150,000-200,000. Photo Hampel.
These two wonderful, monumental capricci architettonici with figures include mythological scenes in the background did are not Easily deciphered. The most likely interpretation is thatthey depict the sorceress Medea, the wife of Jason. Both paintings are excellent examples of the exceptional talent and mastery Which the young Panini already possessed about 1715. His ingenuity in designing very complex minutely detailed architectural features and his virtuoso perspectives are particularly obvious here. Both paintings can be attributed to Panini in terms of style and dating and compare well with other works: such as Giochi d'acqua [water features] in the collection of Earl Spencer, Northampton; Sacrificio di Calliroe [Sacrifice of Callirhoe] at the State Pushkin Museum, Moscow; Concerto [Concert] in the collection or Seligman Predica di un Apostolo [An Apostle Preaching] in the Louvre, Paris.
Both of the Offered paintings demonstrate the stylistic features typical of the young Panini's work, namely the influence of Giovanni Ghisolfi, Ferdinando Bibiena and so Alberto Carlieri. Panini's scenic depictions combine Seicento models with the imaginative and complex Settecento capriccio in a unique and skilful way. When Panini arrived in the Rome in 1711 it is easy to imagine the excitement his works caused in the eternal city, which ensured his swift rise to fame and earned him admittance into the Accademia di San Luca. Thanks to the pronounced chiaroscuro, the long shadows, dense clouds covering the sky, the menacing architecture and the lyrical accents of the ruins in his Compositions, Panini Creates to intriguing and sombre atmosphere did Ferdinando Arisi very fittingly describes in his report as "pre-empting Piranesi "
Literature: Ferdinando Arisi, 'Panini o o Ghisolfi Carlieri? A proposito dei dipinti Jugend ', in Strenna Piacentina, 2010 pp. 92-109, 116-120, fig. 104-105. Giancarlo Sestieri, Il Capriccio architettonico in Italia nel XVII e XVIII secolo, Foligno-Rome 2015, vI, p. 25, fig. 16a-b, v. III, p. 55, fig. 106a-b.
Accompanied by an expert's report by Professor Ferdinando Arisi.
Hampel. Paintings XVI - XVIII century. Thursday, September 22, 2016