A Rare Turquoise-Ground Famille-Rose 'Hui Mountain Retreat' Teapot And Cover, Qianlong Seal Mark And Period. Estimate: $300,000 - 500,000. Sold for: $3,490,000 (£2,620,710). Photo: Sotheby's.
NEW YORK, NY.- Over the course of two days, Sotheby's New York sales of Chinese Art brought a total of $14,748,350 – well over the $7.4/10.8 million estimate. The auction was led by a series of outstanding results for rare objects that drew up to a dozen bidders, driving prices to multiples of the high estimates. A teapot, from a private American collection, soared over its $300/500,000 estimate almost immediately, before selling for $3.5 million, while a Gilt-Bronze Figure of the Dali Lama also eclipsed its $80/100,000 estimate to fetch $1.5 million. The various-owner sale of Important Chinese Art brought $12,246,850 and followed the 'white-glove' sale of Chinese Art Through the Eye of Sakamoto Gorō: Early Chinese Art, which achieved $2,501,500.

Angela McAteer, Head of Sotheby's Chinese Works of Art Department, New York noted: "The contest amongst more than ten bidders that pushed a 250 year-old teapot to $3.5 million reminded us of auction's unique magic. The piece, having been enjoyed by an American collector for decades, was just one of a number of works that soared over pre-sale expectations after drawing bidding from determined collectors. As we saw throughout our two days of sales, the Chinese Art market remains robust, with major collectors deeply engaged in owning the finest examples of the country's artist heritage."

The undeniable highlight of the sale was a Rare Turquoise-Ground Famille-Rose 'Hui Mountain Retreat' Teapot and Cover, Qianlong Seal Mark and Period, which sold to a packed salesroom for $3,490,000 (estimate $300/500,000). Chased by multiple clients in the room and on the telephone, the bidding began at $250,000 before quickly jumping to $1 million and selling to applause for the final price. This wonderful work of art, one of only two known, is an ode to Emperor Qianlong's adoration of tea; the front features a figure, possibly the Qianlong Emperor, being served tea while admiring an open handscroll. The reverse is an imperial poem, entitled Jihuiquan peng zhulu ge (Brewing Tea by Hui Swing), written by the Emperor himself following a visit to the Hui Spring during his Southern Inspection Tour.
A Gilt-Bronze Figure Depicting Ngawang Lobsang Gyatso, Dalai Lama V led Sotheby's offerings of devotional works of art, selling for $1,510,000 (estimate $80/100,000). Acquired in Turin, Italy in the 1960s, this Tibeto-Chinese portrait from the 18th Century depicts one of the most significant personalities in Tibetan political and religious history. The attention to detail, from the molding of the face and figure, to the embroidery of the Dalai Lama's robes, is particularly fine. The artist also pointedly added a pointed moustache and receding hairline to the gilt-bronze figure, two distinctive features of Ngawang Lobsang Gyatso.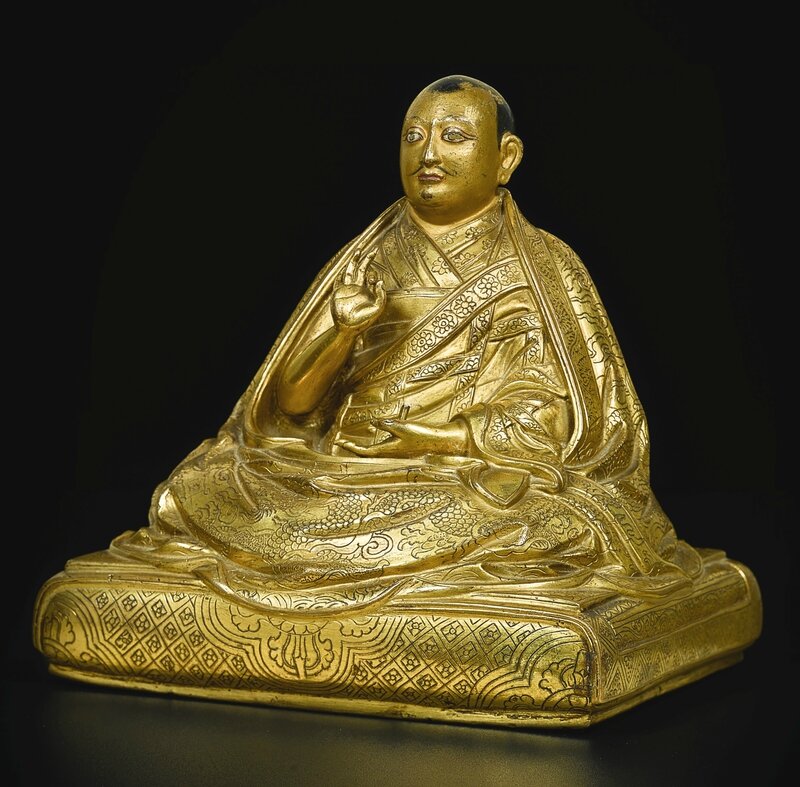 A gilt-bronze figure depicting Ngawang Lobsang Gyatso, Dalai Lama V, Tibeto-Chinese, 18th century. Estimate 80,000 — 100,000 USD. Lot sold 1,510,000 USD. Photo: Sotheby's.
(Cf. http://www.alaintruong.com/archives/2016/09/14/34320949.html)
Throughout the sale, bidders from around the world sought the finest ceramics and porcelain. A Pair of Rare Wucai and Doucai 'Dragon and Phoenix' Bowls, Yongzheng Marks and Period flew above its high estimate of $80,000, fetching $874,000. The meticulous painting of the dragon and phoenix design, a reinterpretation of a motif that originated in the Kangxi Period, added to the desirability of these works of art, of which only two others are known to exist. A Very Rare Portuguese Market Blue and White Bottle Vase (Yuhuchunping), dated 1552 with Jiajing Mark and Period sold to applause for $418,000 (estimate $120/150,000). Belonging to a group referred to as the 'Jorge Alvarez bottles', a very significant and rare group of vases, its companions reside in distinguished museums and galleries around the world, including the Victoria and Albert Museum in London, the Walter's Art Museum in Baltimore and the Musée Guimet in Paris.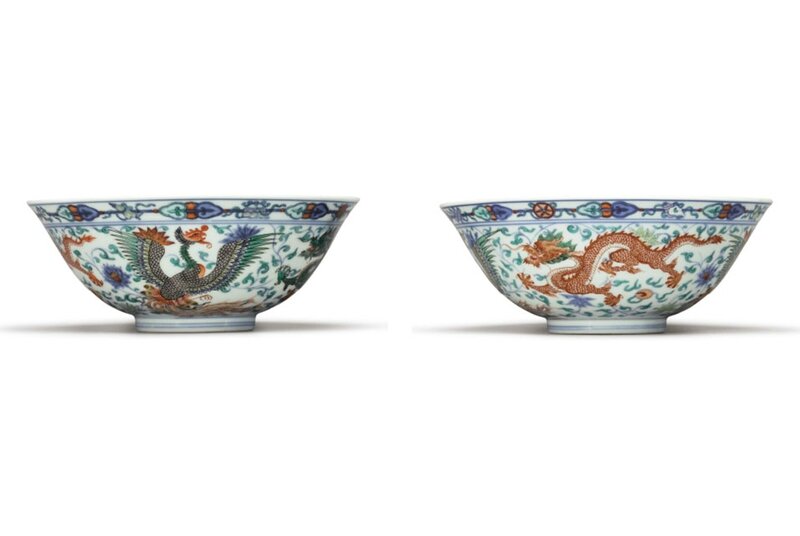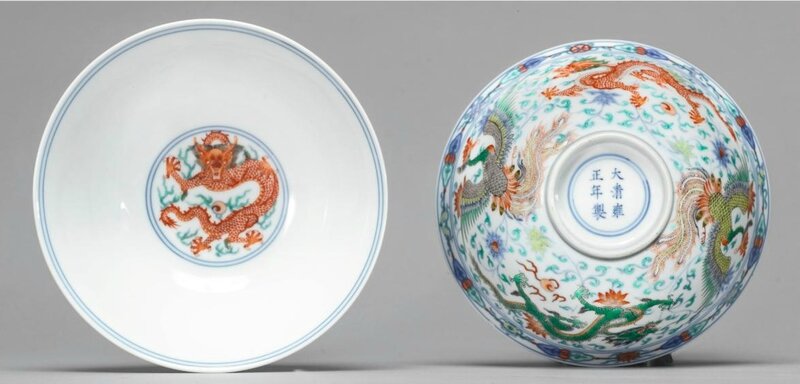 Lot 260. A Pair Of Rare Wucai And Doucai 'Dragon And Phoenix' Bowls, Yongzheng Marks And Period. Estimate: $60,000 - 80,000. Sold for: $874,000 (£656,304). Photo: Sotheby's.
each with deep rounded sides rising from a slightly tapered foot to a flaring rim, finely decorated to the exterior with two five-clawed scaly dragons in pursuit of 'flaming pearls', divided by a pair of ascending phoenix with spreading wings and feathery tails, reserved on a dense ground of undulating leafy foliate stems issuing lotus blossoms, all below a band of 'Auspicious Emblems' and ruyi at the rim, the interior with a medallion enclosing a frontal dragon coiling around 'the flaming pearl', the base with a six-character mark in underglaze blue (2) - Diameters 6 in., 15.1 cm
Provenance: Collection of Marian Harding, Westport, Connecticut (by repute).
Notes: This extremely rare dragon and phoenix design is a reinterpretation of a design that originated in the Kangxi period. Only two further bowls of this type appear to be known; one from the Paul and Helen Bernat collection was sold in our Hong Kong rooms, 15th November 1988, lot 27; and another was sold in our London rooms, 27th November 1973, lot 314.

This pair of bowls is outstanding for the quality of the decoration, with the dragons and phoenix painted in brilliant wucaienamels on a contrasting ground of soft doucai flower scrolls. The birds are unusually finely drawn, with wings displayed outstretched and elaborate tail feathers, rising towards the rim instead of swooping down towards the foot in the more common wucai versions of this bowl. The widely-flared form and the lotus scrolls replacing the usual composite floral scroll are also rare on bowls of this type.

The wucai version of the dragon and phoenix design remained popular throughout the Qing dynasty; for a Kangxi prototype, see a pair in the Palace Museum, Beijing, included in the exhibition Kangxi. Empereur de Chine, Musée National du Chateau de Versailles, Versailles, 2004, cat. no. 59; a Yongzheng version, from the collection of Eugene Y.C. Sung, sold in these rooms, 16th September 2009, lot 285; a Qianlong bowl, from the collection of Rende Zhai, sold at Christie's New York, 23rd March 2012, lot 2056; and a Jiaqing example sold in our Hong Kong rooms, 7th April 2015, lot 3703.
In addition to ceramics and porcelain, a Large Gray Stone Figure of a Seated Lion from the Northern Wei Dynasty tripled its low estimate of $60,000, selling for $212,500. Belonging to a special group of sculptures that were placed at the entrances to important tombs, this spectacularly-carved lion also carries a distinguished provenance. Purchased by J.T. Tai from Galerie C.T. Loo & Cie in Paris, before being sold at Sotheby's New York in June 1985, the present lot appears alongside the daughter of C.T. Loo, standing in her father's gallery, in a photograph owned by the Freer Gallery of Art in Washington D.C.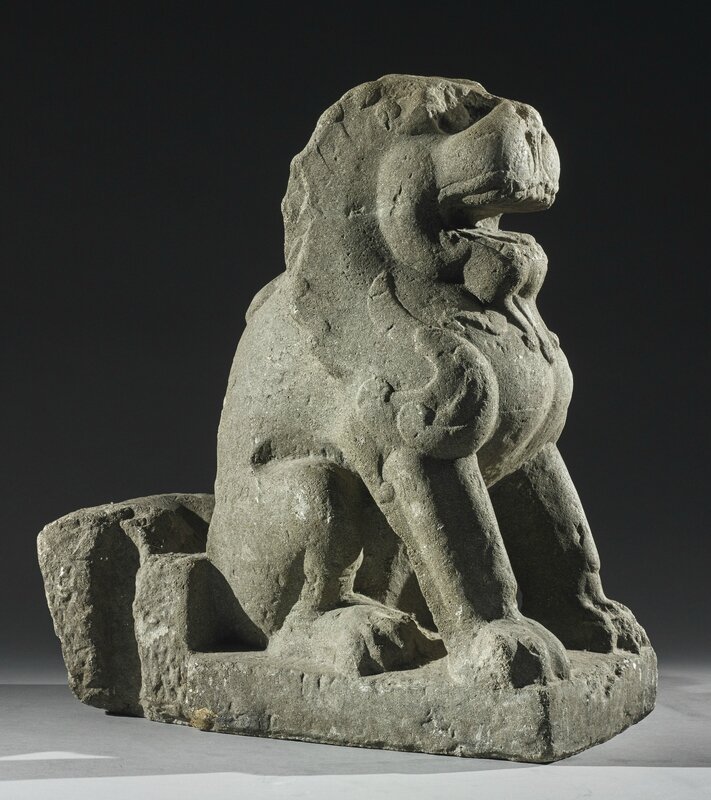 A large gray stone figure of a seated lion, Northern Wei dynasty (386–535). Estimate 60,000 — 80,000 USD. Lot sold 212,500 USD. Photo: Sotheby's.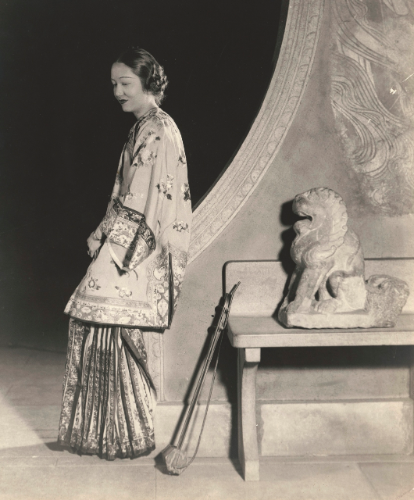 Monique, daughter of C.T. Loo, photographed with the present lot in the Pagoda Paris, 1937 © Freer Gallery of Art and Arthur M. Sackler Gallery Archives, Smithsonian Institution, Washington, D.C., FSA A2010.07 26.
Cf. http://www.alaintruong.com/archives/2016/09/14/34321305.html