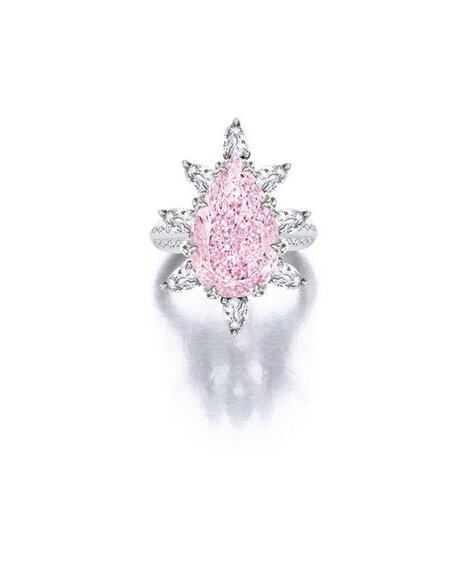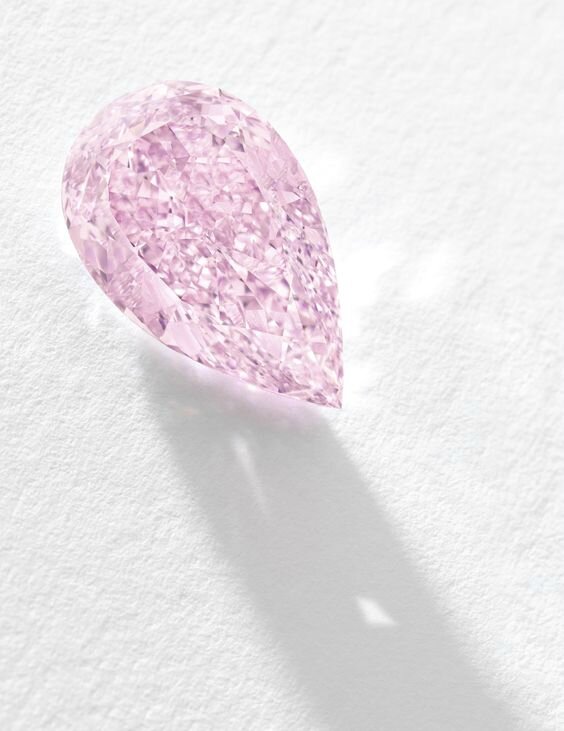 Lot 1794. Very Fine 6.59 carats Fancy Intense Purple-Pink Diamond and Diamond Ring. Estimate 41,000,000 — 50,000,000 HKD. Photo: Sotheby's.
Set with a pear-shaped fancy intense purple-pink diamond weighing 6.59 carats, accented with pear-shaped and circular-cut diamonds, mounted in 18 karat white gold. Ring size: 5½.
Accompanied by GIA report numbered 2171664883, dated 13 June 2016, stating that the 6.59 carat diamond is natural, Fancy Intense Purple-Pink Colour, Internally Flawless.
PLEASURE IN PINK
One of nature's greatest and most wondrous phenomenon, diamonds are the perennial symbols of love and commitment. Its name derived from the Greek word 'adamas', translating as the 'unconquerable'.
Although diamonds flourish as rainbow hues, only 0.01% of the world's total production is known to have any noticeable colour. Each colour is nature's secret recipe, and only the most sophisticated balance of ingredients can culminate in an exceptional, alluring beauty. Among those, pink diamonds is known to be one of the rarest hues that come from Mother Nature.
A tender feminine tone, this signature warm color emerges from the distortion of the crystal structure, an atypical occurrence called graining, that appears almost as a mirage in the unsurmountable gem. As the grains intensify, so does the hue and saturation.
As this natural treasure draws more and more attention from gem connoisseurs and aficionadas around the world, the demand for charming pinks far exceeds the supply. Whenever a pink diamond over 5 carats is put up at an auction, it assumes a pivotal position in the auction room. Time after time, pink diamonds have fetched astronomical prices as nature's masterpieces. In November 2010, Sotheby's Geneva sold a 24.78 carat fancy intense pink diamond for US$ 45.6 million, which set the record as the most expensive singe jewel to sell at an auction at the time
A unique combination of rarity, colour and clarity, Sotheby's is proud to present this exquisite diamond at auction.
Sotheby's. Magnificent Jewels & Jadeite, Hong Kong, 04 Oct 2016, 02:00 PM