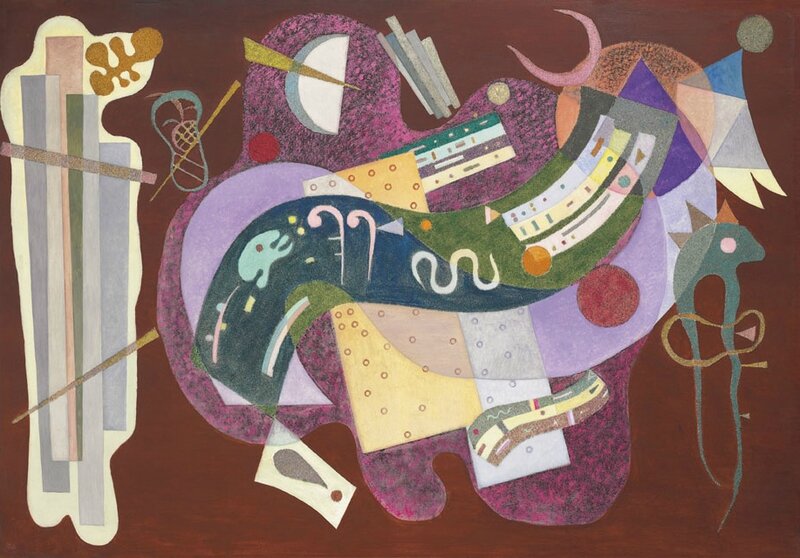 Wassily Kandinsky (1866-1944), Rigide et courbé, signed with monogram and dated '35' (lower left), oil and sand on canvas, 44 7/8 x 63 7/8 in. (114 x 162.4 cm.) Estimate: $18,000,000-25,000,000. © Christie's Images Limited 2016.
NEW YORK, NY.- Christie's announces Wassily Kandinsky's Rigide et courbé as a highlight of its November 16th Impressionist and Modern Art Evening Sale in New York. Rigide et courbé (Rigid and Curved) is one of the most celebrated and dynamic compositions, of grand scale. The canvas is densely packed with lively geometric vignettes and a thoughtfully textured surface composed of sand mixed with paint, a technique Kandinsky used only in his Paris paintings of 1934-1935. The present work, first owned by Solomon R. Guggenheim who acquired it from Kandinsky in 1936, has been extensively published and highly exhibited from 1937-1949. Estimated at $18-25 million, the painting is undoubtedly the most important Paris period painting by Kandinsky to ever appear on the market. It is being offered from an important private American collection and has not been on the market since 1964. The upcoming sale preview marks the first time in over 50 years that the work will be publicly displayed.

Conor Jordan, Deputy Chairman of Impressionist and Modern Art, remarked: "With its dynamic sweep of upward energy, Kandinsky's Rigide et courbé, a late masterpiece from the mid-1930s, unseen in public for over fifty years, evokes an epic paean, a rhapsodic song of thanksgiving suggesting the bright hope the artist saw in his new home in Paris following his flight from Nazi Germany. Abstract forms, runic symbols and mythic references, summoning Kandinsky's life and career, intertwine with veiled allusions to contemporary events, across the broad dimensions of this technically audacious canvas which is richly worked in oil and sand. It ranks among the greatest Kandinskys still in private hands."

Kandinsky completed the present work in December of 1935, marking the second anniversary of his arrival in Paris after the closure at the Berlin Bauhaus. After spending the summer of 1933 in Paris and on holiday by the Mediterranean, Kandinsky and his wife Nina decided to re-locate from Berlin to the French capital. Marcel Duchamp located a three-room, sixth floor flat in a new building at 135, boulevard de la Seine (today the boulevard Général Koenig), overlooking the river, in the Paris suburb of Neuilly-sur-Seine for them. The Kandinskys took up residence in their new home during the final days of December 1933.

Bound shapes on one side and the opposition of thrusting supple organic forms that press outward against the other suggest a veiled narrative of escape, release, and the freedom to begin anew, just as Kandinsky had recently experienced in the drastic, but hopeful change of circumstances in his own life. Rigide et courbé reflects the profound impact Kandinsky's new French surroundings had on his painting. The light in Paris changed his palette and the scale of his works grew.