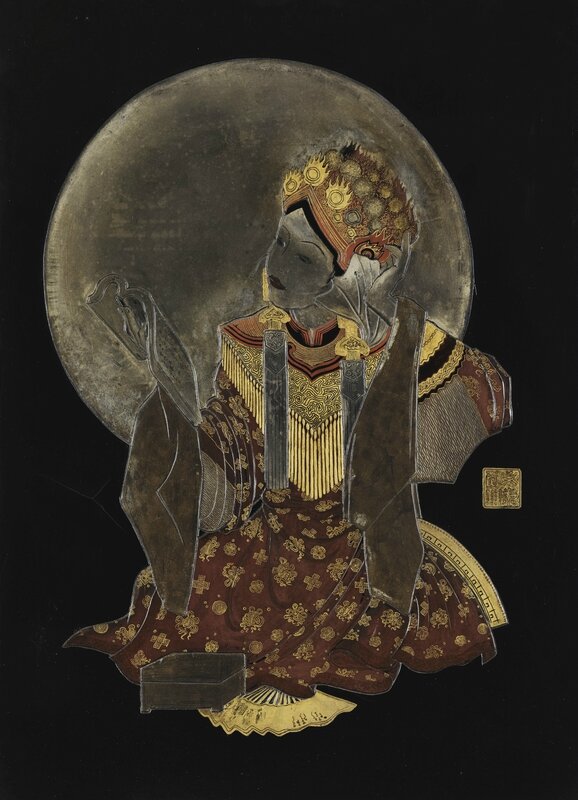 Lot 263. Nguyễn Khang (1911-1989), A traditional Vietnamese opera actress reading under moonlight, stamped with a seal of the artist and dated 43; accompanied with an exhibition sticker on the edge of the reverse, lacquer on wood, 70 by 50 cm; 27 1/2 by 19 1/2 in. Estimate 200,000 — 300,000 USD. Photo Sotheby's.
Provenance: Private Collection, France
Notes: The artist Nguyễn Khang graduated in 1935 from the Hanoi School of Fine Arts. Along with fellow classmates such as Trần Văn Cẩn, Phạm Hầu and Nguyễn Gia Trí, he contributed to the birth of lacquer painting as a preeminent medium in twentieth-century Vietnamese modern art. The lacquer works of Nguyễn Khang fully blossomed after his journey to Paris for the acclaimed Universal Exhibition of 1937 followed by Japan in the early 40s.
Executed in 1943, the present lot exemplifies the relief carving technique which Nguyễn Khang pioneered and mastered during the 1930s and 40s. This lacquer panel depicts a full-body portrait of a Vietnamese traditional female opera singer with profound details and thought. The round sphere behind her represents the image of a full moon, and thus evokes an ancestral Asian ritual of communion between nature and culture. The shimmering silver pigments on the moon harnesses the moonlight effect in literal terms, reflecting light into the singer's face, hands and book. Moreover, the delicate treatment of her costume and accessories is an accurate documentation of the era.
The depiction of various characters under the moonlight is one of Nguyễn Khang's most beloved and revered themes throughout his artistic career.
Sotheby's. Modern and Contemporary Southeast Asian Art, Hong Kong, 03 Oct 2016, 10:00 PM