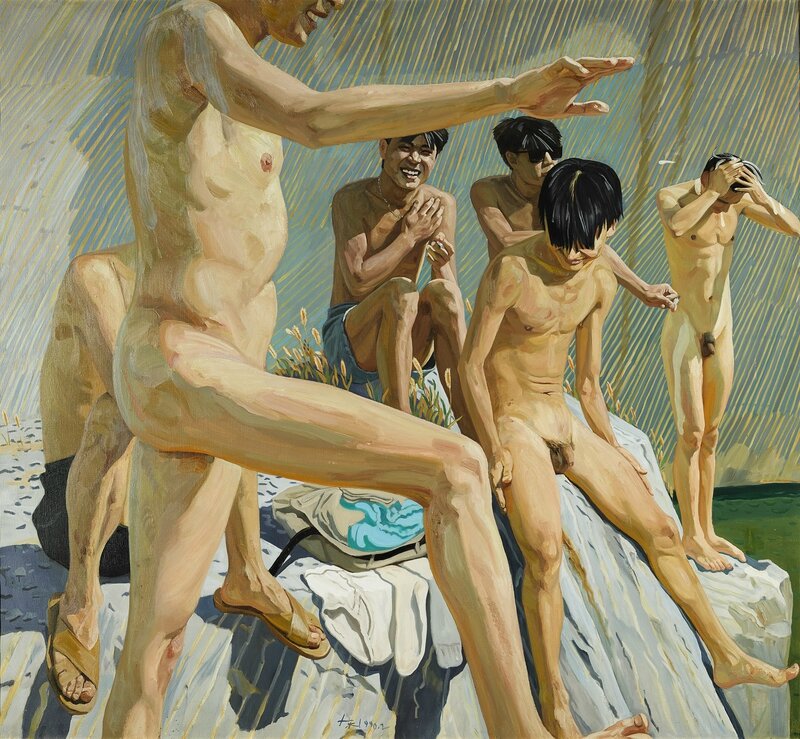 Liu Xiaodong, Showered in Sunlight, 1990, oil on canvas, 180 x 195. Est. HK$ 15,000,000 – 20,000,000/ US$ 1,940,000 – 2,580,000 (Evening Sale Item). Photo: Sotheby's.
HONG KONG.- Sotheby's Hong Kong Contemporary Asian Art Autumn Sales will take place from 2 to 3 October 2016 at Hong Kong Convention and Exhibition Centre. The Modern and Contemporary Asian Art Evening Sale on 2 October offers prime representative works by renowned Chinese, Japanese and Korean contemporary artists, including Zeng Fanzhi, Liu Xiaodong, Zhang Xiaogang, Ai Weiwei, Kusama Yayoi, Nara Yoshitomo and Lee Ufan, among others. Together with Contemporary Asian Art Day Sale and #TTTOP, a special sale guest-curated by Asian pop icon T.O.P, the three sales present a total of 230 artworks totaling approximately HK$311.8million – 451 million/ US$40million – 57.9 million.
Evelyn Lin, Head of Sotheby's Contemporary Asian Art, said: 'Our Contemporary Asian Art sales this season boast an impressive line-up of top-notch representative works by prevailing artists. Such rare finds, highly recognisable and with indisputable significance, have long been sought-after at auction. With the Chinese contemporary art market returning to the rational state, this autumn is set to be an opportune timing for discerning connoisseurs to acquire new treasures.'
Artists In Focus - Chinese Contemporary Artists
Liu Xiaodong (b. 1963)
Liu Xiaodong, Showered in Sunlight 1990, oil on canvas, 180 x 195 cm Est. HK$ 15,000,000 – 20,000,000/ US$ 1,940,000 – 2,580,000 (Evening Sale Item)
The artist's early museum-quality masterpiece, Showered in Sunlight features an unusual composition: six nude figures are arranged irregularly upon the canvas, with the foreground occupied by a partial human torso. The close-up perspective results in a strong 'visual pressure' that pulls viewers into the painting's reality. Despite the simple rendering of the background and the treatment of light, the artist's portrayal of the young men's spirit and the relationship among them are executed with brilliant virtuosity.
Zeng Fanzhi (b. 1964)
Sotheby's Hong Kong will present two large-format works by Zeng Fanzhi this season. From his significant Mask series, which he began in 1993, Society No. 3 is a large-scale exemplar of the series featuring a specific theme. Painted in 2001, it reflects the artist's gradual experimentation with different approaches, engaging in dialogue with the earlier Society No. 1, with the figure in the earlier painting wearing a traditional Chinese gown, versus the figure in the later piece donning a long, modern coat. The painting illustrates the anxiety rumbling beneath the façade of 1990s urbanisation in China.
Zeng Fanzhi , Society No. 3, 2001, oil on canvas, 218.5 x 144.5 cm. Est. HK$12,000,000 – 18,000,000 / US$1,550,000 – 2,330,000 (Evening Sale Item). Photo: Sotheby's.
In 2004, Zeng began experimenting with abstract landscapes. Created in 2007, the sizable masterpiece Landscape is representative of the artist's mature phase, continuing the exploration of line from his earlier phase while pursuing a new, more abstract variation. The branches are dense and bold, and the artist demonstrates the use of perspective in the composition. From the lake to the woods, hues of grey run to a combination of deep blues, blacks, and reds. The main subject here is a long road extending from the foreground into the distance. The path is lined with intertwined branches that seem to possess a life of their own. The artist skillfully combines Eastern and Western elements, integrating the traditional Asian influence with an effect in the style of renowned American artist Jackson Pollock, resulting in a unique, cross-cultural work of art.
Zeng Fanzhi, Landscape, 2007, oil on canvas 214.5 x 330 cm. Est. HK$ 8,500,000 – 15,000,000/ US$ 1,100,000 – 1,940,000 (Evening Sale Item). Photo: Sotheby's.
Liu Wei (b. 1965)
The Modern and Contemporary Asian Art Evening Sale features two 1990s-era works by Liu Wei, each representing an important phase in the artist's oeuvre. From 1991, Revolutionary Family Series (Three Figures) features the bright colours characteristic of the artist's Revolutionary Family Series and shows early hints of the distortion and exaggeration that the artist's later style would define. The background evokes propaganda paintings of the Cultural Revolution, while its Pop style conveys China's political atmosphere in the early 1990s. One of Liu's earliest works, it represented the artist in the 1993 Venice Biennale, a watershed moment for Chinese artists on an international stage.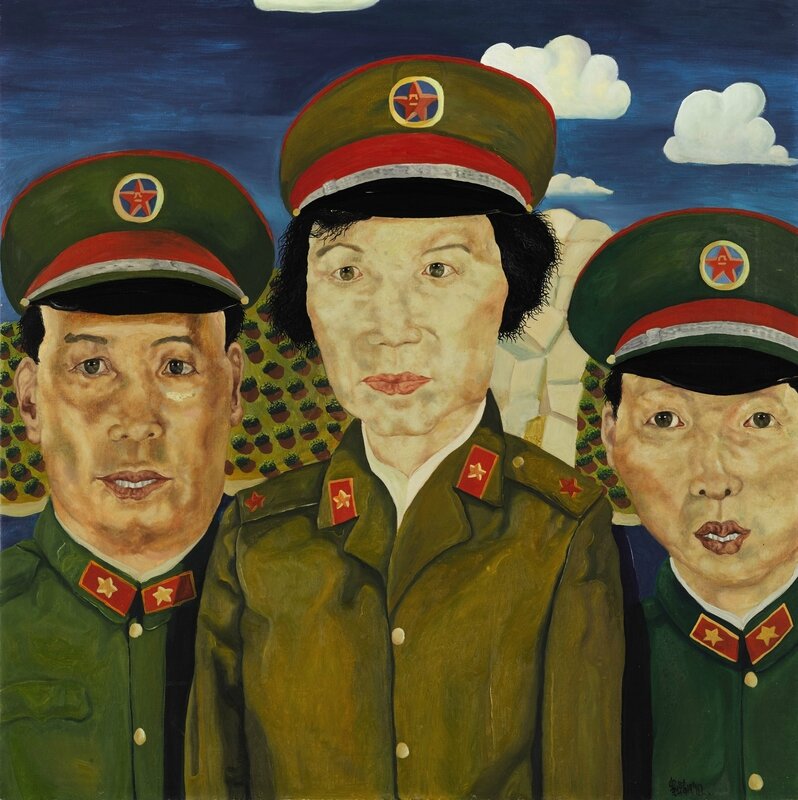 Liu Wei, Revolutionary Family Series (Three Figures), 1991, oil on canvas, 99.5 x 99 cm. Est. HK$10,000,000 – 15,000,000 / US$1,290,000 – 1,940,000 (Evening Sale Item). Photo: Sotheby's.
Painted in 1998, No Smoking is a classic work of Liu Wei's return to the individual and the inner being, with political and cultural movements a distant memory. A self-parody, it makes a small jibe at the artist's own tendency to paint with a brush in one hand and a cigarette in the other, conveying the artist's relaxed state of mind during his life of seclusion.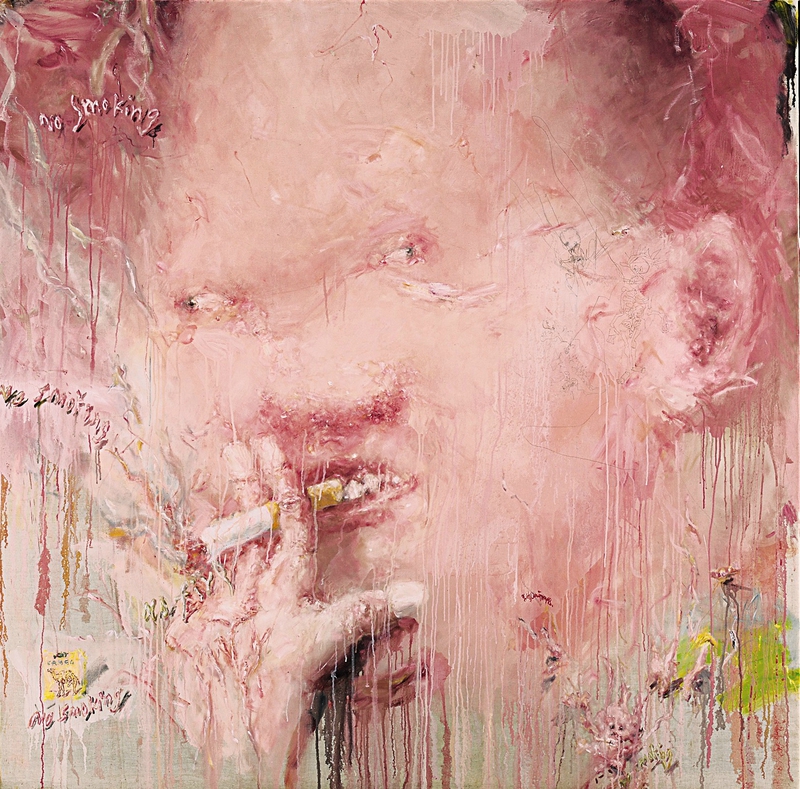 Liu Wei, No Smoking, 1998, oil on canvas, 170 x 170 cm. Est. HK$9,000,000 – 12,000,000 / US$1,170,000 – 1,550,000 (Evening Sale Item). Photo: Sotheby's.
The Ullens Collection
One of the world's most comprehensive collections of Chinese Contemporary Art, the Ullens Collection spans generations, schools of thought, movements and media, chronicling the evolution of Chinese modern and contemporary art. Sotheby's Hong Kong is honoured to once again present key works from this important collection. The net sale proceeds of the 34 important lots from this distinguished collection will support the UCCA's exhibitions and public programmes in 2016.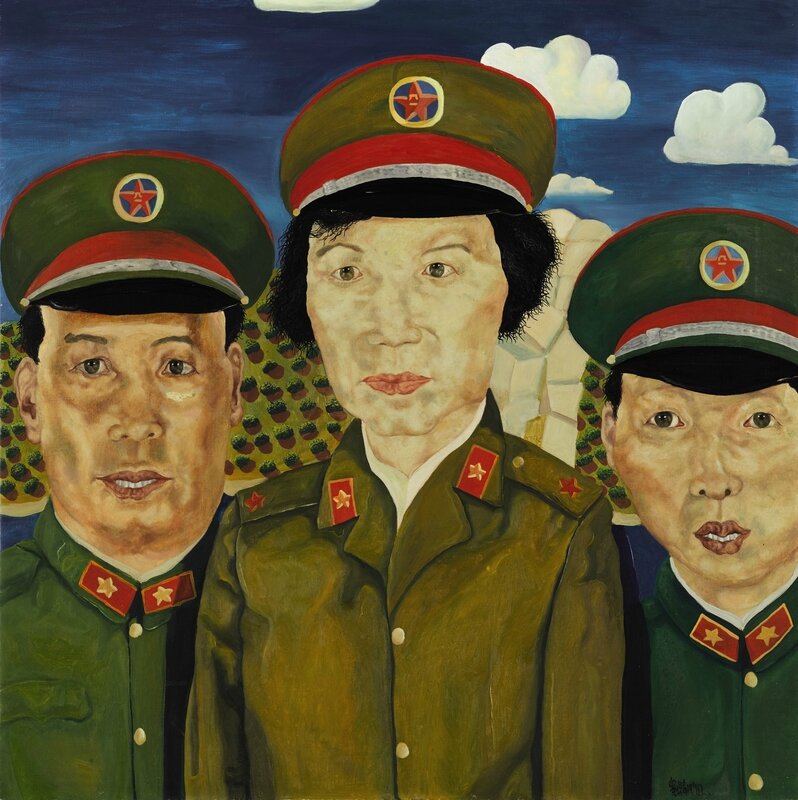 Zhang Xiaogang (b. 1958), Sisters and Brothers, 2009–2010, oil on canvas, 270.5 x 370 cm Est. HK$10,000,000 – 15,000,000/ US$1,290,000 – 1,940,000 (Evening Sale Item) **From The Ullens Collection**. Photo: Sotheby's.
In the 1990s, Zhang discovered, in yellowed family portrait photographs, a standpoint from which to narrate personal history, thus creating the Bloodline: Big Family series. Sister and Brothers features three figures: a sister and her two younger brothers, as compared to the two figure composition most commonly found in Zhang's works. The sister wears a typical 1970s green coat, while the older of the two younger brothers, clad in the 'Mao' uniform, carries a 'history' book, representing intellectuals, and the youngest brother faces the viewer, looking bewildered. Appearing regularly in Zhang's body of work, the siblings represent a shared experience of the Cultural Revolution, allowing viewers to trace stages of Chinese history through the artist's surreal perspective.
Important Chinese Contemporary Photography

The most important photography work of Ai Weiwei's early period, Dropping a Han Dynasty Urn raises powerful questions through a deliberate close-up of the split seconds required to permanently destroy an artefact that had survived for over two millennia. The action imposed upon the antique Han pot represents the end of conventional values, creating a work that is in turn both iconoclastic and regenerative while also reminding us that the significance of a cultural object is always subject to change. Today, the value of this work has exceeded that of the once-prized urn itself, evidence of a creative evolutionary cycle many consider necessary for culture's survival. Exhibited numerous times, another edition of the work sold at Sotheby's London Contemporary Art Evening Sale in February 2016 for GBP 755,000 / HK$8,500,000.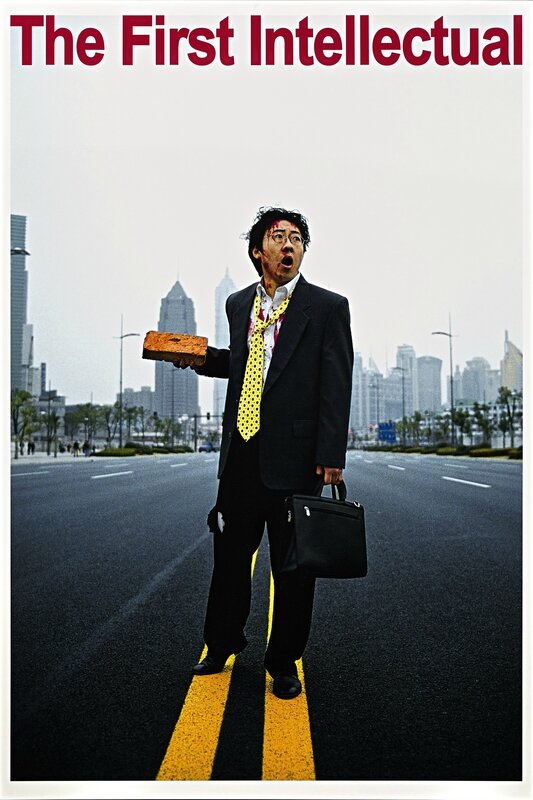 Yang Fudong (b. 1971),, The First Intellectual, 2000, photograph (colored chromogenic print), 188 x 125cm, ed. 7/10; Est. HK$400,000 – 600,000/ US$52,000 – 77,500 (Evening Sale Item). Photo: Sotheby's.
Yang Fudong is China's most influential photographer. The First Intellectual is not only the most important and representative work of Yang's early period, but also a major breakthrough in Chinese photography as a whole. A triptych of photographs, the work's uppermost image is the most familiar, featuring Shanghai's Lujiazui financial district. In the foreground, a young man stands in the middle of an empty street. Holding a brick in his hand, he wears a rumpled white-collared shirt and has blood on his face, glaring. This artwork captured, without mocking, the yawning gap between images projected by the government and the perspective of a new generation. The educated young man is perhaps viewed as an intellectual person, yet when struck with a brick on the street, he is powerless.
Artists in Focus - Japanese Contemporary Artists
Nara Yoshitomo (b. 1959)
The current sale showcases a total of 11 lots by Nara Yoshitomo, spanning several stages of the artist's creative journey from 1988 to 2012, as well as multiple media including oil, acrylic, coloured pencil and felt-tip pen on canvas, paper, cardboard, wood ceramic pieces and mixed media sculptures, among others.

Measuring nearly two metres in height, Little Ambassador is the very first work from a precious batch of iconic Ambassador paintings that Nara created in the early 2000s. The monumental little girl scowls, furious at the state of the world and the broken promises of her forbearers. Her dress of pale pastel green is soft and luminous, while the neutral background glows with a dream-like simplicity. Enchanting, endearing and powerfully evocative, this is Nara's peace-advocating magnum opus.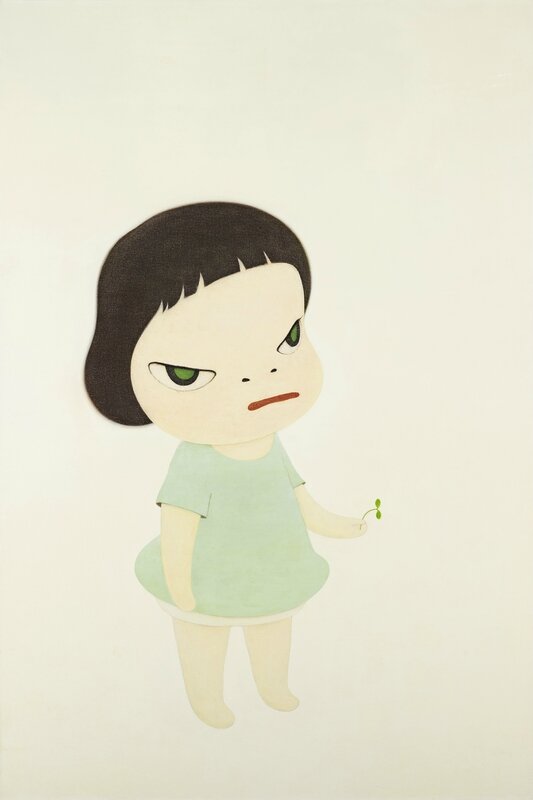 Nara Yoshitomo, The Little Ambassador, 2000. Acrylic on canvas, 198.1 x 132.5 cm. Est. HK$16,000,000 – 24,000,000 / US$2,070,000 – 3,100,000 (Evening Sale Item). Photo: Sotheby's.
Strikingly iconic and endearing, S-Girl is a quintessential Nara Yoshitomo portrait, created during the artist's time abroad in Germany in the 1990s. The solitude of his first experience of living overseas not only made him recall the loneliness of his childhood, but also enabled him to restore a 'sense of [his] true self.' Donning a striking red dress, SGirl is a self-portrait of the artist, as well as a portrait of us all in purer, more vulnerable days. In lieu of a warm and cheerful 'home', There is no place like home portrays three children seated in a coffin-like box, brooding in adorable costumes. The cat costumes are a recurrent theme: Nara once recalled in an interview: 'When I was a child, I really liked cats. In my neighborhood, I didn't have a friend my age. When I came home [after school] I was alone… So I always played with cats.'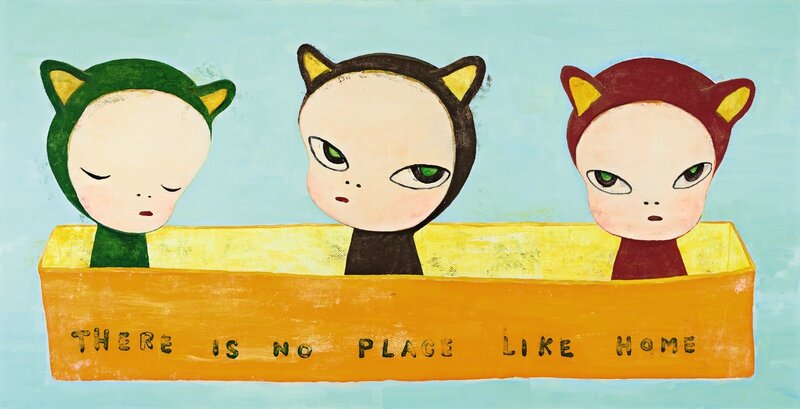 Nara Yoshitomo, There is No Place Like Home 1995, acrylic on canvas, 81.5 x 162 cm. Est. HK$6,500,000 – 8,500,000 / US$840,000 – 1,100,000 (Evening Sale Item). Photo: Sotheby's.
Kusama Yayoi (b. 1929)
Kusama Yayoi is one of few Asian Contemporary artists who is dedicated to creating large-scale oil paintings. Respectively created in the 1980s and 2000s, Between Heaven and Earth (set of five) and Infinity-Nets (HOWAZ) (quadriptych) are both classics of the period to which they belong, and undoubtedly rare finds at auction.

Exhibiting a blazing red hue – a colour preferred by the artist since 1960 –Infinity-Nets (HOWAZ) (quadriptych) features endless repetitions of minute solid red arcs dabbed dexterously over green acrylic, an unusual palette that creates alluring three-dimensionality. The vast, mural-sized piece pulsates with its infinite rhythmic ripples and undulations, implying sublime breaths of pause that award structure and balance to expansive infinity. It is exemplary of Kusama's earliest and most iconic series that first established her indomitable position in the Western art world.

Kusama Yayoi, Infinity-Nets (HOWAZ) (quadriptych), 2005, acrylic on canvas, 194 x 520 cm (overall). Est: HK$12,000,000 – 18,000,000/ US$ 1,550,000 – 2,330,000 (Evening Sale Item). Photo: Sotheby's.
The five-paneled, soft sculpture Between Heaven and Earth (set of five) is a singular, monumental work epitomising Kusama Yayoi's stellar ascent into international prominence in the late 1980s onwards. The riveting optical patterns evoke an exotically-hued tapestry blooming in writhing dynamism. Transposed onto wall-mounted segments, the unruly, quirkily-coloured protuberances gain a heightened sense of grandeur alongside its paradoxical whimsicality, allowing for a detached contemplation of Kusama's singular sense of the infinite.

Kusama Yayoi, Between Heaven and Earth (set of five), 1987, soft sculpture on wood, 180 x 900cm (overall). Est. HK$ 7,500,000 – 12,000,000/ US$ 970,000 – 1,550,000 (Evening Sale Item). Photo: Sotheby's.
Japanese Gutai Artists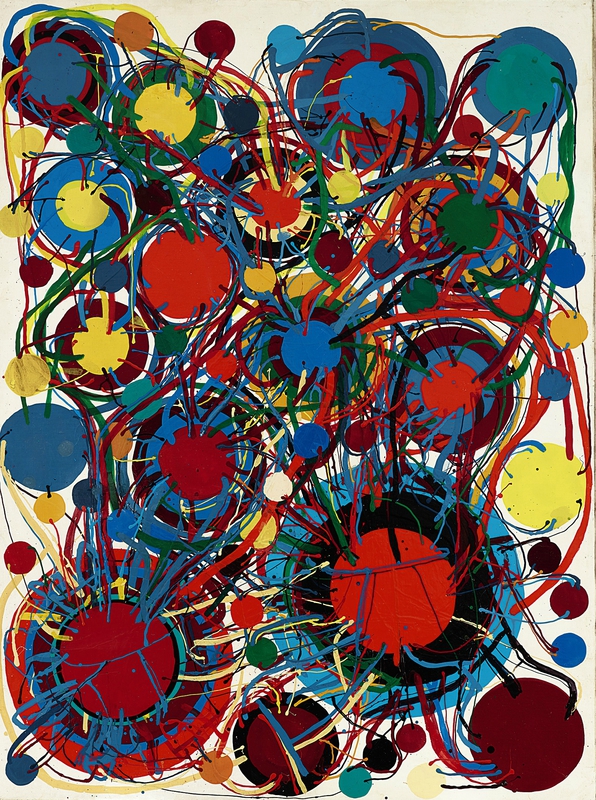 Tanaka Atsuko (1932 – 2005), Work, 1968, Synthetic polymer paint on canvas, 130.8 x 97.4 cm. Est. HK$6,000,000 – 8,000,000/ US$775,000 – 1,040,000 (Evening Sale Item). Photo: Sotheby's.
Hailing from Tanaka's glorious 1960s era of international acclaim, Work is outstanding for its range of brilliant colour, layered three-dimensionality and compelling immediacy, a testament to Tanaka's use of quick-drying synthetic enamel paint. Works of such commanding presence from Tanaka's early 1960s circle paintings are extremely rare, with similar paintings from this period currently held by such eminent museum collections as New York's Museum of Modern Art.
Shiraga Kazuo (b. 1924), Work, 1962, oil on canvas, 116.4 x 80cm. Est. HK$7,500,000 – 9,500,000/ US$970,000 – 1,230,000 (Evening Sale Item). Photo: Sotheby's.
Hailing from Shiraga Kazuo's critical early period of explosive dynamism, this stunning masterpiece heaves and writhes with fiery turbulence, exuding potent, visceral ferocity. Claw-like lacerations of red, orange and deep burgundy converge at thrilling points of intersection, accented by masterful finishing swipes of electric cobalt. The young Gutai master's legendary feet-generated strokes thrash out a path of primal expression via impassioned collisions of body and paint.
Special Day Sale Section: 'Full Circle II: Yoshihara Jiro Collection'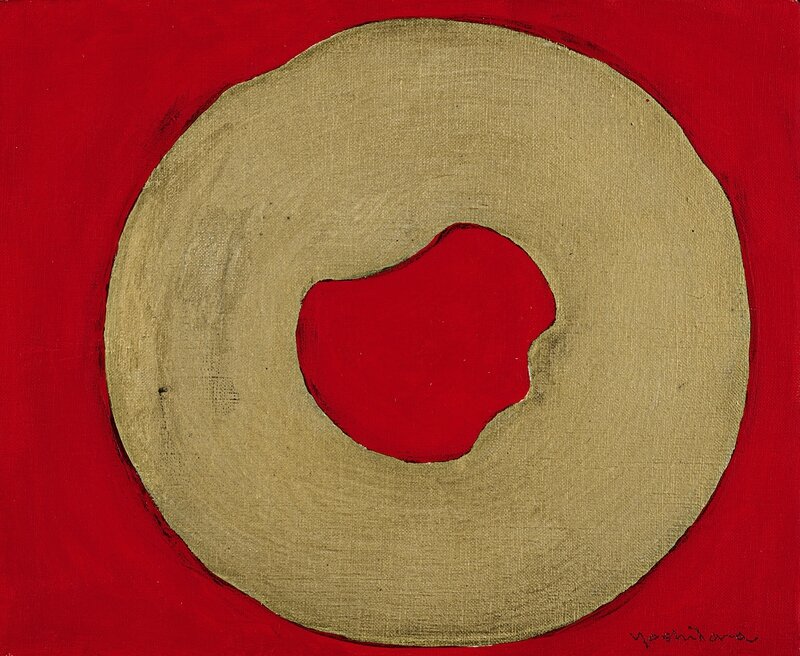 Yoshihara Jiro (1905 – 1972), Work, 1971, acrylic on canvas, 22 x 28cm Est. HK$260,000 – 450,000 / US$33,600 – 58,500 (Day Sale Item). Photo: Sotheby's.

Following the success of last autumn's debut 'Full Circle: Yoshihara Jiro Collection' themed sale – which achieved HK$26.7million / US$3.4million – comes 'Full Circle II'. This assemblage of paper, canvas and ceramic works by the renowned Gutai leader includes exquisite pieces that shed light on the charismatic master's early artistic explorations in brushwork and medium, as well as the development of his seminal 'circle' motif.