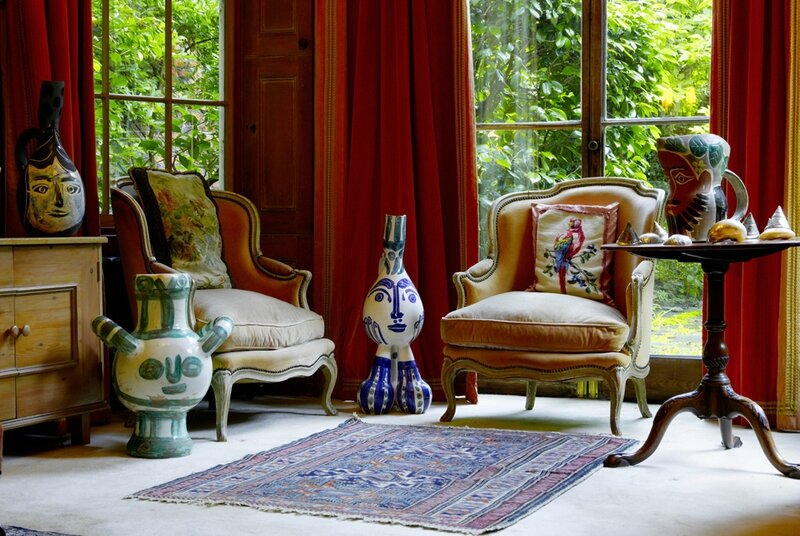 "My family and I have experienced untold joy assembling our ceramic collection over the last 50 years" Lord Attenborough, 2007. Photo: Sotheby's.
LONDON.- This November, Sotheby's will offer at auction the celebrated private collection of Picasso ceramics assembled by Lord and Lady Attenborough. Renowned for its quality and prescience, the collection was built with the joyfilled tradition of an annual pilgrimage to the South of France, where Lord Attenborough, his wife Sheila, and their children enjoyed holidays at their summer home, not far from the town of Vallauris. Beginning in 1954 with one of Picasso's souvenir ashtrays, they spent the next 50 years acquiring many different examples of the artist's ceramic editions. A casual visit to the Madoura pottery – where Picasso began working in 1949 – developed into a regular event, and, as their collection grew, it followed Picasso's developments in working in the medium of fired clay. Providing an extensive overview of one of the most fruitful periods in Picasso's career, the sale begins with a work from 1947 and spans pieces which were conceived by the artist over the following 25 years. Comprising 67 lots, and estimated to bring a combined total in the region of £1.5 million, the single-owner auction will take place in London on 22 November 2016.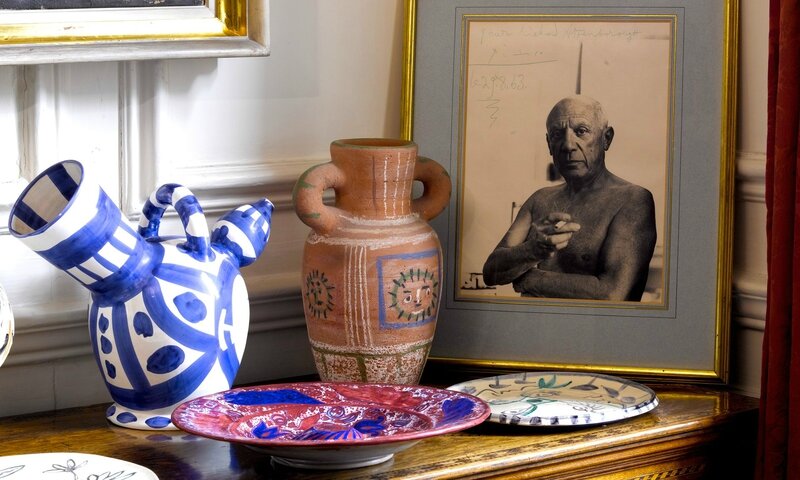 A photograph of Pablo Picasso and a selection of ceramics owned by Lord and Lady Attenborough. Photo: Sotheby's
Séverine Nackers, Sotheby's Picasso Ceramics Specialist, said: "This is quite simply the best collection of its kind in private hands, infused with the sheer joy that it gave Lord Attenborough and his delight in Picasso's impish sense of humour. There is no doubt that the appearance of these ceramics on the market, with the distinguished provenance of such a well-loved and respected actor, director and producer as the late Lord Attenborough, will generate a great deal of excitement among collectors anxious to become their next custodians."
Michael Attenborough, CBE, said: "Vallauris was a great annual pilgrimage. In those days I remember wrapping pots up in brown paper for the drive back to England. At Old Friars, our family home, there was a huge, long table in the hall and the top surface of it would have four or five Picasso pots and underneath it there would be another four or five. Dad scattered them liberally everywhere; he adored them and just loved their extraordinary combination of beauty and wit."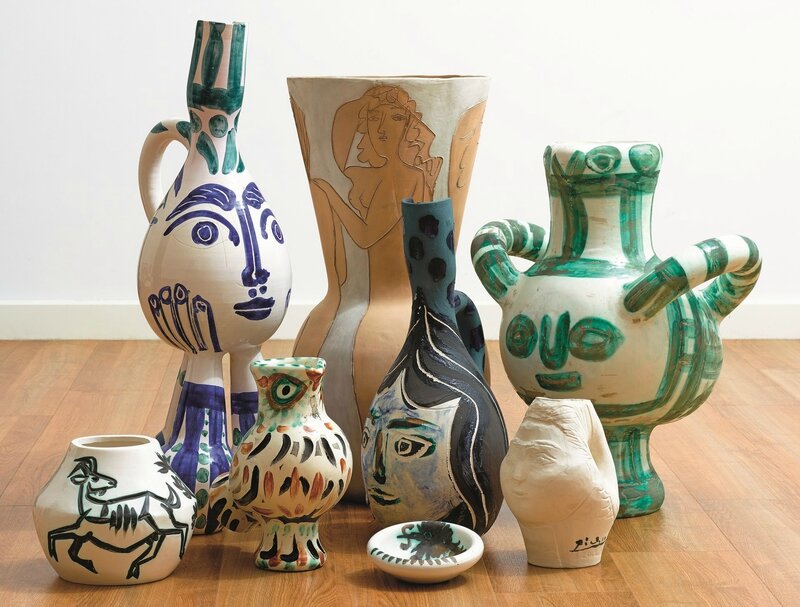 Some of Attenborough's collection. Photo: Sotheby's
Lord Attenborough has recounted how every summer during the 1960s, he and Sheila took their children to a pension in the South of France and, on or around 29th August, they would drive to the Madoura studio to choose his birthday present. Just as Lord Attenborough was immediately enchanted with Picasso's ceramics, he became equally enchanted with the artist on meeting him for the first time, at Madoura in 1963. His recollection speaks volumes: "I think my heart missed a beat – the impact would, I am certain, have been no less had I suddenly found myself face to face with Shakespeare or Beethoven. He was outrageously charming." On this joyous occasion – Lord Attenborough's 40th birthday, no less – Picasso presented him with a signed photo, and to Sheila, a little terracotta medallion to wear around her neck.
Lord and Lady Attenborough were in many ways pioneers in collecting these ceramics, recognising in them not only Picasso's creative ingenuity but also actively building a collection that was unique for its time. As early as 1984, Lord Attenborough contributed to an exhibition of 'Original Ceramics by Pablo Picasso', held at the Nicola Jacobs Gallery in London, with an introduction in the catalogue. Not only has the collection been celebrated since at least that time, but Lord Attenborough's astute views on Picasso's body of work in ceramics have also been lauded. He understood that Picasso created these works with the same innovative passion as his paintings, sculptures and prints.
"Art belongs to no one, some of us are simply its temporary, fortunate and delighted custodians." Lord Attenborough, 2007. Photo: Sotheby's
The Attenborough collection includes both editioned and unique works depicting real and mythical creatures, classical motifs, bullfighting scenes, and portraits, each piece epitomising Picasso's masterful and playful take on the age-old tradition of firing clay.
The passion and confidence of Lord and Lady Attenborough's collecting was celebrated in Sotheby's landmark sale, A Life In Pictures: The Collection of Lord and Lady Attenborough, in London in 2009. Exemplars of what it means to be a collector, Lord and Lady Attenborough housed their collection at Old Friars, their family home.
Highlights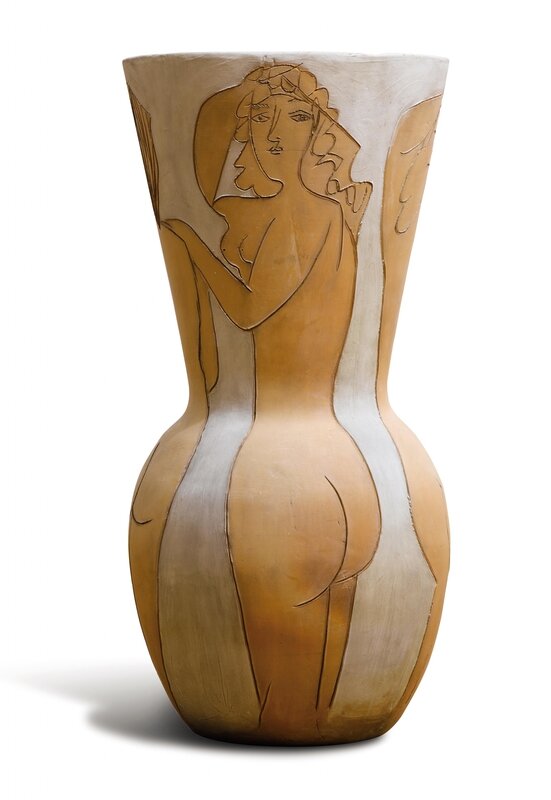 Pablo Picasso, Grand vase aux femmes nues. Terre de faïence vase, 1950, numbered 8/25 height: 26in. Estimate £250,000-350,000. Photo: Sotheby's.
Picasso was keen to create large pots that had a stronger sculptural dimension. Grands vase aux femmes nues represented a new phase in which scale played an important role. These large flared vases depict female nudes, whose figures are emphasised by the curves of the vase – the hips and buttocks of the four nudes follow the curves of the actual vase. Similar to a classical group, Picasso drew inspiration from the Three Graces, a theme which can be seen in his prints and drawings from the 1920s through to the post-war period.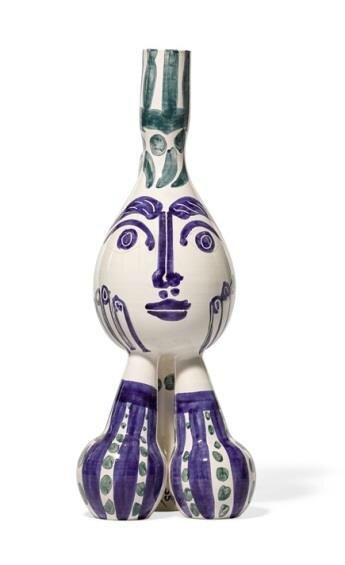 Pablo Picasso, Tripode. Terre de faïence vase, 1951, numbered 35/75 29¾in high. Estimate £80,000-120,000. Photo: Sotheby's.
With a form inspired by ancient Cypriot pottery, Picasso decorated the front and back with depictions of Françoise Gilot, his muse and lover, the front showing her resting on her hands.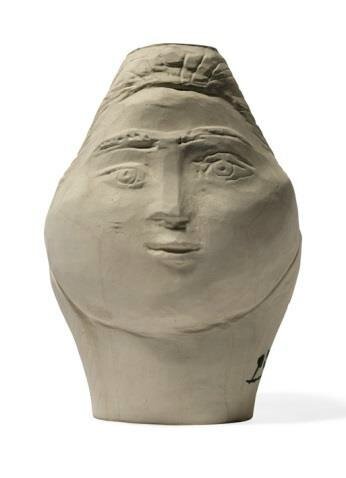 Pablo Picasso, Tête de femme couronnée de fleurs. Terre de faïence vase, 1954 signed, numbered 48/50 9in high. Estimate £15,000-25,000. Photo: Sotheby's.
Modelled to emphasise the shape of a woman's face, with the design of the eyes and eyebrows accentuated, this vase is the only editioned Picasso ceramic to be signed by the artist. Modelled and carved by Picasso from a single-handled pot, in this instance he left the white earthenware undecorated.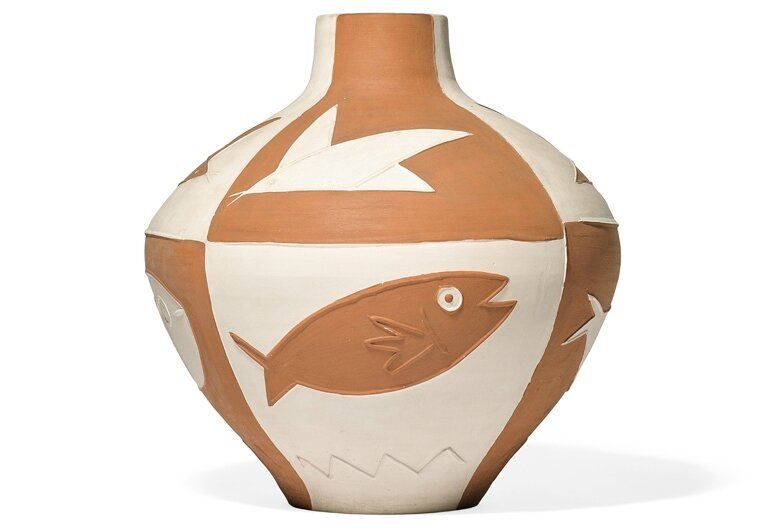 Pablo Picasso, Oiseaux et poissons. Terre de faïence vase, 1955, numbered 19/25 19¼in high. Estimate £40,000-60,000. Photo: Sotheby's.
One of the first ceramics to be produced in the smaller edition size of 25, this piece alternates in red and white with a linear design. The simple decoration of the vase creates the impression of birds and fish moving their way around the vase.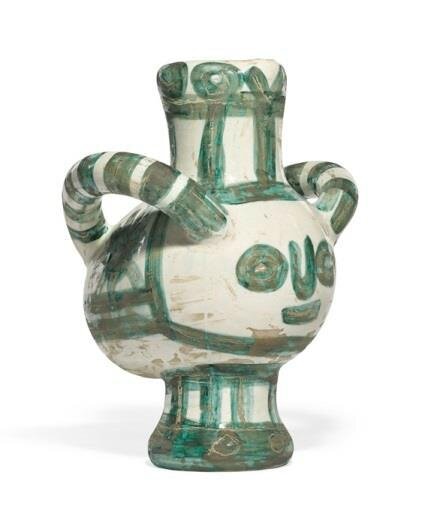 Pablo Picasso, Vase gros oiseau vert. Terre de faïence vase, 1960, numbered 17/25 22½in high. Estimate £50,000-70,000. Photo: Sotheby's.
Vase gros oiseau vert was a particular favourite of the Attenboroughs. The oval form of this vase is reminiscent of Picasso's earliest experiments for bird vases, made up of thrown and assembled parts. The faun-like faces, a decoration similar to those of his plates at the time, fill the body of the vase, whilst the handles represent both wings and horns.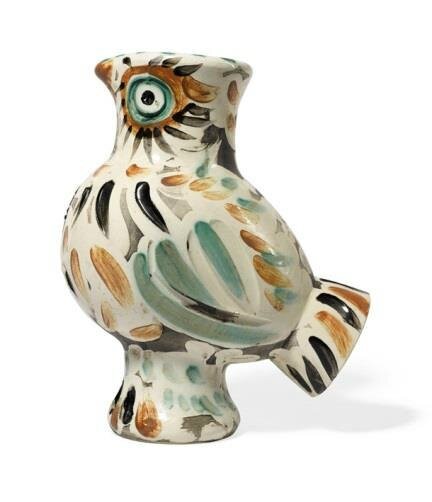 Pablo Picasso, Chouette. Terre de faïence vase, 1969, numbered 169/300 11¾in high. Estimate £10,000-15,000. Photo: Sotheby's.
Created in 1969, a particularly innovative time for Picasso when he re-worked some of his earlier designs, this vase is an example of how he incorporated new decoration into his earlier owl shaped pots. Here Picasso has used brushed glazes, slips and gouging to create a feathered effect.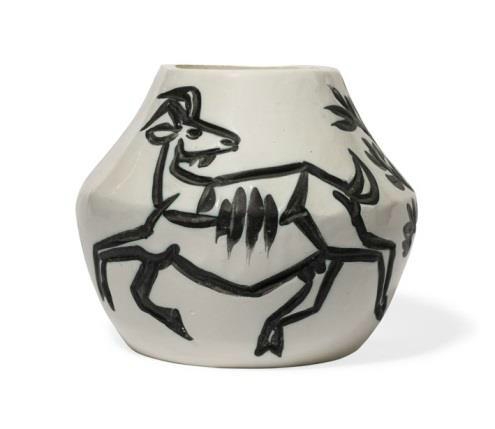 Pablo Picasso, Vase aux chèvres. Terre de faïence vase, 1952 from the edition of 40 7½in high. Estimate £7,000-9,000. Photo: Sotheby's.
The goat motif is common in Picasso's work and he continues the theme in this vase, where he uses a dramatic black and white contrast to depict a goat's profile and another goat running.
Pablo Picasso, Oiseau au ver. Terre de faïence ashtray, 1952 from the edition of 500 diameter: 5¾in. Estimate £1,000-2,000. Photo: Sotheby's.
Picasso was keen to use the sale of his editions to make his art available to a wider audience. With this in mind, he created a series of little round ashtrays. Together with a traditional form and an animated design, Picasso used the technique of wax resist and copper oxide to create a spread of green colouring, adding a distinctive decoration to each piece.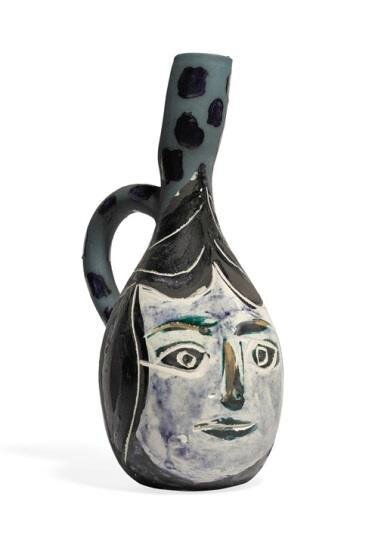 Pablo Picasso, Visage de femme. Executed 4.8.1951 unique large ceramic jug with long spout 19½in high. Estimate £120,000-180,000. Photo: Sotheby's.
The Attenboroughs added several unique ceramics to their collection, including Visage de femme, which came directly from the artist's estate. A large ceramic, this vase shows Picasso's fascination with simplistic designs and monochromatic tones to depict a woman's face. Picasso carried out the transformation of a tradition Provençal vessel into a head with wit and a great understanding of the materials. He incised the features of a woman's head directly into the raw white clay, painted her hair with a dark slip around the back and at the top, and decorated the long spout to give the impression that the woman has a tall, Spanish comb on top of her head.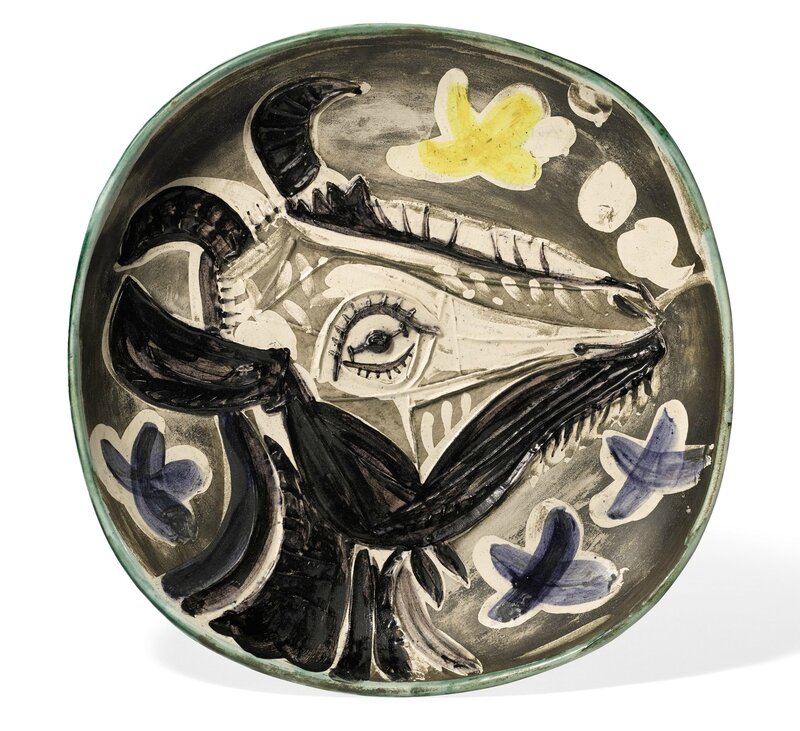 Pablo Picasso, Tête de chèvre de profil. Terre de faïence plate, 1952 from the edition of 100 diameter: 16¼in. Estimate £8,000-12,000. Photo: Sotheby's.
The first important ceramic that the Attenboroughs acquired was Tête de chèvre de profil. Picasso associated the horned animal with the mischievous fauns of antiquity. In this piece, the goat's head fills the space of the plate, with special attention given to the central placement of the eye.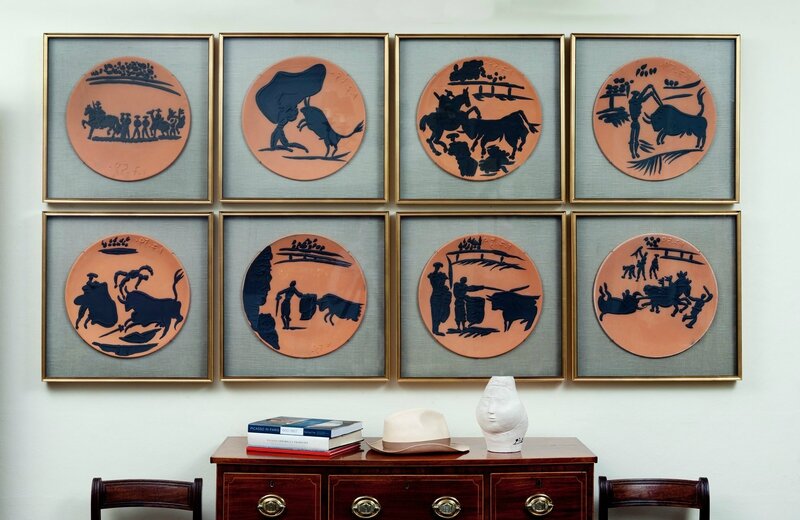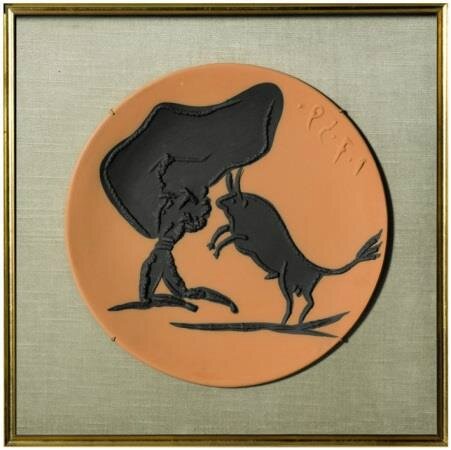 Pablo Picasso, Corrida. The complete set of 8 terre de faïence dishes, 1959, each numbered 46/50 diameter: each 16½in. Estimate £30,000-£50,000. Photo: Sotheby's.
Whilst exiled in France, Picasso continued to explore the customs and traditions of his native Spain through his work. He welcomed the opportunity to attend bullfights and the imagery of the corrida quickly made its way into his ceramics. In 1959, the artist carved and decorated a series of round, earthenware dishes. This sequence depicts the different stages of a bullfight in black on red clay. In this case, a set of eight dishes was reserved for the Attenboroughs in advance of their annual trip to Madoura in 1960.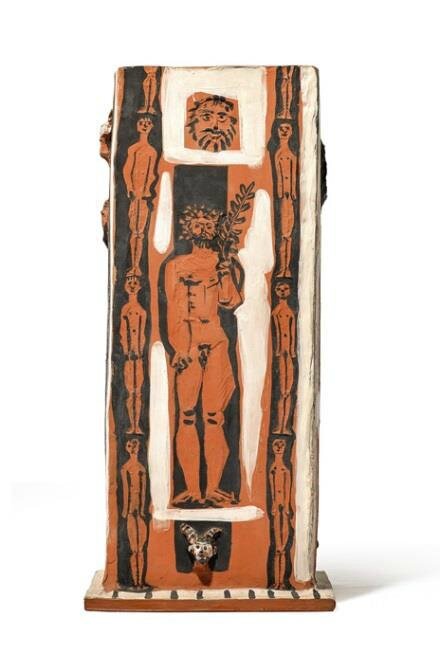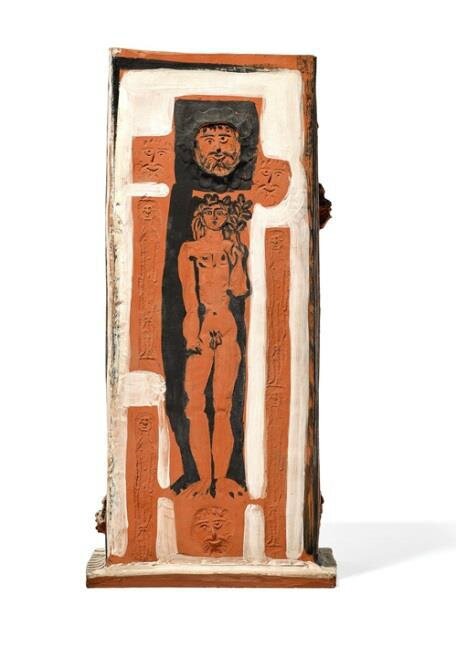 Pablo Picasso, Personnages et têtes. Terre de faïence vase, 1954, numbered 5/25 22in high. Estimate £50,000-70,000. Photo: Sotheby's.
A technical tour-de-force, Personnages et têtes has strong classical associations: as well as the subject matter, the colours – black, white and red – echo the decoration of ancient Greek pots. On each of the four sides of this tall, square vase, heads of bearded fauns and youths were used in both positive and negative form. Some of these heads project forward, while others are impressed into the surface