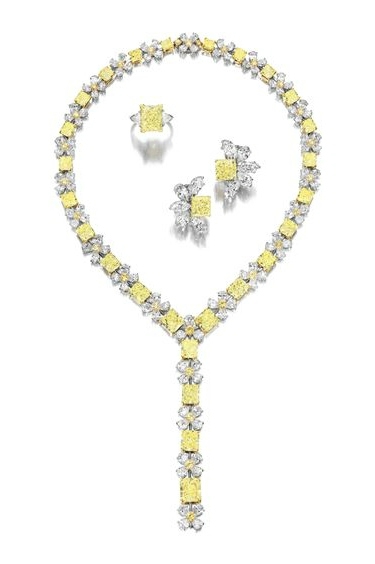 Lot 1694. Fancy Intense Yellow Diamond, Fancy Yellow Diamond, Fancy Light Yellow Diamond and Diamond Parure, Graff. Estimate 4,000,000 — 6,000,000 HKD. Photo: Sotheby's
Comprising: A pair of ear clips, each set with a radiant-cut fancy intense yellow diamond weighing 4.08 and 4.04 carats, decorated with pear- and marquise-shaped diamonds weighing approximately 8.65 carats in total; a ring set with a radiant-cut fancy intense yellow diamond weighing 5.63 carats, flanked by two trilliant-cut diamonds; and a necklace set with twenty-six graduated radiant-cut diamonds, fancy yellow and fancy light yellow diamonds, alternating with floral motifs set with pear-shaped diamonds and highlighted with circular-cut diamonds of yellow tint, the diamonds and yellow diamonds weighing approximately 79.20 carats in total; all mounted in platinum and 18 karat yellow gold, all signed Graff and numbered, length approximately 360mm, Ring size: 6¼, case stamped Graff.
Accompanied by two GIA reports numbered 13042379 and 12627681, dated 16 December 2003 and 11 July 2003 respectively, stating that the 4.08 and 4.04 carat diamond is natural, Fancy Intense Yellow Colour, SI1 and VVS1 Clarity respectively; also accompanied by GIA report numbered 12932189, dated 14 October 2003, stating that the 5.63 carat diamond is natural, Fancy Intense Yellow Colour, VS2 Clarity; further accompanied by twenty GIA reports, stating that twenty diamonds weighing from 4.34 to 1.10 carats are natural, Fancy Yellow, Fancy Light Yellow, W – X and Y – Z Colour, Internally Flawless to SI1 Clarity. Please note that all the reports are more than (10) years old and might require an update.
THE HOUSE OF GRAFF
The House of Graff, a diamond company extraordinaire, is renowned for jewels of exceptional design and set with magnificent gemstones. Exclusivity and quality are the essence of Graff collections; each jewel is hand-made by highly skilled craftsmen, the process closely supervised from the creation of the design to the immaculate settings.
A vertically integrated company with unrivalled access to the most exclusive diamonds and gemstones, Graff sources gemstones from the rough and oversees all levels of the jewellery making process from cutting and polishing to the design creation and manufacture. Emphasizing on quality control and authenticity, the majority of Graff diamonds are laser inscribed with the Graff logo and GIA (Gemological Institute of America) certification number. The inscriptions are only visible under 10-power magnification, not affecting the clarity grade of the diamond. This logo certifies that the diamond is an authentic Graff diamond and the GIA number gives proof of its identity.
Over the years, Graff has handled some of the world's most glorious and prized gemstones. The Porter Rhodes, the Idol's Eye, Le Grand and Le Petit Coeur d' Afrique , The Excelsior, The Imperial Blue, The Golden Star and The Star of Lesotho are to name but a few, alongside other superb intense pink, blue, yellow and the purest white diamonds of flawless quality.
Epitomizing Graff's values of combining time-honoured craftsmanship with the rarest stones, Graff sets an unsurpassed standard of excellence and innovation.
Sotheby's. Magnificent Jewels & Jadeite, Hong Kong, 04 Oct 2016, 02:00 PM