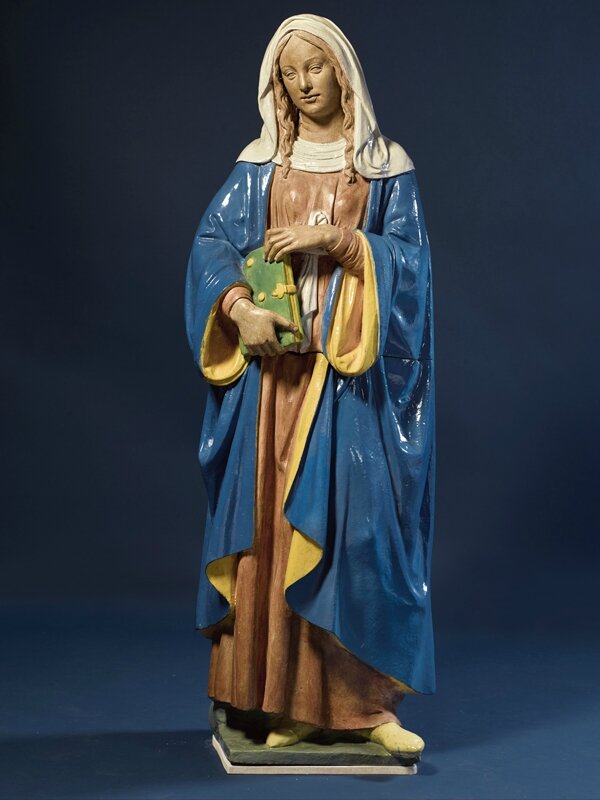 Andrea della Robbia (Florence 1435–1525), The Annunciate Virgin, circa 1505-1510. Photo: Sotheby's.
This rare and elegant figure by Andrea represents the Virgin just before the Archangel Gabriel tells her that she will give birth to Jesus. Here, she gently presses the book to her abdomen as a prefiguring of the announcement.
Marco (Fra Mattia) della Robbia (Florence 1468–Montecassiano after 1532?), Coat of Arms of the Bonsi della Ruota family, in a garland of fruit and flowers, circa 1510. Photo: Sotheby's.
Surrounded by a vividly glazed and lavish wreath of flowers and fruit, this armorial represents the Bonsi della Ruota, the noble family of Florence who were wool and silk traders as well as prosperous bankers.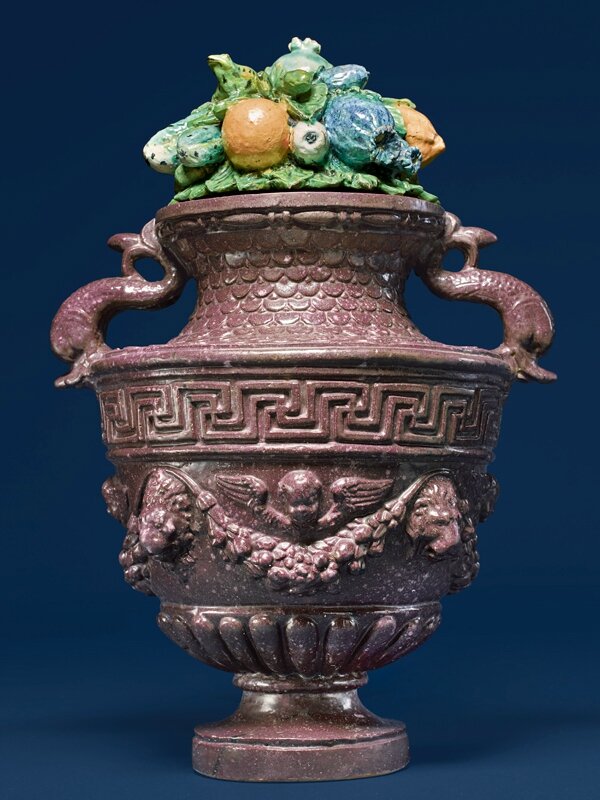 Giovanni della Robbia (Florence 1469–1529/1530), Decorative amphora vase with dolphin handles, decorated with garlands and lion's heads, circa 1520-1525, with a contemporaneous lid shaped as an assortment of fruit and flowers, with a frog. Photo: Sotheby's.
This vase is a rare example of Giovanni Della Robbia's ability to imitate precious hardstones; in this case, he brilliantly replicates the rich colour of ancient porphyry. Inspired by the Antique, this sculpture would have appealed to the Renaissance passion for both classicism and nature.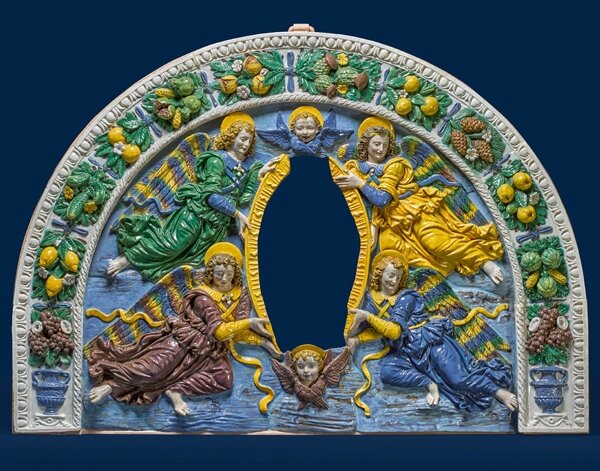 Giovanni della Robbia (Florence, 1469–1529/1530), Four Angels Bearing the Mystic Mandorla, within a frame decorated with a festoon of fruit supported by two amphorae, circa 1515
.
Photo: Sotheby's.
The vivid, saturated colours of the glazes and the quality of the modelling are typical of Giovanni's exceptional work. The symbol of the 'Mystic Mandorla' represents life and communication between the divine and the human.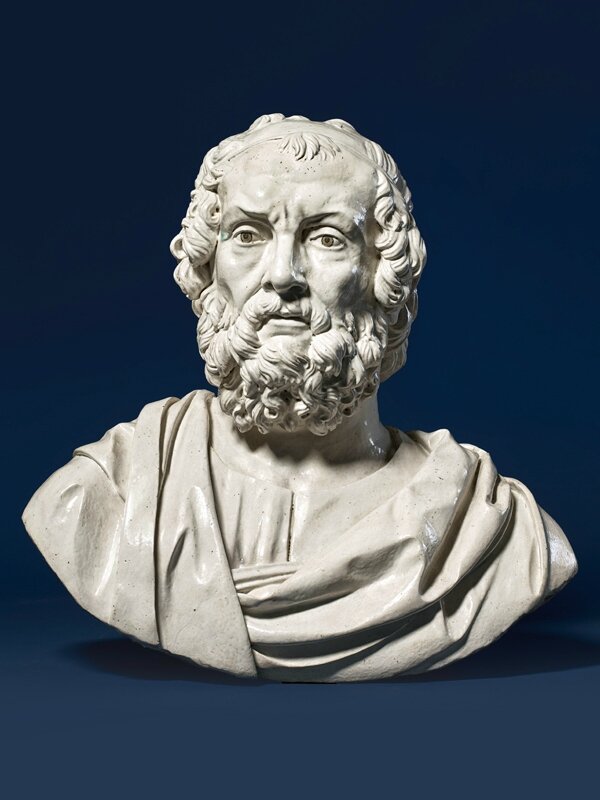 Andrea della Robbia (Florence 1435–1525), A Classical Portrait of a Man (Homer?), circa 1490
.
Photo: Sotheby's.
This sophisticated and vigorously modelled bust of a man, probably Homer, was clearly inspired by a Classical model. The strength of the portrait, combined with finely rendered details of hair and wrinkled brow, would have been admired by the most cultivated and refined patrons of the period. The extremely high quality, formal representation and restrained naturalism displayed here epitomise the work of Andrea dell Robbia.
Andrea della Robbia (Florence 1435–1525), Two Sleeping Soldiers, from a lunette representing the Resurrection (conceived circa 1495/1500), 1518–1519
.
Photo: Sotheby's.
These gracefully modelled figures originally belonged to a large relief (now lost) of the Resurrection by Andrea della Robbia, conceived in circa 1495. Documents related to the commission and payment to Andrea have recently been found, linking these soldiers with a group of seraphim and cherubim, from the same lost relief, now in the Musée du Louvre.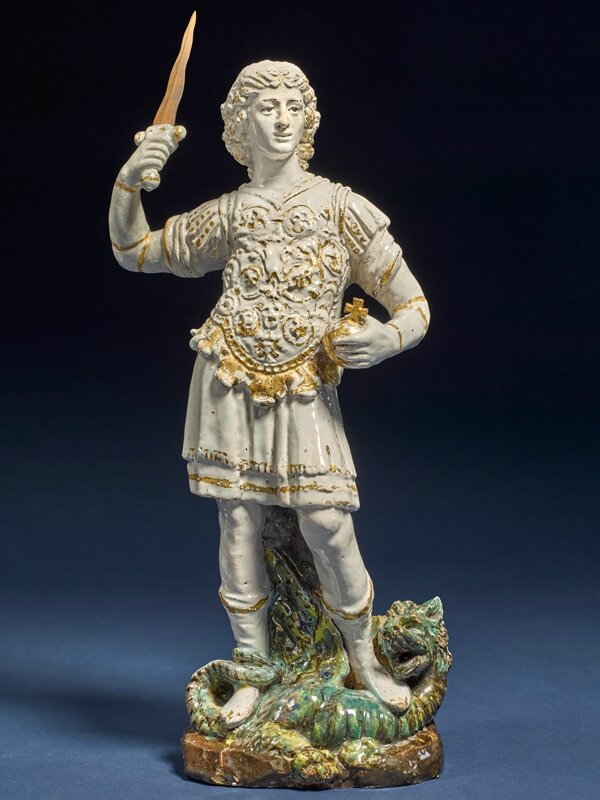 Master of the David and Saint John Statuettes and Giovanni della Robbia (Florence 1469–1529/1530), Saint Michael the Archangel, circa 1500-1510
.
Photo: Sotheby's.
This highly detailed sculpture of Saint Michael as a handsome youth, partially gilt and standing in contrapposto, typifies the work of these masters who specialised in the production of small-scale sculptures in terracotta. He stands astride the writhing dragon in a manner distinctly echoing that of that of Michelangelo's David.
Glazed: The Legacy of The Della Robbia. 21 October–18 November | New York
Luxuriously glazed and vividly coloured terracotta sculpture by the Della Robbia family of Florence is a quintessentially Renaissance art form. Luca della Robbia's invention and his family's subsequent mastery of the technique was sought after by patrons of both secular and devotional sculpture. Glazed: The Legacy of The Della Robbia, a selling exhibition organised in collaboration with dealer Fabrizio Moretti for our New York galleries, comprises a variety of terracotta works by this illustrious artistic dynasty. Click ahead to preview seven colourful and elegant works that will appeal to collectors of art from all periods and categories.