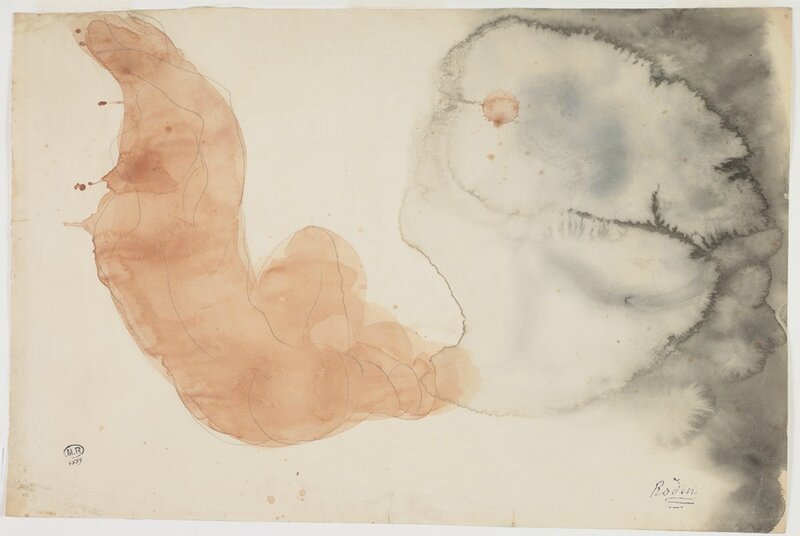 Auguste Rodin, Nude Seen From Behind, Arms Raised, n.d. Pencil and watercolour © Musée Rodin, D. 4559. Exposition organisée en collaboration avec le musée Rodin.
COPENHAGEN.- On 22 September the National Gallery of Denmark opened a major exhibition about the French artist Auguste Rodin and his works on paper. This is the first exhibition of Rodin's drawings on Danish soil since 1930, and several of the almost one hundred exhibits have never been shown in Denmark before. The works come from many sources, including Musée Rodin in Paris and the Royal Collection of Graphic Arts in Copenhagen.

The history of sculpture can be said to fall into two chapters: before and after Rodin. In the late nineteenth century, the French artist Auguste Rodin (1840–1917) reinvented sculpture. Before this point, sculptures were mostly static, monumental and idealised figures raised on pedestals, but Rodin set sculpture free, introducing dynamic and passionate human figures that interacted directly with the space around them.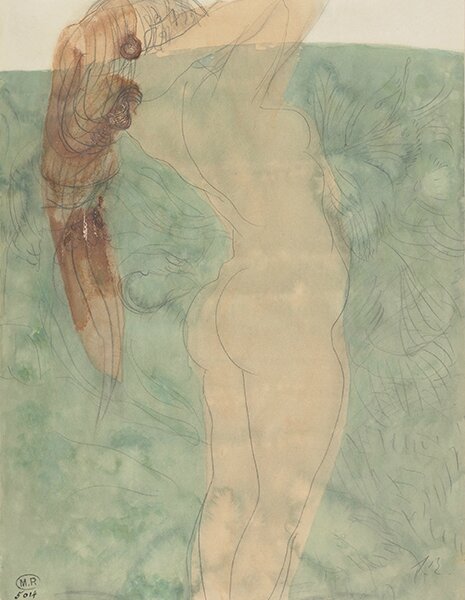 Auguste Rodin, Female Nude in Profile, Her Hair Loose, n.d., © Musée Rodin, Paris / D. 5014. Exposition organisée en collaboration avec le musée Rodin.
Today, Rodin is best known for sculptures such as The Kiss and The Thinker. However, he was also a prolific and multi-faceted draughtsman who explored the wide-ranging potential of paper as a medium. His drawings allowed Rodin to experiment freely and spontaneously in ways that were not possible in the large-scale sculptures. He transferred the lessons learned through these drawings to his work with clay and stone. Rodin himself said: "It is very simple. My drawings are the key to my work. I began with drawing: I have never stopped drawing."

Thousands of works on paper by Rodin's hand still exist today. His drawings are often rapidly executed, with lines that sweep across the paper – which might sometimes be irregular scraps, napkins or ticket stubs. He would later continue working on these pieces, using media such as watercolour and gouache. He was interested in the female form in motion, and it was not unusual for female nude models to walk around his studio while he drew them. This keen interest in the body – in motion, in states of sexual ecstasy, in dance, etc. – is at the heart of the exhibition Fleeting Moments. Drawings by Auguste Rodin, which the SMK will show from 22 September.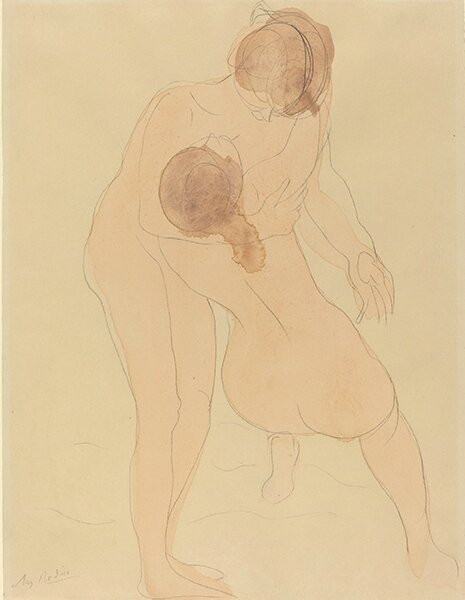 Auguste Rodin, Two Figures, c. 1905, National Gallery of Art, Washington, Gift of Mrs John W. Simpson, 1942 / 1942.5.37.
The drawings in this exhibition cover a wide range of themes. From "vase-like" women to Cambodian dancers to the so-called black drawings that Rodin created during his many years of working on The Gates of Hell, inspired by Dante's Divine Comedy. In addition to this, the exhibition shows a range of works that take their starting point in Rodin's "private album". He used this album to store particularly erotic – and, hence, provocative – drawings of masturbating women and other motifs that he only showed to select guests.

The exhibition features 87 drawings and six sculptures. The selection includes several drawings that have never before been on public view in Denmark, where the last major exhibition of Rodin's drawings took place in 1930.
Edward Steichen, Auguste Rodin, 1911, Brooklyn Museum. Gift from Arnold and Pamela Lehman, 2003
Auguste Rodin was born in Paris 1840. He made two unsuccessful attempts at applying to the staunchly traditional French academy of fine arts. He proceeded instead to accept various commissions for decorative work while concurrently working on his own drawings and sculptures. Rodin had his breakthrough as an artist at the age of forty, and his first official commission was The Gates of Hell – a set of monumental gates for the Musée des Arts Décoratifs. Rodin worked on the gates for the next thirty-five years without ever completing the task.

Throughout his adult life Rodin lived with Rose Beuret (1844–1917), whom he married in 1917 – the year of his death. He did, however, also have several mistresses over the course of his life, including a passionate relationship with the sculptor Camille Claudel (1864–1943). He bequeathed all his works and his collection to the French government, which set up a museum dedicated to his art in Rodin's own home in Paris.

To coincide with the exhibition, the SMK publishes a comprehensive and lavishly illustrated catalogue about Rodin's drawings. In Danish and English, featuring contributions from Thomas Lederballe, Sophie Biass-Fabiani and Natasha Ruiz-Gómez.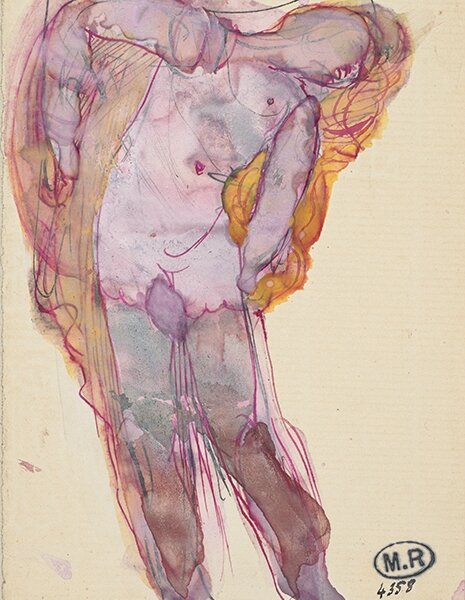 Auguste Rodin, Naked Woman in her Garments, C. 1890 © Musée Rodin, Paris, D. 4358. Exposition organisée en collaboration avec le musée Rodin.