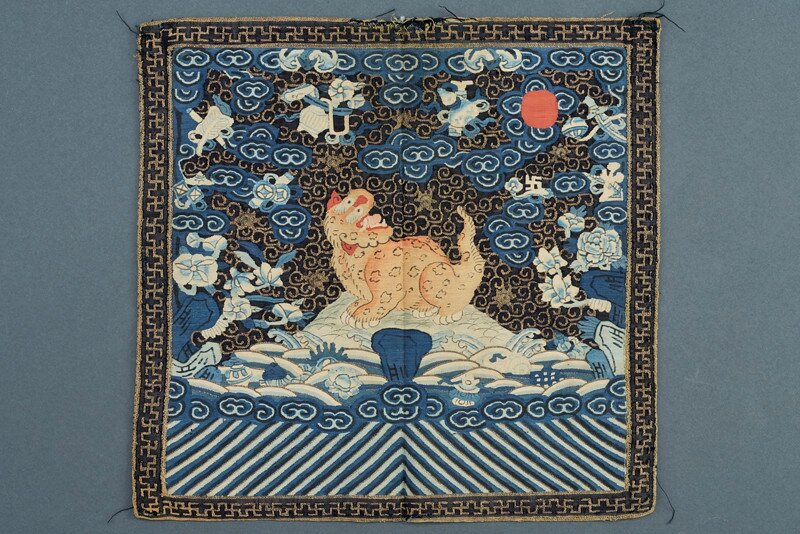 Lot 43. A nice Kesi silk military rank badge (Buzi), 19th Century. Estimate 600.00€ - 800.00 €. Photo: Czerny's
Depicting a third rang soldier's wife; embroidered with a leopard on a rock; featuring Buddhist symbols of good omen among clouds and around a red sun. Small scraping on the border. 30.5 x 29 cm.
Notes: Women were allowed to wear a rank badge. The distinction between male and female rank badges was made by positioning the red disk (symbolizing the sun) differently. Both military and civil rank badges feature the red disk (symblizing the Emperor). Men always have the sun up on their left, and the women on their right, in order to have a symmetrical badge. See The Journal of Antique and Collectibles – Chinese Rank Badge, 17 January 2005.
A similar rank badge of the same period, featuring a tiger and with sun on the right (representing a fourth rank soldier's wife), was sold at Christie's, SALE 8791 – CHRISTIE'S INTERIORS; 15 May 2013, London, South Kensington; lot. 760.
A similar rank badge is at the Art Gallery of New South Wales, Sidney; Accession number: 237.2011.
Czerny's. CHINESE CERAMICS AND WORKS OF ART