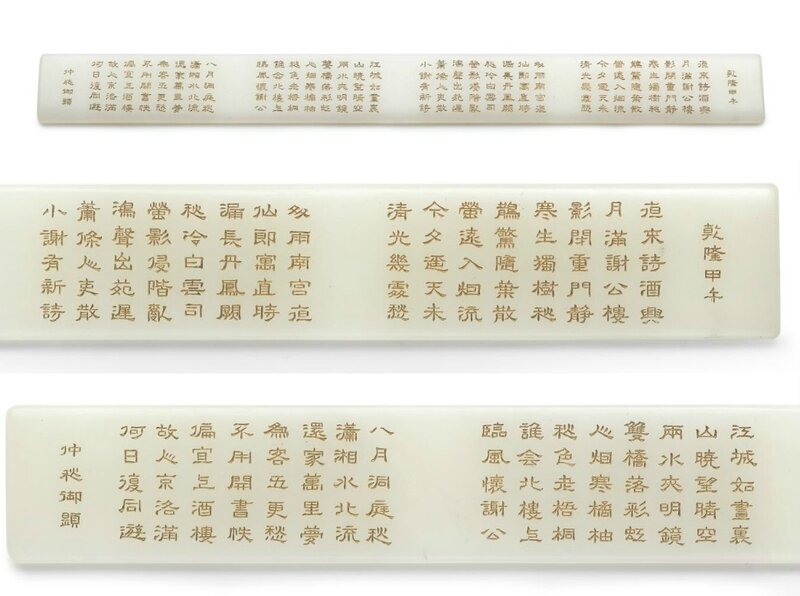 Lot 70. An imperial inscribed white jade paperweight, Qing dynasty, Qianlong period, dated jiawu year (in accordance with 1774). Estimate 800,000 — 1,200,000 HKD. Photo: Sotheby's.
the translucent white rectangular panel inscribed on each short end with four characters respectively readingQianlong jiawu (jiawu year of the Qianlong reign [1774]) and zhongqiu yuti ('imperially inscribed in the second month of autumn'), flanking four evenly spaced Tang dynasty poems denoting autumn by Qian Qi, Li Jiayou, Li Bai and Zhang Wei respectively, the inscription all incised and filled in with gilt; 28.1 cm, 11 in.
Provenance: Acquired by a Swedish diplomat resident in Beijing, circa 1900, by repute.
Notes: Outstanding for its delicate thinness and exceptional purity of the stone, its luminous beauty has been complemented by the simple use of perfectly incised text that has been filled with gilt. Long and thin jade objects of this type are exceptionally rare, likely due to the fragility of the material when worked to these dimensions. Two similarly long and thin jade panels, minutely engraved with figures inhabiting mountain landscapes, but mounted in wooden frames, from the Baron and Baroness von Oertzen collection, illustrated in S. Howard Hansford, Jade. Essence of Hills and Streams, London, 1969, pl. D49, were offered at Christie's London, 4th November 2008, lot 132. Compare also a thicker long rectangular white jade scroll weight, of slightly smaller size, from the collection of Gerald Godfrey, sold at Christie's Hong Kong, 30th October 1995, lot 839.
The inscription on this paperweight reveals the revival of the Five Classics and Tang poetry among literati in the late Qianlong period. The style of poetry reflects the regulated verse in five characters and eight rhymes, (wuyan bayun) which was formally reintroduced as a required literary form in 1756. This took effect in the 1757 metropolitan examination and was then extended to the 1759 provincial examinations. Thus, within ten years, publication and republication of Tang and Song poetry anthologies increased, and Tang poetry was favoured by Han Learning scholars for its pre-Song ties to ancient learning.
Sotheby's. Roger Keverne - 50 Years in the Trade, Hong Kong, 05 oct. 2016, 10:00 AM