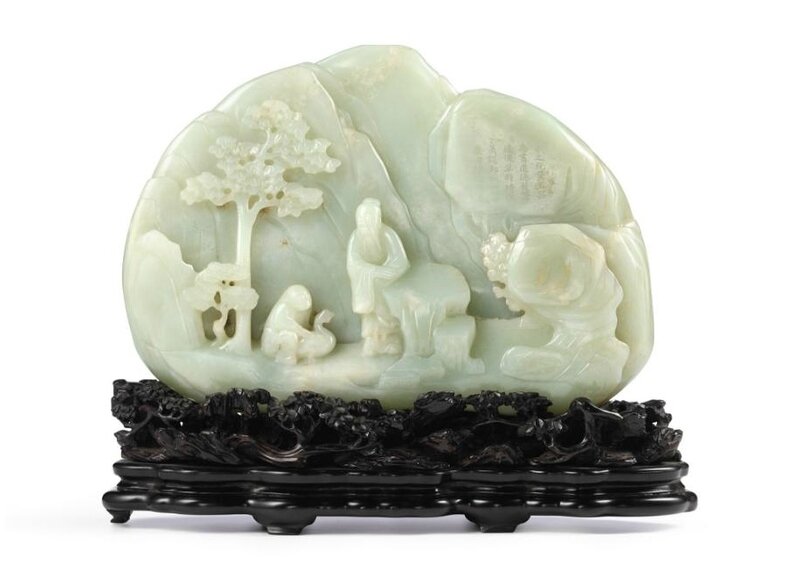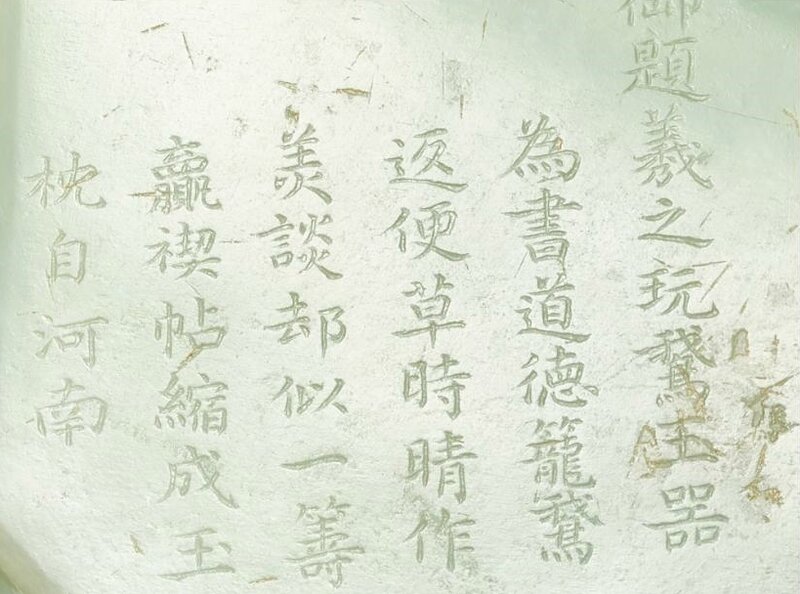 Lot 50. An imperial inscribed large pale green jade 'Wang Xizhi and goose' boulder, Qing dynasty, Qianlong period (1736-1795). Estimate 600,000 — 800,000 HKD. Photo: Sotheby's.
the substantial boulder boldly worked on one side with the bearded scholar, Wang Xizhi, next to a kneeling attendant holding a goose, all amidst a rocky landscape arboured with wutong trees and portrayed with mountainous cliffs forming the background, the upper right section incised with an imperial poem titledyuti Xizhi wan e yuqi ('Imperial poem on jade ware of Xizhi playing with goose') in regular script, the reverse similarly rendered with rugged rock faces and centred with a tall pine tree, further decorated with river streams and animals, including a deer and two cranes, one swooping downward, the other perched near a waterfall and sprouting lingzhi blooms, the stone of a pale celadon colour with natural icy inclusions, wood stand; 26.3 cm, 10 3/8 in.
Provenance: Acquired by a Swedish diplomat resident in Beijing, circa 1900, by repute.
Notes: This charming piece is carved with Wang Xizhi (303-361 AD) and his attendant holding a goose. Wang was one of China's most celebrated calligraphers and a favourite of the Qianlong Emperor, who placed Wang's Kuai xue shi qing tie[Sudden clearing after a lively snowfall], in the Sanxitang, the Hall of rarities, alongside two further great masterpieces of calligraphy, Zhongqiu tie [Mid-autumn], by his son Wang Xianzhi (344-386) and Boyuan tie [Letter to Boyuan], composed by his nephew Wang Xun (350-410).
Jade boulders carved with historical figures are unusual, although one carved with a scene from Su Shi's Red Cliff, in the Palace Museum, Beijing, is illustrated in The Compendium of Collections in the Palace Museum. Jade, vol. 8, Qing Dynasty, Beijing, 2011, pl. 97; and another, with a Qianlong mark and of the period, was sold at Christie's New York, 3rd June 1993, lot 46. See also jade boulders of similar shape, carved with immortals and attendants: three sold in our New York rooms, the first from the collection of Walter Stein, 26th February 1982, lot 462, the second, 27th February 1981, lot 523, and the third, 10th November 1979, lot 109; a fourth, sold in these rooms, 9th October 2012, lot 3147; and a further example sold at Christie's London, 12th November 2002, lot 46.
Wang Xizhi is here depicted with a gentle expression and in a relaxed pose, accentuated by his attendant and the goose. Wang's fondness for geese is reflected in the famous story where he copied the Daoist classic Daodejing [the classic of the Dao and of virtue] for a priest in exchange for a white goose, which is mentioned in the imperial poem here. Wang is also known to have acquired inspiration from natural forms, including the graceful necks of geese. Thus, this carving would have been a rich source of reflection and enjoyment to its owner through its symbolic association of the goose with Wang, coupled with the contentment embodied by the figure.
Sotheby's. Roger Keverne - 50 Years in the Trade, Hong Kong, 05 oct. 2016, 10:00 AM