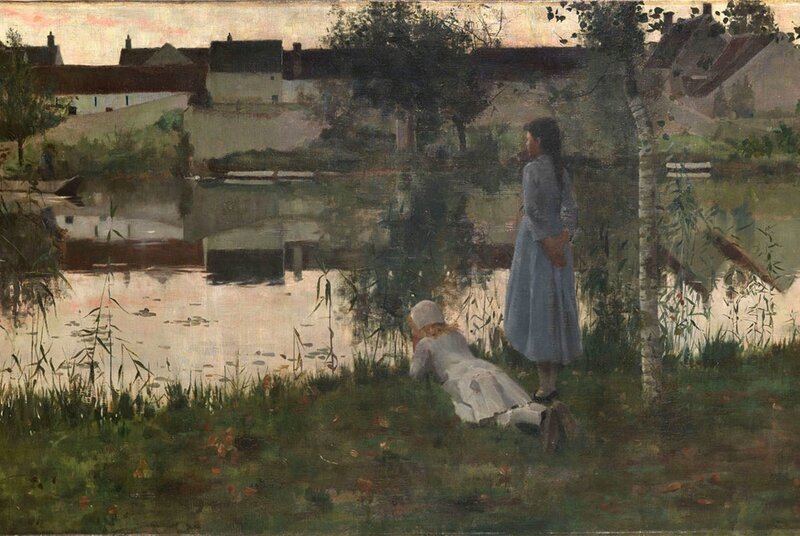 William Stott of Oldham, La Passeur (The Ferry), 1882 © Tate.
LONDON.- The painting has been bought with funds provided by Art Fund, Heritage Lottery Fund and The Hintze Family Charitable Foundation and will be on display at Tate Britain in April 2017. It will then tour to three other galleries, Gallery Oldham, Aberdeen Art Gallery and Museum and Southampton City Art Gallery.

The majority of Stott's work is in Gallery Oldham, in the artist's home town. This work will join another piece, Girl in a Meadow from 1880 in Tate's collection.

Stott was an important member of the group of British artists who were influenced by French naturalism in the late 19th century. After training at Manchester School of Art he went to Paris where he was taught by Léon Bonnat and Jean-Léon Gérôme. He exhibited a number of paintings at The Salon which were admired by French critics.

Le Passeur demonstrated what British Impressionism could achieve and gave the movement international recognition. It was painted in the artists' colony of Grez-sur-Loing where Stott developed relationships with other artists from across Europe and America including Frank O'Meara and Lowell Birge Harrison.

The work is a beautiful interpretation of the river at Grez at dusk and shows the mix of influences from the rural naturalism of Jules Bastien-Lepage to the simple geometry of Edward Burne-Jones. The pensive figures recall the work of Scandinavian artists who were among artists at the Grez colony.

The centre of the composition is dominated by the reflections of the river, yet it exerts a sense of distance with the village in the background. This effect can also be seen by artists such as George Clausen, Henry Herbert La Thangue and John Lavery. Le Passeur also strongly influenced artists associated with the Glasgow School and it received its first full appreciation in The Scottish Art Review in 1889.