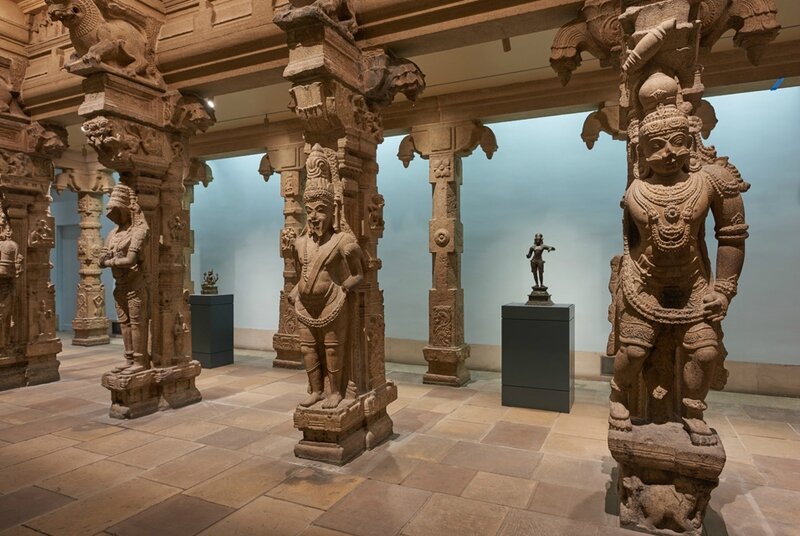 Hall from the Madanagopalaswamy Temple, Madurai, South India. Circa 1550. Granitic stone. Gift of Susan Pepper Gibson, Mary Gibson Henry and Henry C. Gibson in memory of Adeline Pepper Gibson, 1919-714. Photography by Joseph Hu, 2016. © 2016 Philadelphia Museum of Art
PHILADELPHIA, PA.- On October 2 the Philadelphia Museum of Art is reopening its galleries of South Asian art following a comprehensive renovation. Dedicated to one of the most significant collections of its kind in this country, these newly reinstalled galleries offer visitors an aesthetic and cultural experience that reveals the richness and diversity of artistic expression across India, Tibet, Nepal, Pakistan, Bangladesh, Thailand, Cambodia, and Indonesia. Among the works displayed are centuries-old sculptures of the Buddhist Lord of Compassion from India and Thailand, an elaborately carved and painted wood Tibetan altarpiece, and a rare 18th century Sufi manuscript, Gulshan-i-Ishq (Rose Garden of Love), juxtaposed with a contemporary site-specific animation by Pakistani-born artist Shahzia Sikander. The centerpiece of the collection—the South Indian Pillared Temple Hall dating to the mid-16th century from the city of Madurai—has been completely reinterpreted.
Timothy Rub, The George D. Widener Director and Chief Executive Officer, says: "This, the first major reinstallation of our South Asian art in several decades, demonstrates that a collection like ours is, in effect, a renewable resource that, when presented in new ways, can always yield new meanings. The completion of this project enables us to illuminate the breadth and beauty of one of this country's great collections of South Asian art for audiences in the 21st century."
The newly installed galleries feature significant improvements, such as state-of-the-art lighting, flooring, and casework that enhance the presentation of storied objects. In addition to these physical improvements, the collection of South Asian art is presented in new and accessible ways in the galleries and online. Each gallery is both self-contained and part of a larger theme, offering visitors a variety of ever-changing and interlinked experiences that illuminate key aspects of South Asian culture. Some explore broad, universal themes of South Asian art, while others focus on a single concept or create an immersive environment. A set of three interactive digital kiosks called 'living labels' connect historical objects with the world of today, showing festivals, worship, and the performing arts, as well as glimpses of behind-the-scenes curatorial work.
The Museum's entire South Asian collection is also available online. Every object has been newly photographed to offer the online visitor a rich and satisfying experience of the collection. Enhanced features allow visitors to browse and sort through the collection by theme and subject, or filter by date, medium, geography, and classification. Thematic groupings will foster the exploration of a central theme or concept, allowing online users to study objects in ways that they cannot experience them in the galleries.
Darielle Mason, The Stella Kramrisch Curator of Indian and Himalayan Art, explains: "It has been exciting to reimagine the galleries for a new generation of visitors. Each of the works on display was originally created to communicate, whether to worshipers, kings, villagers, or gods, and we hope that every visitor discovers something here that brings new meaning into her or his own life."
The Temple Hall: A Place of Celebration
The only pre-modern Indian temple architecture to be found outside of South Asia has been re-evaluated in function and reimagined in form. Research over the past decade has revealed that it stood outdoors as the front section of a large temple complex—its pillared structure open on all sides to serve as a space for celebration. Visitors can also encounter an illustrated timeline showing the hall's journey to Philadelphia in the early 1900s, and see recent video footage of worship and life in the temple complex in Madurai of which this hall was originally a part.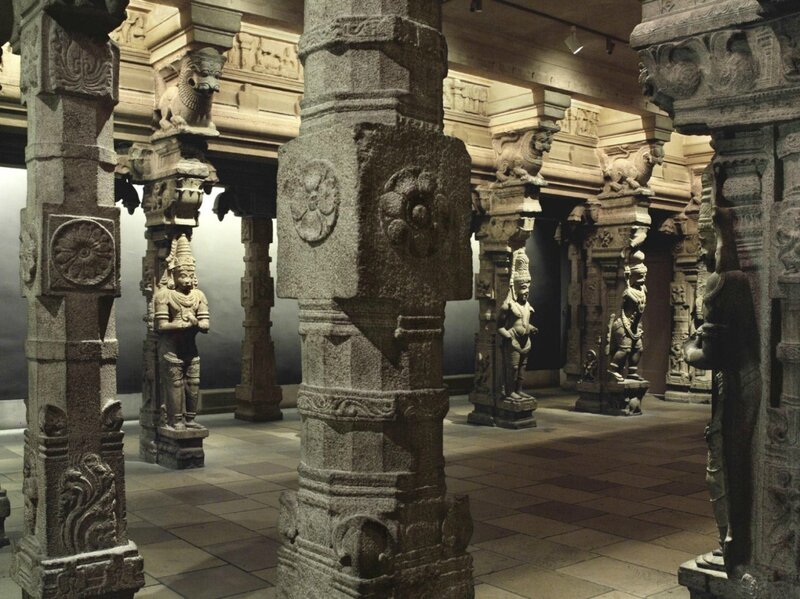 Pillared Temple Hall. Made in Madurai, Tamil Nadu, India, Asia. Circa 1550. Granitic stone. Gift of Susan Pepper Gibson, Mary Gibson Henry and Henry C. Gibson in memory of Adeline Pepper Gibson, 1919-714. Photography by Joseph Hu, 2016. © 2016 Philadelphia Museum of Art
The Architecture, the Manuscript, the Artist
A 300-year-old coffered ceiling and vaulted archway from a residence near the city of Isfahan, in present-day Iran, provides the immersive setting for the display of a 1743 manuscript titled Gulshan-i-Ishq (Rose Garden of Love) in The Hersha H. and Hasu P. Shah Gallery. These historical objects are given a new context through a soundscape by Chinese composer Du Yun (born 1977) and an imaginative animation by artist Shahzia Sikander (born 1969), who found inspiration in the mystical love-adventure story visualized in the manuscript's illustrations.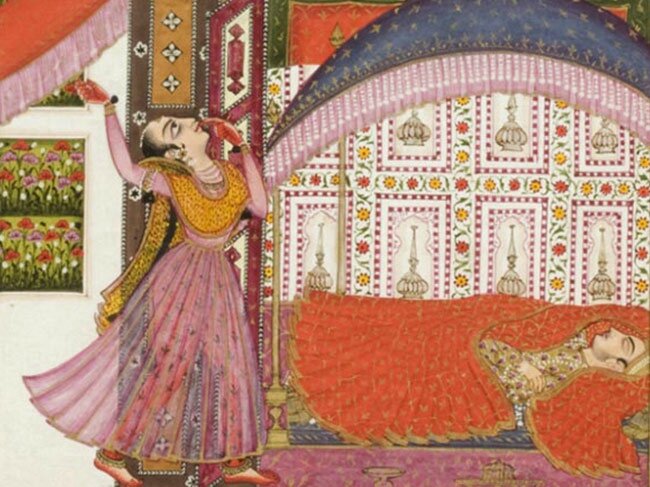 Gulshan-i 'Ishq (Rose Garden of Love) (detail), 1743. Made in Deccan Region, India, Asia. Possibly made in Hyderabad, Telangana, India, Asia. Opaque watercolor, gold, and ink on paper. The Philip S. Collins Collection, gift of Mrs. Philip S. Collins in memory of her husband, 1945, 1945-65-22(1a--255b) © 2016 Philadelphia Museum of Art
Spiritual Paths in Himalayan Art
The Osagie and Losenge Imasogie Gallery showcases the diverse arts of the regions of Nepal, Tibet, and Mongolia is an elaborate altar that was originally built into the wall of a Tibetan home; a 14-foot-long Nepalese scroll featuring details of a pilgrimage through the Kathmandu valley; a monumental gilded sculpture from Mongolia of a Buddhist goddess; and a grinning, masklike face of the god Bhairava that spurts sanctified beer during festivals to bless the people of Kathmandu.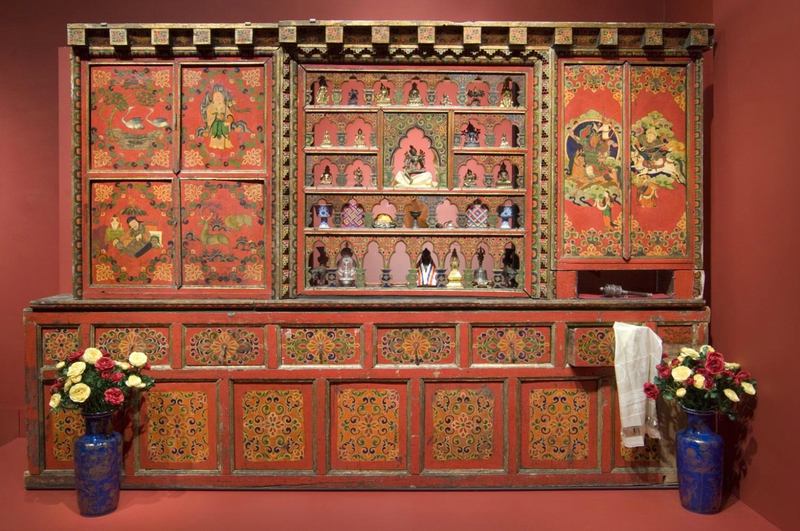 Tibetan Altar with Domestic Motifs. Made in Tibet, Asia Possibly made in Tibet, Kham Province, Asia. Late 19th - early 20th century. Wood with distemper paint; leather fittings. Overall: 6 feet 10 inches x 10 feet 2 inches x 12 1/2 inches (208.3 x 309.9 x 31.8 cm) Top: 48 inches x 9 feet 7 1/2 inches x 9 inches (121.9 x 293.4 x 22.9 cm) Base: 34 inches x 10 feet 2 inches x 12 1/2 inches (86.4 x 309.9 x 31.8 cm). Purchased with the Stella Kramrisch Fund, 2004, 2004-7-1a1--1e1i © 2016 Philadelphia Museum of Art

Tibetan Altar with Domestic Motifs. Made in Nepal, Asia Possibly made in Bhaktapur, Nepal, Asia. Mid- 19th century or early 20th century. Approximately: 9 inches x 15 feet (22.9 x 457.2 cm). Gift of John Hafenrichter, 2000, 2000-2-10 © 2016 Philadelphia Museum of Art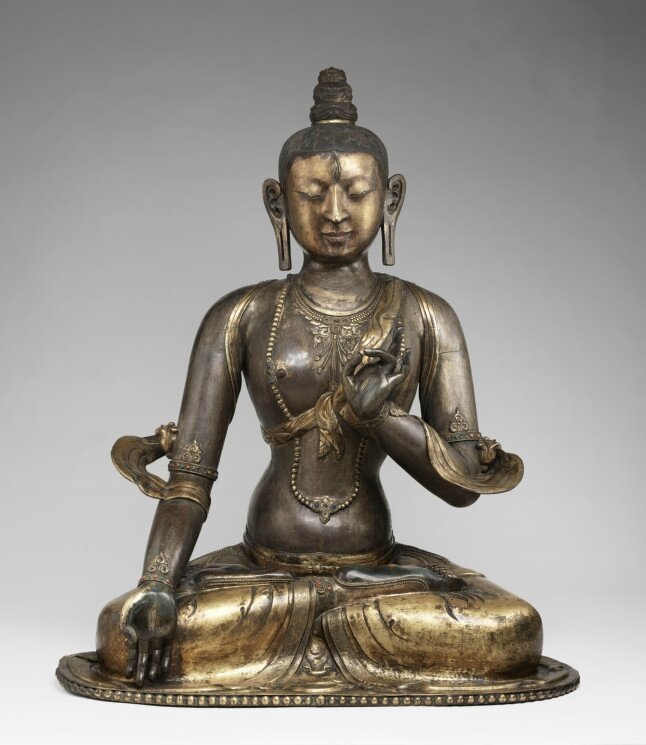 Tara, Goddess of Compassion, 18th - 19th century. Made in Dolon Nor, Duolun County, Chahar Province, Inner Mongolia, China. Gilded bronze. Gift of John T. Morris, 1911. © 2016 Philadelphia Museum of Art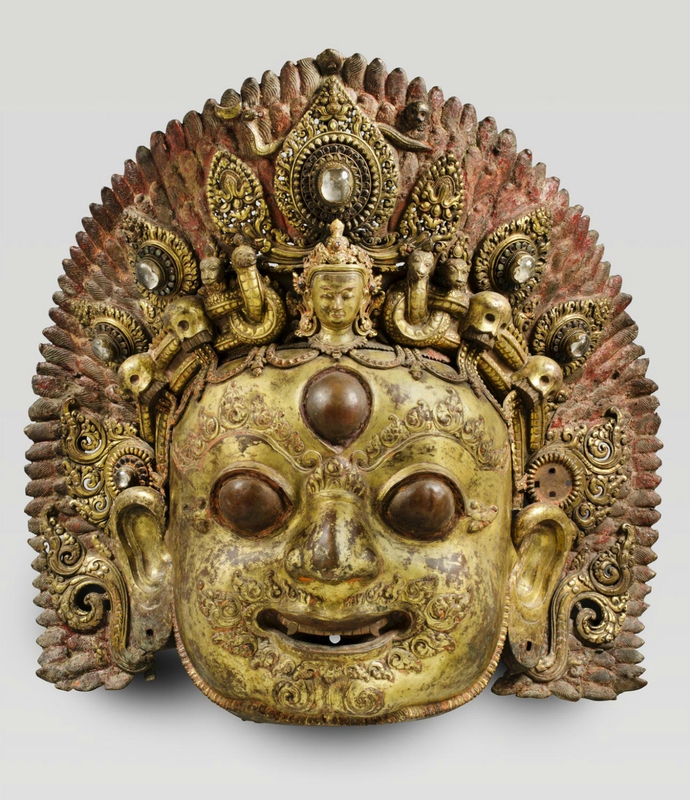 Face of Bhairava. Made in Kathmandu Valley, Nepal, Asia. c. 16th century. Mercury-gilded copper alloy with rock crystal, paint, foil, and glass, 28 1/4 × 29 1/4 × 14 3/4 inches (71.8 × 74.3 × 37.5 cm). urchased with the Stella Kramrisch Fund, 1998, 1998-77-1 © 2016 Philadelphia Museum of Art
Art and the Divine
The Dr. Sadhan C. Dutt and Mrs. Bharati Dutt Gallery, the largest of the new spaces, celebrates the many ways in which South Asian artists have represented themes such as worship, nature, reincarnation, and enlightenment, especially through works made for the Buddhist, Hindu, and Jain faiths. Stone sculptures representing deities and teachers, including the elephant-headed god Ganesha (8th century), a great Jain savior-saint (11th century), and the sun god Surya (12th century), are interspersed with small metal images, watercolor paintings, and textiles glittering with gold details. The new presentation moves beyond the traditional exhibiting framework of time and place to highlight universal themes that underpin South Asia's religious and cultural traditions.
Dancing Ganesha. Made in Madhya Pradesh, India, Asia Probably made in Gwalior, Madhya Pradesh, India, Asia Teli-ka-Mandir. c. 750. Sandstone, 50 inches (127 cm) Weight: 525 lb. (238.14 kg). Purchased with the New Members Fund, 1971, 1971-154-1 © 2016 Philadelphia Museum of Art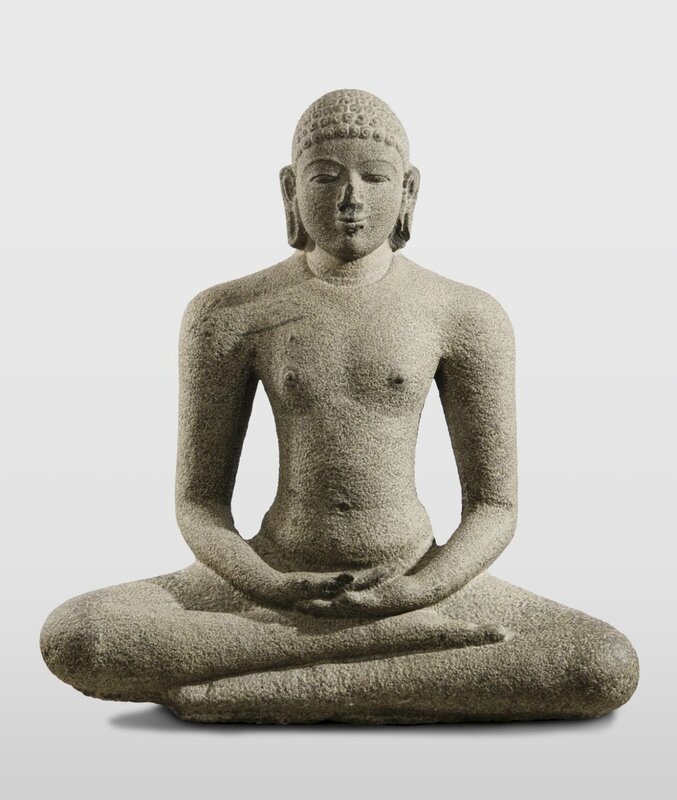 Jain Seated in Meditation. Made in Tamil Nadu, India, Asia, c. 11th century. Granite, 42 x 40 x 14 1/2 inches (106.7 x 101.6 x 36.8 cm) Weight: 876 lb. (397.35 kg). Acquired from the National Museum, New Delhi, India (by exchange), with funds contributed by Mr. and Mrs. Roland L. Taylor and with Subscription and Museum funds, 1968, 1968-30-1 © 2016 Philadelphia Museum of Art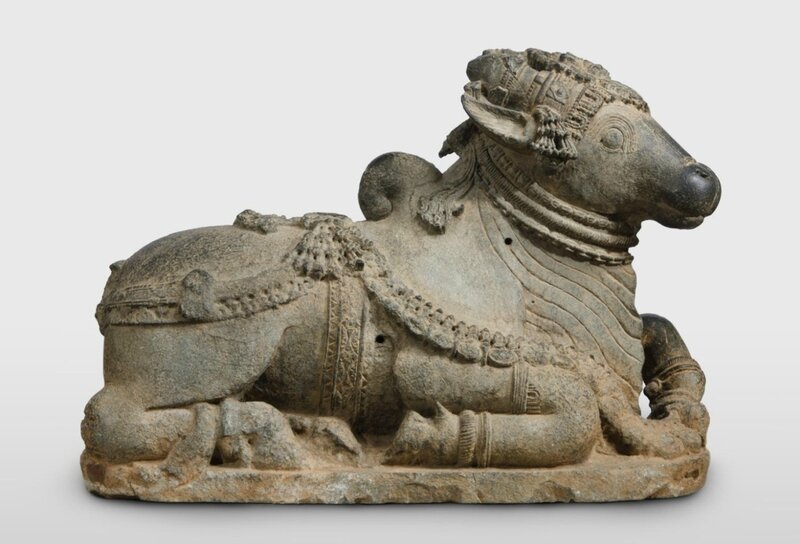 Nandi, Sacred Bull of Shiva. From the hall of a temple dedicated to Shiva. Made in Mysore, Karnataka, India, Asia. Medieval Period, c. 1200-1250. Schist, 31 3/4 × 32 7/8 × 15 9/16 inches (80.6 × 83.5 × 39.5 cm) Weight: 660 lb. (299.37 kg). Purchased with the Joseph E. Temple Fund, 1966, 1966-123-1 © 2016 Philadelphia Museum of Art
Artistic Traditions across Southeast Asia
Filled with stone and bronze sculptures, textiles, and ceramics from Thailand, Cambodia, Vietnam, and Indonesia, this room illustrates the breadth of Southeast Asia's artistic traditions from the 700s to the 1900s. Buddhist and Hindu deities animate the space, including one of the Museum's masterpieces, an 8th-century Thai sculpture of Avalokiteshvara, the Bodhisattva of Compassion. This monumental stone work may be compared with an equally magnificent 5th-century Indian representation of Avalokiteshvara in the adjacent gallery.
Avalokiteshvara. Possibly made in Prachinburi Province, Thailand, Asia. Possibly made in Buriram Province, Thailand, Asia. Pre-Angkor Period. Early 8th century. Sandstone. Height: 5 feet 9 3/4 inches (177.2 cm). Purchased with the W. P. Wilstach Fund, 1965, , W1965-1-1 © 2016 Philadelphia Museum of Art
Avalokiteshvara, Bodhisattva of Compassion. Made in Uttar Pradesh, India, Asia Sarnath, c. Third quarter of 5th century. Sandstone, 48 1/2 × 15 1/2 × 7 inches (123.2 × 39.4 × 17.8 cm) Weight: 290.5 lb. (131.77 kg). Stella Kramrisch Collection, 1994, 1994-148-1 © 2016 Philadelphia Museum of Art
Art, Power, and Status
In the gallery devoted to the theme of power and status, masterpieces made for kings, courtiers, and others with wealth and influence provide vivid examples of the role art has played in politics and economics in South Asian life over the course of 2,000 years. Royal textiles, delicate courtly paintings, ivory and stone carvings, and an extraordinary, newly acquired temple hanging offer a feast for the eyes.
Kantha (Embroidered Quilt). Made in Panjia, Jessore District, Bangladesh, Asia or West Bengal, India, Asia. Late 19th century. Cotton plain weave with cotton embroidery in back, chain, darning, outline, satin, split, fishbone, arrowhead, dot, eye, zigzag variation, and surface satin stitches; 6 feet 4 1/2 inches × 46 inches (194.3 × 116.8 cm). Stella Kramrisch Collection, 1994, 1994-148-673 © 2016 Philadelphia Museum of Art
Temple Sculpture
Within an intimately scaled gallery dedicated to temple sculpture is a photographic mural reproducing a nearly complete wall of one of the renowned temples at Khajuraho in northern India. By mounting sculptures on this wall, the gallery demonstrates how these "fragments" might have looked when attached to the Hindu and Jain monuments for which they were originally made. In this way, the installation offers a better understanding of their function, significance, and meaning.
Dr. Stella Kramrisch (1896–1993)
The William P. Wood Gallery is devoted to Dr. Stella Kramrisch, among the 20th century's most revered art historians and collectors of South Asian art. Dr. Kramrisch built the foundation of the collection, including a full range of sculptures, paintings, textiles, and folk arts from India, along with masterpieces of Buddhist and Hindu art from Nepal and Tibet. The more than 1,000 works she gave from her personal collection form the Museum's Stella Kramrisch Collection. This gallery explores her life and major interests; many other masterpieces from the Stella Kramrisch Collection are found throughout the new galleries.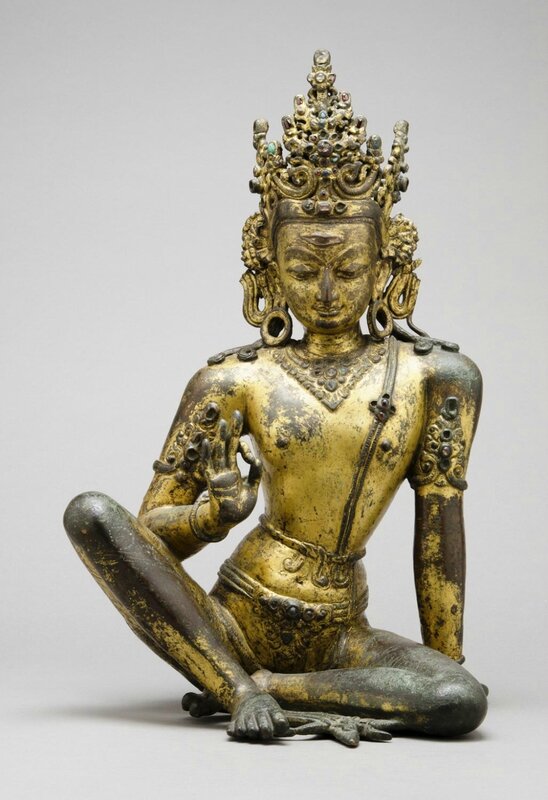 Indra, Lord of Storms and King of the Gods' Real. Made in Kathmandu Valley, Nepal, Asia. Medieval Period, c. 1200. Mercury-gilded copper alloy with spinel rubies, rock crystal, and turquoise, 15 7/8 × 9 3/4 × 8 1/2 inches (40.3 × 24.8 × 21.6 cm). Stella Kramrisch Collection, 1994, 1994-148-596 © 2016 Philadelphia Museum of Art