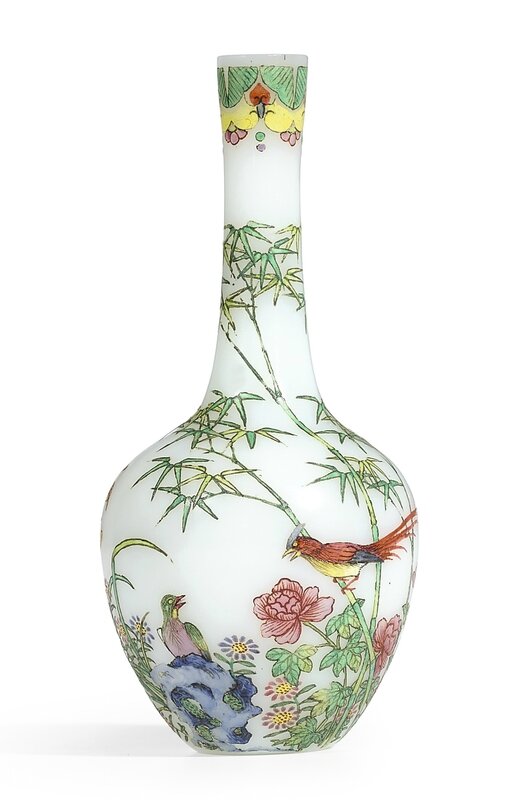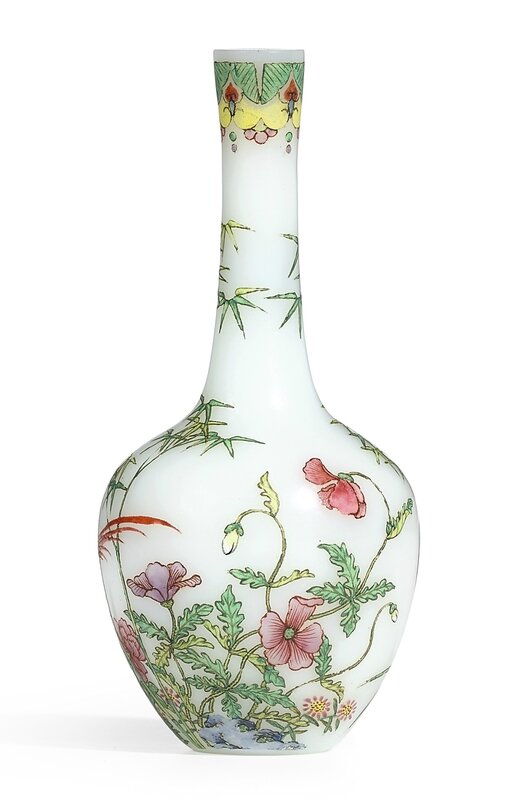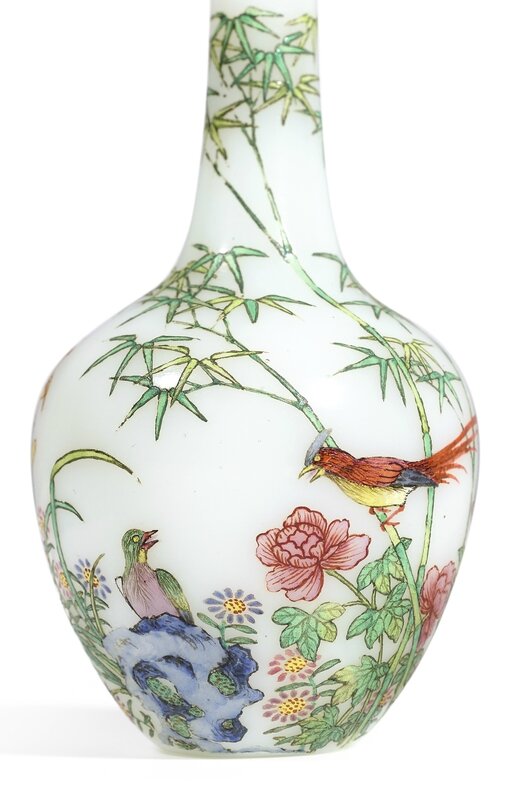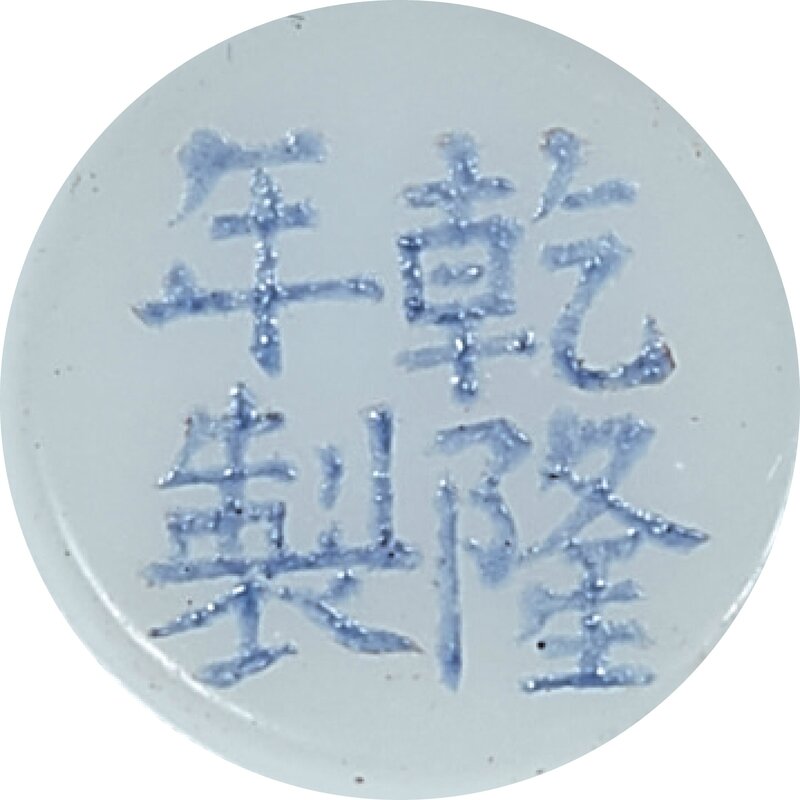 Lot 3621. An extremely rare and exquisitely enamelled 'pheasants' glass bottle vase, blue enamel mark and period of Qianlong (1736-1795). Estimate 10,000,000 — 15,000,000 HKD. Photo: Sotheby's.
the ovoid body surmounted by a tall and gently waisted neck and everted rim, the body exquisitely enamelled with a continuous scene depicting a pair of pheasants amidst lush and verdant vegetation, the male pheasant perched on a bamboo shoot whilst looking at the other pheasant on pierced jagged rockwork, the male portrayed with fiery iron-red plumage terminating in a long tail, the wing feathers finely rendered and accentuated with blue enamel, the breast picked out with yellow enamel, all below a pale blue crest atop its head, the other bird with a puce-enamelled breast, framed by finely incised green feathers, the scene further picked out with varying flowering blooms, including large pink peonies and small pink, purple and blue asters with yellow stamens, further accentuated with long bamboo shoots extending upward across the shoulder and neck of the vessel, all below a stylised band with foliate, ruyi and circular motifs encircling the mouthrim, the countersunk base inscribed in a characteristic greyish-blue enamel with a four-character reign mark; 9.1 cm, 3 1/2 in.
Provenance: Sotheby's Hong Kong, 11th April 2008, lot 2846.
Notes: The elegant form, painterly enamelled decoration and exquisite quality, together with the Qianlong Emperor's seal mark on the base, make this vase a fine example of wares produced in the Imperial Palace workshop during the Qianlong period. It is a masterpiece made with the combined effort of artist working in two important workshops, the Glass Workshop, also known as the Glass House, where the vessel was made and the Enamel Workshop where the decoration was painted. As every object in the Palace Workshops was made on special command, no two vessels were precisely repeated in their decoration or followed a pre-set pattern. The present vase is therefore unique with no similar example being recorded.
The Imperial Glass Workshop was established in the 35th year of Kangxi's reign (equivalent to 1696) under the management of the Zaobanchu [Imperial Palace Workshop] located at Yangxindian [Hall of Mental Harmony]. The Glass Workshop enjoyed strong imperial patronage which greatly increased the status of this material whose original principal function was imitation of jade and other precious stones. Although glass was made on the emperor's orders, the Workshop itself was guided and managed by Jesuit missionaries who played a key role in introducing new glass technologies and developing Chinese glass at the Court. From archival records it is known that throughout the 18th century the Glass Workshop was staffed by Westerners and Chinese artisans from Guangdong and Shandong. Painted enamel glass wares began to be made in cooperation with the Enamel Workshop during the Yongzheng Emperor's reign, but it was not until the Qianlong period that glass was made in a grand scale and glass making reached its peak. Qianlong glass pieces are have a more lustrous, clear and blemish-free body compared to those of the Kangxi and Yongzheng eras. The Qianlong Emperor's glass collection was vast and as far as the Qing glass collection is concerned, the majority is from the Qianlong period. Glass was used for furnishing, decoration, daily utensil, sacrificial vessel, and scholar's object. During the Qianlong Emperor's reign two western missionaries were in charge of production, a Pierre d'Incarville (Chinese name Tang Zhizhong) and a Gabriel-Leonard de Brossard (Chinese name Ji Wen). Giuseppe Castiglione, famous Jesuit painter at the Court, is known to have provided drawings and designs for glass decoration that was then enamelled in the Enamel Workshop. In her work on the Glass Workshop, Zhang Rong notes as follows:
"Painted enamel glass fully developed in the Qianlong reign. Most of the works were snuff bottles. It was mainly made in the Imperial Enamel Workshop. Now about 20 painted enamel glass masterpieces are in the collection of the Palace Museum. As a combination of glass, enamel and painting, this category of glass is difficult in technique and superb in artistry."
Amongst the small number of extant Qianlong enamelled glass pieces it is worth comparing a pair of vases painted with pheasants and flowering peony blooms, from the Corning Museum of Glass, New York, illustrated in Emily Byrne Curtis, ed., Pure Brightness Shines Everywhere. The Glass of China, Burlington, 2004, pl. 9.10, with a four-character Qianlong reign mark; another vase painted with flowers and birds included in Luster of Autumn Water. Glass of the Qing Imperial Workshops, Beijing, 2005, pl. 84; and a third example ibid., pl. 85, painted with a floral motif that includes lilies.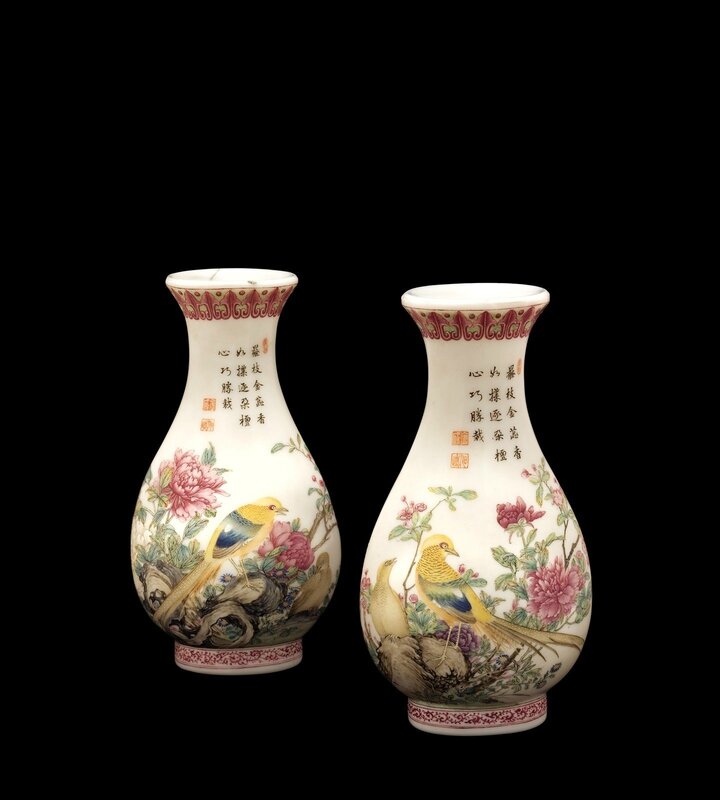 Two Guyuexuan Enameled Glass Vases, blue enamel
four-character marks of Qianlong (1736-1795), Corning Museum of Glass,
53.6.1
© 2002 -
Corning Museum of Glass.
Qianlong period enamelled glass are also known with a guyuexuan mark; for example see a bottle painted with a single long-tailed phoenix perched on a rockwork amidst leafy sprigs bearing flowering peony blooms, formerly sold in these rooms, 29th November 1978, lot 420, and now in the collection of Robert H. Clague, included in the exhibition Chinese Glass of the Qing Dynasty, Phoenix Art Museum, Phoenix, 1987, cat. no. 50.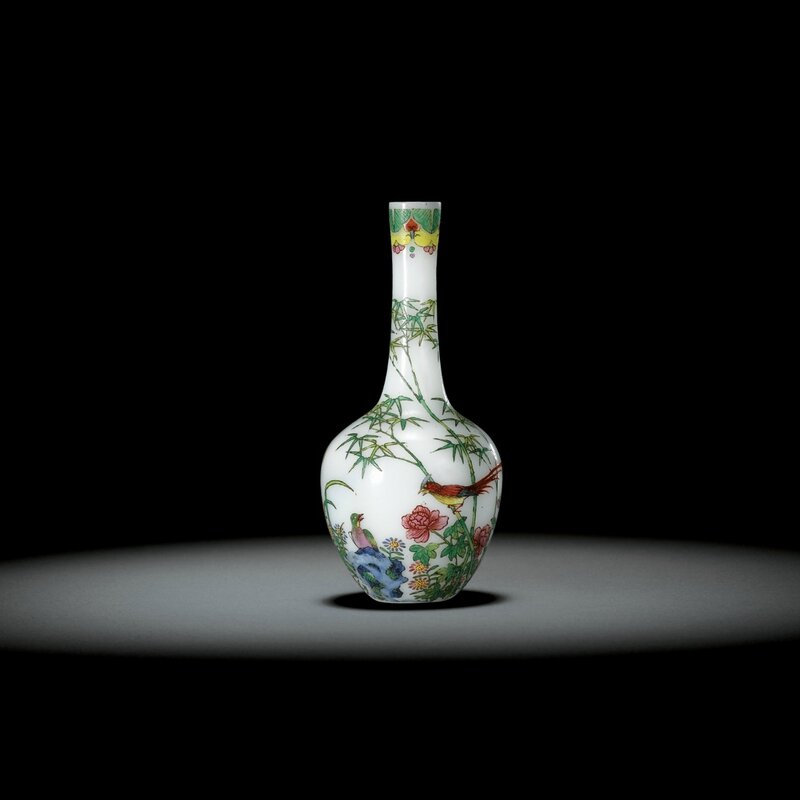 An extremely rare and exquisitely painted Beijing enamel glass vase, mark and period of Qianlong. sold 14,887,500 HKD at Sotheby's, 11 april 2008, lot 2846. Photo Sotheby's.
The subject matter of flower and bird has featured on Chinese silk and paper painting as early as the Song dynasty. A pheasant is depicted together with bamboo and peach in Wang Yuan's (active 1280-1350) painting Peach, bamboo and Golden Pheasant from the Shanxi Provincial Museum collection published in Orientations, December 1994, p. 40, fig. 29. Castiglione was responsible for the especially magnificent rendering of the bird and flower subject in the painting Glorious Spring, in the collection of the National Palace Museum, Taipei, illustrated in Cecile and Michel Beurdeley, Castiglione, Peintre Jesuite a la Cour de Chine, Friborg, 1971, pl. 130. The painterly depiction of the pheasant perched on the bamboo and the treatment of the flowers with the veining and outlining of the leaves on this vase is related to that found on porcelain vases where the artist in a comparable fashion tries to use his full range of colour palette. See a vase from the Charles Russell Collection illustrated in R.L. Hobson, Chinese Ceramics in Private Collections, London, 1931, col. pl. 28, and sold in our London rooms, 2nd June 1971, lot 263. Another vase with the pheasant design can be found in the Musée Guimet, Paris, included in Soame Jenyns, Later Chinese Porcelain, London, 1951, pl. LXXVIII; and a third in the Tianjin Museum published inTianjin Shi Yishu Bowuguan cang ji [Collection of the Tianjin City Art Museum], Hong Kong, 1993, pls. 169-170.
Sotheby's. Important Chinese Art, Hong Kong, 05 oct. 2016, 02:30 PM