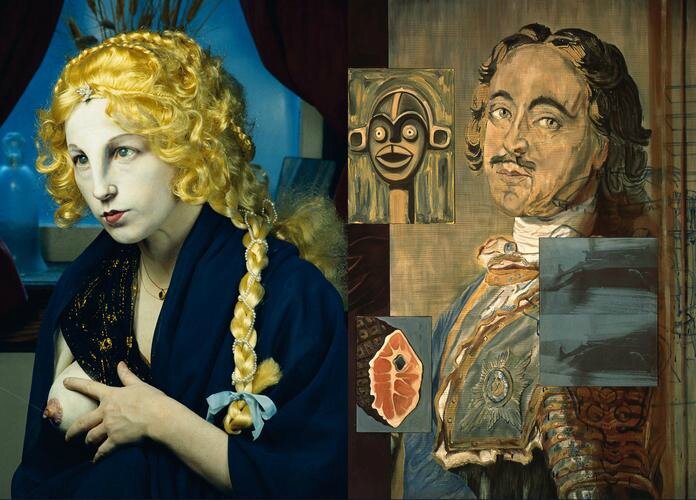 Cindy Sherman, Untitled # 225 (detail), 1990, chromogenic colour print 48 1/8 x 33 1/8 in. (122 x 84 cm.), © Cindy Sherman
David Salle, Young Krainer (detail), 1989, acrylic and oil on canvas 84 x 104 in. (213.4 x 262.2 cm.), Art © David Salle / Licensed by VAGA, New York, NY.
LONDON.- Skarstedt announced the opening of a new London gallery at 8 Bennet Street, St James's. A joint exhibition of Cindy Sherman's History Portraits (1988 – 1990) and David Salle's Tapestry Paintings (1989 – 1991) inaugurated the new space. Designed by Thomas Croft Architects, the new gallery benefits from 5,000 square feet in this historic quarter, enabling Skarstedt to continue its programme of historical exhibitions.
Dominant figures in contemporary art, both Cindy Sherman and David Salle were key figures in the influential 'Pictures Generation' art movement of the mid 1970s and 80s in New York. Emerging onto the art scene during this media-dominated era, both Sherman and Salle, like many of their contemporaries, drew upon existing imagery as inspiration for their own richly layered work.
First exhibited in London at Waddington Galleries in 1989, with the second series being shown at Fred Hoffman Gallery, Los Angeles in 1990 and Gagosian Gallery, New York in 1991, David Salle's Tapestry Paintings are a pastiche on sixteenth and seventeenth-century Italian and Dutch genre styles. The background imagery is drawn from narrative scenes from historical tapestries, some of which are reproductions of famous works, others are by an anonymous Russian tapestry-maker which Salle found reproduced in a magazine and copied onto canvas. Demonstrating a richness of imagery and compositional complexity, this body of work is one of Salle's most accomplished. A select number of Tapestry Paintings were included in the touring retrospective of Salle's work, which originated at the Stedelijk Museum, Amsterdam in 1999, though paintings from this pivotal series have not been widely exhibited since.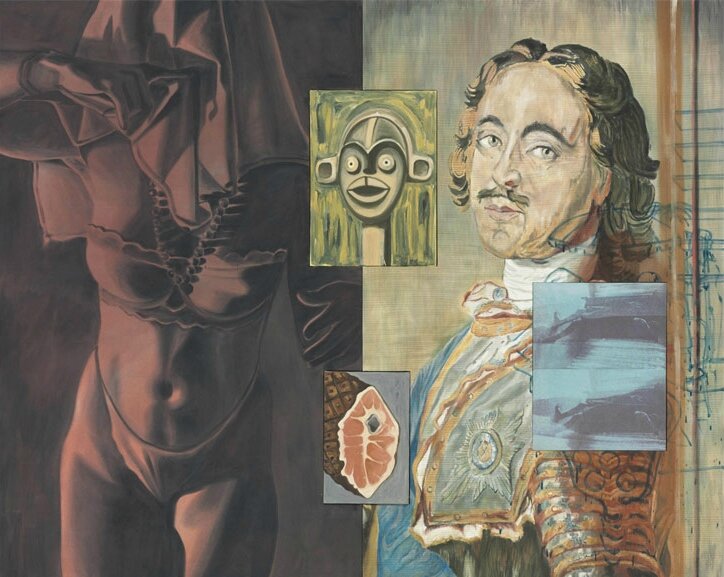 David Salle (b.1952), Young Krainer, 1989, acrylic and oil on canvas with two inserted panels, 84 x 104 1/2 in. (213.4 x 265.4 cm.), © David Salle, Courtesy of Skarstedt
Presented on a grand scale, in a nod to the monumental proportions of historical tapestries, the Tapestry Paintings eschew the narrative tendencies of their source material, demonstrating instead a simultaneity of styles. Delicately tinted, the pale backgrounds are deliberately rococo, with smaller grisaille paintings and coloured motifs inset into the canvas. The multi-layered images are instilled with rhythm and velocity, which the eye distills as it zooms in and out of focus over the surface. In this unique body of work, Salle neutralizes narrative conventions, instead creating a dialogue between art historical references and genres through his incorporation of decorative imagery of furniture, painted images of African masks and Giacometti sculptures, among others. Alive with colliding imagery, the visual cacophony of the Tapestry Paintings emphasises the primacy of seeing.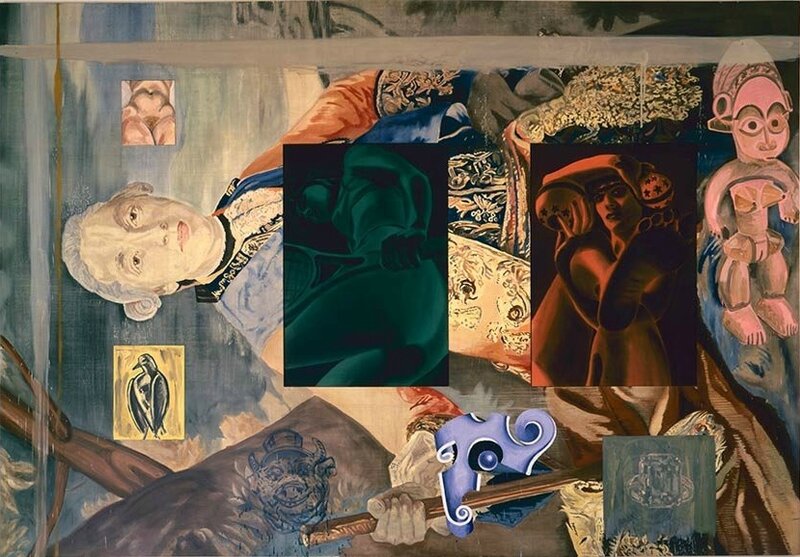 David Salle (b.1952), Lampwick's Dilemma, 1989. Oil and acrylic on canvas. 94 x 136 inches, © David Salle, Courtesy of Skarstedt
Also overt in their stylistic references, Cindy Sherman's History Portraits take their inspiration from noble historical paintings from the renaissance, baroque, rococo and neo-classical periods. Inspired directly by painted portraits by Raphael, Caravaggio, Ingres and Rubens among others, Sherman uses a range of props and costumes in her classically composed images to play up to the clichés of subjective portraiture. Exploring the traditional genre of painting with a multi-layered approach both physically and conceptually, the heavy draped fabrics that form the backdrops of the History Portraits and the rich, dense coloration of the photographic surface give physical form to Sherman's appropriation of this historical genre.Throughout her extensive body of work, Sherman has assumed the role of both model and creator of her images. Adopting different styles and personas, she plays upon the stereotypes of women as portrayed in art and propagated in the media. Through her use of props and obvious prosthetic body parts, Sherman draws attention to the performative aspects of her work, thereby calling into question the validity of these male-attributed gender stereotypes.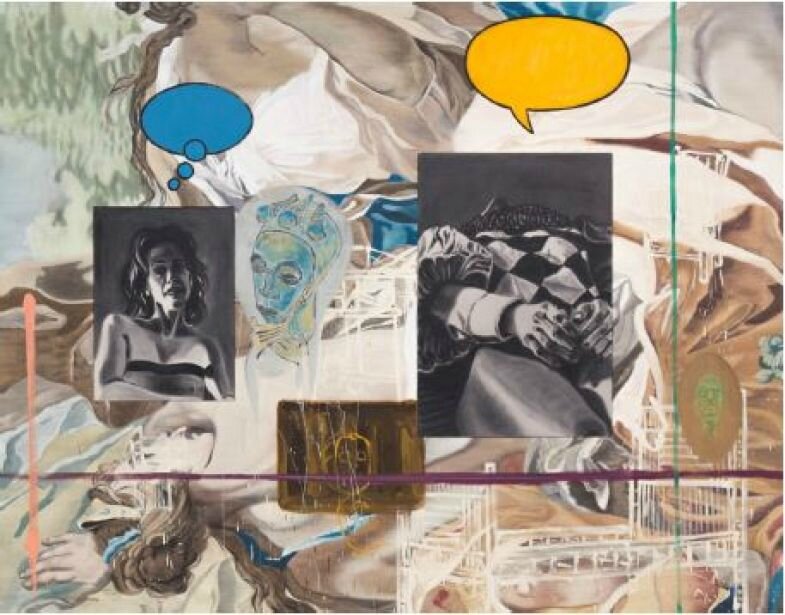 David Salle (b.1952). Backdrop, 1990. oil and acrylic on canvas. 96 x 122 in. (243.8 x 309.9 cm.), © David Salle, Courtesy of Skarstedt
Evoking the art of painting, Sherman's re-interpretations are full of theatricality and artifice, calling into question the nature of representation throughout art history and the relationship between painter and model. Intrinsic to each of Sherman's portraits are their ornate gilded frames, which she designed to emphasise the painterly references in each of the works. The glossy surface and saturated colours of these photographs bring to the fore the artificiality of Sherman's composition, heightening the theatricality of the performance encased within the frame.
Cindy Sherman, Untitled #203, 1989, chromogenic colour print in artist's frame, 61 x 45 ¾ in. (154.9 x 116.2 cm.), © Cindy Sherman, Courtesy of Skarstedt
The theme of performance is also central to Salle's oeuvre. With a long-standing involvement in theatre, Salle has collaborated for over 25 years with choreographer Karole Armitage, creating sets and costumes for her ballets and operas. Pre-dating his seminal Ghost Paintings of 1992, which merge painting, photography and performance, the Tapestry Paintings demonstrate the cross-cultural performative influences on Salle's work through the incorporation of insert paintings of dancers and photo-transfer images of his own staged photographs. With their juxtaposition of imagery and cultural references, these large-scale paintings are choreographed performances in their own right, their surface a stage for Salle's ongoing exploration of the performative nature of painting.
Cindy Sherman (b.1954). Untitled #206, 1989. chromogenic colour print. 75 3/8 x 53 1/4 in. (191.5 x 135.3 cm.), © Cindy Sherman, Courtesy of Skarstedt
Positioning these bodies of work in dialogue, the exhibition explores the shared visual strategies and the performative aspects intrinsic to the artists' work. Created during the same period, the History Portraits and Tapestry Paintings invite us to reflect on the coincidence of the artists' shared translation of historical sources at this particular moment of contemporary art history and to contemplate the role played by their chosen mediums of painting and photography. The borrowing by Sherman and Salle of visual modes and styles to create a layered pastiche that is original and inventive underlines the success of their artistry, and the continued importance of these historical bodies of work as context for contemporary thought and practice.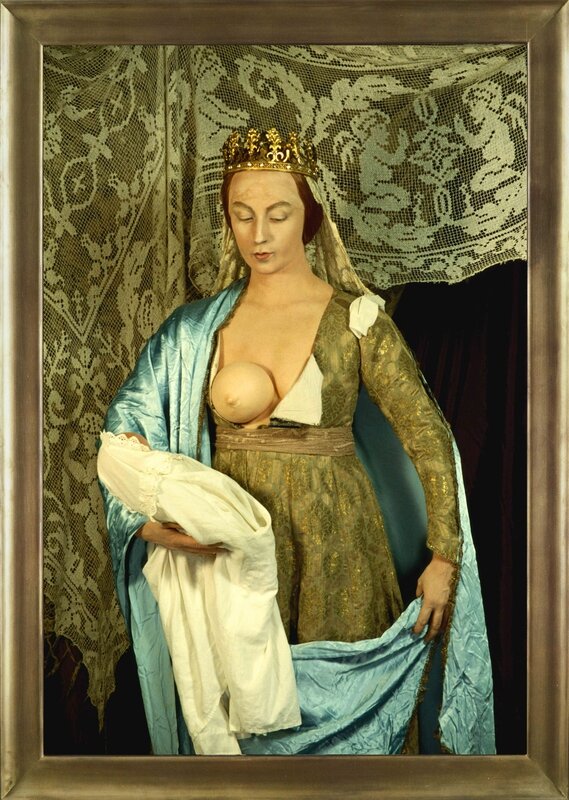 Cindy Sherman (b. 1954), Untitled #216, 1989, chromogenic color print, 95 x 64 in. (241.3 x 162.6 cm.) This work is from an edition of six, © Cindy Sherman, Courtesy of Skarstedt
Cindy Sherman, Untitled # 225, 1990, chromogenic colour print 48 1/8 x 33 1/8 in. (122 x 84 cm.), © Cindy Sherman, , Courtesy of Skarstedt
Installation view. © Cindy Sherman and Art © David Salle/Licensed by VAGA, New York, NY. Courtesy of the artists and Skarstedt.