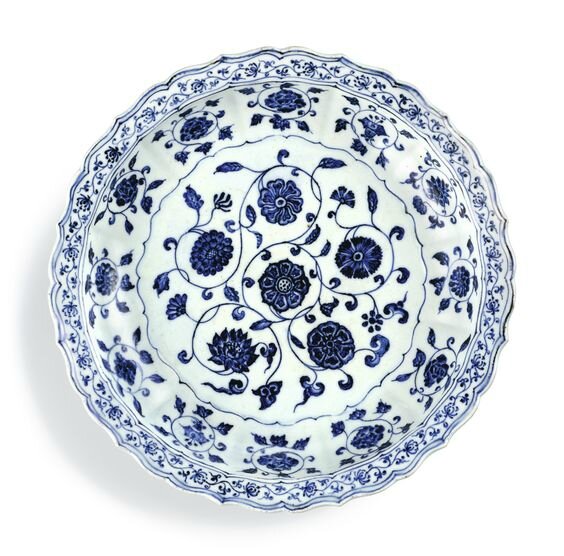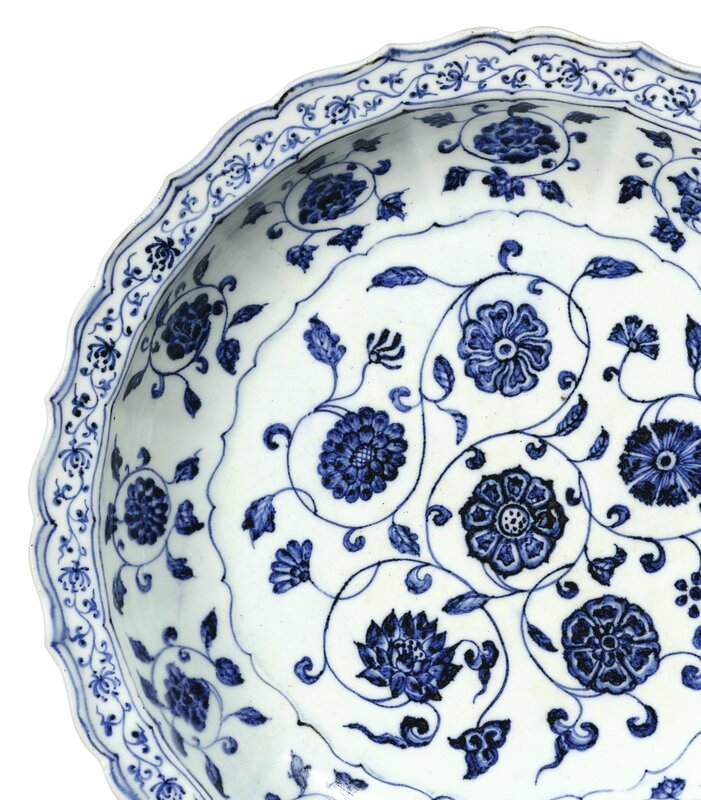 Lot 3715. A fine and rare blue and white barbed 'floral scroll' dish, Ming dynasty, Yongle period (1403-1425). Estimate 2,500,000 — 3,500,000 HKD. Lot sold 3,680,000. Photo Sotheby's.
the shallow rounded sides supported on a short tapered foot and subtly divided into twelve bracket foliations, rising to a barbed everted rim of conforming form, the interior painted to the gently sunken barbed medallion with a central lotus bloom wreathed by flowering chrysanthemum, mallow, pink, camellia and lotus blooms borne on freely meandering leafy stems, all surrounded by twelve detached floral sprays decorated on the cavetto, including morning glory, lotus and chrysanthemum blossoms, each encircled by a leafy scroll, all surrounded by a floral border between double-line bands at the everted rim, the exterior decorated with further detached floral sprays, including pink and chrysanthemum blooms, the smooth unglazed base and footring burnt orange in the firing; 33.6 cm, 13 1/4 in.
Provenance: A Japanese collection.
Notes: The present dish is an excellent example of the technical developments achieved by the early Ming dynasty. Yongle porcelains are characterised by their particularly deep blue cobalt, which fired to a dark deep-blue in some parts and pale blue in others. This silvery-black and crystal-like separation of colours is known as the 'heaped and piled' effect, and the intensity of tones was highlighted by the finely potted white body of the porcelain clay.
Blue and white chargers from the early Ming dynasty, despite the strong influence by Yuan prototypes, display an obvious departure in style by simplifying the dense luxurious decorations. By the Hongwu period, artisans had already abandoned many lavish schemes such as white flowers reserved on blue ground often seen on Yuan dishes, and adopted refreshing motifs exemplified by floral blooms and garden scenery, aiming not to surprise but to please the eye. One of the most important decorative innovations of early fifteenth-century wares was the use of separate floral sprays or bunches of flowers in the cavettos instead of the continuous scroll. The heavy wreath of lotus or peony found on 14th century dishes gave way to a series of delicate and more varied motifs. As seen for example in the cavetto of the present dish, twelve flower sprays consisting of two sets are repeated in order so that each flower is diametrically opposite its pair, with each flower spray encircled by a circular foliate stem, leaving much of the white space unfilled. Although a variety of designs can be found on this type of Yongle dishes, the present example, enclosed within a painterly lotus scroll, radiates an aura of tranquility and purity, which is quintessential of the period.
A closely related dish in the Topkapi Saray Museum, Istanbul, is illustrated in Regina Krahl, Chinese Ceramics in the Topkapi Saray Museum, Istanbul, vol. II, London, 1986, pl. 602; one formerly in the Ardebil Shrine and now in the Iran Bastan Museum, Teheran, is published in Oriental Ceramics. The World's Great Collections, vol. 4, Tokyo, 1981, pl. 189; a dish in the Gotoh Art Museum, Japan, is published in Mayuyama. Seventy Years, vol. 1, Tokyo, 1976, pl. 758; and a fourth dish in the Detroit Institute of Arts, Detroit, was included in the exhibition The Arts of the Ming Dynasty, The Detroit Institute of Arts, Detroit, 1952, cat. no. 99. See also two similar dishes sold in these rooms, 30th April 1996, lot 325, and the other, 17th May 1988, lot 25; and a third sold at Christie's Hong Kong, 7th July 2003, lot 649. There is a further example from the collections of L.A. Basmadjieff and Reach family, exhibited in Chinese Art from the Reach Family Collection, Eskenazi, London, 1989, cat. no. 35, sold four times in our rooms, most recently in these rooms, 8th April 2009, lot 1670.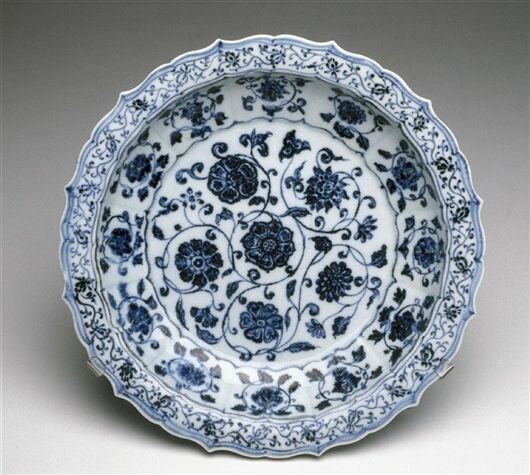 Deep dish, Ming dynasty, Yongle period (1403-1425). Porcelain with underglaze cobalt and clear glaze. Height x Diameter: 2 1/4 x 13 3/8 in. (5.7 x 34.0 cm). Founders Society Purchase, Sarah Bacon Hill Fund, 47.370. Detroit Institute of Arts, Detroit © 2016 Detroit Institute of Arts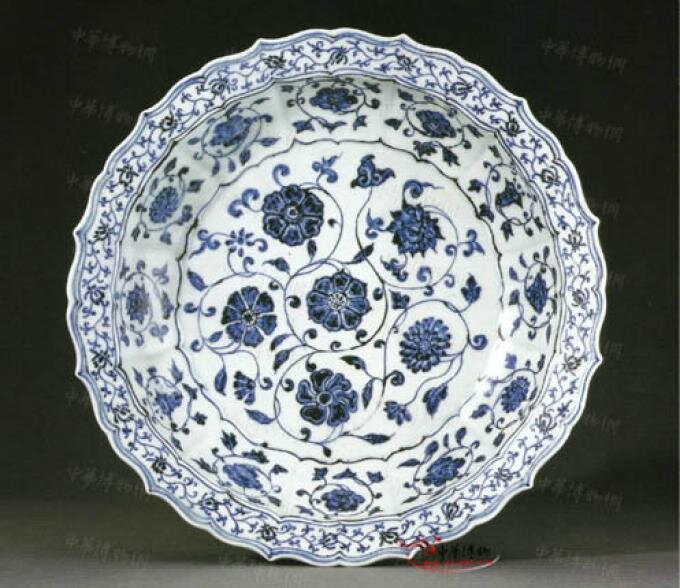 An early Ming blue and white bracket-lobed dish, Yongle period (1403-1425). Price Realised HKD 286,800 (USD 36,951) at Christie's Hong Kong, 7th July 2003, lot 649. Photo Christie's Image Ltd 2003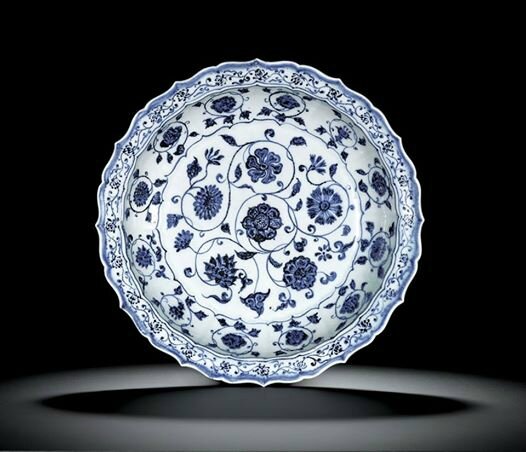 A rare barbed 'floral scroll' blue and white dish, Ming dynasty, Yongle period (1403-1425). Sold 3,140,000 HKD at Sotheby's, Fine Chinese Ceramics and Works of Art, Hong Kong, 08 Apr 2009, lot 1670. Photo Sotheby's
These types of blue and white chargers from the Yongle period are known in various forms and design combinations. Compare for instance another lobed charger in the current sale, lot 3630, similarly decorated, yet with an everted rim pencilled with waves, thus highlighting the differences between the sparsity of the centre and the density of the peripheral. There is also a circular Yongle blue and white charger painted with grapes, lot 3638. Kindly refer to these related lots for discussion on the production and usage of these type of large dishes.
For Yuan dynasty blue and white chargers of similar form, see a lobed example included in this sale, lot 3636. Enclosed by a band of cresting waves, it is densely painted on the interior with plantain leaves and rocks within a frieze of moulded white peonies on a blue spiral-decorated ground. The opulence of the elaborate decoration on the Yuan example presents a stark contrast to the modest elegance of the Yongle charger, epitomising the differences in decorative styles of the two dynasties.
Sotheby's. Important Chinese Art, Hong Kong, 05 oct. 2016, 02:30 PM