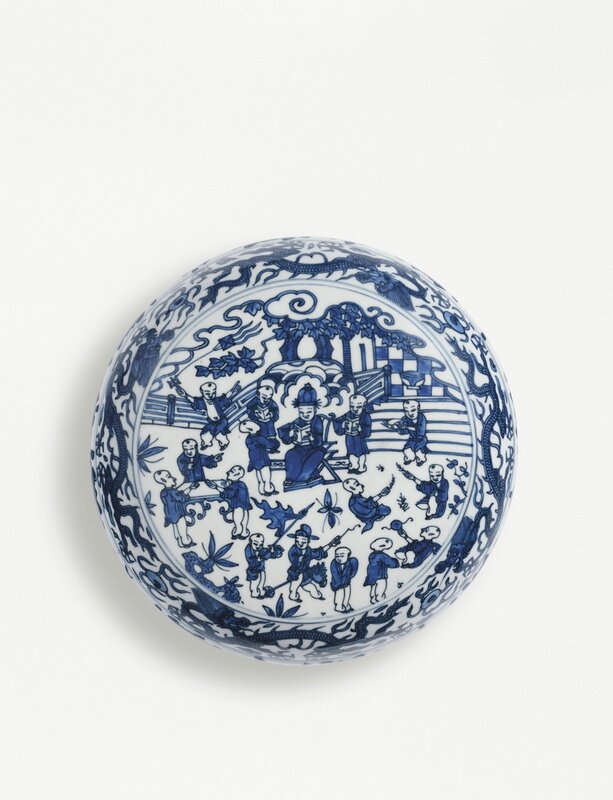 Lot 67. A well-painted blue and white box and cover with children at play, Mark and period of Wanli (1573-1620); 22.6 cm., 9 in. Estimate 1,200,000 — 1,800,000 HKD. Lot sold 3,620,000 HKD. Photo: Sotheby's 2011.
with low rounded sides, the cover painted in an intense cobalt blue with a scene of sixteen boys engaged in various games, one impersonating an official in a long gown and tall hat seated on a chair with a book, accompanied by 'attendants' also holding books, another with an official's cap riding a hobby horse followed by an attendant with a standard, other boys playing the finger guessing game, flying a kite, swirling a clapper-drum, occupied with other items or simply watching, the sides of both box and cover with five-clawed dragons chasing 'flaming pearls', the raised bands around the rim with lingzhi and emblems and the straight foot with a foliate scroll, the base inscribed with a six-character reign mark in a double ring.
Provenance: Collection of T.Y. Chao.
Sotheby's Hong Kong, 19th May 1987, lot 244.
Collection of T.T. Tsui, Jingguantang collection.
Christie's New York, 20th March 1997, lot 80.
Exhibited: Ming and Ch'ing Porcelain from the Collection of the T.Y. Chao Family Foundation, Hong Kong Museum of Art, Hong Kong, 1978, cat. no. 29.
Literature: Regina Krahl, Chinese Ceramics from the Meiyintang Collection, London, 1994-2010, vol. 4, no. 1699.
Notes: Figure decoration had been extremely rare on Jingdezhen porcelain throughout the Ming dynasty, but became popular in the Wanli period, as is exemplified here also by the polychrome box, lot 70, and the blue and white basin, lot 72.
Another box and cover of this charming design, from the Qing court collection and still in the Palace Museum, is published inThe Complete Collection of Treasures of the Palace Museum. Blue and White Porcelain with Underglazed Red, Shanghai, 2000, vol. 2, pl. 181; one in the porcelain collection of the Zwinger in Dresden is published in Porzellansammlung im Zwinger, Staatliche Kunstsammlungen, Dresden, 1982, p. 12; one in the Ashmolean Museum, Oxford, in Daisy Lion-Goldschmidt, Ming Porcelain, London, 1978, pl. 212; and one with the same design executed by a different hand is in the Metropolitan Museum of Art, New York, see Oriental Ceramics: The World's Great Collections, Tokyo, New York, San Francisco, 1980–82, vol. 11, no. 93; another in the Philadelphia Museum of Art was included in the Museum's exhibition Ming Blue-and-White. An Exhibition of Blue-Decorated Porcelain of the Ming Dynasty, Philadelphia, 1949, and is illustrated in the Philadelphia Museum Bulletin, vol. XLIV, no. 223, Autumn 1949, pl. 141.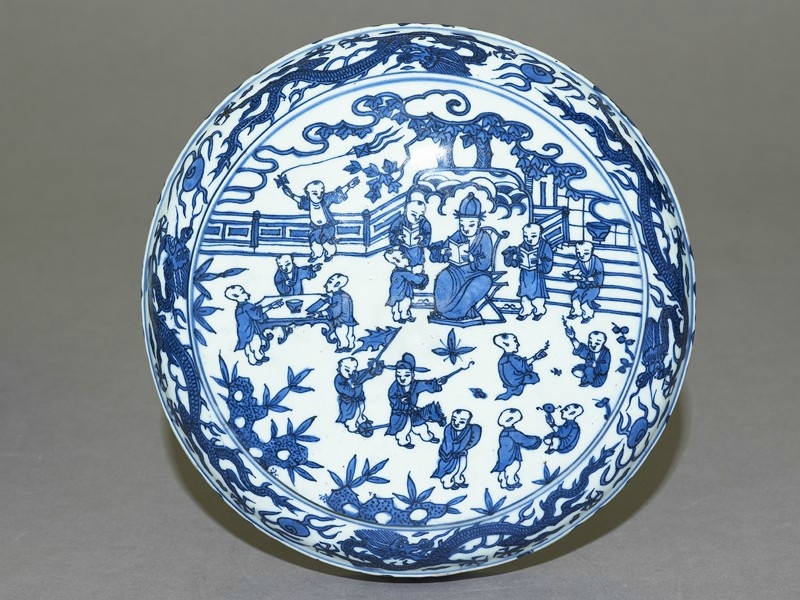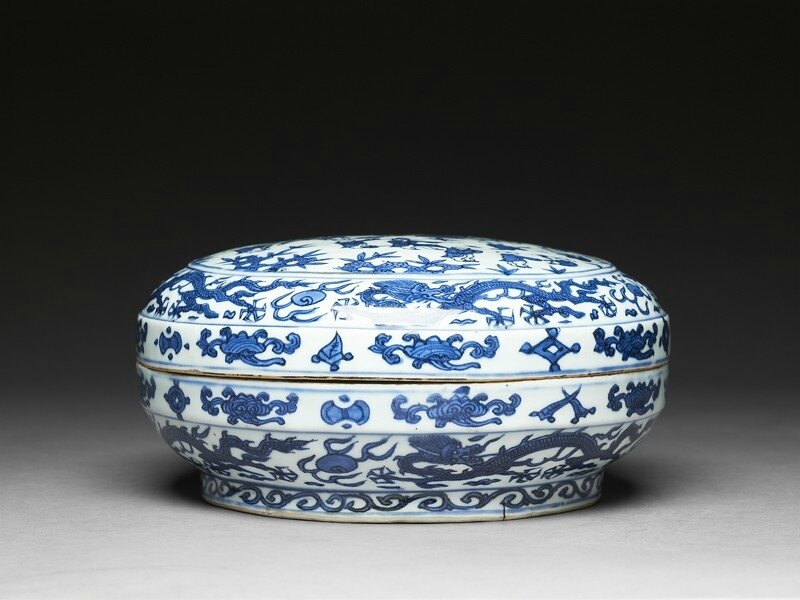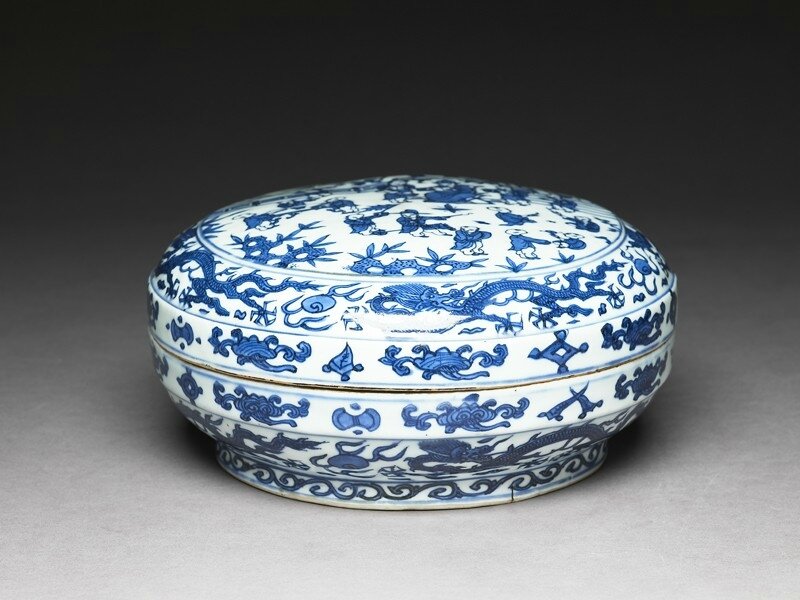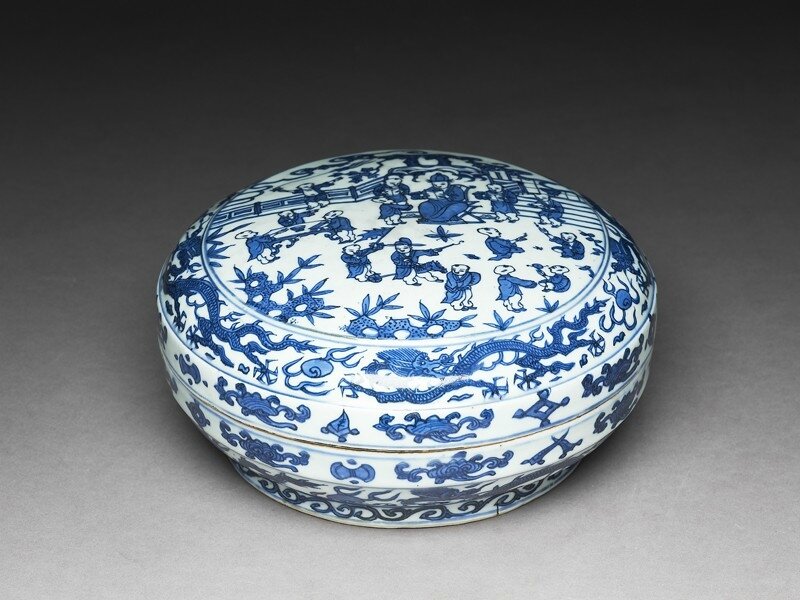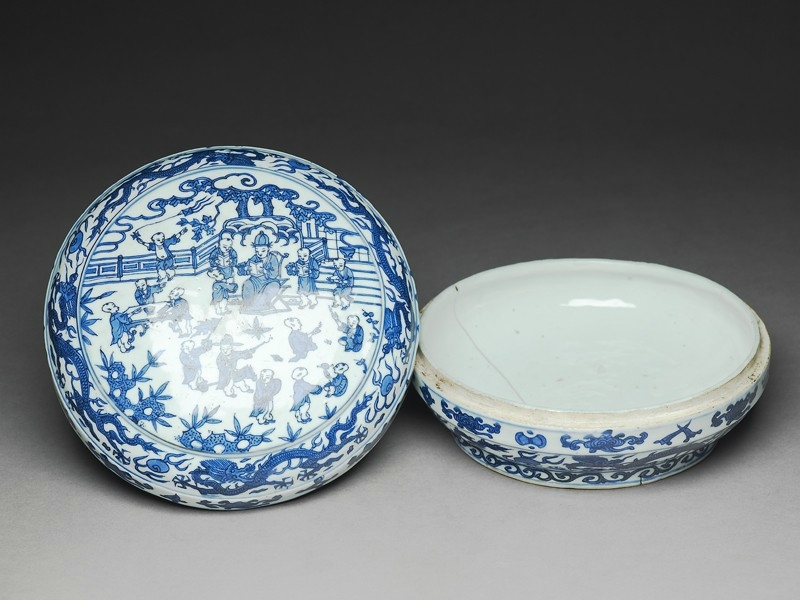 Blue-and-white box with figures in a garden, Ming Dynasty, Wanli Mark and Period (1573 – 1620). Jingdezhen, Zhushan kiln, porcelain, with underglaze painting in cobalt-blue; with lid 11 cm (height), without lid 6.5 cm (height), 22.7 cm (diameter), at base 17.4 cm (diameter). Bequeathed by J. Francis Mallett, 1947. Accession no.EAX.1414. Ashmolean Museum © Ashmolean Museum, University of Oxford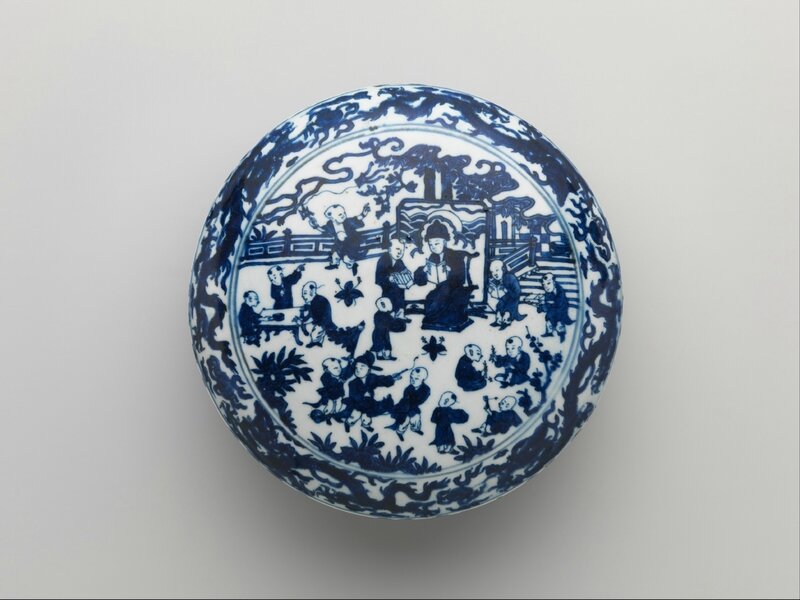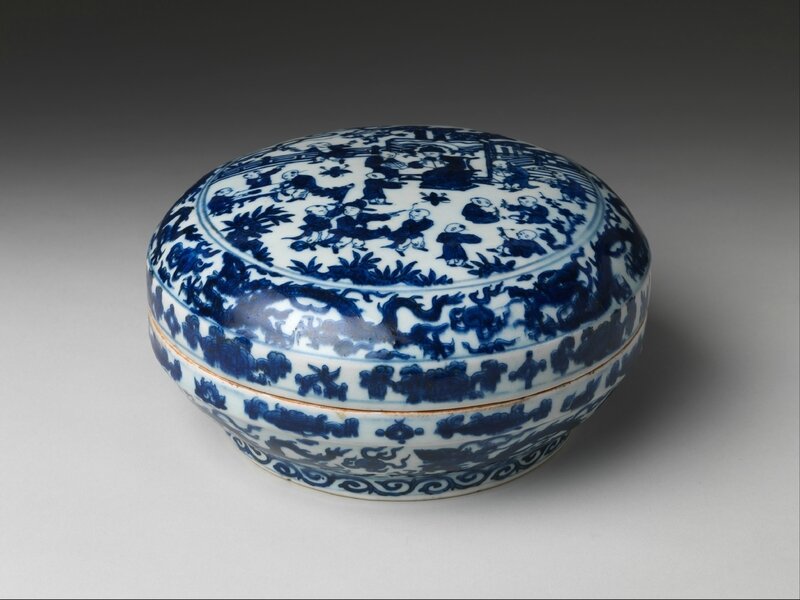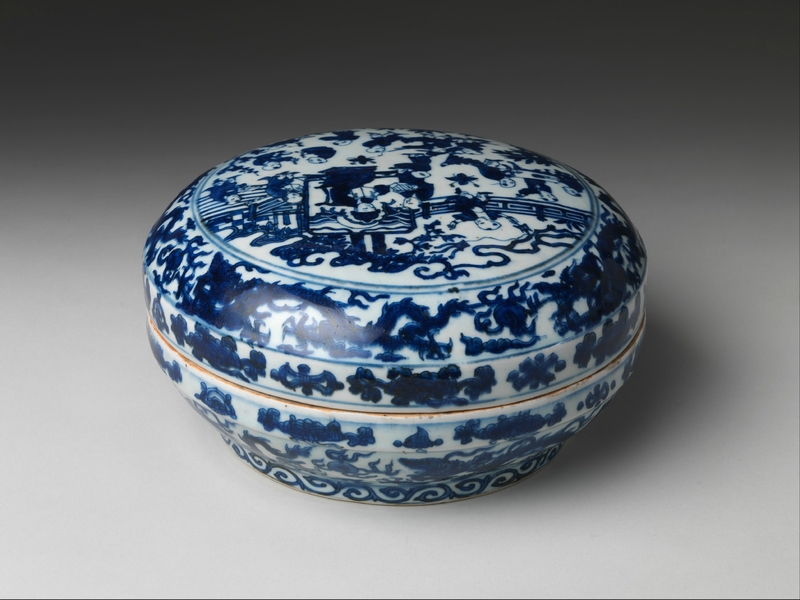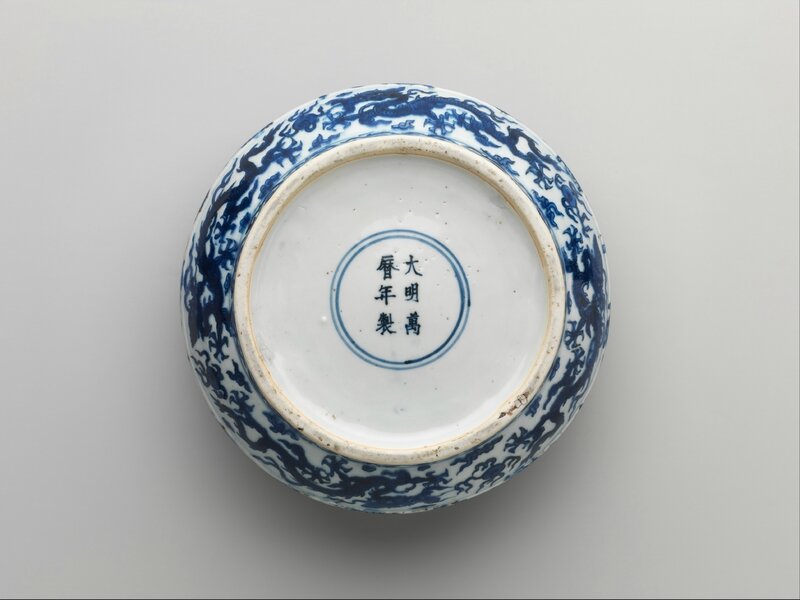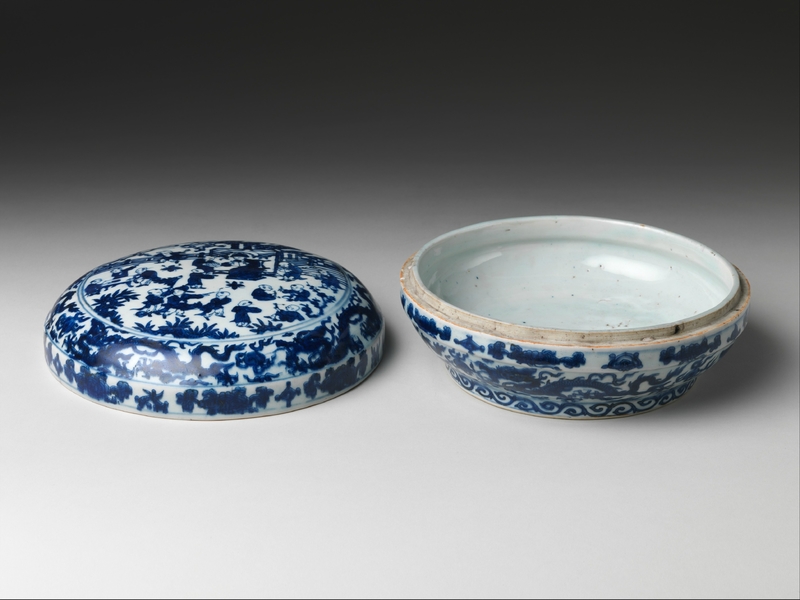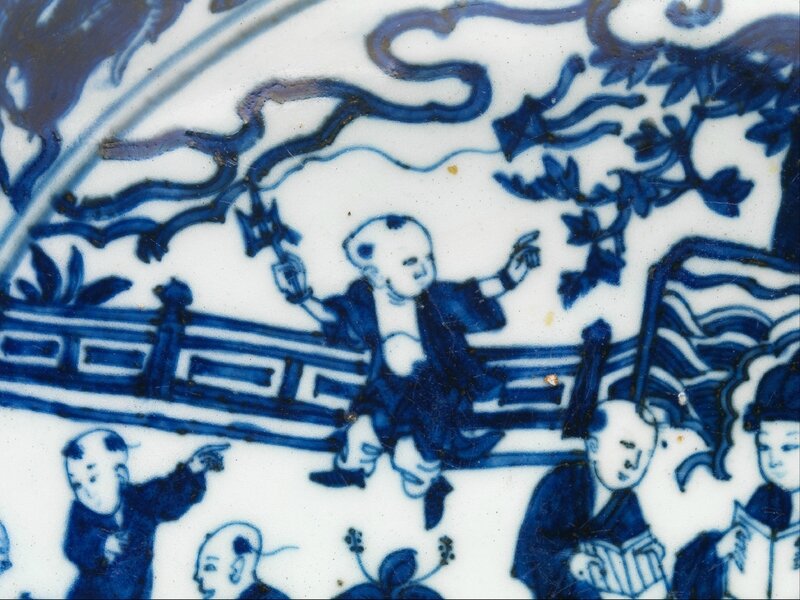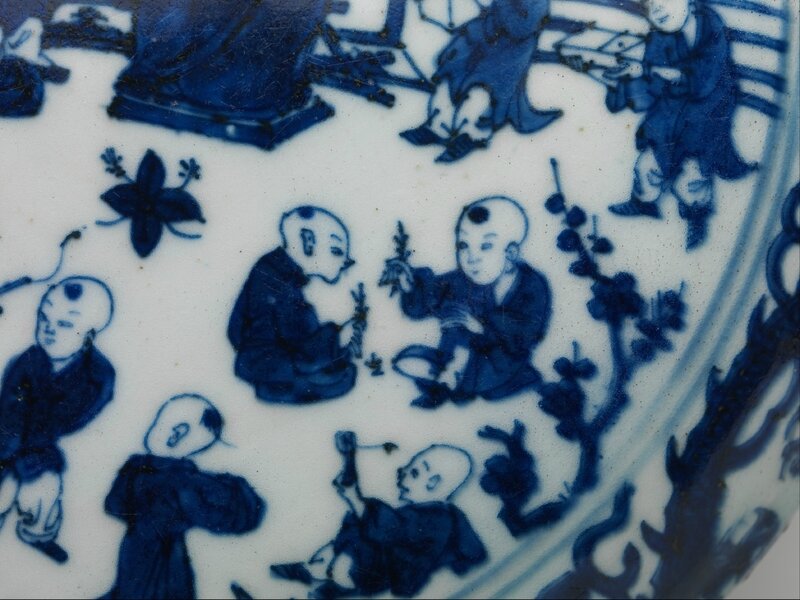 Box with Boys Playing in Garden, Ming dynasty (1368–1644), Wanli mark and period (1573–1620), late 16th–early 17th century. Porcelain painted with cobalt blue under transparent glaze (Jingdezhen ware). H. 4 in. (10.2 cm); Diam. 8 1/2 in. (21.6 cm). Fletcher Fund, 1927; 27.119.26a, b. © 2000–2017 The Metropolitan Museum of Art.
Sotheby's. The Meiyintang Collection - An Important Selection of Imperial Chinese Porcelains, Hong Kong, 07 Apr 2011