LONDON.- Sotheby's Arts of the Islamic World auction on 19 October 2016 will present rare and exquisite objects that tell the story of over a thousand years of artistic exchange and influence in the Islamic world.
This October's sale will open with a selection of fifty manuscripts and calligraphies from the renowned collection of the late Jafar Ghazi. Each of these works bears witness to the high esteem in which calligraphy was held in Turkey, the Middle East and Persia from the medieval period up until the end of the Ottoman era. Further highlights include a beautiful turquoise-set and enamelled necklace from North India, known as 'The Palmerston Necklace', exemplifying the high quality craftsmanship of Indian jewellers in the nineteenth century; a silver-inlaid tray stand from Mamluk Egypt typifying the calligraphic monumentality so favoured by high-ranking Mamluk patrons and a rare painting depicting the Ottoman Sultan Bayezid I by the school of Veronese, circa 1580.

Arts of the Islamic World is one of four sales this October celebrating interwoven artistic traditions Art of the Middle East and India. The week of exhibitions and auctions will also include the bi-annual sale of 20th Century Art: Middle East, Modern & Contemporary South Asian Art and the prestigious Khosrovani-Diba Collection, which comprises a selection of important Indian miniature paintings.

Highlights

Lot 294. A portrait of Sultan Bayezid I, School of Veronese, Italy, circa 1580. Oil on canvas, inscribed middle right: BAIAZETH.P°./.IIII; painting: 68 by 51cm; framed: 84.5 by 68cm. Estimate £150,000-200,000. Photo: Sotheby's
Provenance: Ex-collection Don Torrey, purchased in Rome in 1955.
Sultan Bayezid I (r.1389-1402), also known as Yildirım ('The Thunderbolt'), was the fourth ruler of the Ottoman Empire. During his reign, he expanded his empire into the Balkans and Anatolia, defeating a Christian army to secure his position in the region. His attempt to further increase Ottoman prestige by engaging in the Battle of Ankara led to his demise following his defeat in 1402 at the hands of Timur's forces.
The present portrait of the Sultan, depicted in three-quarter view looking over his shoulder and wearing a large turban and richly embroidered cloak, was directly influenced by a painting of Bayezid by Paolo Caliari, called Paolo Veronese, now housed in the Collection Bayerische Staatsgemäldesammlungen, Munich (inv. no.2243) (R. Kultzen and P. Eikemeier, Venezianische Gemalde des 15. Und 16. Jahrhunderts, Bayerische Staatsgemäldesammlungen, München, 1971, pp.236-9). The discovery of the present painting is important as it re-emphasises the significance of Veronese's original series of fourteen portraits of Ottoman Sultans, all now in Munich, which inspired the creation of at least three, if not more, subsequent sets which were painted between the late sixteenth to nineteenth century. For example, a print of Sultan Bayezid engraved by Franz Xavier Jungwierth in 1766, now in the Victoria and Albert Museum, London (inv. no. SP.180:64), is described as 'after a drawing by Veronese', further highlighting the connection between the artist's original painting and the artworks which followed it.
Europe's fascination with its powerful, Muslim neighbours inspired a wave of accounts and paintings of the Ottoman world. The taking of Constantinople in 1453 by the young Mehmet II ('The Conqueror') not only sparked this interest, but the young Sultan himself, who invited European painters to his court, further fuelled this fashion. The period following his reign saw relations between the Republic of Venice and its powerful neighbour reach a state of relative calm, initiating a period of exchange and trade.
Paintings served as important diplomatic gifts. Notable are a set of portraits now in the Topkapi Palace, Istanbul which were shipped from Venice to Istanbul in September 1779. These were most likely the result of a request by the Grand Vizier Sokollu Mehmed Pasha, who was interested in establishing a local genealogy of the Sultans, to Niccolò Barbarigo, the Venetian ambassador in Constantinople, for such works. Mehmed Pasha must have been aware of the existence of such a series in Venice, as established after the Venetian 'embassy' to Istanbul in 1579 (J. Raby, 'From Europe to Istanbul', exh. cat. The Sultan's portrait: picturing the house of Osman, Topkapı Palace Museum, Istanbul, 6 June – 6 September 2000, Istanbul, Işbank, 2000, pp.136-163).
Paolo Giovio (1483-1552), the Italian historian and biographer, is also known to have owned a series of portraits of Ottoman Sultans that he commissioned after a group of miniatures which Barbarossa, Suleyman the Magnificent's admiral, gifted to a French commander in token of gratitude in 1453. Only one painting of this series still exists, depicting Sultan Mehmed I (now in the Museo Archeologicao, Como). Contemporary copies of Giovio's series were painted by Cristofano de'Altissimo for the Duke Cosimo of Medici (Kunsthistorisches Museum, Vienna, inv. no. 5182), as well as woodcuts by Tobias Stimmer produced for the publisher Pietro Perna (published as 'Elogia Virorum Bellica virtute Illustrium') (see G. Le Thiec, 'L'entrée des Grands Turcs dans le Museo de Paolo Giovio' in Mélanges de l'Ecole française de Rome, Italie et Méditerranée, 1992, Vol.104, pp.781-830, No.2).
Whereas in the Giovio series, the Sultans appear to be represented from the side, in the present painting, the subject holds a cross-shoulder glance pose in the manner of the great masters Giorgione and Titian. Veronese was known for his interest in foreigners, possibly developing the idea of a set of Ottoman Sultans for himself. When Bayezid died in 1403, Veronese would have been free in his choice of representation. An interesting detail shared by the present painting and the Munich work is the flap of fabric ending in a single pearl which hangs down from the turban. This detail may have been accidentally or intentionally re-interpreted by Veronese from a printed image of the Sultan published by Guillaume Rouillé in Lyon in 1553 (Promtuarii Iconum Insignorium) and Francesco Sansovino in 1571 (History of the Ottomans), of which Veronese would have been aware and in which Bayezid wears a helmet in which his ears are covered by a mail curtain resembling pearls.
In addition to the complete sets in Munich and Istanbul, two fragmentary sets of Sultan portraits exist in the Topkapi Palace, as discussed by Filiz Çağman (F. Çağman, 'Portrait Series of Nakkas Osman' in
The Sultan's Portrait: picturing the house of Osman
, exh. cat., Topkapi Palace Museum, Istanbul, 6 June – 6 September 2000, Istanbul, Işbank, 2000, pp.174-5). In both cases the painting of Bayezid is preserved, making it unlikely that the present example formed part of either. However, Çağman also mentions four more royal portraits after the Veronese series which were donated or purchased from Dr. F.R. Martin, the Swedish collector, in 1929, for the Topkapi Palace Museum collection (
ibid,
p.175). It is therefore possible, though as yet unproven, that the present painting came from the same series as those once owned by Dr F.R.Martin.
PROPERTY OF THE LATE JAFAR GHAZI
The sale will open with a selection of fifty manuscripts and calligraphies from the wellknown collection of the late Jafar Ghazi. Each of these works bears witness to the high esteem in which calligraphy was held in Turkey, the Middle East and Persia from the medieval period up until the end of the Ottoman era.
A highlight of this group is a superb Timurid manuscript of Sa'adi's Kulliyat, in almost pristine condition, complete with fine, crisp illumination and tooled and filigree-work binding. The manuscript includes Sa'adi's entire work with the addition of the preface by 'Ali ibn Bistun. Na'im alDin, who worked in Shiraz, copied different parts of the Kulliyyat at different times and that it took him at least nine years to complete this manuscript.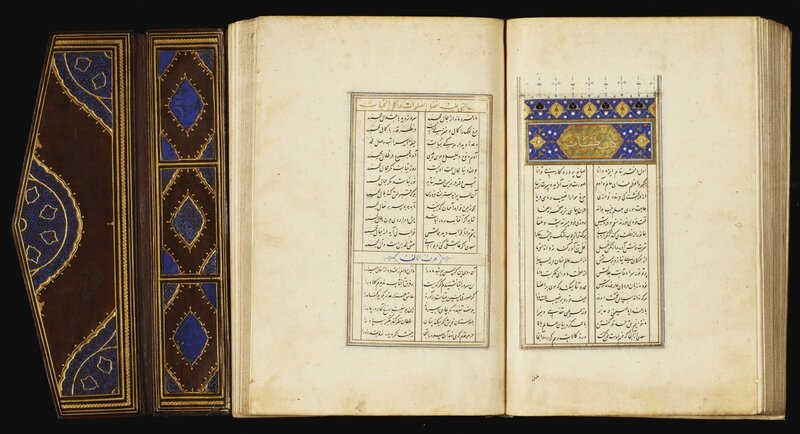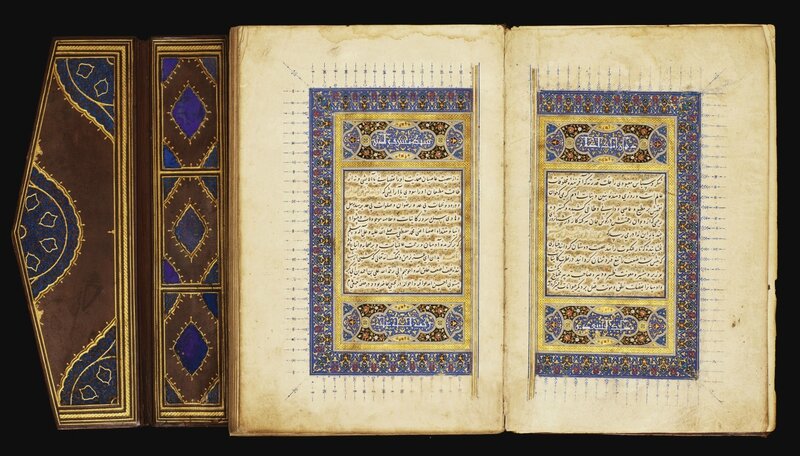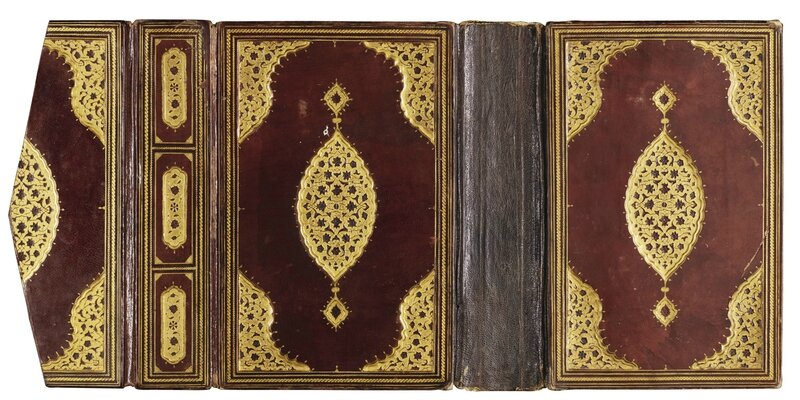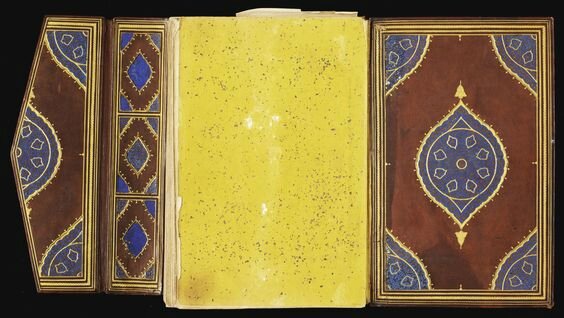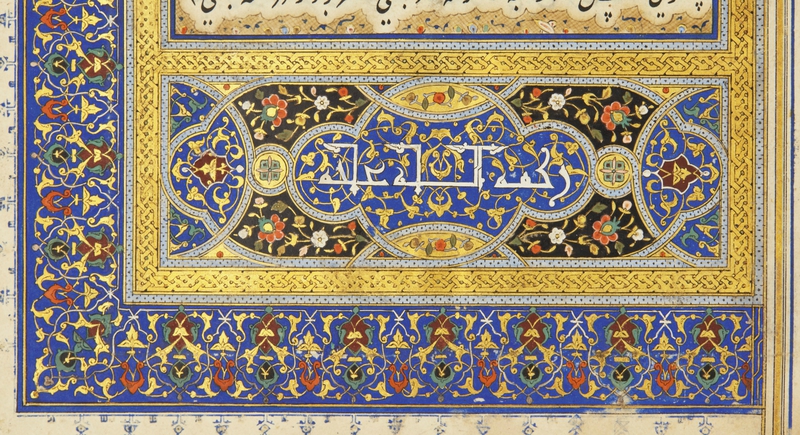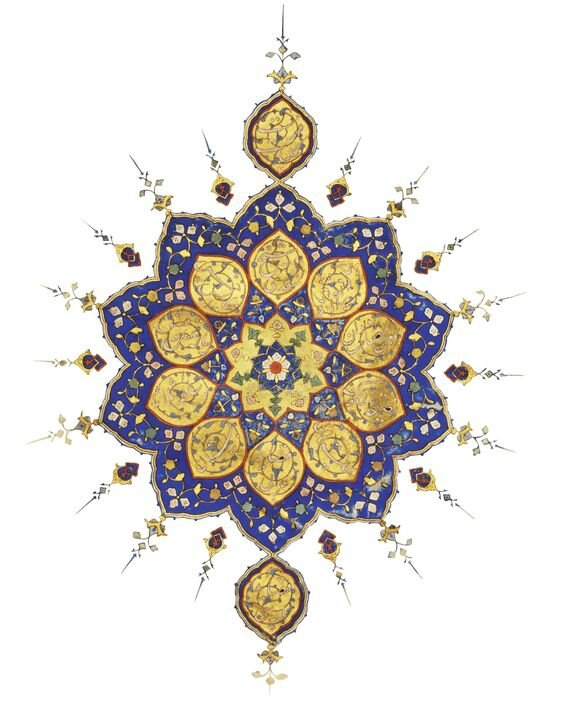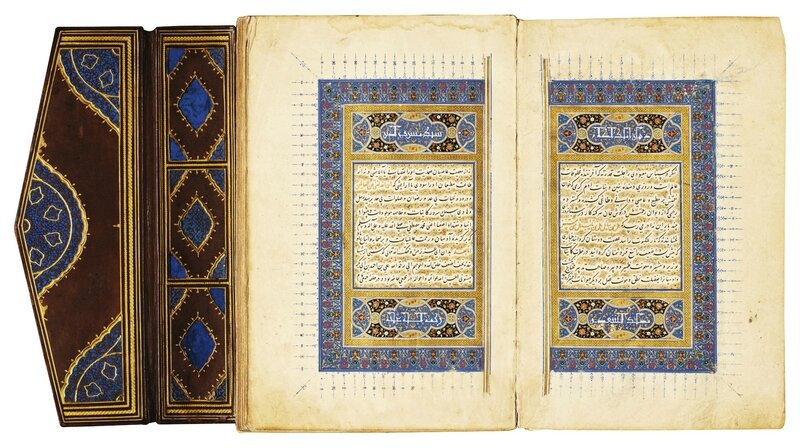 Lot 123. Sa'adi (d.1292 AD), Kulliyat, signed by Na'im al-Din al-Katib, Persia, Timurid, dated 890 AH/1486 AD and 899 AH/1494. Estimate £80,000-120,000. Photo: Sotheby's.

Persian manuscript on polished paper, 511 leaves plus 3 flyleaves, 18 to 19 lines to the page, written in smallnasta'liq script in black ink, approximately 24 leaves later replaced, occasional words in blue, red and gold, catchwords, margins ruled in gold, red and blue, f.1a with illuminated shamsa followed by double page finely-illuminated frontispiece decorated with a dense ground of interlacing split-palmettes and scrolling flowers in colours and gold, text within cloud bands against a hatched ground sprinkled with flowers, gold strapwork borders, 8 further illuminated headings (1 later replacement) plus numerous title panels in colours and gold, colophon embellished with leafy flowers, fine red morocco binding with gilt-stamped central medallions and corner pieces filled with a rigorous interlace of flowerheads and split palmettes, filigree-work doublures against blue grounds, with flap; 25.7 by 18cm.
The manuscript includes Sa'adi's entire work with the addition of the preface by 'Ali ibn Bistun who gives two dates for the arrangements of Sa'adi's work as 726 AH/1325-26 AD and the end of Rajab 734 AH/1334 AD.
The manuscript is dated twice: once at the end of Bustan (titled Sa'di-nameh) 18 Rabi' II 899 (26 January 1494 AD) and at the end of the text, late in Dhi'l-hijjah 890 (early January 1486 AD). It shows Na'im al-Din copied different parts of the Kulliyat at different times and that it took him at least nine years to complete this manuscript. This same practice can be seen in a Khamsa of Nizami in the al-Sabah Collection in Kuwait, also by his hand (see Adamova & Bayani, Persian Painting, The Arts of the Book and Portraiture, 2015, pp.294-7, cat.21).
Na'im al-Din is known through his numerous recorded work dated between 886 AH/1481-82 and 915 AH/1509-10 AD that inform us that he was a son of Sadr al-Din Hafiz and that he worked in Shiraz (for more on him, his family and his recorded work, see ibid). Another fine copy of Sa'adi's Kulliyat, also signed by Na'im al-Din and complete with binding of comparable quality to the present example, is in the Bibliothèque Nationale, Paris (see Richard 1997, p.114, no.75).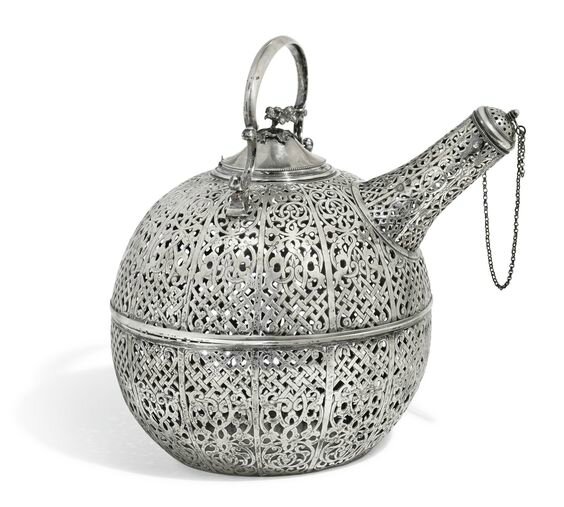 Lot 297. A rare openwork silver cooling vessel (karlik), with the tughra of Abdülhamid II (r.1876-1909) and glass interior, Turkey, 19th century. Estimate 40,000—60,000. Photo: Sotheby's.

the silver openwork body designed as split, entwined arabesques, in three sections, each with a 'sah' mark and tughra of Abdülhamid II (r.1876-1909), the straight spout with screwable lid and chain, surmounted by lid with floral finial, curved handle, containing a spherical glass vessel with compartments for snow and liquids; 31.5cm. max. height; 24.5cm. diam.
This rare silver cooling vessel or karlik was produced during the reign of Abdülhamid II (r.1876–1909), the last Ottoman sultan to exert effective authority before the rise of the Young Turk revolutionaries. Only a handful of these silver cooling vessels survive, of which this particular karlik is unique in containing a glass cooling vessel within the silver exterior. Liquid was kept cool by means of snow contained in a small compartment of the glass vessel. The presence of this glass vessel gave the Ottoman craftsman more freedom in the design of the silver exterior, allowing him to create an intricate pierced floral pattern, another feature unique to this karlik.

Only a few other karliks of this type are known, including one sold at Sotheby's London, 20 April 2016, lot 192. For two published comparables see G. Kürkman, Ottoman Silver Marks, Istanbul, 1996, p.236 and E. Grunberg & E.M. Torn, Four Centuries of Ottoman Taste, London, 1988, no.31.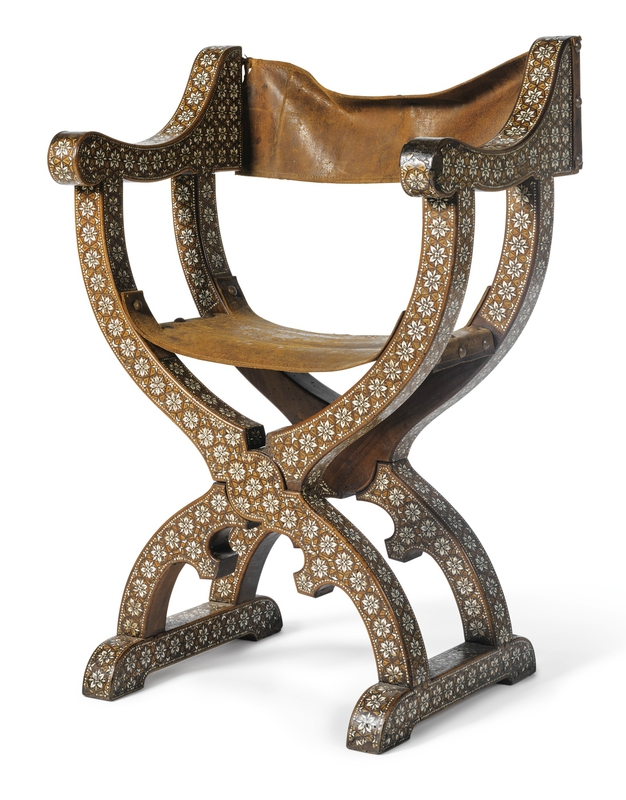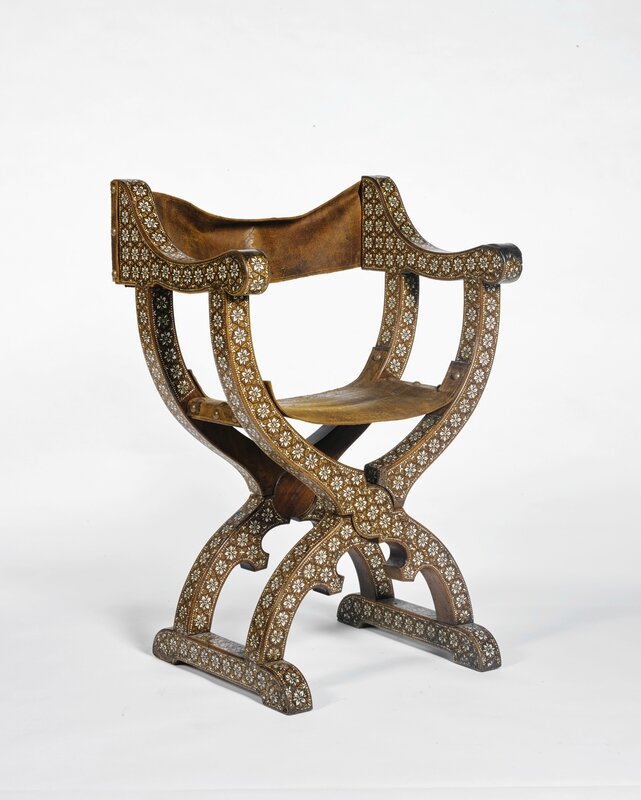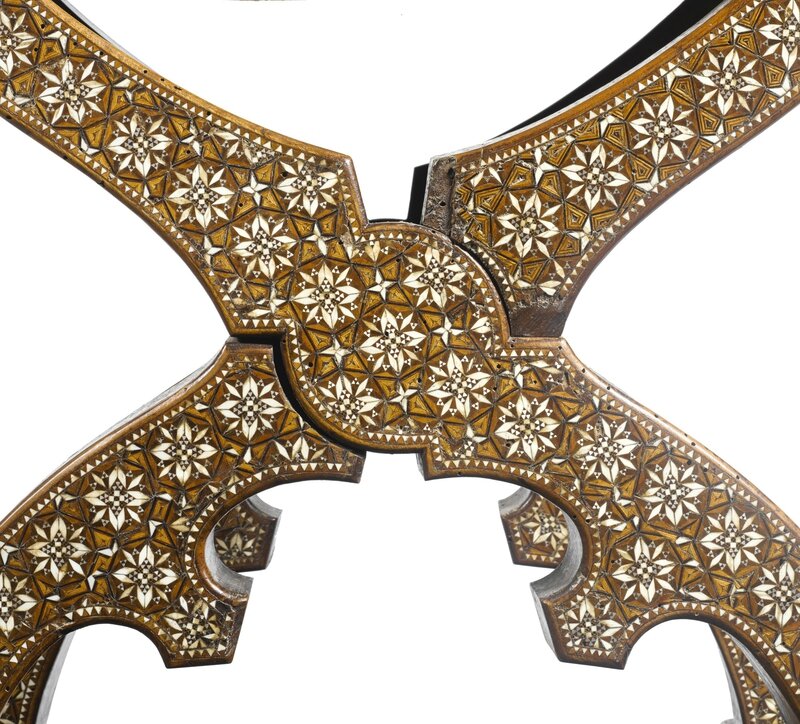 Lot 236. A rare Nasrid or post-Nasrid chair, Andalusia, late 15th-16th century. Estimate £200,000—300,000. Photo: Sotheby's.
of curving x-frame, set with ivory and bone, silver and hardwoods of varying colours inlaid in a micromosaic geometric stellar design along the wood frames, with a leather seat and back-rest set with metal pins; 101 by 71.5 by 47cm.
The Nasrid Dynasty, which was founded by Muhammad I al-Ghalib of Arjona (r.1232-73), ruled Granada and the territory of al-Andalus for over two hundred years and oversaw a splendid artistic patronage that is still hugely admired today. Expanding on a tradition inherited from the Almohad dynasty of North Africa, the Nasrids developed a sophisticated visual language based on complex geometric designs, and are particularly known for their architectural achievements as well as their craftsmanship, in ceramics and furniture, which was exported from Spain throughout Europe.
Designed with curving legs and armrests, this imposing chair derives its shape from ancient Roman 'Sella Curulis', throne-like seats reserved for government dignitaries, which spread to the Near and Middle East. Fashionable in Europe during the Renaissance, these types of chairs were believed to originate in Northern Italy, and variations of this form came to be known as the 'Sedia Dantesca' or the 'Sedia Savonarola' (after the firebrand Dominican friar, Girolamo Savonarola), and even 'Dagobert's chair' (after the throne of Dagobert I, the seventh-century king of Austrasia and of all the Franks). These titles speak to the ancient royal history of the form as well as the cultural synthesis which existed in Europe, including, in the case of the Iberian peninsula, the integration of Islamic decorative elements. Indeed, the intarsia technique used to decorate these chairs, including the present example, is typically Nasrid, and is exemplary of the luxurious micromosaic furniture that flourished in Granada at the time. The technique, which has its origins in the Caliphal period and is recorded in both Spain and North Africa, was developed under the Nasrids who combined polygonal tesserae of wood, ivory, and bone of contrasting colours arranged in geometrical patterns of great intricacy.
Chairs from the Nasrid period are extremely rare, particularly as their popularity meant that they continued to be copied into the nineteenth century. The Metropolitan Museum of Art holds six examples in its collection, all attributed to circa 1500, and each with a repeat ivory-inset design of geometric stellar compositions (inv. nos. 195.1.1978; 1975.1.1979ab; 45.60.41a,b; 45.60.40a; 27.225.1). Some of these examples feature seats and back rests in leather or textile. A further example is in the Alhambra Museum, Granada, inv. no. 3315.
This lot is accompanied by a carbon-dating report by RCD RadioCarbon dating, reference RCD-7382, on 3 August 2010, with a 68% probability of the date between 1510-1600 plus 1610-1650, and a 95% probability of a date between 1470-1670.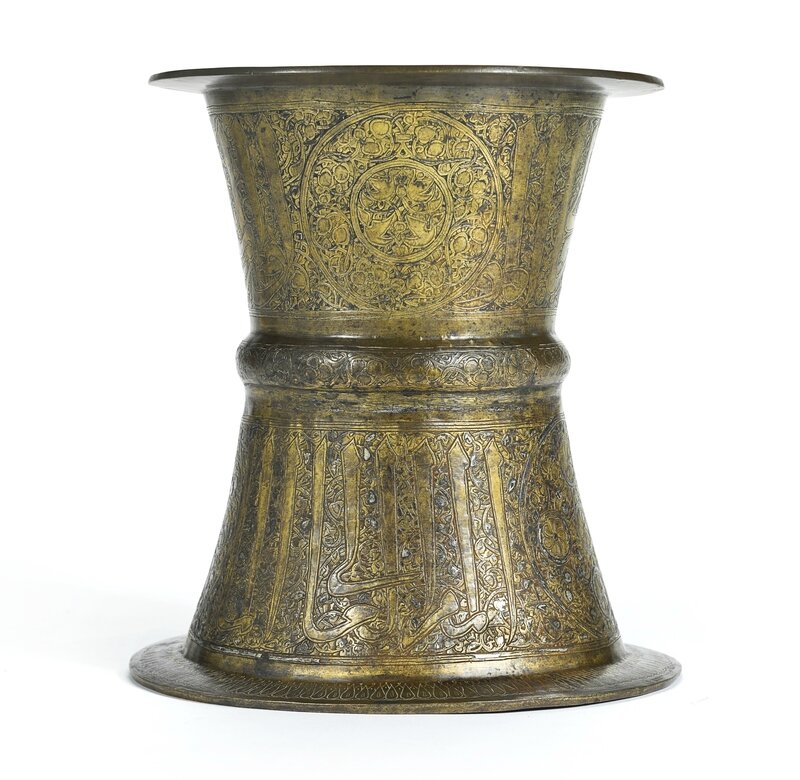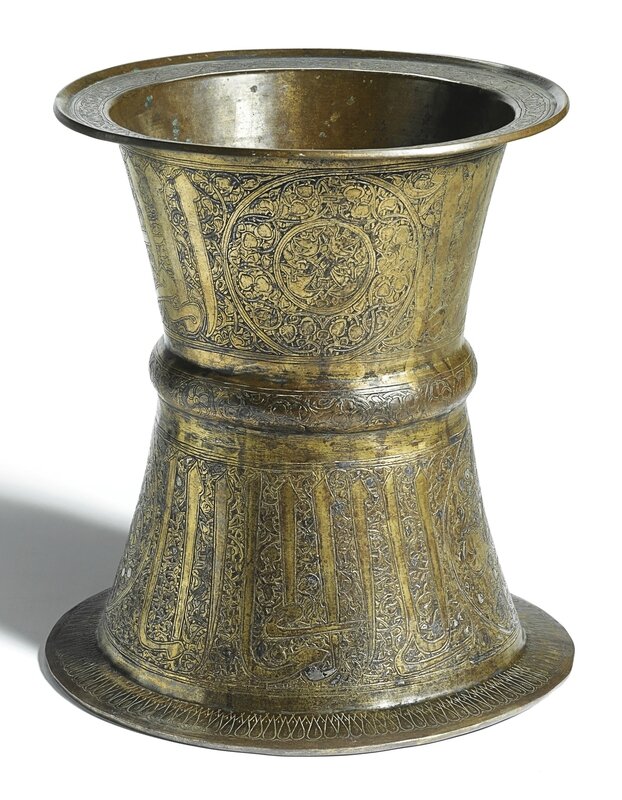 Lot 231. A Mamluk silver-inlaid brass tray stand, Egypt, 14th-century. Estimate £150,000-200,000. Photo: Sotheby's.
of bi-conical form with flanged rim and base, bevelled ridge in between, each end with a calligraphic frieze between roundels containing floral motifs on lower section and stylised ducks on upper section, vestiges of original silver inlay, engraved heraldic medallion to underside of rim; 26.5cm. height.; 24.5cm. max. diam.
Provenance: Ex-private collection, Czechoslovakia, first half 20th century.
Purchased in Brno, Czech Republic, 1990s, thence by descent.
inscriptions: '
The High authority, the Lordly, the Possessor, the…'
'The High authority, the Possessor, the learned, the …'
When the famous Andalusian historian Ibn Khaldun first arrived in Cairo, the capital city of the Mamluks, in 1382 AD, he reverently described the city as "the centre of the universe and the garden of the world". Not only were the monumental mosques and palaces impressive architecturally, but they also housed vast collections of wealthy and generous patrons.
This brass tray stand with inlaid silver decoration likely belonged to one such Amir or other highly placed official at the Mamluk court, and is one of a few dozen that have survived to the present day. Its beautiful thuluth inscription heaps praise on its patron, and the stand would have held an equally richly-decorated tray on which fruits and other foods will have been displayed. Its form and design proved so popular that porcelain imitations were made in China, most probably for the Middle Eastern market (see British Museum, London, inv. no. 1966, 1215.1).
Further examples are in the British Museum, London (inv.no. 1897,0510.1), the Victoria and Albert Museum, London (inv. nos. 935-1884.; 934-1884.; M.9-1954), the David Collection, Copenhagen (inv. no. 3/2008), the Museum of Islamic Art, Doha (inv. no. 478.2007), the Aga Khan Museum, Toronto (inv. no. AKM00726), and the Metropolitan Museum of Art, New York (inv.nos. 91.1.568.; 91.1.601.; 91.1.528.; 91.1.598).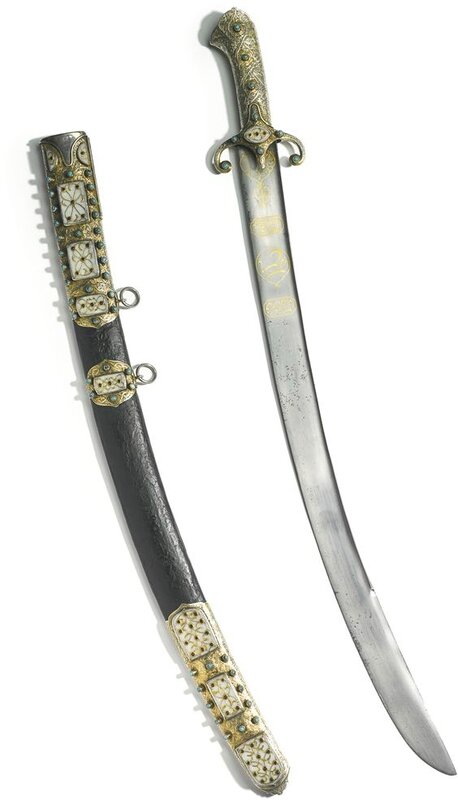 Lot 277. An Ottoman sabre (Karabela) with silver-gilt mounts set with turquoise and gold-inlaid jade panels, Turkey, second half 17th-century. Estimate £30,000-50,000). Photo Sotheby's.
the 'karabela' grip with curved quillons, decorated with chased and engraved foliate vine motifs, set to one side with turquoise and gold-inlaid and gem-set jade medallion, the curved single-edged steel blade inlaid with gold inscriptions and foliate details, the leather-covered wood scabbard with chased and engraved silver-gilt lock and chape and further mounts all decorated en-suite to the hilt with inset turquoise and gold-inlaid gem-set jade plaques, two suspension loops. Quantity: 2; 85cm.
Provenance: Ex-collection Karel Javůrek (1815-1909), a known academic painter, Prague.
by descent to his son, Jaromír Javůrek.
Thence by descent.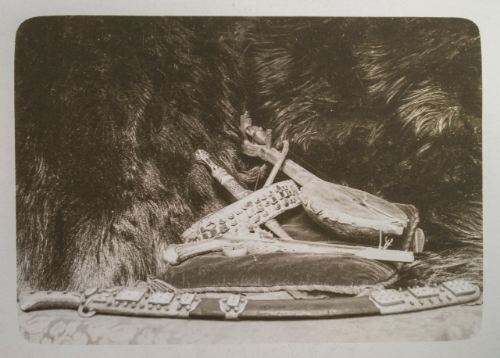 The present lot in a photograph by Karel Javůrek.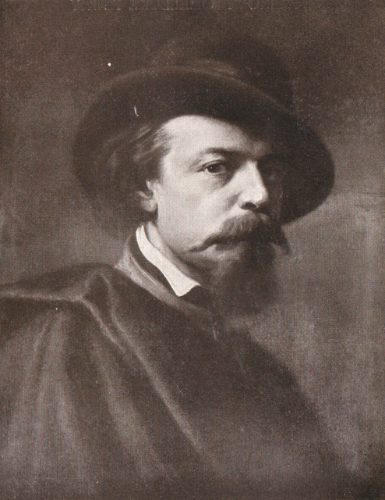 Karel Javůrek (1815-1909).
inscriptions:

In the long cartouche: Qur'an, chapter LXI (al-Saff), part of verse 13.

In one of the cartouches, an invocation to God as: 'O the Opener of [all] Gates!'

In the cartouches, a Persian couplet:
'The sun draws a sword (a reference to the rays of the Sun) every day
In order to roast the heart of lovers'.
A richly-decorated Ottoman karabela such as the present item would have been a highly treasured gift among members of the Eastern European, and notably, Polish nobility or szlachta. These were so expensive that most noble families could afford only one ceremonial karabela. The prestige of the weapon, a symbol of Ottoman supremacy, was also closely tied to the culture and ideology of Sarmatism, an important part of szlachta culture from the sixteenth to the eighteenth centuries who traced their ancestry to the ancient Sarmatians, a people who inhabited the steppes North of the Black Sea in Roman times. Aspects of Sarmatism permeated throughout the cultural lives of the nobility, not just in literature and art. Noblemen wore 'nomadic' clothing, sported bushy moustaches and prided themselves on their martial prowess on horseback, distancing themselves from the 'decadent' nobility of Western Europe. Many members of the szlachta considered the Ottoman Turks and Crimean Tatars, also of nomadic descent, their peers, even if they were bitter enemies on the battlefield. Thus their arms and armour were modelled on the curved swords and scale armour of the Turks.
This exquisite karabela, although Ottoman-produced, did not end up in a Polish collection, but rather a Czech one, demonstrating an exchange between cultures that met not only on the battlefield but whose rich artistic traditions straddled Eastern and Western cultures.
Lot 258. A turquoise-set and enamelled gold necklace, North India, 19th century. Estimate£10,000—15,000.
comprising twenty-five pendants in the form of stylised blossoms with a central, larger pendant featuring facing birds, each set in the kundan technique with turquoise and mounted seed pearls, the reverse with red, green, blue and white enamel details, golden thread string with tassel terminals, fitted in custom box; 90cm. completely extended, 33cm. area of beads
Provenance: Cecil family collection since the late nineteenth century.
Sumptuous yet restrained in colour and design, this necklace exemplifies the elegance of nineteenth-century Indian jewellery. Passed down since the nineteenth century through the Cecil family, this necklace is referred to as the 'Palmerston' necklace as according to family oral tradition it was gifted by the 3rd Viscount Palmerston (1784-1865) to an ancestor in the nineteenth century. Mounted entirely with turquoise stones within gold settings, the underside of this necklace reveals rich green, red and white enamel tones and detailed floral motifs typical of Mughal ornamentation. The turquoise itself most probably came from a Persian mine, and it is extremely rare to see it used exclusively on Indian jewels, who usually favour colourful combinations of stones. This may be an indication of the influence of English taste in the Subcontinent and was possibly originally created as a private commission.
Comparable work is found on a hair ornament attributed to Delhi, circa 1850, published in S. Stronge, N. Smith and J.C. Harle,A Golden Treasury: Jewellery from the Indian Subcontinent, Exh. cat., Cartwright Hall, Bradford Art Galleries and Museums, 24 Sept.-27 Nov. 1988; Zamana Gallery, London, 13 April-25 June 1989, p.57.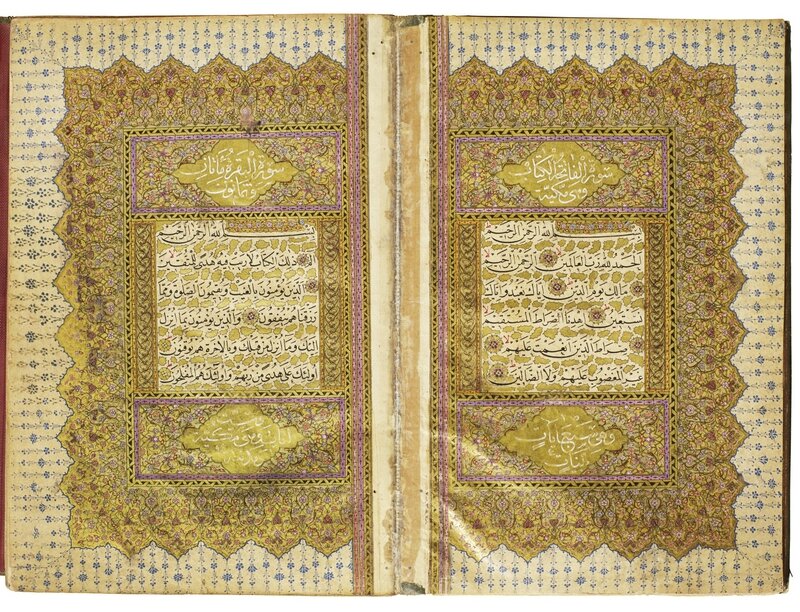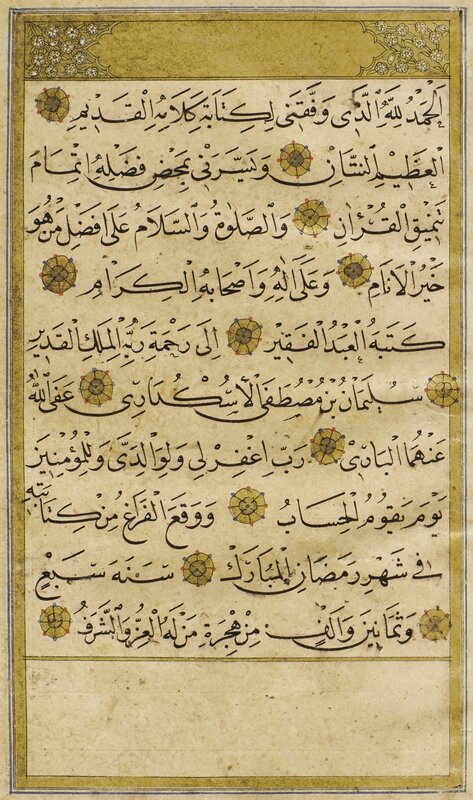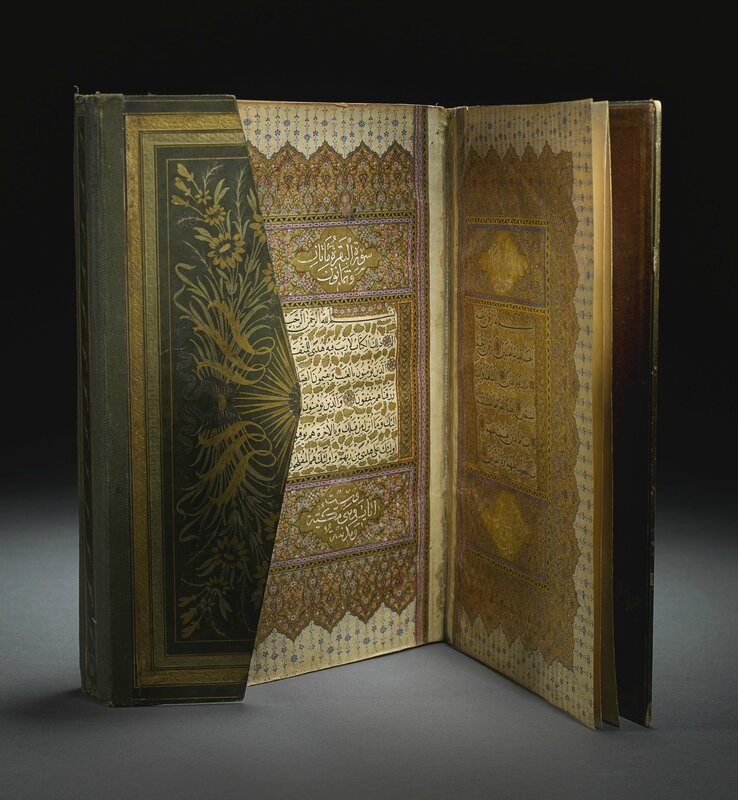 Lot 175. A fine illuminated Qur'an, copied by Suleyman alUskudari, Turkey, Ottoman, dated 1087 AH/1676 AD. Estimate £120,000—150,000. Photo Sotheby's.
Arabic manuscript on paper, 340 leaves plus 5 flyleaves, 13 lines to the page, written in neat naskh script in black ink, verses separated by segmented gold florets pointed in blue and red, surah headings in whitethuluth script against foliated gold-ground panels, catchwords, finely-illuminated marginal devices of varying designs, double page illuminated frontispiece composed of a thick border of interlacing flowers and split-palmettes emanating blue sprays, text in cloud bands with strap-work inner borders, later tan morocco binding with gold rococo decoration, with flap; 27 by 19cm.
Suleyman al-Uskudari
Suleyman Uskudari (d.circa 1686) studied under Mehmed Efendi of Belgrade, and went on to teach calligraphy at the Topkapi Palace. A further Qur'an, written a year earlier than the present example, is in the Museum of Turkish and Islamic Arts, Istanbul (412), and published in M. Ugur Derman, Ninety-Nine Qur'an Manuscripts from Istanbul, Istanbul, 2010, pp.144-7.

Another Qur'an by the scribe, written approximately two years after the present manuscript, is now in a private collection in Istanbul, published in N.F. Safwat, Understanding Calligraphy, The Ottoman Contribution - from the Collection of Cengiz Çetindoğan, Part One, London, 2014, pp.66-69, no.7.

The illumination of both the Qur'ans mentioned above share with the present a well-spaced and evenly-structured calligraphic page, as well as a particular style of illumination, employing a fairly pale palette, with an inventive array of designs for the marginal devices.
Lot 255. A gem-set and enamelled agate box, India, 19th-century. Estimate £30,000-50,000).Photo Sotheby's.
of rectangular form, composed of agate plaques each set in the kundan technique with colourful gemstones including diamonds and rubies, in a floral design, with polychrome enamel borders and round feet, in custom silk-lined box; 5.5 by 9.7 by 7cm.
The technique for juxtaposing semiprecious stones into others, such as agate, reached its zenith under Mughal rule. This trend continued to be popular into the nineteenth century, and the present example combines the inclusion of colourful gemstones set into floral patterns using fine gold wires with polychrome enamel borders, further enhancing its opulence.