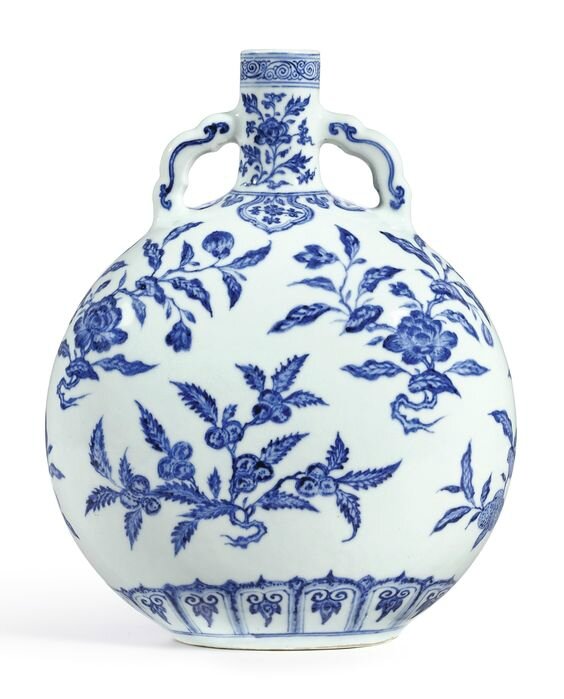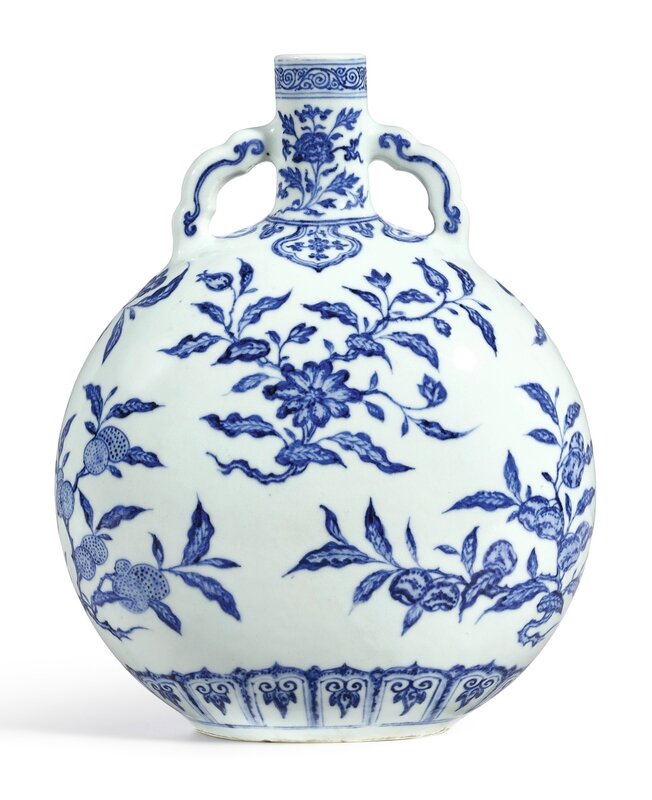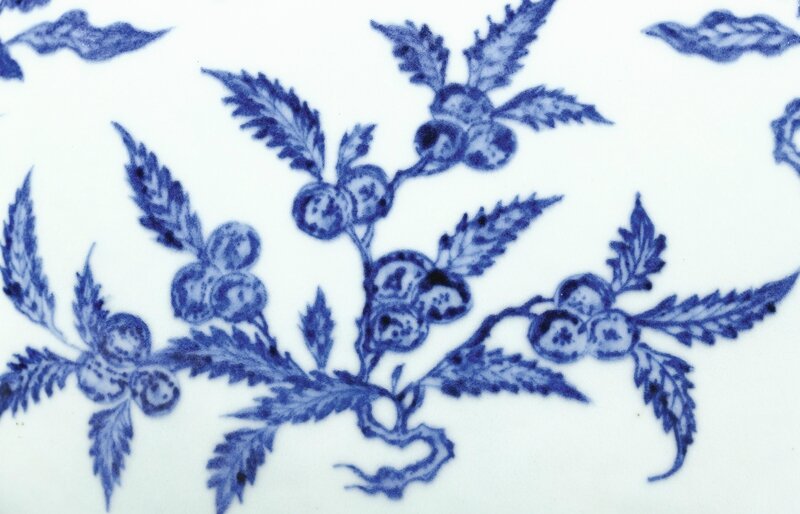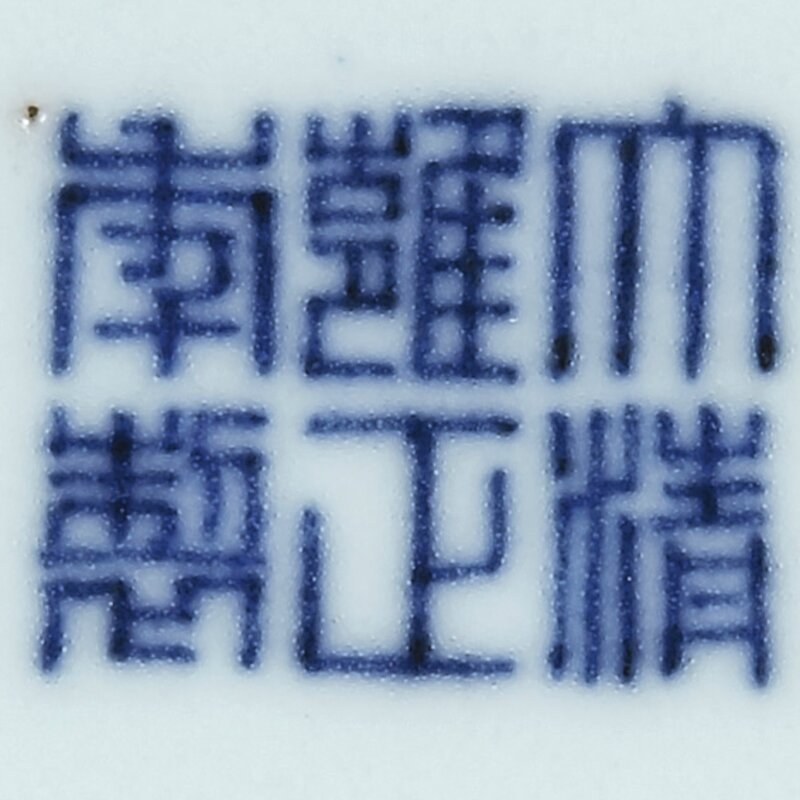 Lot 3612. An extremely fine and rare Ming-style blue and white 'flowers and fruit' moonflask, seal mark and period of Yongzheng (1723-1735). Estimate 15,000,000 — 20,000,000 HKD. Lot sold 18,080,000 HKD. Photo Sotheby's.
finely potted after Ming dynasty prototypes, the circular body surmounted by a slender tubular neck flanked by a pair of scroll handles, superbly painted in washes of cobalt blue accentuated with simulated 'heaping and piling', the globular body decorated with an upper register of three leafy flowering sprays alternating with the lower register of three leafy fruiting sprays, including peony blooms and clusters of loquat and lychee, the neck detailed with floral blooms wreathed by leafy stems, between bands of 'classic' scrollwork and stylised trefoil lappets encircling the rim and shoulder, the handles picked out with scrolling motifs, all above a frieze of upright petal lappets skirting the foot, the countersunk base inscribed with a six-character seal mark; 28.9 cm, 11 3/8 in.
Provenance: Collection of B.C. Tattenhall.
Sotheby's London, 12th December 1989, lot 330.
Christie's Hong Kong, 29th April 2001, lot 566.
Notes: This present exquisite moonflask represents the height of early Qing porcelain production at the imperial kilns at Jingdezhen in Jiangxi province. Made during the reign of the Yongzheng Emperor, it illustrates the Emperor's pursuit of innovative designs and forms as well as the replication of historical masterpieces as a reminder of the nation's glorious past. Such developments were realised through the exceptional talent and creativity of potters working under the instruction of Tang Ying (1682-1756), the most accomplished Superintendent at Jingdezhen during the early Qing period.
Tang was employed by the Neiwufu [Imperial Household Department] in the Forbidden City at the age of sixteen where he was trained in the arts of enamelling and painting at the Enamelling Workshops located in the Yangxindian [Hall of Mental Cultivation], within the Imperial Palace grounds. He was exposed to the many beautiful artefacts from the Imperial collection that became his inspiration for new and innovative shapes and designs later in his career. In 1728, he was appointed commissioner (yuanwailang) by the Ministry of Internal Affairs and was transferred to supervise ceramics production at Jingdezhen. Under his direction, that lasted more than two decades, porcelain manufacture at Jingdezhen rose to unprecedented levels which had far reaching influence on ceramics manufacture both in China and in the West. Tang was not only famed for his porcelain designs, known as Tangyao or Tang ware, but also for his painting, calligraphy, poetry and seal carving.
This moonflask combines two innovations of Yongle period (1403-24) ceramics; the sensitive form with scroll handles and the elegant design of branches of flowers and fruit. While Yongle moonflasks of this type were more often decorated with a single fruiting branch on each side, and in turn inspired by leather pilgrim bottles of the Eastern Han (25-220) and Tang (618-906) periods, the design of either six or ten sprays was reserved for meiping. Meiping depicting ten branches were larger in size, painted with ruyi panels on the shoulder and lappets at the foot and potted with matching covers while their smaller uncovered counterparts featured six branches between a lappet band and stiff leaf border at the shoulder and foot respectively. This Qing moonflask fuses the two slightly varying designs by placing the two registers of six branches between a ruyi and lappet band and adapting the design to fit the form. For a Yongle version of this moonflask, see one decorated with a fruiting lychee branch, from the Henry J. Oppenheimer Collection and now in the British Museum, London, included in the exhibition Ming. 50 Years that Changed China, British Museum, London, 2014, cat. no. 83 (left).
During the reign of the Yongle Emperor potters at the imperial kilns at Jingdezhen developed an assured yet soft painting style with 'heaping and piling' which helped them develop a rich repertoire of fruit and flower motifs. See a meiping in the Palace Museum, Beijing, illustrated in Geng Baochang, ed., Gugong Bowuyuan cang Ming chu qinghua ci [Early Ming blue-and-white porcelain in the Palace Museum], Beijing, 2002, pl. 15 and p. 34, where the author notes that the vase embodies the archetypal Yongle style. While the decoration on the present vase is a Yongzheng interpretation of the Yongle motif, it is intentionally painted in the Ming style to evoke the glorious past. Another early Ming period influence is the generous spacing left white between the decorative elements. This effective design technique, first seen on Yongle blue and white pieces, allowed the artist to be more lively and free with his brushwork and to create a composition that is more painterly and less stylised.
The decoration of three blossoming floral branches above and between three blooming and fruiting branches is also rich in auspicious symbolism. Similar decoration of fruiting branches and floral branches in cobalt may be found on a Yongzheng mark and period ovoid vase, with moulded petal lappets around the foot, in the Qing Court collection and still in Beijing, published in The Complete Collection of Treasures of the Palace Museum. Blue and White Porcelain with Underglazed Red (III), Hong Kong, 2000, pl. 78; another, in the Huaihaitang Collection, included in the exhibition Ethereal Elegance, Art Museum, The Chinese University of Hong Kong, Hong Kong, 2008, cat. no. 88; and two larger examples, one sold twice in these rooms, 21st May 1984, lot 89, and 20th November 1985, lot 69, and again at Christie's Hong Kong, 8th October 1990, lot 338, from the Jarras Collection, and the second vase, from the collection of Evelyn Annenberg Hall, sold at Christie's New York, 29th March 2006, lot 158, and again in these rooms, 8th October 2013, lot 3036.
Examples of similarly rendered fruiting branches are seen on a pear-shaped vase, attributed to the Yongzheng period, sold in these rooms, 18th/19th May 1982, lot 208; and another ovoid vase sold in these rooms, 12th May 1976, lot 133. This motif continued to be used during the succeeding reign of the Qianlong Emperor, seen for example on a meiping, from the Edward T. Chow Collection, sold in these rooms, 9th May 1981, lot 546; and another published in Chinese Porcelain. The S.C. Ko Tianminlou Collection, Hong Kong, 1987, pl. 63, where the author discusses this group of Qing blue and white wares as painted with 're-designs' of Yongle patterns with changes in detail, particularly in the borders and with simulated 'heaping and piling' of cobalt blue.
Sotheby's, Important Chinese Art, Hong Kong, 05 oct. 2016