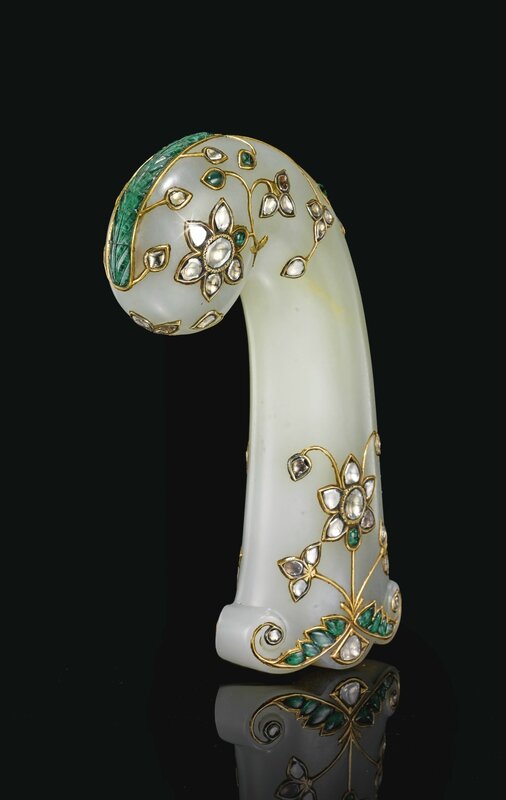 Lot 257. A large Mughal diamond and emerald-set jade hilt, India, 18th-19th century; 14.5cm. height. Estimate 40,000 — 60,000 GBP. Lot sold 50,000 GBP. Photo Sotheby's 2016.
the pale green jade of pistol-grip form with rounded pommel and scroll quillons, decorated with flowering stems of inlaid gold set with emeralds and facet-cut diamonds, featuring a carved emerald crest.
Notes: Mughal princes, nobles and high officials were honoured regularly by the Emperor with daggers, knives and swords, which were worn as symbols of the wearer's status. The present hilt would have formed part of an impressive dagger, indicating the high rank and esteem of its original owner.

The origin of the pistol-grip form has been likened to early bird-head form hilts by Stuart Cary Welch who places its development to the Deccan in the early seventeenth century. Susan Stronge on the other hand suggests a dating to the second-half of the seventeenth century due to the absence of this form in Mughal paintings beforehand (Jaffer 2013, p.187, no.53). The popularity of this form is attested by the many models created in various media, including steel, ivory and gold. Jade, as in the present example, was particularly favoured, and the inclusion of gemstones set in the kundan technique enhances its opulent appearance. Kundan is a technique by which precious stones are set into hyper-purified gold refined into strips of malleable foil which develop an adhesive quality at room temperature. On the present example the diamonds are flat-cut to highlight their reflection, and the emeralds carved to bring out their colour.
Sotheby's. Arts of the Islamic World, London, 19 Oct 2016, 11:30 AM