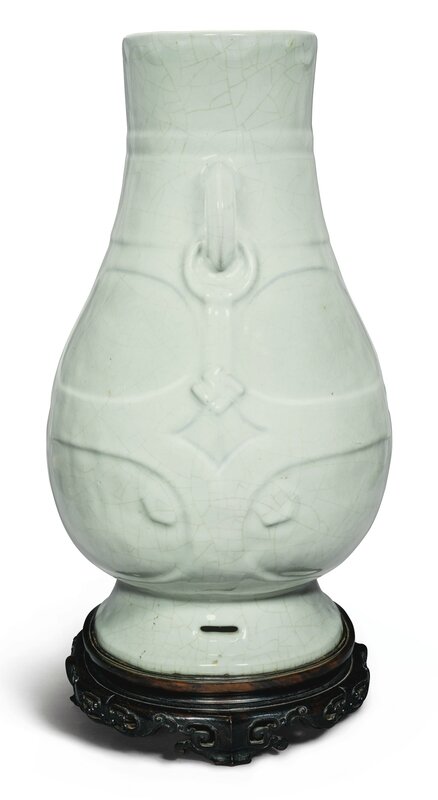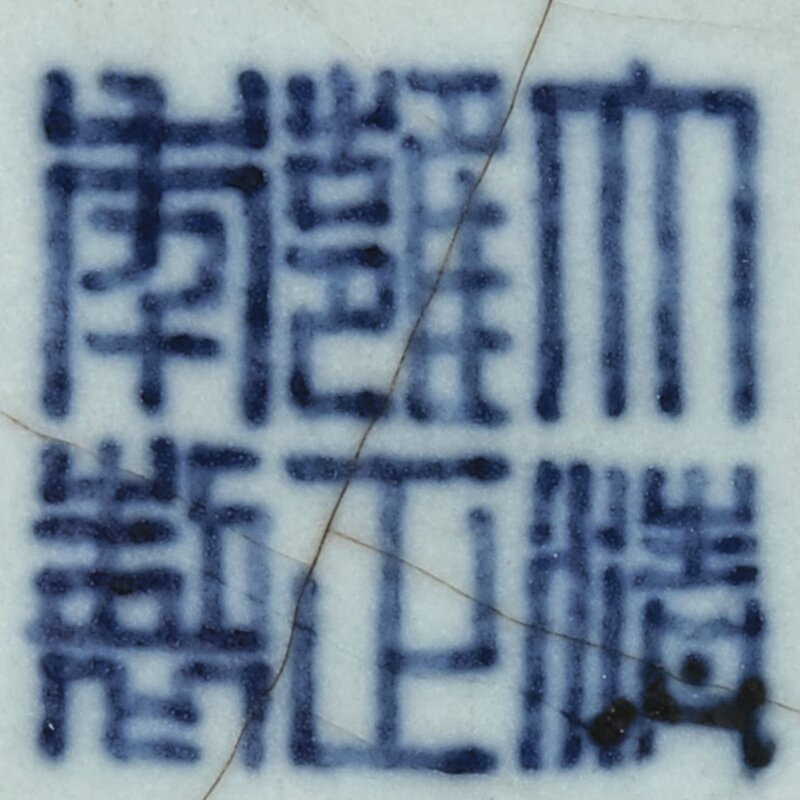 Lot 3640. A fine and large archaistic guan-type handled vase, hu, seal mark and period of Yongzheng (1723-1735). Estimate 1,500,000 — 2,000,000 HKD. Lot sold 4,280,000 HKD. Photo Sotheby's.
sturdily and robustly potted after archaic bronze prototypes, the flattened pear-shaped body rising from a splayed foot to a waisted neck and everted rim, the neck flanked by a pair of handles suspending a mock ring and seemingly tasselled wan motif, the body moulded with wide sunken panels and raised bands forming a stylised strapwork, evenly applied overall save for the unglazed footring with a pale greyish-blue glaze suffused with fine beige crackles, the footring with two apertures on the shorter ends, the base inscribed with an underglaze-blue six-character seal mark; 54.9 cm, 21 5/8 in.
Exhibited: Shina Koto-Kinseki-Tenkan/Chinese Antique Fine Ceramic Exhibition, Yamanaka Shokai/Osaka Art Club, Osaka, 1928, cat. no. 477.
Notes: This vase is striking for its precisely applied glaze, which boasts an attractive and subtle network of crackles, displaying the Yongzheng Emperor's passion for classic styles of the past. From the first year of his reign, the Emperor commissioned porcelain wares that were simple in form and generally left undecorated to highlight shape and glaze over decoration. This became the stylistic trend throughout his rule at the imperial kilns at Jingdezhen, where Tang Ying (1682-1756) was Superintendent. Under Tang, research into the celebrated Song imperial glazes, such as guan, ge, Ru and Jun wares, saw the emergence of monochrome porcelain covered in luminous pale glazes simulating Song examples on both Song-inspired and innovative forms, such as this vase.
Yongzheng mark and period vases of this type and size are more commonly known flanked with a pair of dragon handles, such as one in the National Palace Museum, Taipei, included in the Museum's exhibition Qingdai danse you ciqi tezhen[Special exhibition of monochrome-glazed porcelain of the Qing dynasty], Taipei, 1981, cat. no. 82; two in the Nanjing Museum, Nanjing, published in The Official Kiln Porcelain of the Chinese Qing Dynasty, Shanghai, 2003, pls. 194 and 195; a vase illustrated in The Tsui Museum of Art. Chinese Ceramics, vol. IV, Hong Kong, 1991, pl. 21; a slightly larger example, from the collection of Caroline B. Carter, sold in our New York rooms, 29th November 1993, lot 264; and another sold in these rooms, 9th November 1982, lot 227.
Vases of this form and with closely related handles are also known covered overall in an teadust glaze; two were sold in these rooms, the first from the collection of the T.Y. Chao, 29th November 1979, lot 321, and again, 19th May 1987, lot 295, and the second, 11th May 1983, lot 141; and another lacking the reign mark, sold at Christie's Tokyo, 15th February 1981, lot 318.
The form of this vase originates from Western Zhou archaic bronze hu, such as one with similar banding but with loop handles, sold in our London rooms, 9th December 1975, lot 7; and another with elaborate animal handles, excavated in Shandong province, illustrated in Wenwu [Cultural Relics], 1972, no. 5, pl. 6, fig. 2.
Sotheby's, Important Chinese Art, Hong Kong, 05 oct. 2016