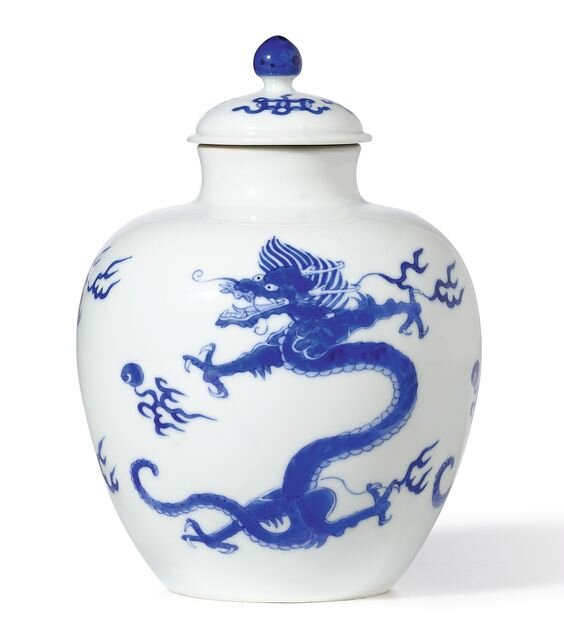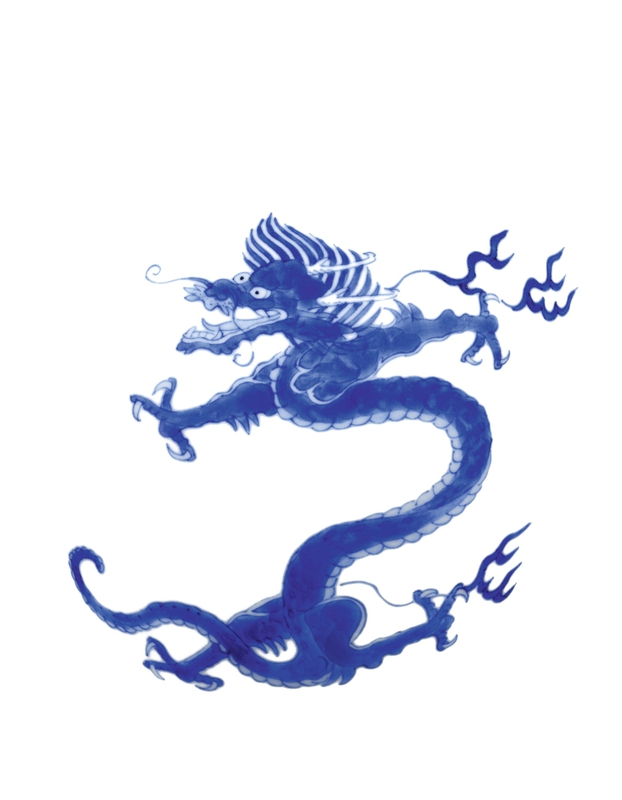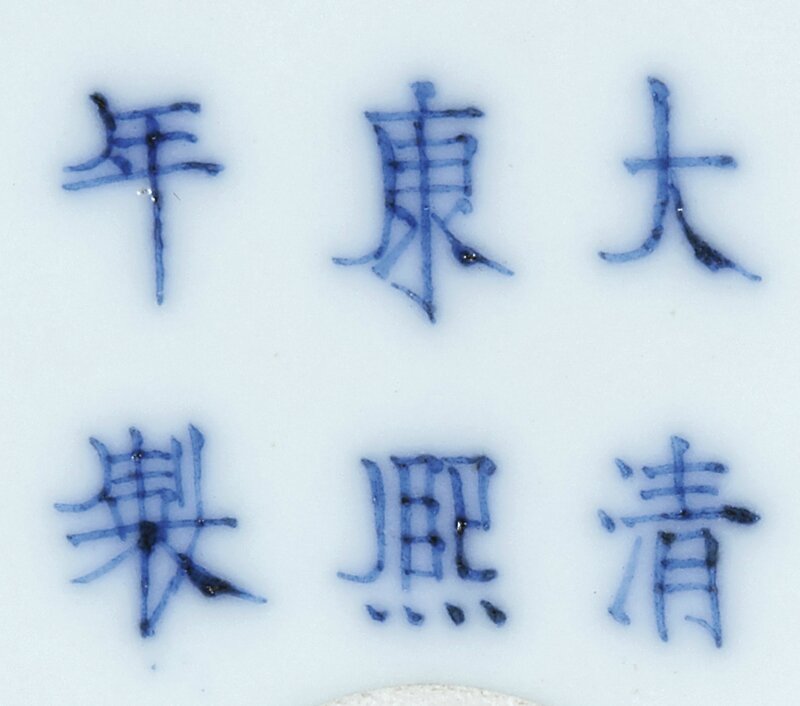 Lot 3693. A fine blue and white 'dragon' jarlet and cover, Mark and period of Kangxi (1662-1722). Estimate 6,000,000 — 8,000,000 HKD. Lot sold 5,480,000 HKD. Photo Sotheby's.
finely potted of squat ovoid form rising to rounded shoulders and a short waisted neck, decorated in bright blue tones with three ferocious three-clawed dragons, each reaching for a 'flaming pearl', the domed cover painted with beribboned coins and lozenges alternating with clouds below a blue bud-shaped finial, the base inscribed with a six-character mark in underglaze blue, wood stand; overall 16.5 cm, 6 1/2 in.

Provenance: Collection of J. Insley Blair (1870-1939), no. 61, thence by descent.
Christie's Hong Kong, 28th November 2012, lot 2110.
Literature: The J. Insley Blair Collection of Chinese Porcelain, New York, 1925, pl. X, cat. no. 61.
Notes: This fine jarlet represents the Kangxi Emperor's aim to restore standards of quality that had long been lost and to employ ancient techniques in a new way. The extraordinarily fine porcelain body, pristine white surface and restrained design present a marked development in style and quality that paved the way for succeeding Qing emperors.
The gifted painter and calligrapher, Liu Yuan (c.1638-c.1685), was employed by the Emperor during the early Kangxi period, to create porcelain designs, an approach that was highly unusual at the time. Liu Yuan attracted imperial attention with his illustrations for a book Lingyange gongchen tu [Portraits of Meritorious Statesmen for the Hall of Lingyan], which is a reproduction of portraits of the twenty-four legendary Tang dynasty statesmen who helped Li Shimin establish the Tang dynasty. The theme of the book relates the rewards to those who are politically loyal; a theme the Kangxi Emperor encouraged. In recognition of his work, Liu Yuan was summoned to Beijing to serve as a court artist in the 18th year of Kangxi's reign (1679) and by 1682 was creating designs for Zang Yingxuan, supervisor of the imperial kilns at Jingdezhen. The Qingshi gao [Draft of the History of Qing] records:
"At that time, the imperial kilns were established in Jingdezhen, Jiangxi. Yuan presented hundreds of paper designs for porcelain samples. These designs draw inspirations from both ancient and modern forms and combine with innovative ideas. They are most notable for figural images, landscape, the birds and flowers, which are better than Ming dynasty wares."
Employing Liu Yuan resulted in a new departure for porcelain decoration, introducing a finely pencilled style without heavy decoration for the background. His influence is clearly seen on the present jar, which depicts carefully rendered dragons reaching toward flaming pearls on a pristine white ground. The elongated neck surmounted by a small cover marks a subtle move away from the prescribed forms of the Ming dynasty and exemplify the range and variation that characterises the porcelain of Kangxi's long reign.
A closely related jar and cover, but with the reign mark in a double-circle, in the National Palace Museum, Taipei, is published in the Illustrated Catalogue of Ch'ing Dynasty Porcelain in the National Palace Museum. K'ang-hsi Ware and Yung-cheng Ware, vol. 1, Tokyo, 1980, pl. 9; and one in the Baur Collection, included in John Ayers, The Baur Collection, Geneva, vol. 4, Geneva, 1974, pl. A513. See also a pair of jars and covers of this type, in the Frick Collection, New York, accession no. 1965.8.164; a pair included in the Exhibition of Chinese Arts, Messrs. C.T. Loo & Co., New York, 1941, cat. no. 662; a pair, from the Jung Hsing Hsiang Collection, sold in our New York rooms, 6th December 1989, lot 195; and a single jar and cover, sold in these rooms, 26th October 1993, lot 163. A larger version of this jar, together with cover, in the Palace Museum, Beijing, is published in Qingdai yuyao ciqi [Qing imperial porcelains], vol. 1, pt. 1, Beijing, 2005, pl. 45.
Sotheby's, Important Chinese Art, Hong Kong, 05 oct. 2016