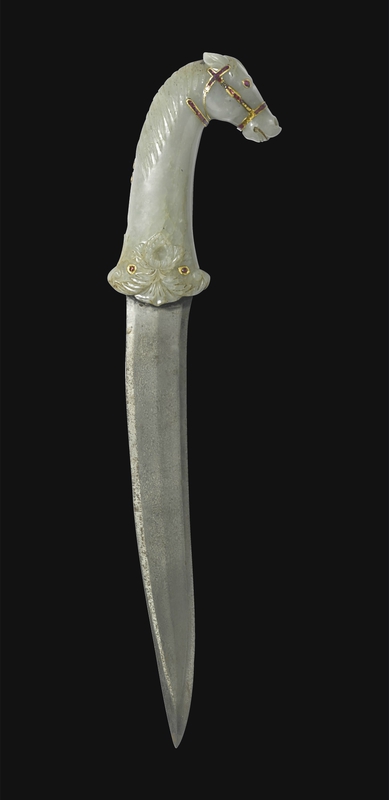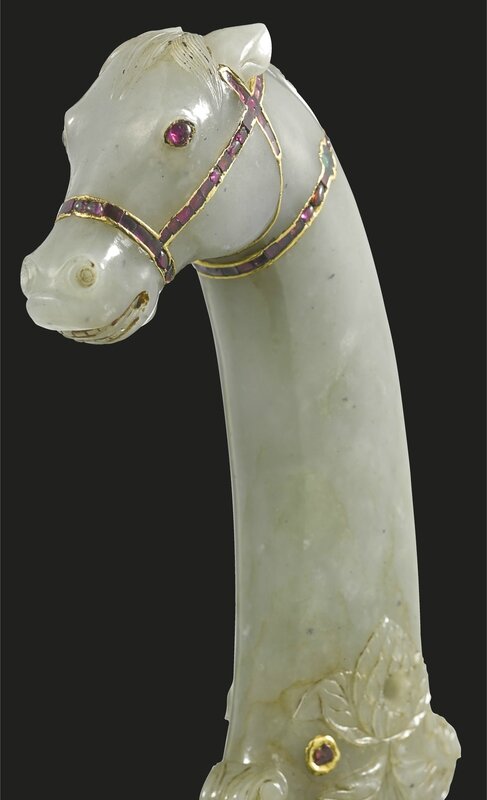 Lot 33. A Mughal gem-set jade horse-head dagger (khanjar), India, 18th-19th century. Estimate 10,000 — 15,000 GBP. Photo: Sotheby's.
35cm.
The finely carved details on the horse's head demonstrate the naturalistic realism sought by Mughal craftsmen. Although dagger hilts were created in multiple animal forms, horses remained a particular favourite, and a number of examples are housed today in museum and private collections worldwide. The interest in the natural world was shared by many generations of Mughal emperors, starting with the founder of the dynasty, Babur (r. 1526-30), and cultivated by Jahangir (r.1605-27) and Shah Jahan (r. 1628-58). Stuart Cary Welch's close study of many animal figures in the Padhshanama reveals that the small number of daggers with animal hilts were reserved for the use of princes such as Dara Shikoh and Shah Shuja, and occasionally official dignitaries. While the number of daggers with animal hilts increased during the late seventeenth and early eighteenth centuries, these continued to function as indicators of the highest rank and position at court (see Welch 1985, pp. 257-8).

The particularly expressive design of the present example is shared by another jade horse-head hilted dagger set with colourful gemstones in the Musée Guimet (Donation Jean et Krishna Riboud, inv. no. MA 6797, see Okada 2000, p.45).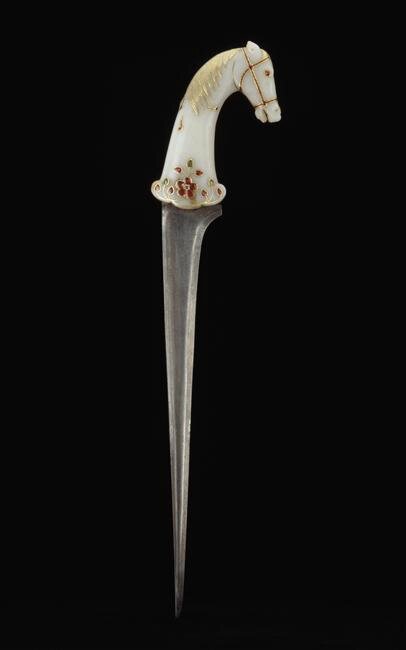 Dague (khanjar) avec poignée à tête de cheval. 18th century, Mughal dynasty (1526-1858), gold, jade, ruby, steel. Height: 0.358 m. Donation Jean et Krishnâ Riboud, MA6797. Paris, musée Guimet - musée national des Arts asiatiques. Photo (C) RMN-Grand Palais (musée Guimet, Paris) / Thierry Ollivier
Sotheby's, The Khosrovani-Diba Collection, London, 19 Oct 2016, 10:30 AM