Maurizio Cattelan, Senza Titolo, 2001. Photo : Zeno Zotti. Courtesy Maurizio Cattelan's Archive.
PARIS - Dans la lignée des projets artisitiques remarquables et remarqués tels que le Concert pour hélicoptères de Stockhausen, Your name in Lights de John Baldessari ou encore la Chocolate Factory de Paul McCarthy, la Monnaie de Paris accuelle cet automne Maurizio Cattelan pour sa plus grande exposition jamais proposée en Europe.
Du 22 octobre 2016 au 8 janvier 2017, sous le commissariat de Chiara Parisi, Not Afraid of Love, marque le grand retour de Maurizio Cattelan à la Monnaie de Paris.
Il y a cinq ans, avec All au Guggenheim en 2011, exposition-réverence (et référence) pour les uns, suicide artistique génial pour les autres, on pensait que "tout" avait été dit. Une fois n'est pas coutume avec Maurizio Cattelan, les certitudes sont bousculées, il revient avec une exposition post requiem.
Les oeuvres choisies pour son nouveau projet à la Monnaie de Paris sont considérées par Cattelan lui-même comme les plus importantes et emblématiques de sa carrière.
Dans Not Afraid of Love, nous découvrons, pour la première fois, une vision personnelle de son parcours, une articulation et une mise en dialogue de ces oeuvres majeures.
L'artiste se livre, à la Monnaie de Paris, à l'exercice du post-requiem et conçoit un parcours unique dans sa carrière, démontrant ainsi comment créer quelque chose de nouveau avec ses oeuvres anciennes, montrer leur caractère vivant, leur capacité à toujours générer une surprise et une fascination. Il démontre ainsi à quel point ses oeuvres constituent autant de déclencheurs pour des histoires individuelles qui viennent varier d'un spectateur à l'autre.
Portraits irrévérencieux, caricatures surprenantes ou parfois ludiques, ce qui frappe dans l'oeuve de Cattelan, c'est l'émotion "physique" qu'elle génère chez chacun d'entre nous.L'éclait de rire se transforme aussi vite en rictus mal assis/mal debout, et ce qui nous avait tétanisé au premier regard nous fait sourire la seconde suivante. L'oeuvre de Cattelan capture et sublime la condition humaine. Ses oeuvres sont un hymne à l'être, à sa fragilité, à ses contradictions, à ses paradoxes, à ses aspects les plus créatifs et à ceux les plus destructeurs. Elle sont aussi une projection de la crise d'identité que nous traversons tous : qui suis-je quand l'individuel devient collectif ?
22 octobre 2016- 8 janvier 2017. Monnaie de Paris, 11, quai de Conti, 75006 PARIS
Maurizio Cattelan, La Nona Ora, 1999. Photo : Zeno Zotti. Courtesy Maurizio Cattelan's Archive.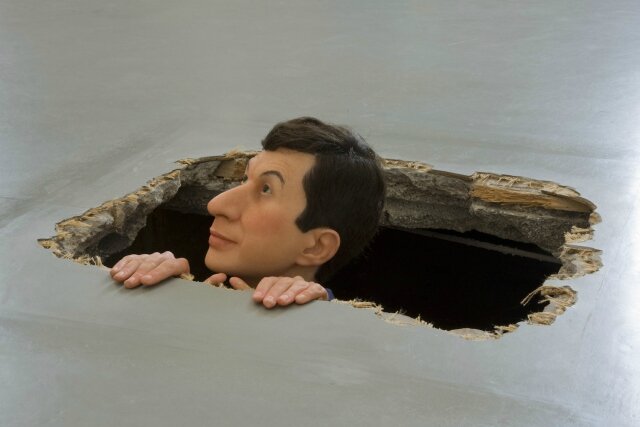 Maurizio Cattelan, Senza Titolo, 2001. Photo : Zeno Zotti. Courtesy Maurizio Cattelan's Archive.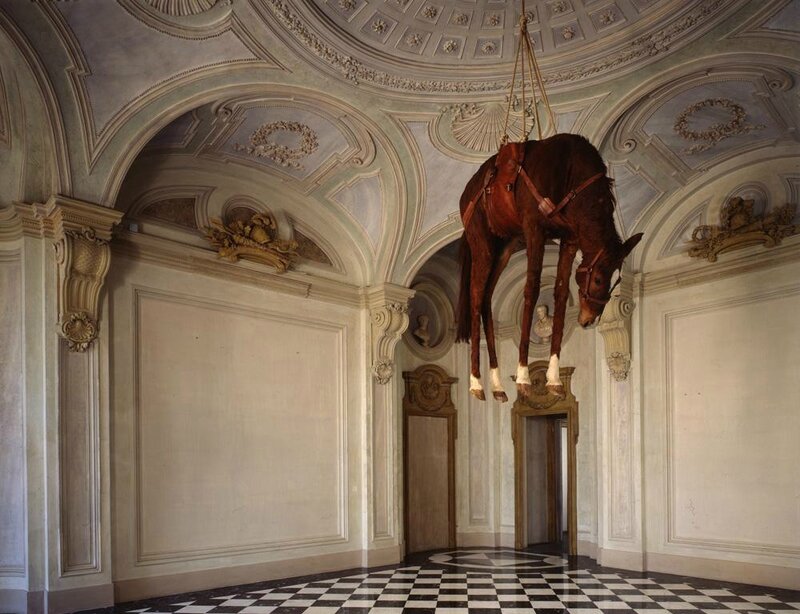 Maurizio Cattelan, Senza Titolo, 2007. Photo : Zeno Zotti Courtesy Maurizio Cattelan's Archive
Maurizio Cattelan, L.O.V.E., 2010. Photo : Zeno Zotti. Courtesy Maurizio Cattelan's Archive.
PARIS - This fall, following up on noteworthy, awe-inspiring artistic projects such as Stockhausen's Concert for Helicopters, John Baldessari's Your Name in Lights and Paul McCarthy's Chocolate Factory, Monnaie de Paris houses Maurizio Cattelan's largest European exhibition ever.
From 22 October 2016 to 8 January 2017, Not Afraid of Love, curated by Chiara Parisi, sets Maurizio Cattelan's comeback at Monnaie de Paris.
Five years ago, with his exhibition All at Guggenheim - a bow-out reference for some, a genius artistic suicide for others - we thought everything had been said. Just this once, Maurizio Cattelan shakes up our minds. He comes back with a post-requiem show.
"This exhibition it's the very first, after the Guggenheim show, that has more than three of my works altogether: it's a special editing of things I've done before retiring. Let's say it's a post-requiem show, where, like in a Poe's novel, I'm pretending to be dead, but I can still see and hear what happens around."
Nowadays, Maurizio Cattelan's artworks have largely exceeded enthusiasm, art critics or controversial arguments. They are imprinted on our mind; they are the embodiment of their era, both its muse and its interpretation.
"A simple provocation is forgotten in two days, a good work would last much longer."
Hallmarks of their era, his artworks are nonetheless timeless. Maurizio Cattelan's work transcends places and times to constantly gain new meanings and original interpretations that update their very nature.
Chosen pieces for the show at Monnaie de Paris are considered the most life-important and significant by the artist himself. For the first time, with Not Afraid of Love, we discover a very unique and intimate point of view of the artist through a specific layout and confrontation of his masterpieces.
Dramatically different and yet complementary to the Guggenheim's project, this new artist's proposal is not meant to be exhaustive but rather be a quest for meaning within a narrative show.
For Monnaie de Paris, the artist develops a post-requiem show and sets up a unique path in his career, thus showing how to build something new with existing works, demonstrating how spirited they are and able to create surprise, awkwardness and fascination. Thus he shows how his works are triggering individual stories that vary from a viewer to another.
If All, was saying it all, and was a way for Cattelan to be done with his artworks, Not Afraid of Love is certainly the chattiest exhibition ever conceived by the artist.
"My artworks are less funny than one can think. I have been pigeonholed as a funny artist since the beginning, but I'm much more serious than expected, and I don't resort to irony as much as my reputation depicted me. Things that maybe seemed a joke before are now taken more seriously."
Whether it is an irreverent portrait, astonishing or sometimes playful caricatures, the first thing one notices in Cattelan's artworks is the physical emotion that rises in every one of us. The burst of laugh suddenly turns into a sour laughter, and what petrified us at first glance gives us a faint smile the second after.
Cattelan's work seizes and exalts the human condition. His works are an ode to the human being in its fragility, its contradictions, its paradoxes, its most creative aspects and its most destructive ones. They also are a projection of the identity crisis we all go through: who am I when collective is taking over individual?
When his works of arts deal with the death, they call in Cioran "We do not rush toward death, we flee the catastrophe of birth, survivors struggling to forget it. Fear of death is merely the projection into the future of a fear which dates back to our first moment of life." Cattelan seems to play hide and seek with Duchamp's tombstone's epitaph, it's always the others who die.
Maurizio Cattelan chooses the very core of one of the most beautiful Palaces on the river Seine, the Monnaie de Paris, a National Manufacture, to get back to work.
Unpretentiously and without the ambition to change the world, his work could be defined as a philosophy of life, maybe the only one that prevails for the one thrown in the "maw of the world".
"When I was very young, I had to start to working to help my family, while my friends were studying. Since then I have felt the urgency to escape from every dependency situation. Mastering my days was a revolution: I had to take advantage of every single minute lived, and I'm still trying to do it."
Maurizio Cattelan, Senza Titolo, 2001. Photo : Zeno Zotti. Courtesy Maurizio Cattelan's Archive.