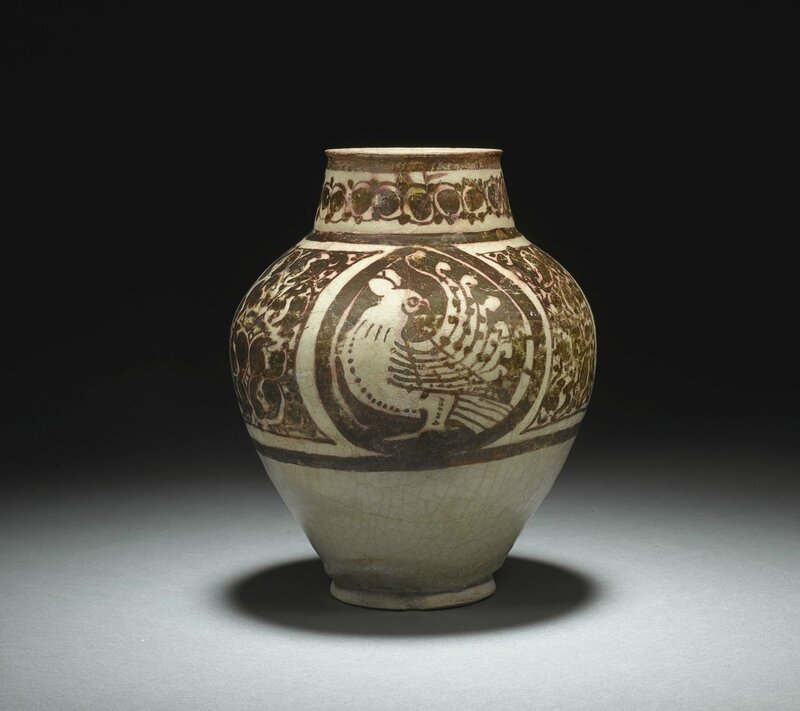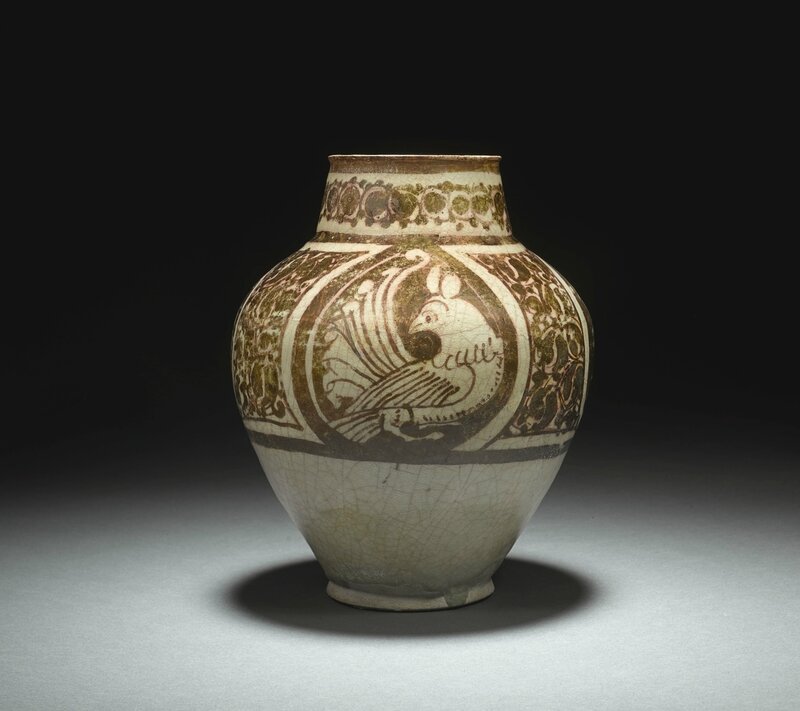 Lot 227. A monumental Kashan ceramic lustre vase, Persia, mid-12th century. Estimate 25,000 — 35,000 GBP. Photo Sotheby's.
of baluster form with tall rim, profusely decorated in honey-lustre, featuring three roundels containing winged birds between lush vegetation, foliate stem to rim; 25.5cm. height.
Provenance: Ex-private collection, France, acquired in the late 1960s/early 1970s from Galerie Jean Soustiel, Paris.
Literature: Maitres Rheims et Laurin, France, 1960s/1970s: 'Céramiques Diverses - Iran, no. 109 bis'.
Note: A very close example, also featuring three seated figures within stellar frames, is illustrated in Soustiel 1985, p.104, no.111.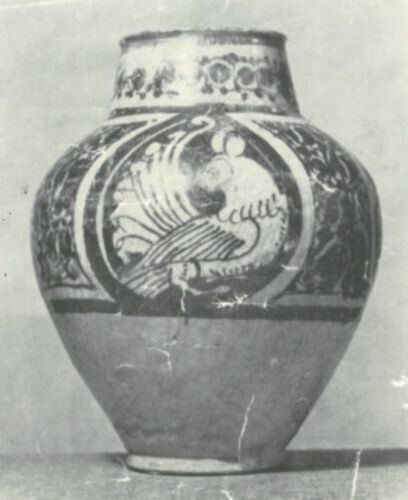 Maitres Rheims et Laurin, France, 1960s/1970s: 'Céramiques Diverses - Iran, no. 109 bis'.
Notes: It has long been conjectured, though there is no proof, that at the end of the twelfth century a group of Egyptian potters fled the rapidly declining Fatimid caliphate and settled in the Persian town of Kashan, bringing with them their prized knowledge in the technique of lustreware. This vase in the so-called 'Monumental'-style represents one of the earliest examples of this technique used in the new workshops of Kashan. The vase would have first been fired using a transparent glaze on a light fritware body, following which the outlines of the three bird figures and foliate motifs were then drawn and the background painted with lustre. In order to lock in the lustre and give it its characteristic metallic finish, the vase would have been fired a second time at a lower temperature.

Due to their fine craftsmanship and unique lustre finish, Kashan ceramics rapidly rose to international fame, and works from its workshops have been found as far afield as Beijing and Belgium. As an exquisite early example of lustreware from Kashan, this vase displays elements of both previous Egyptian lustreware and native Persian ceramics, combining the best qualities of both and heralding the golden age of ceramic art at Kashan.

The liveliness of the birds on this example are particularly notable, and can be compared to those found on other Kashan-wares, notably on a small bowl in the Louvre Museum, Paris (Caiger-Smith 1985, p.62) and another in the Al-Sabah Collection, Kuwait (Watson 1985, p.349, inv. no. LNS 406C).
Sotheby's. Arts of the Islamic World, London, 19 Oct 2016, 11:30 AM