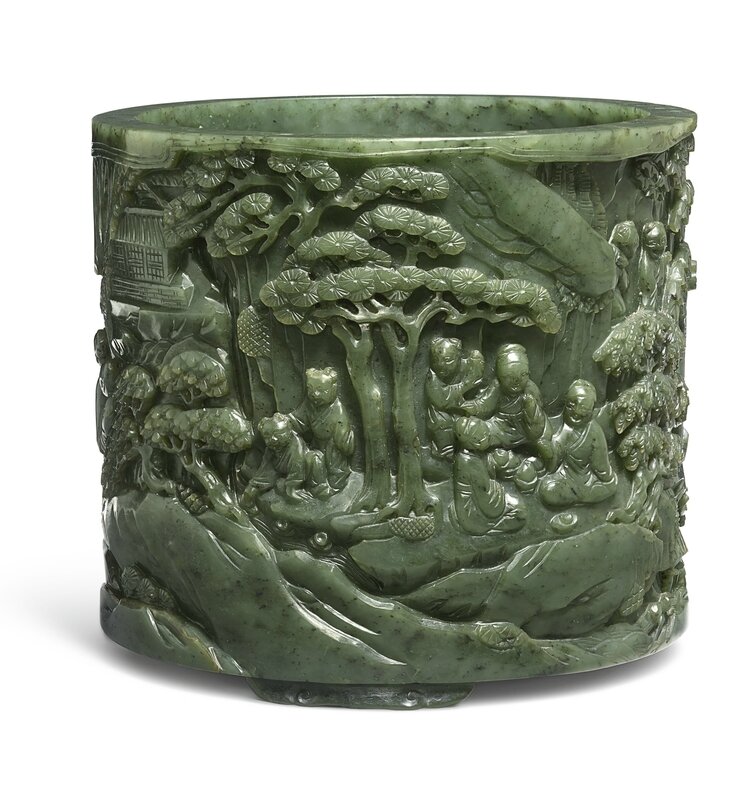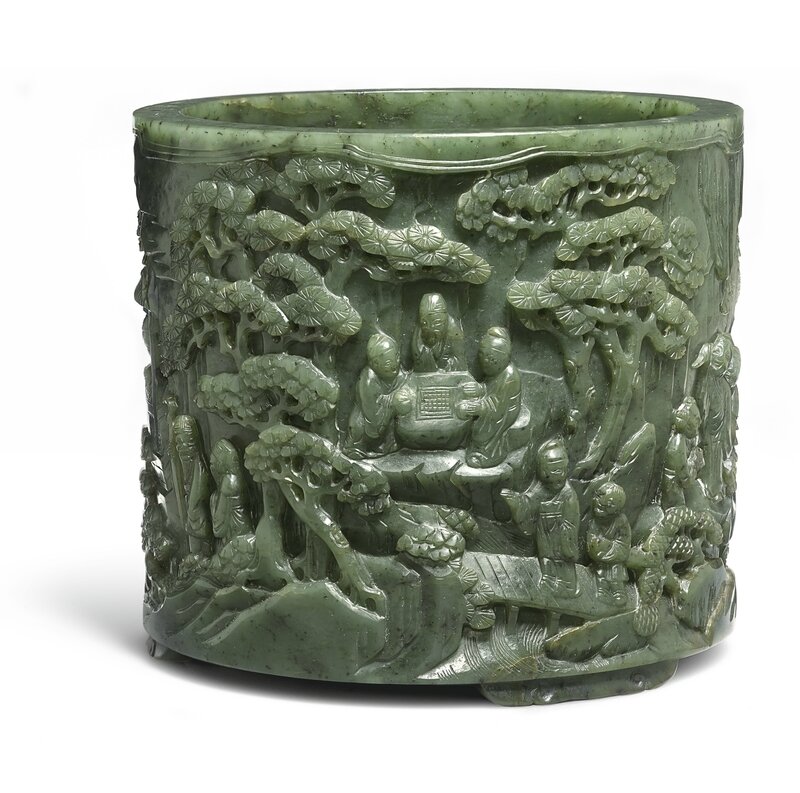 Lot 17. A fine and rare spinach-green jade brushpot, Qing dynasty, Qianlong period (1736-1795). Estimate 100,000 — 150,000 GBP. Photo: Sotheby's.
of cylindrical form raised on three ogee-bracket feet, the exterior deftly carved in various levels of relief with scholars engaged in various leisurely pursuits, including one painting at a table within a retreat, others resting in a forest of pine and paulownia trees, further scholars on a rocky outcrop beside a river and some playing weiqi and conversing on a bridge, the stone of a deep spinach-green tone, with darker green mottled inclusions; 13.6 cm, 5 3/8 in.
Provenance: Collection of P. Ayers.
Sotheby's London, 31st January 1961, lot 177 (£2,900).
John Sparks Ltd., London, 7th June 1961 (£3,335).
Notes: Impressive for its large size and skilfully carved scene that unravels like a scroll painting with each turn of the vessel, this brushpot is a fine example of the level of expertise achieved in this medium during the Qianlong period. It is carefully composed to depict an animated group of scholars and their assistants engaged in various activities in a lofty landscape. An ethereal and distant world is skilfully captured through the undercutting of the outlines of the rocks and figures, which create dramatic and mysterious contrasts.
The decoration of this piece follows in the tradition of Chinese painting with the surface of the vessel treated as a horizontal scroll. With each turn of the brushpot a scene in the narrative appears, thus making it an object that can be appreciated from different angles. Brushpots were essential tools for the literati and grew in popularity under the Qianlong emperor, who considered himself a great classical scholar, poet, calligrapher and art connoisseur. Apart from his scholarly interests, Qianlong also saw himself as the religious leader of the empire. The subject matter of the retired scholar was one he particularly favoured, revealing his desire to combine his personal and private inspirations with his public image.
A spinach green jade brushpot carved with a similar motif was included in the Oriental Ceramic Society exhibition Chinese Jade Throughout the Ages, Victoria and Albert Museum, London, 1975, cat. no. 415, together with one, from the collections of E.L. Paget, Sir J. Buchanan-Jardine, Sir Bernard Eckstein and Sir Jonathan Woolf, cat. no. 413, later included in the exhibition The Woolf Collection of Chinese Jade, Sotheby's, London, 2013, cat. no. 45; two were sold in our New York rooms, the first, from the Fogg Art Museum, Harvard University, Cambridge, 18th March 2008, lot 16, and the second, 22nd March 1995, lot 28; and a further example was sold in our Hong Kong rooms, 29th November 1979, lot 449.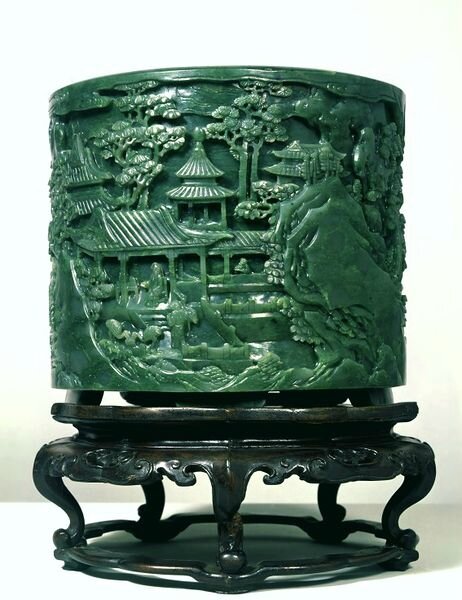 Dark green nephrite jade brushpot carved with rocky landscape, 1760-1800. Wells Bequest (1604&A-1882). © Victoria and Albert Museum, London 2016.
A Fine and Rare Spinach-Green Jade Brushpot, Qing Dynasty, Qianlong period (1736-1795). Estimate 250,000 — 350,000 USD. Lot sold 433,000 USD at Sotheby's New York, from the Fogg Art Museum, Harvard University, Cambridge, 18th March 2008, lot 16. Photo: Sotheby's.
of cylindrical form raised on five ogee-bracket feet, the exterior beautifully carved and undercut with four scholars and their acolytes in a mountainous landscape, two seated at a table under blossoming boughs, toasting each other's health as a youthful attendant waits at their elbow with a vessel of wine, three other attendants make their way to the table with additional food and wine, on the opposite side a scholar examines a handscroll as another looks on, wine cup in hand, the stone of a mottled deep-green with black and russet-tinged inclusions skillfully incorporated into the carving, smoothly polished, wood stand (2); height 6 1/2 in., 16.5 cm; diameter 6 1/8 in., 15.5 cm
Provenance: Fogg Art Museum, Harvard University, Cambridge, by repute.
Ashkenazie & Co., San Francisco.
Acquired by the present owner from the above, August 1984.
Notes: The present work is one of an important group of spinach jade brushpots. The style of the carving of these brushpots, with their layered, angular rockwork, the treatment of figures, foliage and trees, and the illustration of Daoist or literary figural themes, are all closely related to carved bamboo brushpots and jade 'mountains' of the 17th and 18th centuries. These related works depict figures in dramatic stylized rocky settings, far removed from the sophisticated order of the Imperial court, exemplifying the ideal of the scholar who has withdrawn from the mundane. Like many literati objects, a utilitarian object such as the present brushpot becomes, by virtue of its craftmanship and decoration, together with the use of unusual or rare materials, a vehicle for contemplation, a touchstone for the imagination.
The subject of the present brushpot brings to mind the lines of a poem written by Li Bo during the Tang dynasty, Drinking with a Gentleman of Leisure in the Mountains:
"We have drunk their birth, the mountain flowers, a toast, a toast, a toast, again another... "
(translated by Arthur Cooper, Li Po and Tu Fu, Bungay, Suffolk, 1973, p. 110)
We see here gentlemen of culture and refinement celebrating the joys of life, deriving pleasure from the ephemeral beauty and fragrance of the blossoms of spring.
A related spinach-green jade brushpot may be found in the Metropolitan Museum of Art, Heber R. Bishop Collection, illustrated in Joan M. Hartman, Chinese Jade of Five Centuries, Rutland, 1969, p. 108, plate 27. Four additional examples, one with four-character Qianlong mark, are illustrated in Zhongguo yuqi quanji, 1995, vol. II, no. 280, p. 614 and Jadeware, the Complete Collection of Treasures of the Palace Museum, Hong Kong, 1995, vol. III, nos. 168-170, pp. 206-210; four more examples in Taipei are illustrated in Masterworks of Chinese Jade in the National Palace Museum, Taipei, no. 36, and op. cit.,Supplement, Taipei, 1973, no 40, and The Refined Taste of the Emperor: Special Exhibition of Archaic and Pictoral Jades of the Ch'ing Court, Taipei, 1997, nos. 56, 58, pp. 174-175, 178-179.
Compare also a brushpot from the Concordia House Collection, inscribed with a date corresponding to 1796 A.D., sold in these rooms, 19th March 2007, lot 50; a smaller example, with date in accordance to 1794 A.D., without feet, sold in our Hong Kong rooms, 25th April 2004, lot 12; and another, without feet, from the Collection of Alan and Simone Hartman, sold at Christie's Hong Kong, 27th November 2007, lot 1521.
Further related examples include a slightly larger brushpot, from the Qing Court collection and still in Beijing, illustrated in The Compendium of Collections in the Palace Museum, Jade, vol. 9, Qing Dynasty, Beijing, 2011, pl. 7, together with another of similar size but carved in openwork, pl. 8; a third, formerly in the Fonthill collection, sold at Christie's London, 18th October 1971, lot 145; and another sold at Christie's New York, 25th March 1998, lot 349.
Sotheby's. Fine Chinese Jades from the Thompson-Schwab Collection, Londres, 09 nov. 2016, 10:00 AM