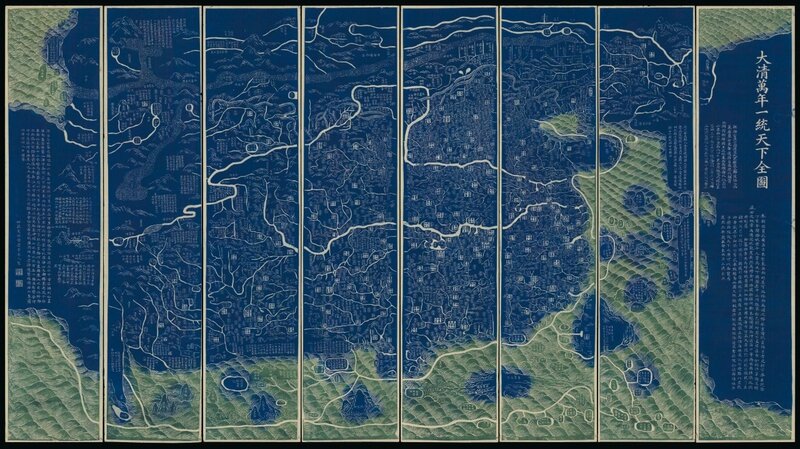 Lot 212. Huang Qianren, 大清萬年一統天下全圖. DA QING WANNIAN YITONG TIANXIA QUANTU. [COMPLETE MAP OF THE GREAT QING'S TEN-THOUSAND-YEAR UNIFIED [REALM OF] ALL UNDER HEAVEN]. Daoguang 3 [1823]. Estimate 80,000 — 120,000 GBP. Photo: Sotheby's.
LONDON.- The most significant sale of its kind to be held in a generation, "China in Print and on Paper" reveals the rich history of cartography, exploration, trade and diplomacy between China and the West for over half a millennium. Together, the books, maps, photographs and works on paper reveal different aspects of China, from those who lived within its borders and those from outside.

At the heart of this sale are two magnificent single-owner collections formed over many years by private collectors Bernard Hanotiau in Belgium, and Floyd Sully in Canada. The sale will be held at Sotheby's London on 7 November 2016 during the annual Asian Art in London, and will be preceded by a public exhibition from 3-7 November.
Bernard Hanotiau
The Library of Belgian collector Bernard Hanotiau tells the story of over 500 years of Western travellers in China through works including the the first edition of Marco Polo's travels in French from 1556 (lot 146), the first European Atlas of China from 1655 (lot 15), photographs by one of the first people to publish his photographs of the people and landscapes of China, John Thomson (lot 170), and photographs of Beijing taken in the 1870s by Thomas Child (lot 122).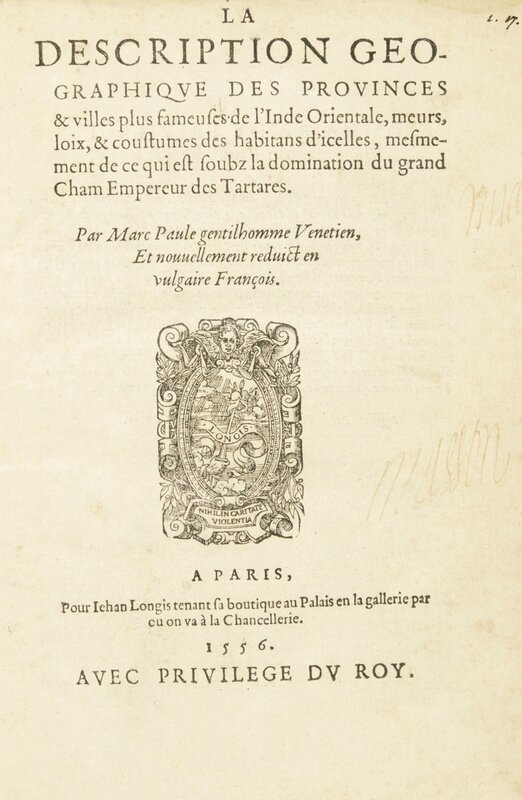 Lot 146. Marco Polo, "LA DESCRIPTION GEOGRAPHIQUE DES PROVINCES & VILLES PLUS FAMEUSES DE L'INDE ORIENTALE, MEURS, LOIX, & COUSTUMES DES HABITANS D'ICELLES, MESMENT DE CE QUI EST SOUBZ LA DOMINATION DU GRAND CHAM EMPEREUR DES TARTARES. PARIS: JEHAN LONGIS", 1556. Estimate 25,000 — 35,000 GBP. Photo: Sotheby's.
FIRST EDITION IN FRENCH, 4to (207 x 143mm.), woodcut publisher's device on title, larger device on verso of final leaf, numerous woodcut initials, twentieth-century red crushed morocco, sides with ruled and tooled border in blind, spine in six compartments with raised bands, lettered and tooled in gilt, dentelles gilt

Provenance: Masson (?), contemporary signature on title
Literature: Cordier, Sinica 1977-78; Löwendahl 9; Watanabe (1986) 228; Western Travellers in China 7; cf. Adams P1791; cf. PMM 39
Notes: THE RARE FIRST FRENCH EDITION. "MARCO POLO WAS THE FIRST TO GIVE ANYTHING APPROACHING A CORRECT AND DETAILED ACCOUNT OF CHINA AND THE FAR EAST, and the accuracy of his geographical knowledge is indicated in the correct placing of Far Eastern countries in the fourteenth-century Portolani (manuscript charts), which are clearly based on his book." Marco Polo was a member of a prosperous Venetian mercantile family, who "set out with his father and uncle in 1271 on a journey to the East. Starting from Acre the party travelled through Persia and the upper Oxus to the Pamir plateau, and then through Mongolia and the Gobi desert to the extreme north-west of China, reaching Shantung in 1275. Here they sojourned at the court of Kublai Khan until 1292, finally arriving back in Venice, after travelling through south-east Asia and southern India in 1295. During his stay in China, Marco Polo took an active part in the administration of the country and travelled widely in the Great Khan's service. He saw (or obtained knowledge of) large parts of China, northern Burma, Tibet, Japan, south-east Asia, the East Indies, Ceylon, southern India, Abyssinia, Zanzibar and Madagascar, Siberia and the Arctic" (PMM 39).
The translation by François Guget appears to be based on the Latin version in Novs orbis regionum (1532). This edition was evidently shared and simultaneously issued with a variant title and end leaf by several booksellers: Jehan Longis (as here), Estienne Groulleau, who may have been the printer, and Vincent Sertenas, in whose name the privilege was granted.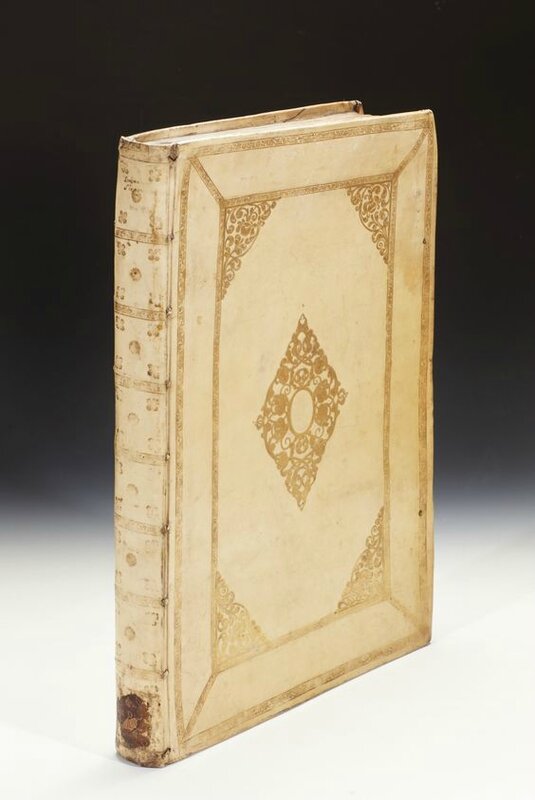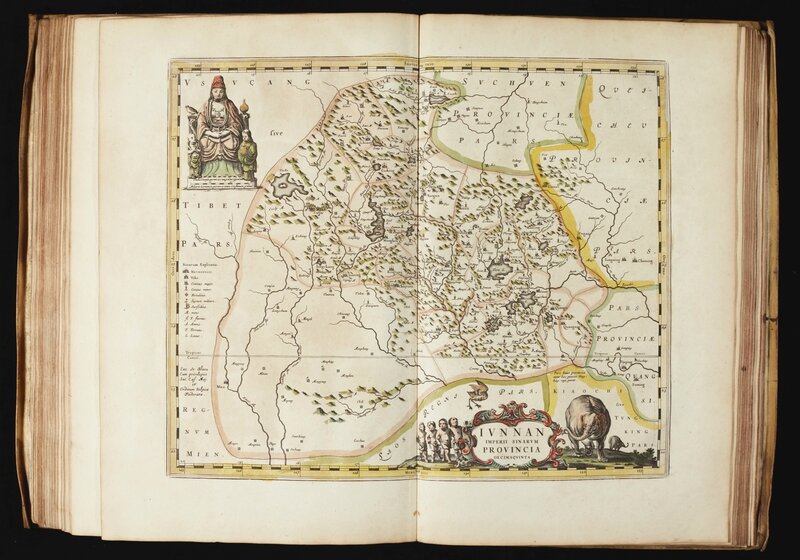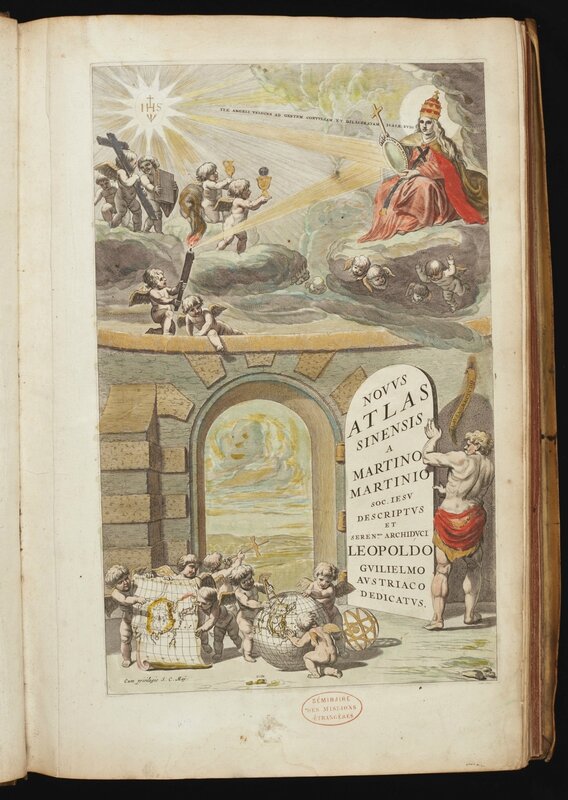 Lot 15. Johannes Blaeu, and Martino Martini, NOVUS ATLAS SINENSIS. [AMSTERDAM: JOHANNES BLAEU, 1655]. Estimate 12,000 — 18,000 GBP. Photo: Sotheby's.
FIRST EDITION (Latin text), folio (506 x 340mm.), engraved allegorical title, 17 double-page engraved maps, contemporary hand-colour, publisher's vellum gilt, yapp edges, some oxidisation to pigments, last leaf with repaired tear
Literature: Cordier, Sinica 182; Koeman I, Bl 53; Löwendahl 116; van der Krogt 2:501; Western Travellers in China 16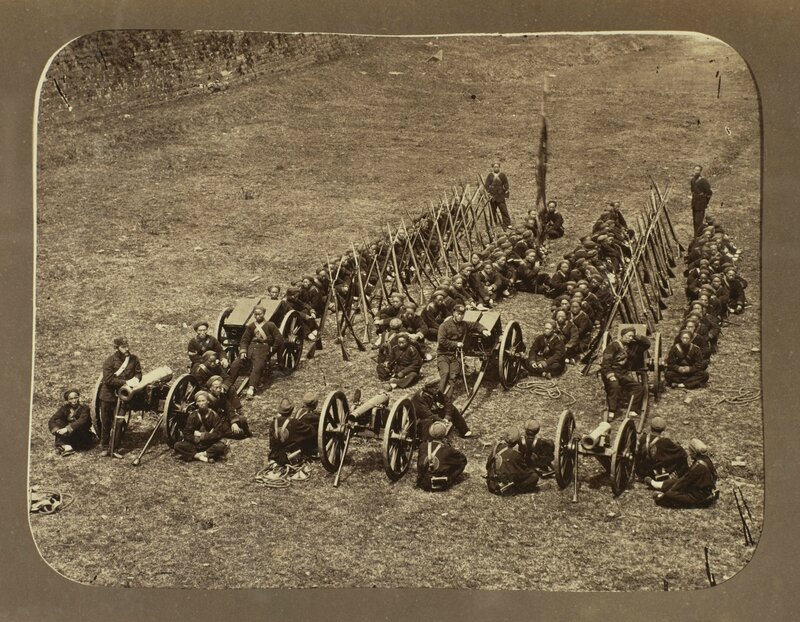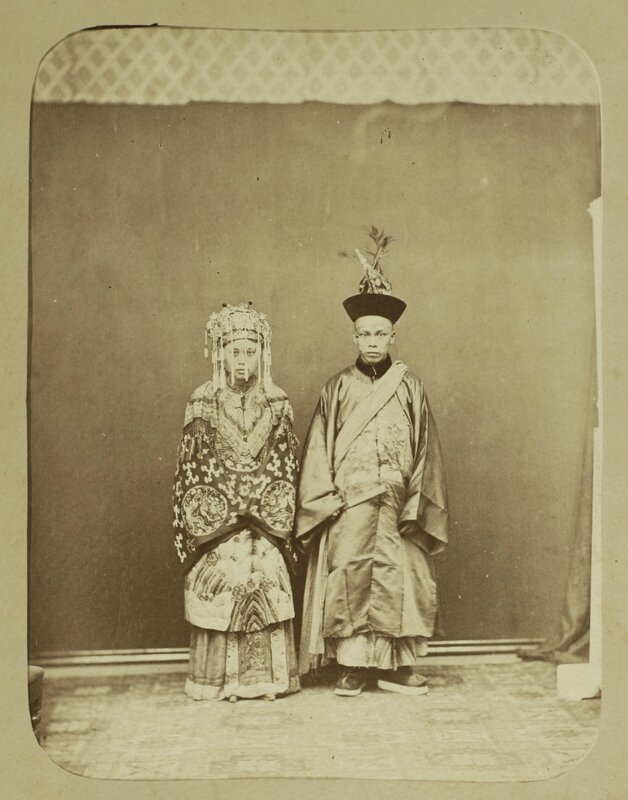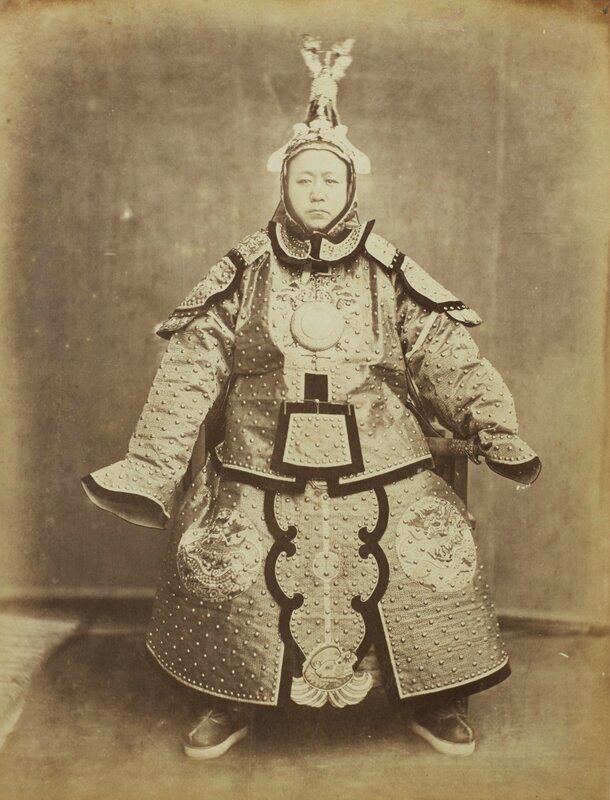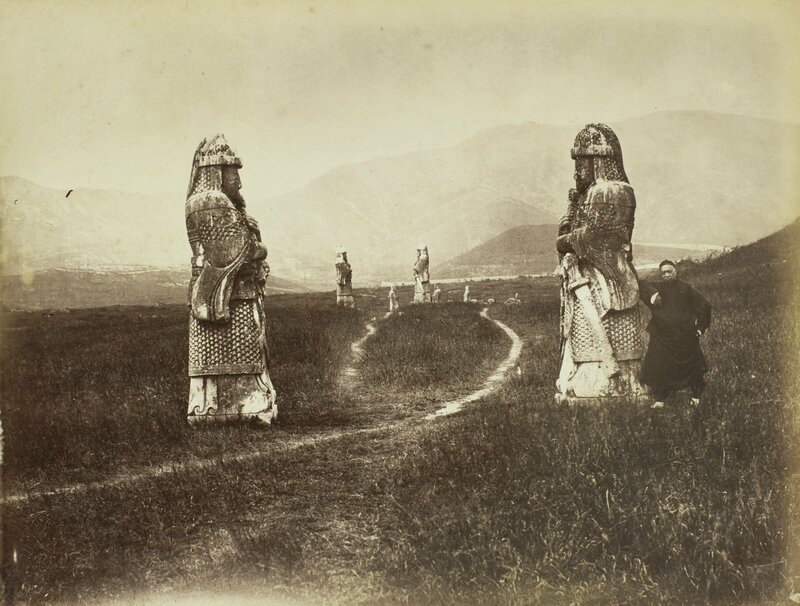 Lot 122. Thomas, W. Saunders, H.C. Cammidge, and others, Album of Photographs of China. [C.1860S-C.1881]. Estimate 15,000 — 20,000 GBP. Photo: Sotheby's.
4to (305 x 254mm.), 80 ALBUMEN PRINTS (mostly 210 x 275mm., or the reverse), comprising 74 Chinese views and subjects and 6 of Japan (5 hand-tinted), by various photographers including Thomas Child, William Saunders, H.C. Cammidge and others, mounted recto and verso on card mounts, each captioned on the mount in black ink in French, contemporary red cloth, upper cover with pictorial design in black and gilt and titled "Album", flat spine with label "Chine photos 1860-1875", some chipping and loss to edges of brittle mounts, binding rubbed, neatly rebacked
Literature: Western Travellers in China 90
Note: The photographs show images taken in Shanghai (30), Peking (5), Nanking (5), Chefoo (2), Soochow (3), Kinkiang (2), Chinkiang, Woochow, and Canton; they include topographical views, modes of transport, military subjects, prisoners, an execution, architecture, pagodas, ancient monuments, and scenes of everyday life.
In over 180 lots of rare books, atlases, and early photographs, the Hanotiau library reveals the rich history of exploration and cultural and political exchange between China and the West from the fifteenth to twentieth century. These works, created by merchants, missionaries, adventurers, and diplomats, contain a wealth of knowledge that informed the West's understanding of China, its people, culture and geography. Many of these books have distinguished histories, having once been owned by notable figures, who include Tsar Nicholas I, Marie Louise, Duchess of Parma (wife of Napoleon), Madame de Maintenon (wife of Louis XIV), Madame Victoire de France (daughter of Louis XV), and Charles Marie de La Condamine (the first French scientist to map the Amazon).

Noted for their superb condition and splendid bindings, many of these books describe fascinating accounts of adventurers and diplomats including Robert Fortune, one of the nineteenth century's greatest plant hunters, sent by the Royal Horticultural Society to secretly collect plants and seeds of the tea-shrub in China in 1848 (lot 52); and Sir Henry Ellis, who was part of the embassy George III sent to China in 1816 that failed after a diplomatic failure when members of the British party refused to "kow-tow" at the presentation to the Emperor (lot 49).
Lot 52. Robert Fortune, A JOURNEY TO THE TEA COUNTRIES OF CHINA; INCLUDING SUNG-LO AND THE BOHEA HILLS; WITH A SHORT NOTICE OF THE EAST INDIA COMPANY'S TEA PLANTATIONS IN THE HIMALAYA MOUNTAINS. London: John Murray, 1852. Estimate 400 — 600 GBP. Photo: Sotheby's.
FIRST EDITION, 8vo (212 x 130mm.), initial illustrated title, lithographed map, 3 plates (2 tinted lithographs), engraved illustrations, modern half calf over marbled boards, gilt tooled spine with raised bands and green label, marbled endpapers and edges, slight spotting and browning, a few pencil markings, small tear to p.vii-viii, light offsetting from map
Provenance: City Liberal Club "20 Aug. 85", purple stamp on verso of title and p.398
Literature: Cordier, Sinica 2116; Hill (2004) 630; Western Travellers in China 69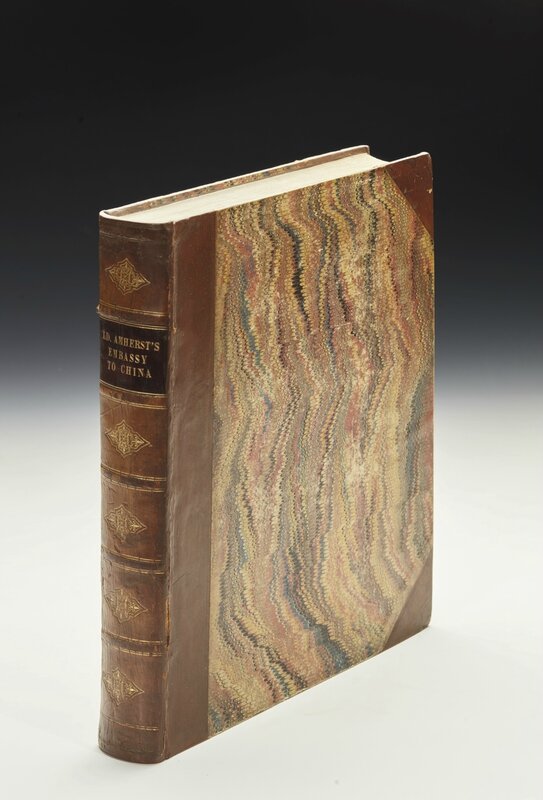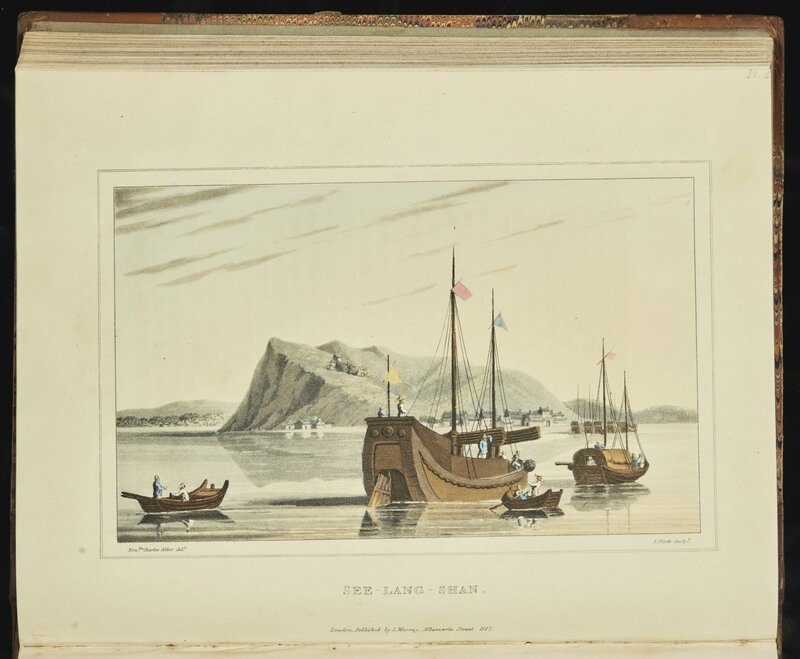 Lot 49. Sir Henry Ellis, JOURNAL OF THE PROCEEDINGS OF THE LATE EMBASSY TO CHINA; COMPRISING A CORRECT NARRATIVE OF THE PUBLIC TRANSACTIONS OF THE EMBASSY, OF THE VOYAGE TO AND FROM CHINA, AND OF THE JOURNEY FROM THE MOUTH OF THE PEI-HOTO THE RETURN TO CANTON. London: John Murray, 1817. Estimate 400 — 600 GBP. Photo: Sotheby's.
FIRST EDITION, 4to (272 x 200mm.), engraved frontispiece portrait of Lord Amherst, 3 engraved maps, 1 folding, 7 hand-coloured aquatint plates, half calf over marbled boards, spine tooled in gilt, scattered spotting and notes in pencil, maps browned (folding map with small tear), a few minor repairs to calf, joints slightly cracked
Literature: Cordier, Sinica 2393; Lust 509; Löwendahl 791; Western Travellers in China 59
Floyd Sully
The Canadian collector Floyd Sully has long been fascinated by depictions of China in maps and drawings. His collection, comprising over fifty lots of rare maps, photographs, illustrated texts, drawings and watercolours, is a rich collection of works, many of which were created in China. They provide a fascinating insight into China's history, its changing borders and rulers, and help to illustrate the emergence of modern China.

Star lots include the hugely impressive "Blue Map". Measuring over 1.3 by 2.5m, is the first of its kind to come to auction in many years. Created during the Qing dynasty, this painstakingly detailed portrayal of the Chinese world provides a wealth of information about the vastness of China's territory and administrative changes. Est. £80,000-120,000 (lot 212). Another highlight is the magnificent and rare, richly hand-coloured Daoist illuminated manuscript, commissioned by a Chinese Empress in the mid sixteenth century. Comprising 132 pages it is one of a set of five scriptures that purport to record a revelation by the legendary Daoist Laozi to Zhang Daoling (2nd century), considered by many to be the founder of religious Daoism. Est. £20,000-30,000 (lot 226).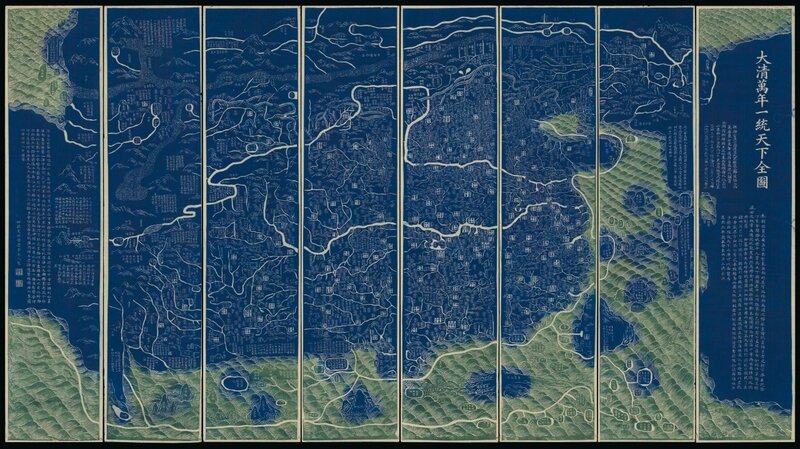 Lot 212.
Huang Qianren, 大清萬年一統天下全圖. DA QING WANNIAN YITONG TIANXIA QUANTU. [COMPLETE MAP OF THE GREAT QING'S TEN-THOUSAND-YEAR UNIFIED [REALM OF] ALL UNDER HEAVEN]. Daoguang 3 [1823]
.
Estimate

80,000

—

120,000
GBP. Photo: Sotheby's.
Large woodblock map printed in 16 sections on 8 sheets (overall size approximately 1370 x 2590mm.; each sheet 1370 x 320mm.), unmounted
Provenance: Maggs Bros. Ltd., Far East Catalogue 1344 (2004), item 40
Literature: All Under Heaven 7; Pegg, R.A. Cartographic Traditions in East Asian Maps (Hawai'i: Maclean Collection and University of Hawai'i Press, 2014), pp. 18-27; Yan Ping (and others). China in Ancient and Modern Maps(London: Sotheby's Publications, 1998), p. 141
"The Blue Map". A fine example of this impressive and rare map produced during the Qing dynasty.
The inscription immediately below the title provides an array of information about the vastness of China's territory and administrative changes that the Qing court had implemented, while also dating the map's design to the third year of the Daoguang reign (1823). The inscription also mentions that this is a revised edition of a map that Huang Qianren (1694-1771) created in 1767. That map was itself based on the work of Huang Qianren's grandfather, Huang Zongxi (1610-1695). The fact that the inscription mentions the younger Huang, is likely to underline a proud family tradition of illustrious scholarly achievement. The text glorifies Manchu imperial expansion while offering an assurance that the map is completely updated. The map shows the addition of territories such as Tibet and Xinjiang, underlining the continuous strengthening of the Chinese state.
This map offers a detailed portrayal of the Chinese world: the seas surrounding China no longer contain mythological areas and European states. Lands such as the Korean peninsula, the Japanese archipelago, Taiwan and other coastal islands are reasonably rendered. A long text accompanies the foreign territories, explaining their history of political relations with the Qing. The map pays great attention to the diversity of the country of China, showing its grand nature of mountains and rivers. It also identifies provinces, prefectures, districts, and other administrative divisions by enclosing their names in squares and other shapes whose functions are interpreted in the introductory text.
"Two prominent visual features of this map do align well with the claims of China's greatness that maps of this genre tend to assert. The massive scale of this eight-part map, which fills the viewer's field of view, lends grandiosity to its subject. Moreover, the work's palette dramatically imbues its subject with antique culture, for the deep blue and green colours recall the opaque mineral pigments of the venerable blue-and-green style of painting that the aristocrats Li Sixun (651-716) and Li Zhaodao (c.675-741) popularized at the imperial court of the Tang dynasty (618-907)" (All Under Heaven).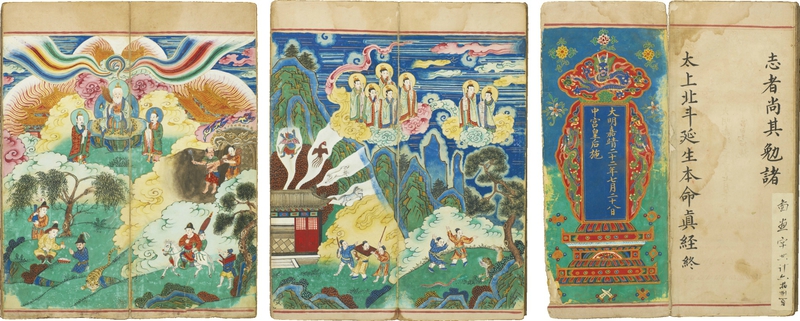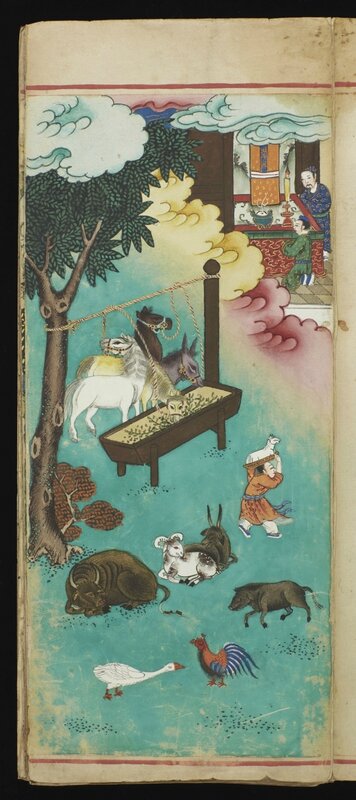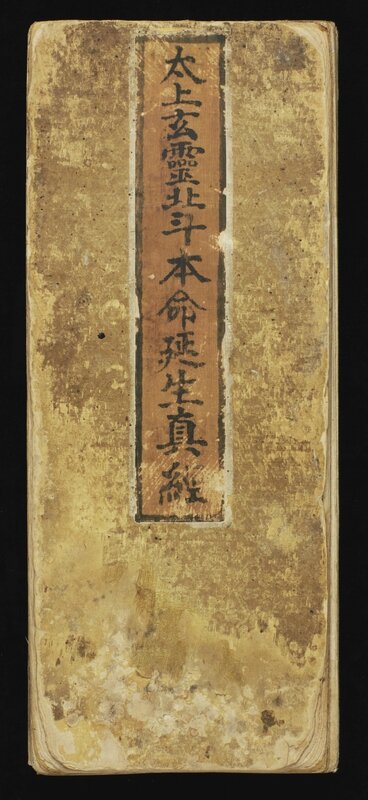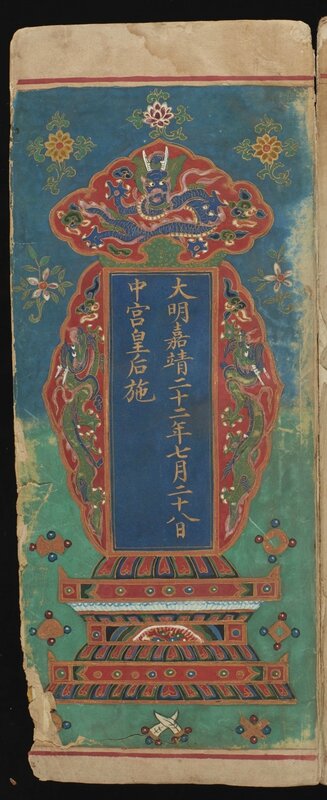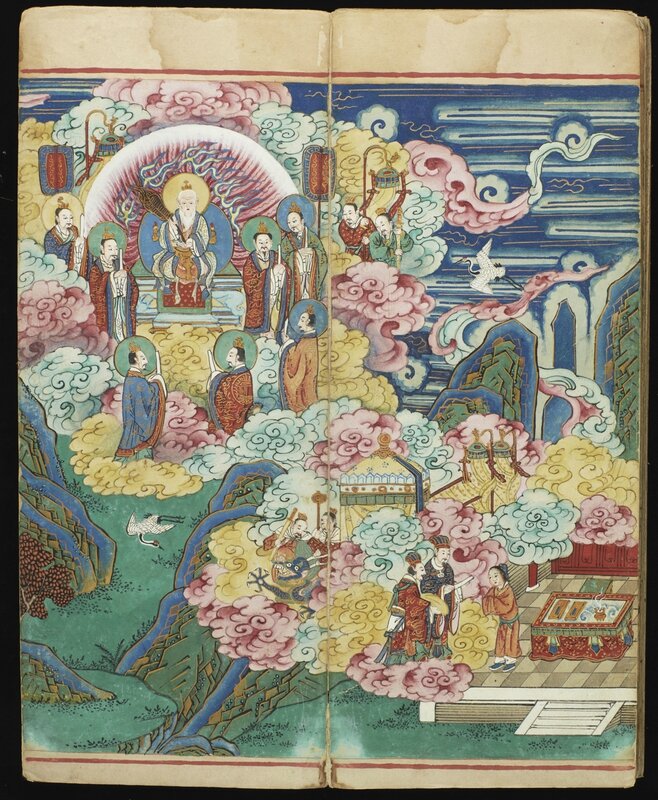 Lot 226. Daoist Manuscript 太上玄靈北斗延生本命真經. TAISHANG XUANLING BEIDOU YANSHENG BENMING ZHENJING. [THE AUTHENTIC SCRIPTURE OF THE NATAL DESTINY OF THE NORTHERN DIPPER FOR EXTENDING LIFE [AS REVEALED BY] THE MYSTERIOUS SPIRIT OF THE MOST HIGH]. [China, 1543 or later?]. Estimate 20,000 — 30,000 GBP. Photo: Sotheby's.
Folio (340 x 140mm.), illuminated manuscript on paper, 132 leaves, 28 paintings (12 double-page), bound concertina-style, yellow silk upper cover, cloth label on upper cover, housed in custom box, slightly worn, light dampstaining, without lower board, wear to covers
Provenance: Cornelius J. Hauck, bookplate, purchased from the bookseller Emil Offenbacher (1909-1990); sale "The History of the Book: The Cornelius J. Hauck Collection", Christie's New York, 27 June 2006, lot 15
Literature: All Under Heaven 26
Property of a European Private Collector
Taken by Georges Morache, a French military doctor residing in Beijing from 1862-1866, these are among the earliest photographs showing the inhabitants of Beijing. Neither commercial photographs nor foreign merchants were able to operate in Beijing until the late nineteenth-century, so the only early surviving images of the city were taken by visiting professionals or amateur enthusiasts attached to the diplomatic corps at the foreign legations. As medical officer attached to the French Legation in Beijing, Morache would have had privileged access to scenes and locations little-known to those just passing through the capital. Of unusual authenticity, these remarkable images show busy street scenes, buildings and monuments of Beijing, and portraits of its inhabitants, including monks, a school teacher, chess players, musicians, and road menders. This is one of only four known sets of Morache's photographs of Beijing to have survived. Est £50,000-80,000 (lot 257).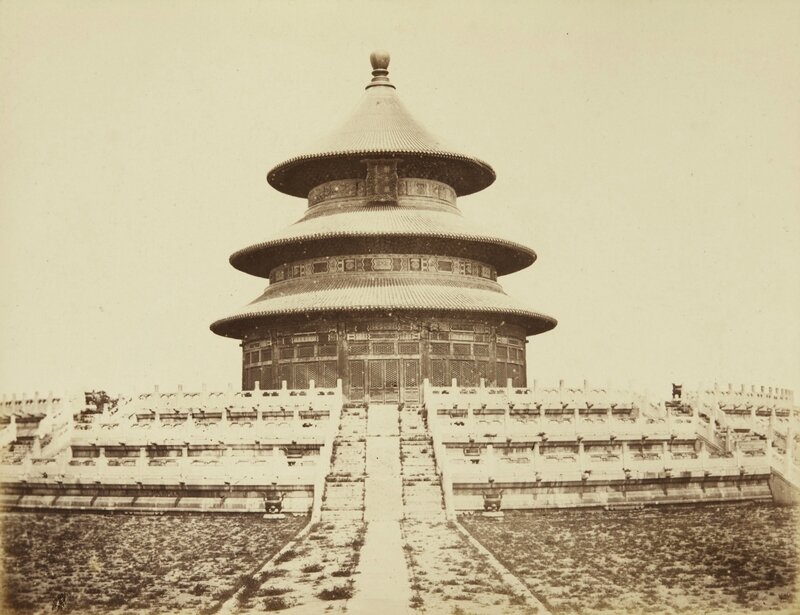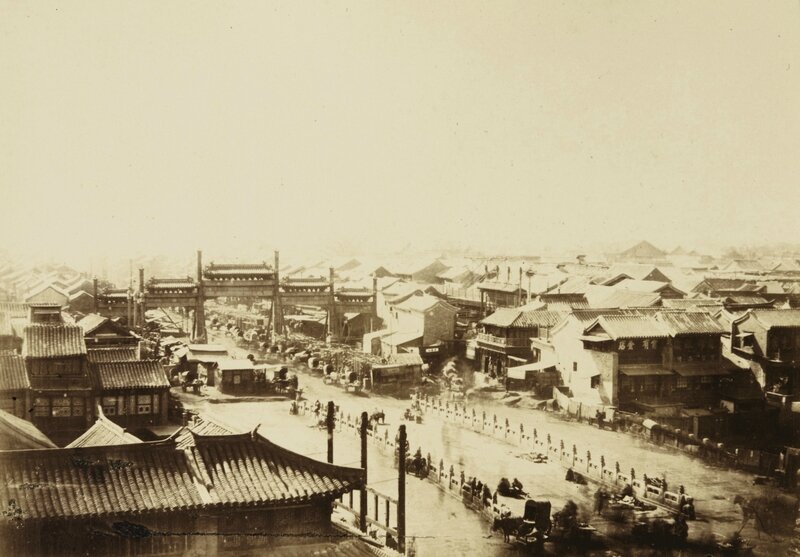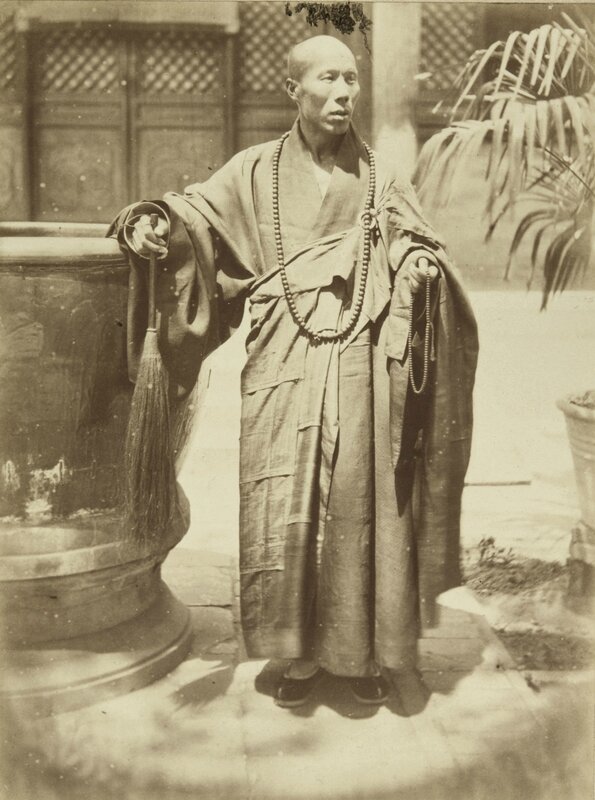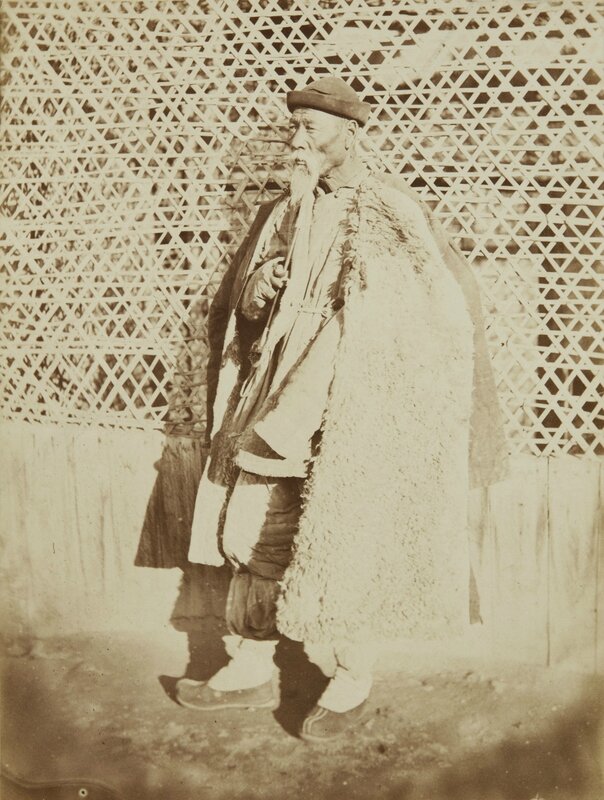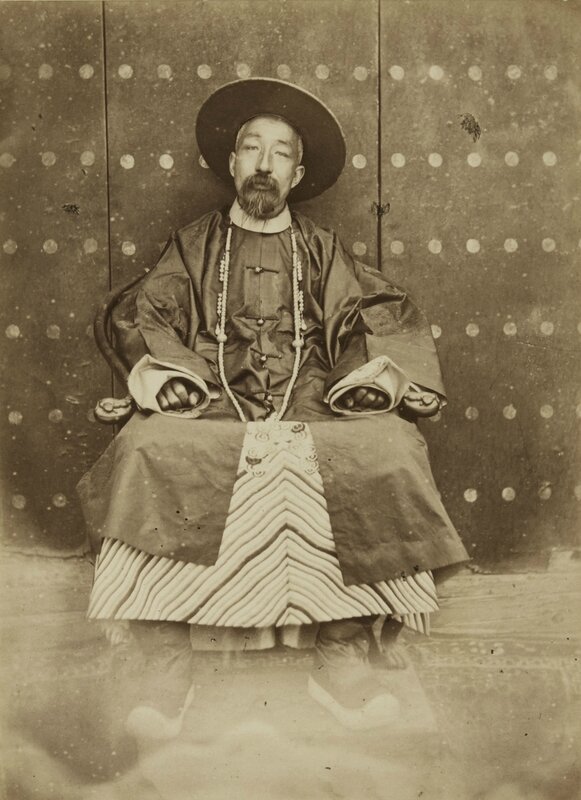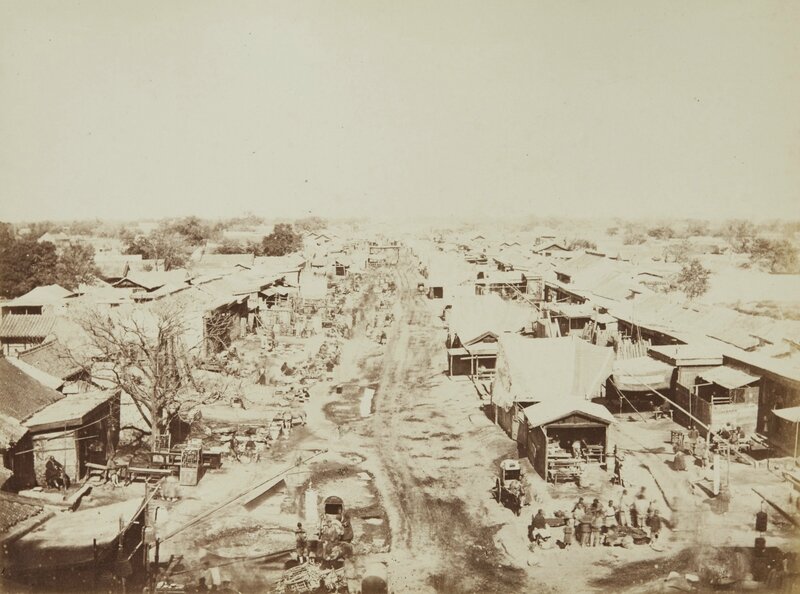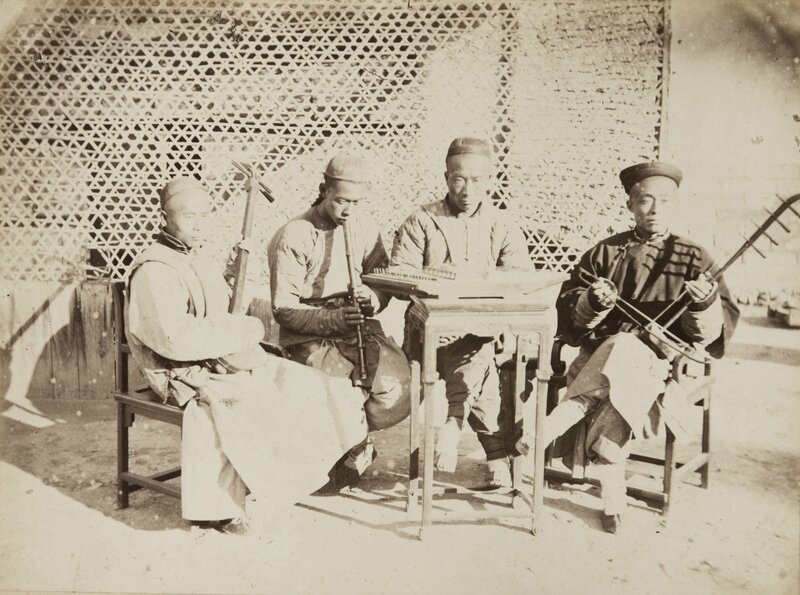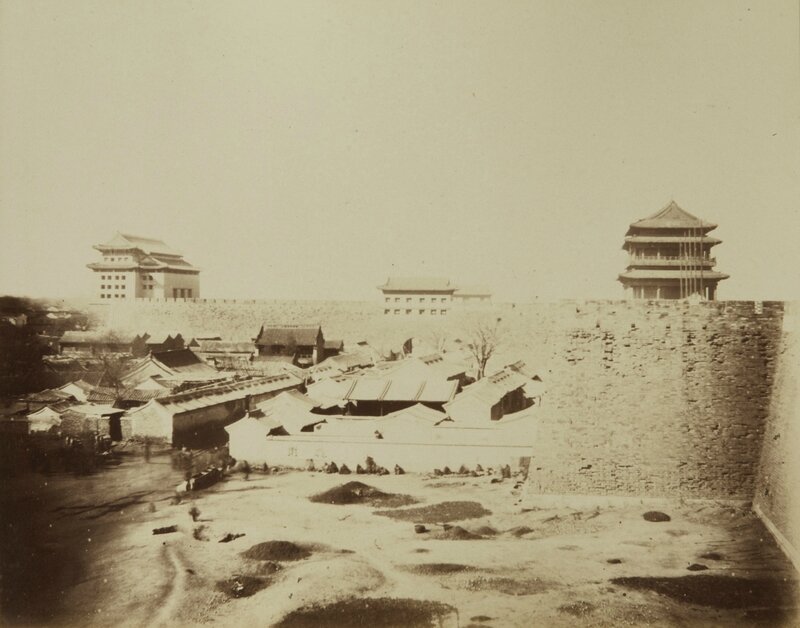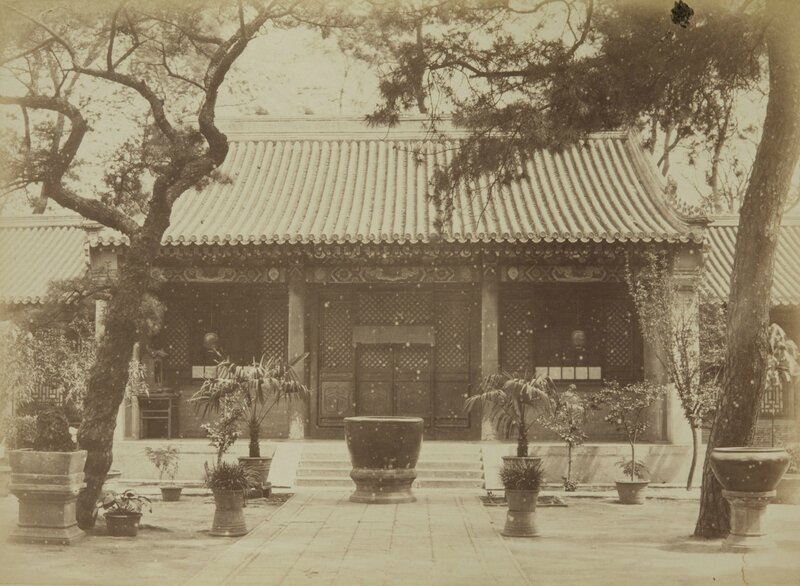 Lot 257. Georges Morache, "CHINE", A BOXED COLLECTION OF 41 PHOTOGRAPHS OF BEIJING. [1865-66]. Estimate 20,000 — 30,000 GBP. Photo: Sotheby's.
42 ALBUMEN PRINTS on 41 card mounts (341 x 439mm.), comprising 24 views of Beijing and the Summer Palace (from 173 x 198mm. to 157 x 197mm.), one 2-part PANORAMA (163 x 348mm.), and 16 portraits (155 x 120mm. to 114 x 57mm.), each mount with a tinted frame, most captioned in pencil in French on the reverse, housed in a contemporary custom-made hinged brown cloth box by Delagarde of Paris (label in lid), upper cover blocked in gilt "CHINE", cloth ties, some fading, slight wear to mounts, lower cover of box re-covered with blue paper, slight wear and fading to box
Literature: Saint-Ours, Édouard de. Georges Auguste Morache (1837-1906), contexte, creation et diffusion de la production d'un amateur photographie à Pékin dans les années 1860 (Paris: École du Louvre, May 2016; unpublished academic dissertation, supervised by Mme Dominique de Font-Réaulx; a copy is included in this lot)
Bennett, Terry. History of Photography in China: Western Photographers 1861-1879 (Quartich, 2010, pp.78, 415); [Ibid.] Chinese Photographers 1844-1879 (2013, p.379)