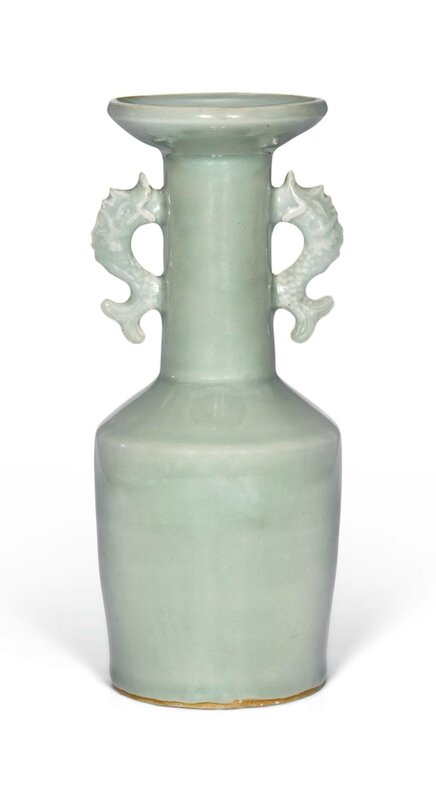 Lot 116. A 'Longquan' celadon mallet vase, Southern Song dynasty (1127–1279); 30 cm, 11 3/4 in. Estimate 100,000 — 150,000 GBP. Lot Sold 149,000 GBP. Photo: Sotheby's 2016
the cylindrical body rising from a low footrim to a canted shoulder sweeping up to a tall cylindrical neck, flanked on each side by a pair of dragon-fish handles, all below a wide everted dished rim with slightly upturned lip, covered overall with a sea-green glaze, draining to a paler tone at the edges, the unglazed hand-pared footrim of a buff colour.
Note: Celadon vases of this 'mallet' shape, which is generally known under the Japanese term kinuta, are among the most sought-after Longquan vessels. It has been suggested by several scholars that this shape, despite resembling a paper mallet, may in fact have been introduced to China as a glass vase or bottle from the Islamic west, possibly Iran. An Islamic glass bottle vase, probably from Nishapur, North East Iran, was among the treasures found in the tomb of the Princess of Chen, Liao dynasty, dating to no later than 1018 and illustrated in Grand View: Special Exhibition of Ju Ware from the Northern Sung Dynasty, National Palace Museum, Taipei, 2007, cat. no. 25, fig. 2. Fragments of glass vessels of this shape were found in 1997 among the excavated material from the cargo of the Intan shipwreck excavated off the Indonesian coast. This ship is believed to date to the Northern Song period. Furthermore according to the Yi Jian Zhi by the Song scholar official Hong Mai, Emperor Huizong owned a collection of imported glass.
Kinuta vases with dragon-fish, feiyu, handles are rare and particularly so in this large size. The mythological feiyu, considered a good omen, was a popular motif during the Yuan dynasty and may well have travelled along nomadic paths, originating in the ancient Near East through Central Asia into China. A Yuan dynasty gold cup with feiyu handles in the State Hermitage Museum, St. Petersburg, exhibited in The Legacy of Genghis Kahn, Courtly Art and Culture in Western Asia, The Metropolitan Museum of Art, New York, 2002, p. 18, fig. 11, cat. no. 139, attests to the association with fine decorative wares.
A closely related vase, from the collection of Enid and Brodie Lodge, included in several exhibitions such as Exhibition of Chinese Art, Palazzo Ducale, Venice, 1954, cat. no. 422, was sold in these rooms, 8th July 1975, lot 91; and one with a crackled glaze, from the collections of Warren E. Cox and Frederick M. Mayer, was sold at Christie's London, 24th June 1974, lot 61. A slightly smaller vase of this type, in the Tokugawa Art Museum, Nagoya, was included in the exhibition Heavenly Blue. Southern Song Celadon, Nezu Art Museum, Tokyo, 2010, cat. no. 23; together with two further examples, cat. nos 24 and 25, the latter in the Seikado Bunko Art Museum, Tokyo; another from the Carl Kempe collection is illustrated in Bo Gyllensvärd, Chinese Ceramics in the Carl Kempe Collection, Stockholm, 1964, pl. 99; and a further vase, reputedly from the collection of Lord Matsudaira Fumai, was sold at Christies New York, 19th March 2008, lot 561.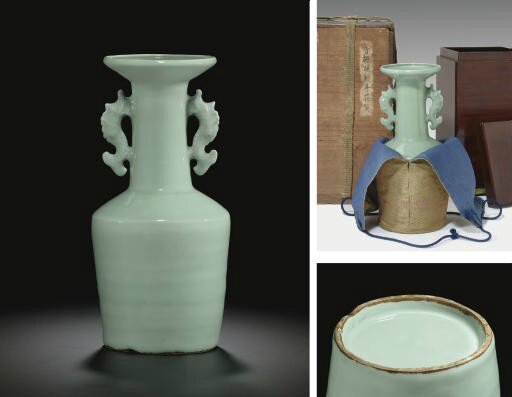 An important Longquan celadon 'Kinuta' vase, Southern Song dynasty (1127–1279). Estimate USD 800,000 - USD 1,200,000. Price Realised USD 2,281,000 at Christies New York, 19th March 2008, lot 561. Photo Christie's Images Ltd 2008.
Cf. http://www.alaintruong.com/archives/2008/03/10/8272411.html
Sotheby's. Important Chinese Art, London, 09 nov. 2016, 11:30 AM