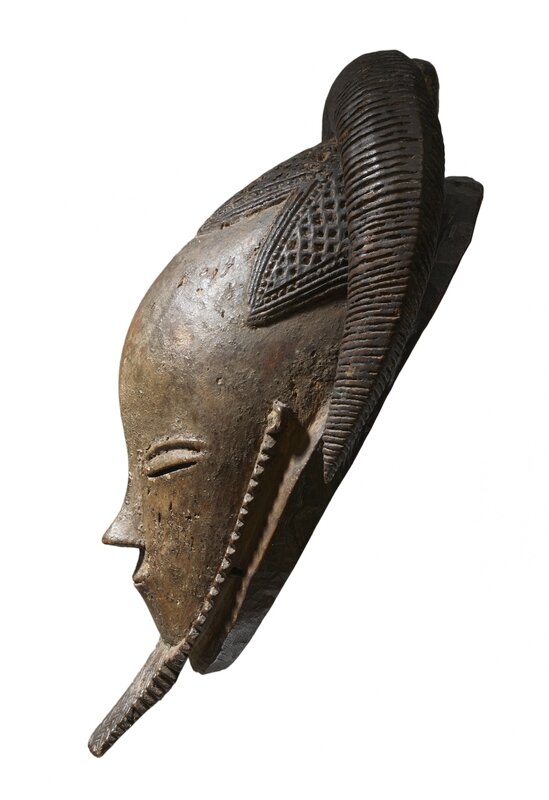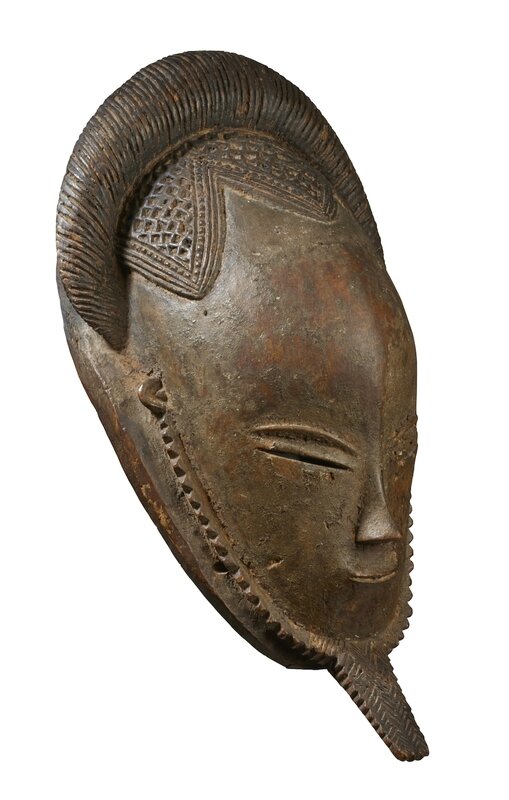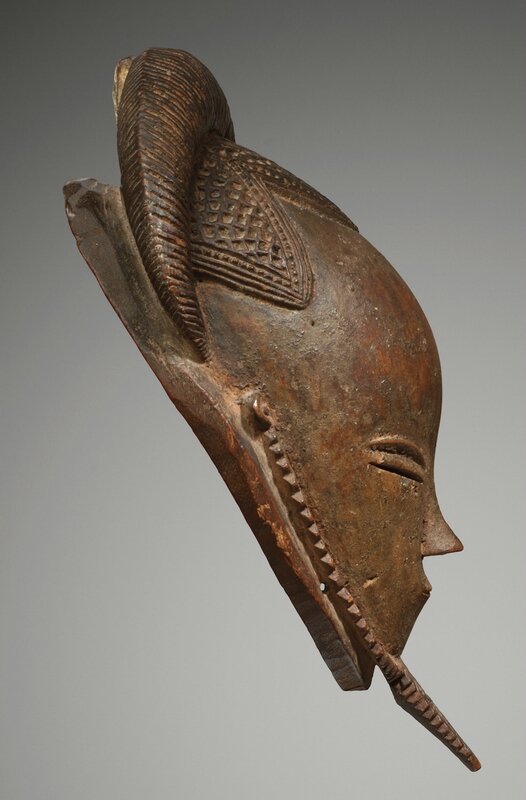 Lot 101. Un masque Gouro par le « Maître de Bouaflé », Côte d'Ivoire. Estimation : 80 000 € / 150 000 €. Résultat 100 160 €. Photo Cornette de Saint-Cyr.
Exceptionnel masque aux traits anthropomorphes caractéristique du style, yeux fendus surmontés d'un sourcil en relief, ligne bombée du front se prolongeant dans le petit retroussement du nez au dessus d'une fine bouche close esquissant un sourire. Le bas du visage est bordé par une fine collerette crantée partant de dessous les oreilles au tragus indiqué, s'achevant au centre du menton en une barbe tressée retombante. La coiffure finement sculptée de trois sections de motifs géométriques est encerclée par une belle natte partant de derrière l'oreille droite pour retomber avec ampleur de l'autre côté du visage. Une belle collerette est percée pour fixer un mors.
Superbe patine, ancien accident et recollage visibles au niveau du menton et de la base de la barbe. L. 36 cm .
Provenance : - Collections d'une famille Française de grands amateurs d'Art.
- Logiquement acquis dans les années 1920 – 1930 et conservé depuis dans la famille.
A fine and very rare Gouro African Tribal mask by the famous "master of Bouafle Ivory Coast. from an old french private collection
CORNETTE DE SAINT CYR PARIS. Arts d'Asie - Art Tribal - Documentation, le 09 Novembre 2016 à 14h30. 6, Avenue Hoche - 75008 PARIS. Expert : Cabinet Daffos-Estournel (Tel. : +33 6 09 22 55 13).