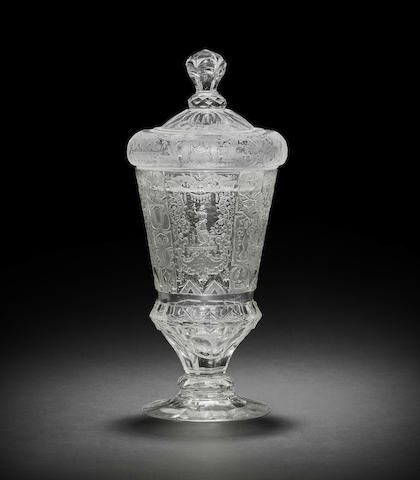 Lot 38. A very fine Silesian Hochschnitt and Tiefschnitt goblet and cover, Hermsdorf, circa 1730. Estimate £3,000 - 4,000 (€3,300 - 4,400). Photo Bonhams.
The tapering bowl divided into four panels by vertical bands of Hochschnitt or relief carving of heavy baroque ornament, the resulting panels delicately engraved in Tiefschnitt with laub-und-Bandelwerk, floral and shell motifs, two of the panels containing allegorical figures standing by tiny pine trees, the cover carved with corresponding Hochschnitt and Tiefschnitt panels, the base of the bowl cut with a band of diamonds, on a fluted circular foot, 20.5cm high (foot chipped) (2)
Provenance: From the estate of a Swiss collector.
Note: This glass belongs to an important group of Silesian goblets and footed beakers with Hochschnitt and Tiefschnittengraving. A goblet in the Ernesto Wolf Collection is undoubtedly by the same hand as the present lot. This is discussed at length by Brigitte Klesse and Hans Mayr, European Glass from 1500-1800 (1987), cat. no.106 where a list of related examples is given. Some of these include pine trees in the decoration. The pine tree is the emblem of the Schaffgotsch family and strongly suggests that this group was made at the glassworks in Hermsdorf that continued under their patronage.