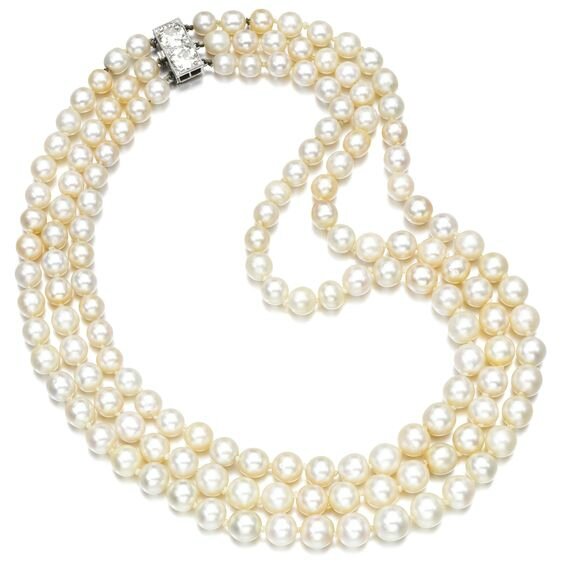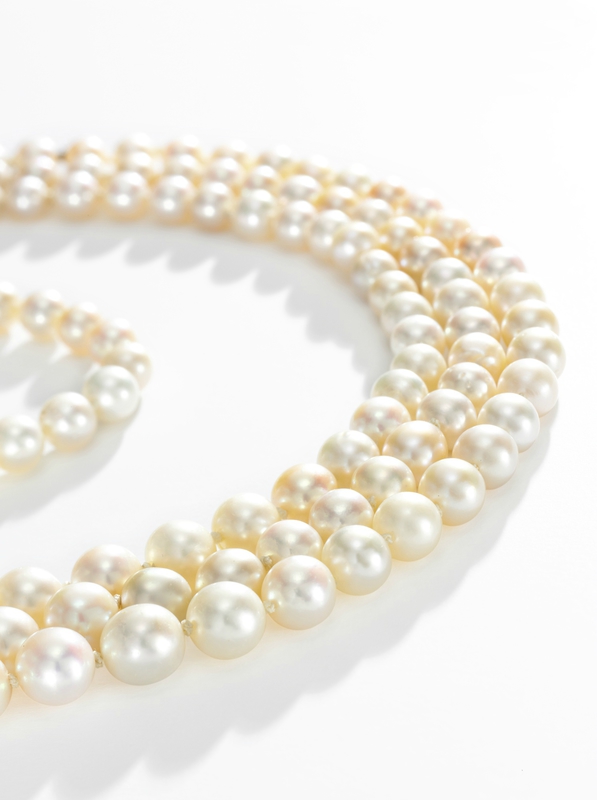 Lot 323. Aline de Rothschild's Natural pearl and diamond necklace. Estimate 200,000 — 300,000 CHF. Photo: Sotheby's.
Composed of three rows of graduated natural pearls measuring from approximately 6.5 to 9.1mm, to a clasp set with circular- and single-cut diamonds, shortest length approximately 400mm.
Accompanied by an SSEF report.
Provenance: Aline de Rothschild (1865-1909), who married Sir Edward Albert Sassoon, 2nd Baronet (1896-1912), then to their son, Sir Philip Sassoon, 3rd Baronet (1888-1939), to his sister, Sybil Sassoon (1894-1989), who married George Cholmondeley, Earl of Rocksavage, later Marquess of Cholmondeley (1883-1968), thence by descent.
Notes: This necklace derives from a very large necklace presented to Aline de Rothschild by Edward Sassoon upon their marriage in 1887. Peter Stansky, in his book Sassoon, The Worlds of Philip & Sybil, mentioned them: "Aline de Rothschild and Edward Sassoon's marriage was performed in Paris with the chorus of the Paris Opera entertaining the 1,200 guests. Edward presented Aline with a pearl necklace worth £9,000 [approximately £ 900,000 in today's purchasing terms]. Edward's namesake, the Prince, later Edward VII, named a yacht in honour of the bride. Aline Sassoon later became well known for her collection of emerald, sapphire and gold jewellery".
John Singer Sargent, Aline de Rothschild, Baroness Sassoon (1865-1909).
Damien Collins, in his book Charmed Life. The Phenomenal World of Philip Sassoon, talked about the pearls: "Following his mother's death in 1909, Philip was given the string of pearls that Edward had presented to Aline on their wedding day, in expectation that he would one day give them to his own bride. Instead, he often kept them in his pocket, rubbing them occasionally - in order, he would tell his friends, 'to keep them alive'. Charlie Chaplin remembered him doing this when he stayed with him in 1921, and recalls it in his autobiography".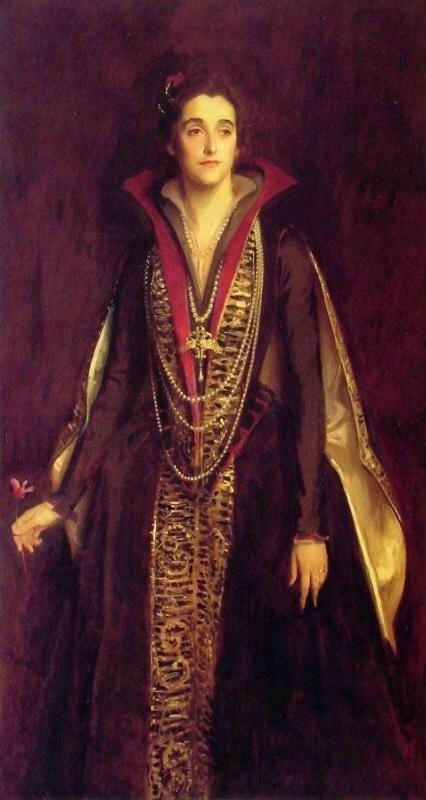 John Singer Sargent, Sybil Sassoon, Countess of Rocksavage, later Marchioness of Cholmondeley (1894-1989), wearing the pearls.
Philip's sister, Sybil, Countess of Rocksavage, later Marchioness of Cholmondeley, a style icon of the era, was painted by Sargent in 1923, wearing the necklace in Spanish costume. In due course she inherited it and then transformed it into two necklaces, one long single strand and the three row necklace offered in this sale. In a 1984 photograph of Her Majesty Queen Elizabeth II and the Marchioness of Cholmondeley, on the occasion of her 90th birthday, the Marchioness is wearing the present necklace. The necklace was left by Sybil to her daughter, Lady Aline Cholmondeley, thence by descent to the present owner.
Her Majesty, Queen Elizabeth II and the Marchioness of Cholmondeley, who is wearing the present lot in 1984.
Sotheby's. Magnificent Jewels and Noble Jewels, Geneva, 16 Nov 2016, 10:30 AM