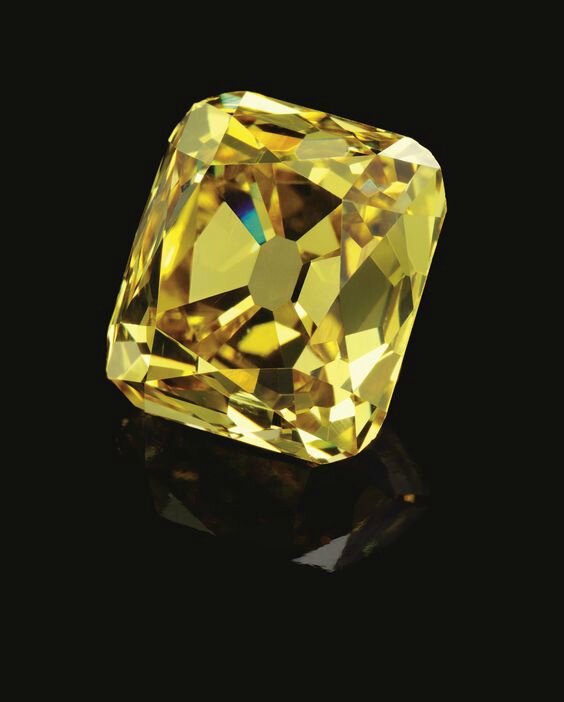 Lot 589. Ex-collection of Prince Corsini, a gift from Bonnie Prince Charlie. Fancy deep yellow diamond and diamond brooch. Estimate 275,000 — 460,000 CHF. Lot sold 902,500 CHF. Photo: Sotheby's.
Set with a fancy deep yellow round-cornered rectangular modified brilliant-cut diamond weighing 7.33 carats, within a border of cushion-shaped diamonds of near-colourless tint.
Provenance: Prince Charles Edward Stuart Known as, 'Bonnie Prince Charlie' (1720 – 1788)
Prince Charles or 'Bonnie Prince Charlie' as he is more commonly referred to, was a leader in the Jacobite uprising where the House of Stuart fought the House of Hanover to claim the British Throne. This ultimately lead to Prince Charles's defeat at the Battle of Culloden in 1745 and his exile to Europe, where he lived mainly in France and Italy.
Prince Charles's mother, Marie-Clementina Sobieska, was the granddaughter of King John III Sobieski of Poland, married to King James III of England in 1719. Upon their marriage Marie-Clementina brought with her a large dowry, several thousand hectares of land and the Sobieski Family Jewellery. It is understood, as we see in Lord Twining, that many of the Sobieski Jewels vanished during King John's reign, nevertheless, Marie-Clementina still managed to bring with her a substantial collection which included some beautiful rubies. It is possible this diamond was originally part of the Sobieski Jewellery Collection, which was henceforth inherited by Prince Charles and became part of the Sobieski and Stuart Jewels.
In 1772 the Prince married Princess Louise Stolberg-Gedern and although the marriage started well, it soon deteriorated when Louise did not produce an heir. In 1774 the couple left Rome and moved into a palace offered to them by long standing family friends, the Corsinis. After several years Louise fled the marriage with her lover as Prince Charles's drink-fuelled behaviour became wilder. Louise appealed to the Pope who placed her under Papal protection and in turn cut off Charles's pension. After this Louise would cause a stir as she was seen out at theatrical performances wearing the Sobieski and Stuart jewels with her lover on her arm.
Prince Charles suffered from a serious illness when his wife left him and with the help of his friend, Prince Corsini, he appealed to the Pope for the restoration of his pension; his wife to be sent back to him and his wife's lover to be banished from Rome. The Pope refused all of these requests and Prince Corsini was heavily reprimanded for being involved with such demands. After negotiations involving King Gustavus III of Sweden, Louise agreed to a formal separation and in turn renounced her claim to the Sobieski and Stuart jewels. It is possible that this diamond was given in gratitude to the Corsini Family after these events took place.
Allan Ramsay (1713-84), Prince Charles Edward Stuart (1720-88), 1745. Accepted in lieu of Inheritance Tax by H M Government from the Trustees of the Wemyss Heirlooms Trust and allocated to the Scottish National Portrait Gallery, 2016.
Literature: Cf: Peter Pininski, Bonnie Prince Charlie, Gloucestershire, 2010, page 81-82; Fitzroy Maclean, Bonnie Prince Charlie, London, 1988, page 364; Lord Twining, A History of the Crown Jewels of Europe, London, 1960, page 466-467.
Note: Accompanied by GIA report no. 2145496414, stating that the 7.33 carat diamond is Fancy Deep Yellow, Natural Colour, VS2 Clarity.
Sotheby's. Magnificent Jewels and Noble Jewels, Geneva, 14 May 2012