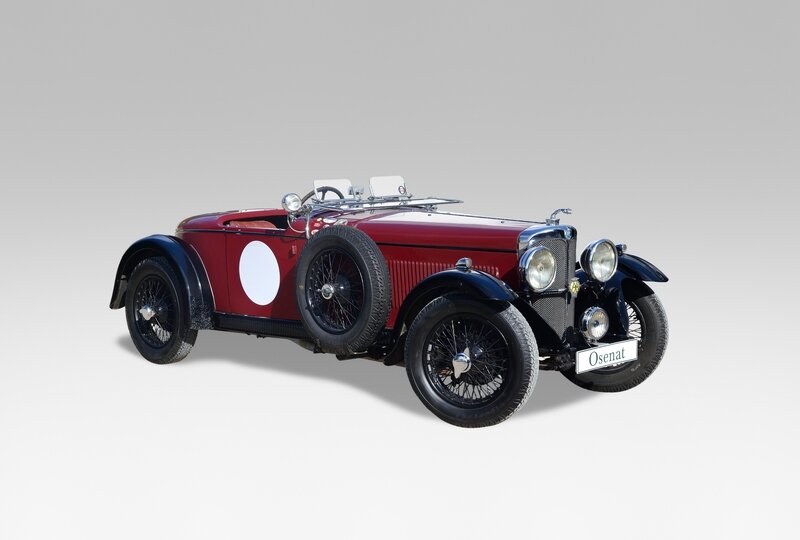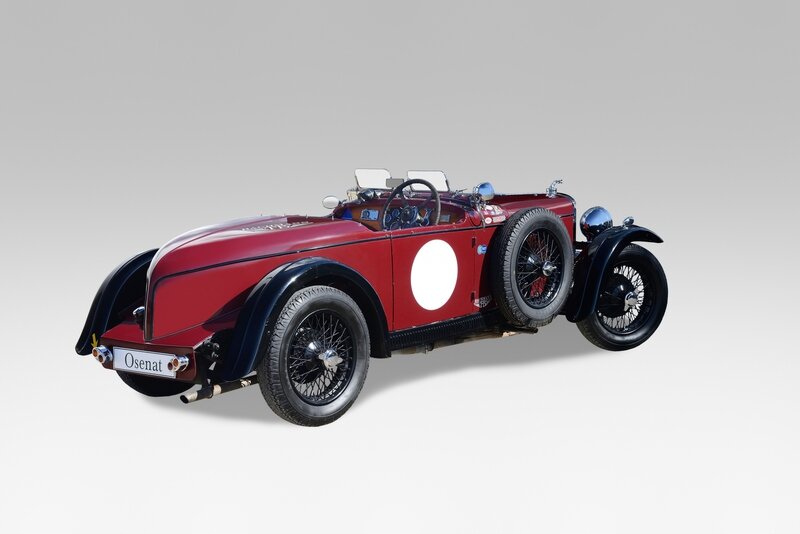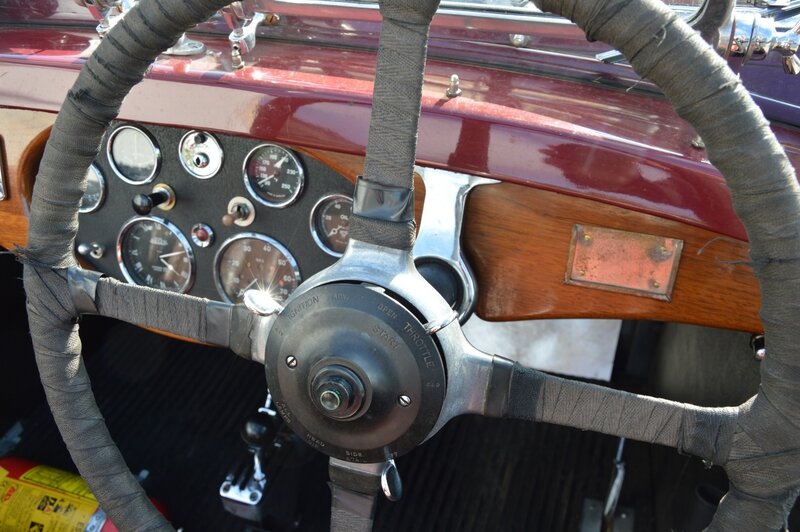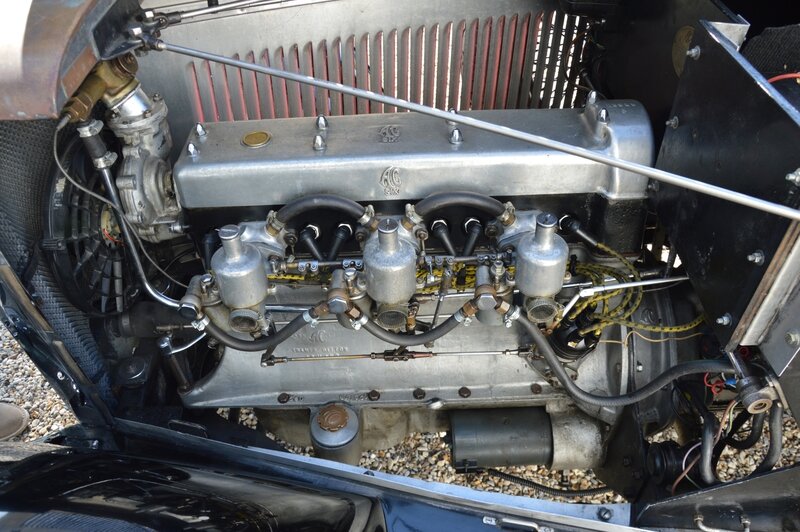 Lot 309. 1933 AC 16/56 Type L30. Estimation : 60 000 € / 70 000 €. Photo courtesy Osenat
Châssis n° 30. Carte grise française
D'après le ACOC (AC Owners Club), le véhicule présenté est sorti de l'usine en 1933 sous la forme d'une berline conduite intérieur dénommée « Sportsman Saloon ». Son premier propriétaire H.M Manuel la vend avant 1939 à monsieur F.L Bramal, d'après les archives du club. Son histoire devient plus floue jusqu'en 1966 où elle refait son apparition dans les archives. A cette date, la voiture appartient à monsieur A. Bellfield de Derby et se trouve en très mauvais état. Celui-ci entame une sérieuse restauration et l'adaptation de son actuelle carrosserie. En 1978, elle change de mains au profit de monsieur Leslie Brind de Chesterfield, sa restauration n'est pas encore achevée. En 1989, avec une restauration toujours en cours, elle devient la propriété de monsieur Barry Wragg de Sheffield. En 1993, la restauration mécanique et carrosserie est achevée, elle est maintenant la propriété de monsieur John Barker de Nantwich. En 1994, son propriétaire devient monsieur James Mc Gregor en Ecosse par l'intermédiaire du négociant Spining Wheel. En 1997, son propriétaire monsieur Dietrich Merkel est allemand. L'ACOC perd sa trace jusqu'en 2007, date à laquelle elle est immatriculée en Espagne pour la société de négoce Vintage Cars SL de Madrid. En 2011 la FFVE édite une attestation en vue de son immatriculation française en collection. Elle effectue le « Grand Prix de Pau Historique » en 2012. En mai 2015, elle participe au « Vintage Revival Montlhéry ».
Comme la plupart des 16/56, le moteur est équipé de trois carburateurs-montés d'origine sur les versions plus puissantes, les 16/66-au lieu du simple carburateur, passant ainsi la puissance de 56 cv à environ 65cv. Cette AC 16/56 est un très beau roadster en bon état de présentation et de fonctionnement. Rare sur le marché, elle ne manquera pas de faire tourner les regards à son passage, la sonorité claquante de son 6-cylindres éveille les sens.
According to the ACOC (AC Owners Club), the car presented left the factory in 1933 as an indoor driving sedancalled « Sportsman Saloon ». Itsfirst owner H.M Manuel sells it before1939 to Mr. F.L Bramal, according tothe club's archives. Its history is blurred until 1966 when she reappearedin the archives.At that time, the car belongs to Mr.A. Bellfield from Derby and is in verypoor condition. He began a serious restoration and adapte his current body. In 1978, it changed hands for the benefit of Mr. Leslie Brind from Chesterfield, restoration is not yet complete. In 1989, with restoration still underway, it became the property of Mr. Barry Wragg from Sheffield. In 1993, the body and mechanical restoration is complete, it is now owned by Mr. John Barker from Nantwich. In 1994, its owner is Mr. James McGregor in Scotland through the seller Spining Wheel. In 1997, its owner Mr. Dietrich Merkel is German. The ACOC lose track until 2007, when it is registered in Spain for the trading company Vintage Cars SL in Madrid. In 2011 FFVE publishes a certificate for its registration in French collection. It carries the "Grand Prix de Pau History" in 2012. In May 2015, she participated in the "Vintage Revival Montlhéry."
Like most 16/56, the engine is equipped with three-carburetors originally fitted to more powerful versions, the 16/66-instead of single carburetor and from the power of 56 hp to about 65hp. This AC 16/56 is a beautiful roadster in good presentation and operation. Rare on the market, it will not fail to turn attention to its passage, the snapping sound of his 6-cylinder awakens the senses.
Automobiles et Canots Automobiles de collection - Automobilia chez Osenat, 69686- Chassieu, le 06 Novembre 2016 à 14h00