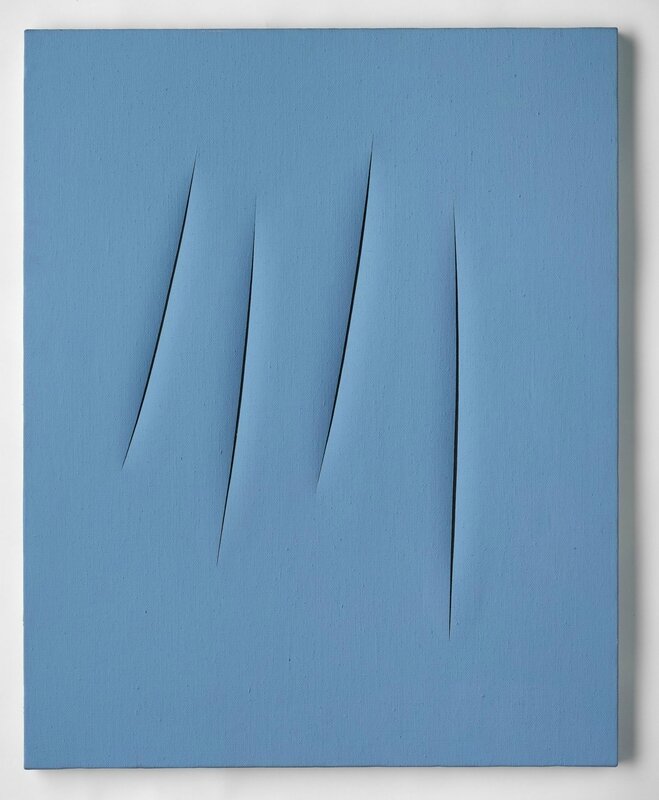 Lucio Fontana, Concetto spaziale, Attese, 1967, waterpaint on canvas, 31 1/2 x 25 5/8 in. (80 x 65 cm.). Private Collection, London. © 2016 Artists Rights Society (ARS), New York / SIAE, Rome.
NEW YORK, NY.- Eykyn Maclean announces The Serial Attitude, an exhibition that reintroduces two opposing perspectives on Serial Art.

In November 1967, Elayne Varian, the Director of the Finch College Museum of Art in New York, called upon a young artist – Mel Bochner – to help organize an exhibition on Serial Art. To coincide with the show, Bochner wrote The Serial Attitude, published in Artforum's December 1967 issue. In his essay, Bochner devised a set of operative rules to define Serial Art, specifying that it is a process that must be pre-determined, and must have a rigid system with progressive numbers or elements where order takes precedence over the execution. Eykyn Maclean explores Bochner's perspective with works such as Jasper Johns' 0-9 trial proof from 1960, Sol LeWitt's 3 x 3 x 3, 1965 (on loan from the LeWitt Collection), Donald Judd's Untitled bullnose progression from 1966, and Bochner's own works Continuous/Dis/Continuous and Counting by Fives, both from 1971.
Carl Andre, 64 Zinc Square, 1968, zinc, 64-unit square (8 x 8), each: 3/8 x 9 7/8 x 9 7/8 in. (1 x 25 x 25 cm.), overall: 3/8 x 78 3/4 x 78 3/4 in. (1 x 200 x 200 cm.). Photo Courtesy Eykyn Maclean © DR
Artforum's former editor, John Coplans, strongly disagreed with Bochner's definition of Serial Art, and in 1968 curated a show at the Pasadena Art Museum entitled Serial Imagery. His essay for the exhibition catalogue essentially served as an elaborate critique to Bochner's position. Coplans defined Serial Art within a context of thematic variation, while also underscoring the importance of repetitive elements or images within an artwork or series. For Coplans, although there is an inherent order in which artworks within series are created, it is lost immediately upon the work's creation. Eykyn Maclean will illustrate Coplans' perspective with works such as Andy Warhol's Flowers paintings (early 1965) and Frank Stella's Malcolm's Bouquet (1965).

Eykyn Maclean begins the investigation chronologically, introducing the serialization of time through four of Eadweard Muybridge's Animal Locomotion photographs from 1887. Marcel Duchamp's Fresh Widow (1920/1964) and Ellsworth Kelly's Study for a Window I (1949) treat the theme of serialization through their choice of a mass-produced subject matter. These early examples lay the foundation for the main focus of the exhibition, the period from the late 1950s to the early 1970s.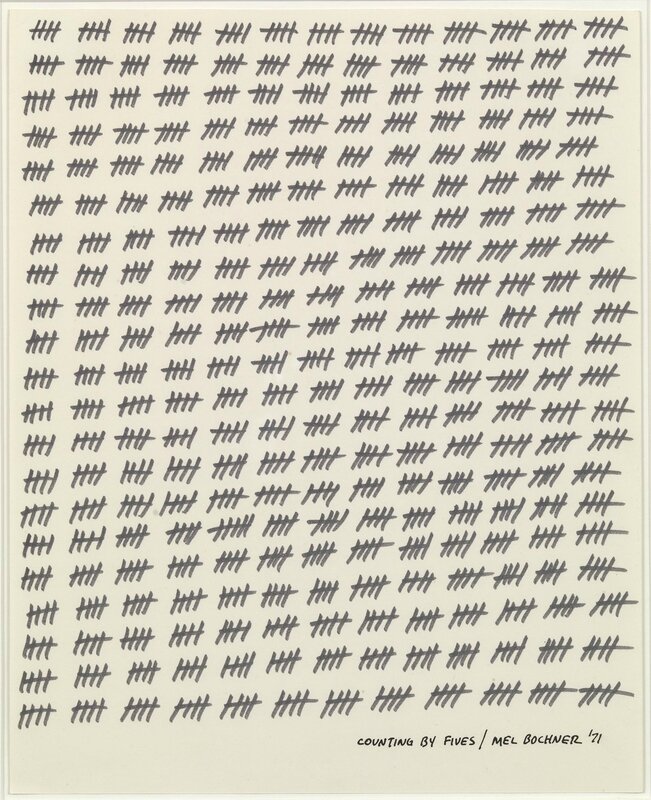 Mel Bochner, Counting by Fives, 1971, black ink on paper, 13 3/4 x 11 in. (34.9 x 27.9 cm.). Courtesy the artist. Courtesy Eykyn Maclean © DR
Seriality, however, was not only being explored in America. In Europe, the Zero and Arte Povera movements (likely unwittingly) bridged both Bochner's and Coplans' theories. Eykyn Maclean examines these overlapping transatlantic attitudes with works including Günther Uecker's Bewegtes Feld from 1963 (on loan from the Glenstone Collection), François Morellet's 2 Simple Trames 80° 100° (1972), and an untitled work by the recently rediscovered Zero artist Hal (Hannalore) Busse from 1962.

The Serial Attitude is a thought-provoking survey that affords visitors an opportunity to draw their own conclusions regarding the definition of Serial Art.

A fully illustrated catalogue has been published in conjunction with the exhibition, presenting the original essays by Mel Bochner from 1967 and John Coplans from 1968, as well as a history and analysis of Serial Art by art historian Mark Gisbourne, commissioned specifically for the exhibition.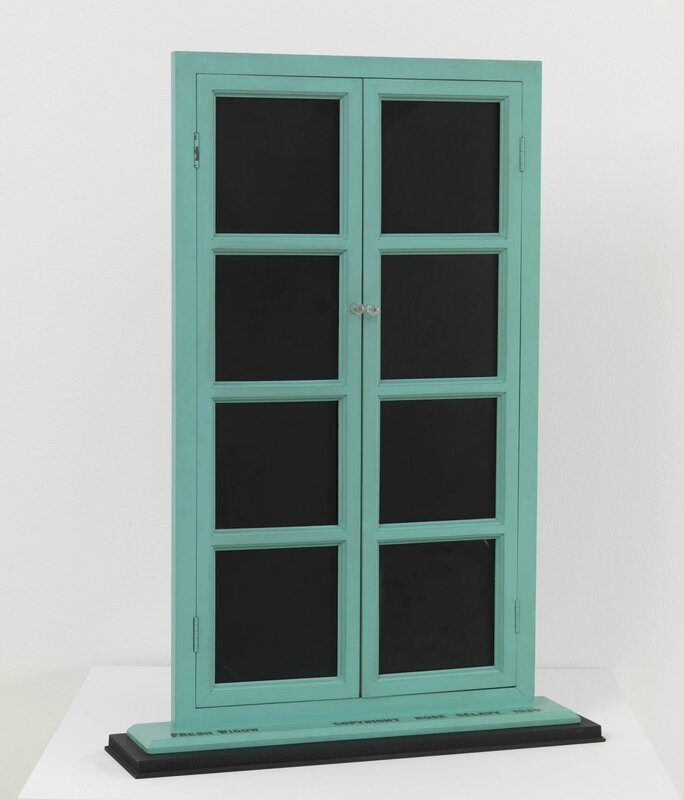 Marcel Duchamp, Fresh Widow, conceived in 1920 and executed in 1964, miniature French window on wooden sill; painted wooden frame and eight panes of glass covered with black leather, 31 1/8 x 17 3/4 x 4 in. (79 x 45.1 x 10.2 cm.), from an edition of 8 + 2 APs + 2 for museum exhibitions. Courtesy Eykyn Maclean © DR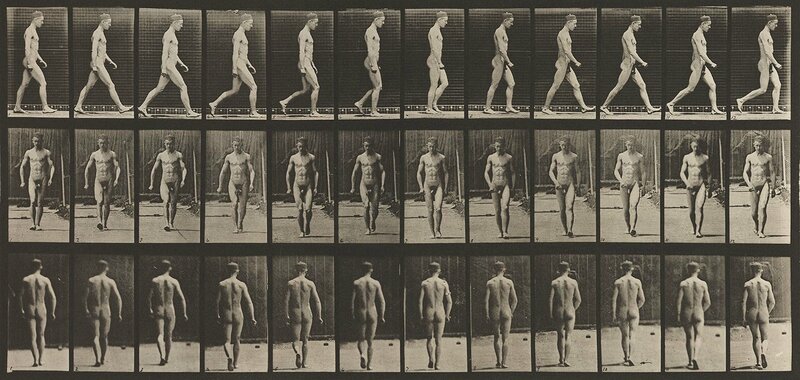 Eadweard Muybridge, Animal Locomotion (Plate 1), 1887, collotype, 5 3/4 x 19 3/4 in. (40 x 50 cm.). Courtesy Eykyn Maclean © DR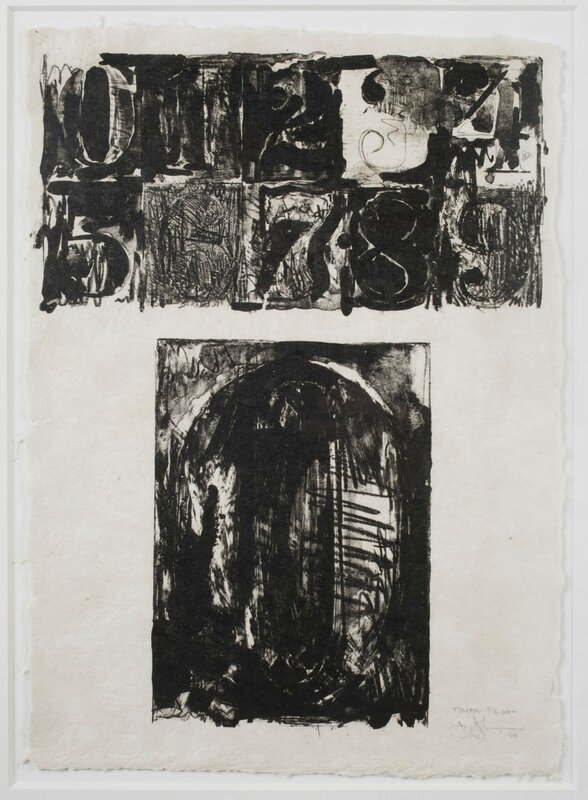 Jasper Johns, 0-9, 1960, trial proof, lithograph on. Jeff Goodman handmade paper, 17 1/2 x 12 1/2 in. (44.5 x 31.8 cm.). Courtesy Eykyn Maclean © DR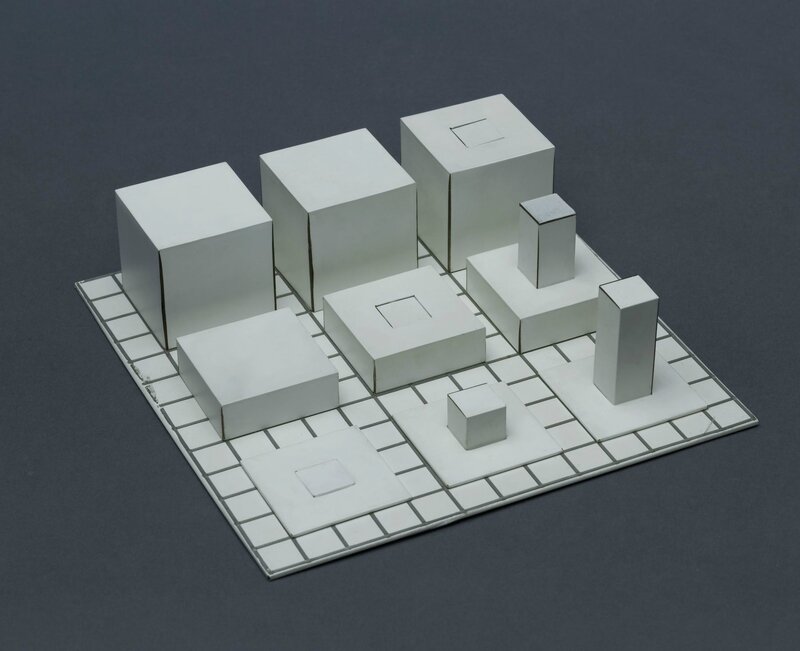 Sol LeWitt, Serial Project 1, Set D (Model), c. 1967-68, painted metal, 2 x 8 1/4 x 8 1/4 in. (5.1 x 21 x 21 cm.); LeWitt Collection, Chester, Connecticut. Courtesy Eykyn Maclean © DR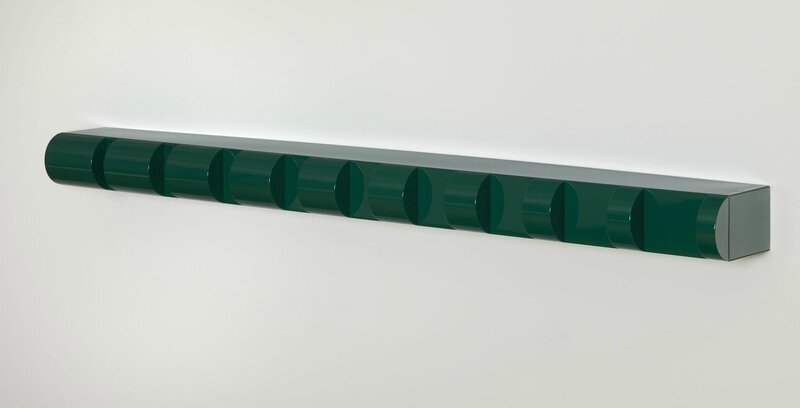 Donald Judd, Untitled, 1966, lacquer on cold rolled steel, 5 x 69 x 8 1/2 in. (12.7 x 175.3 x 21.6 cm.). Private Collection. Photo by Peter Schälchli, Switzerland. © 2016 Judd Foundation / Artists Rights Society (ARS), New York.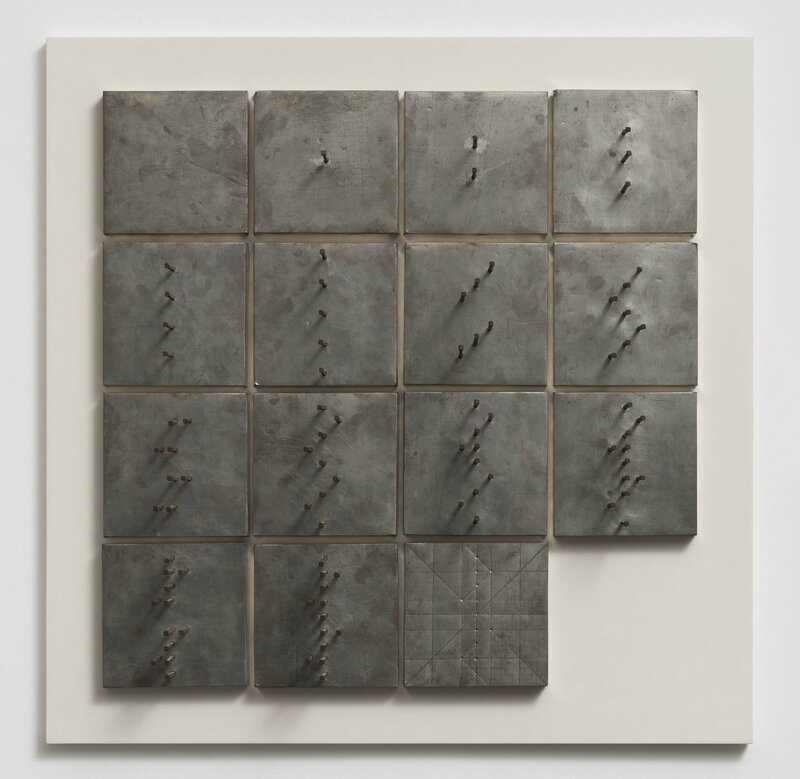 Günther Uecker, Plus-Minus-Nul, 1968, 15 single objects, nails on tinplate on wood, each plate 5 7/8 x 5 7/8 in. (15 x 15 cm.); overall: 26 x 26 in. (66 x 66 cm. Courtesy Eykyn Maclean © DR