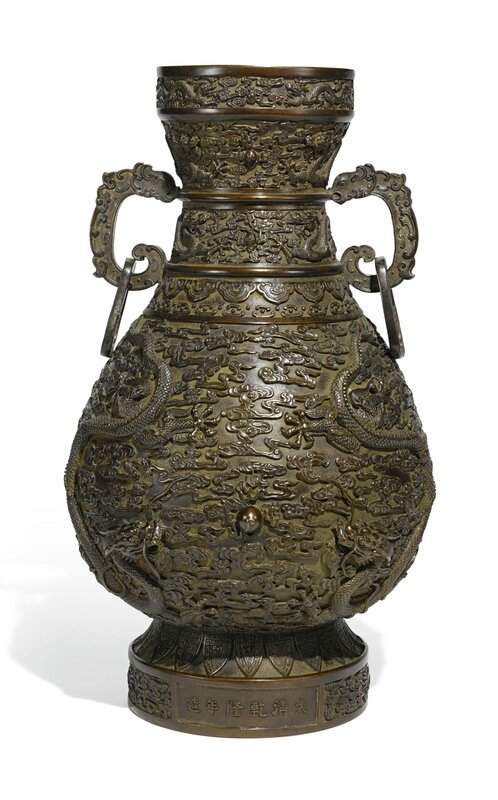 Lot 142. A rare and finely cast imperial bronze 'dragon' vase, Qianlong mark and period (1736-1795). Estimate GBP 150,000 - GBP 200,000 (USD 198,555 - USD 246,600 ). Lot sold 185,000 GBP. Photo Sotheby's;
of archaic bronze shape, each vase finely decorated in bright famille-rose enamels on the flaring trumpet-shaped neck with four of the bajixiang divided by scrolling lotus blooms between ruyi head and upright lappet borders, the central bulbous knop section enamelled with further lotus scrolls, all supported on the high bell-shaped foot enamelled with the four remaining Buddhist emblems between key-fret and ruyi head borders, the interiors of the neck and foot enamelled in turquoise, the rims highlighted with gilding, the reign marks written in iron-red enamel in a single line within a rectangular cartouche on the narrow cylindrical neck and framed by a keyfret border, Japanese boxes. Quantité: 4 - 37 cm, 14 1/2 in.
Provenance: An Old West Coast American collection (by repute)..
Notes: This magnificent vase is impressive for its large size and lavish decoration of dragons writhing amongst scrolling clouds, and embodies the grandeur and power of the Qianlong reign. It is a successful marriage of archaism, as seen in the ritual bronze hu form, with contemporary design. A pair of lavishly decorated bronze vases of related form, cast solely with phoenixes instead of dragons which indicates that the pair may have been commissioned as a tribute to the Qianlong emperor's mother, from the Alfred Morrison collection, was sold at Christie's London, 9th November 2004, lot 17; a single vase was sold at Christie's London, 22nd July 1981, lot 110; and another, but of smaller size and lacking one handle, was sold in our London rooms, 11th May 2011, lot 254.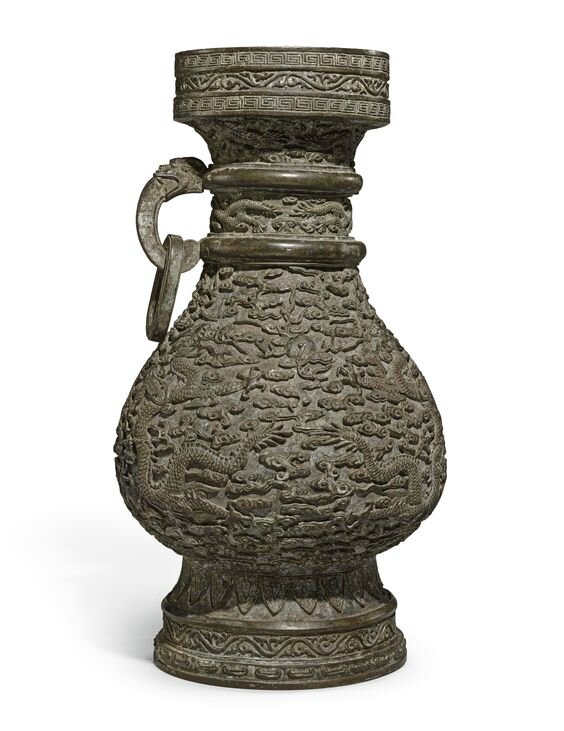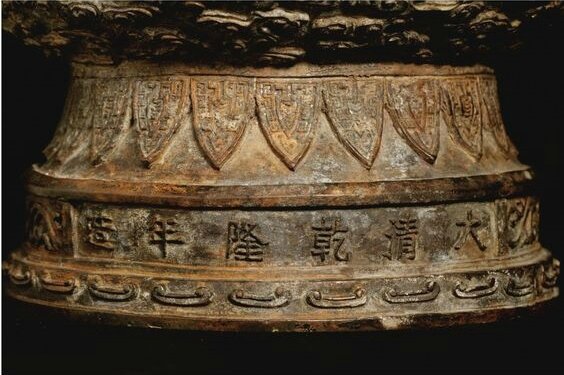 A bronze handled 'dragon' vase, Qianlong mark and period (1736-1795). Sold 79,250 GBP at Sotheby's London, 11th May 2011, lot 254. Photo Sotheby's.
the pear-shaped body rising from a spreading platform foot to a waisted neck surmounted and galleried rim, set to the neck with a dragon handle suspending a loose ring, cast with two pairs of confronting dragons in pursuit of a flaming pearl amidst cloud scrolls, the neck with two raised rings separating further bands of dragons in pursuit of flaming pearls, the sides of the mouth encircled with a classic scroll framed by keyfret borders, the foot encircled with pendent plantain leaves, C-shaped scrolls and a six-character Qianlong mark within a classic scroll band; 32cm., 12 5/8 in.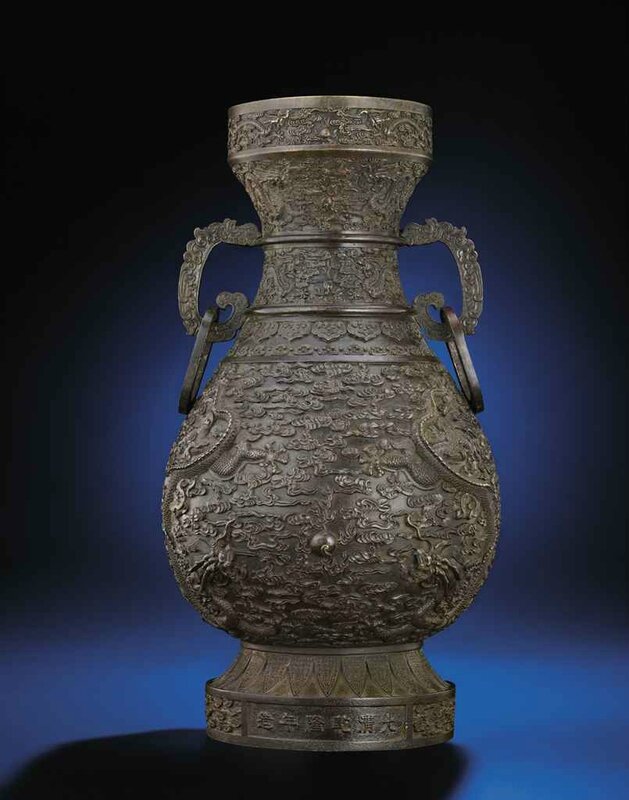 An important and very rare large imperial bronze altar vase, Qianlong cast six character mark in a line and of the period (1736-1795). Price Realised HKD 2,420,000 (USD 313,776) at Christie's Hong Kong, 28 November 2012. Photo Christie's Images Ltd 2012.
The impressive baluster vase is heavily cast in high relief with sixteen five-clawed dragons in pursuit of 'flaming pearls' amidst dense ruyi clouds divided into four registers, separated by a band of ruyi heads and C-scrolls at the shoulder and a band of lappets on the foot. The waisted neck is flanked by a pair of handles in the form of archaic phoenixes, suspending loose rings decorated with C-scrolls. The circular foot is cast in high relief with a six-character Qianlong mark in a line, and the foot rim with a three-character hall mark, Fengxian Dian, 'Hall of Ancestral Worship'. 18 1/2 in. (47 cm.) high
Provenance: F. Gordon Morrill Collection, no. 14
A Japanese collection
A Swiss private collection
Notes: This magnificent vase exemplifies the artistic and technical quality of bronze vessels cast for the imperial court and is exceptionally rare as it is inscribed with a three-character mark on its foot. It would have been made as part of a five-piece temple or altar garniture comprising a censer, a pair of vases and a pair of pricket candlesticks, all of equally impressive size and weight. The inscription on the foot, Fengxian Dian, clearly states that this vase was made specifically for ritual purposes in the Hall of Ancestral Worship, which is located in the east side of the Forbidden City, and had functioned as the place for ancestral worship for the Imperial family since the Ming dynasty.
Sacrificial ceremonies were among the most important rituals of the Qing court, with the emperor attending, if not performing, all of the major rites. Buddhism was the primary religion of the Qing dynasty and there were numerous Buddhist shrines and temples, as well as altars in the private quarters of the emperor and empresses. All of these necessitated ritual paraphernalia, including altar garnitures, which were made in various materials including bronze, porcelain and cloisonné enamel, and garnitures of varying size.
A complete garniture in bronze, but of far more simple design, is illustrated by Wan Yi, et al., in situ in the shrine in the Hall for Worshipping Buddhas, Daily Life in the Forbidden City, New York, 1988, pl. 467. Three different bronze altar garnitures can be seen in a photograph of the Qin An Temple illustrated by Yu Zhuoyun, Palaces of the Forbidden City, Hong Kong, 1986, pp. 198-9, pl. 222. Another imperial bronze five-piece garniture of smiliar size also heavily cast with dragons, and with Qianlong reign marks, was sold at Sotheby's Hong Kong, 11 April 2008, lot 2826. A pair of imperial bronze vases of very similar design, but of larger size (76.5 cm. high) was sold at Christie's London, 15 May 2012, lot 188. Another pair of imperial bronze vases of this impressive type, but of smaller size (16 in. high), also with Qianlong marks, but of fanghu form and decorated with dragons and phoenix, was sold at Sotheby's, Hong Kong, 9 October 2007, lot 1322. See, also, the pair of massive (36 in. high) imperial bronze vases cast with Qianlong reign marks from the Alfred Morrison Collection, Fonthill House, sold at Christie's London, 9 November 2004, lot 17. Of the same shape as the present vases, they are designed with phoenix motifs.
Such vases would have comprised part of a five-piece altar garniture made for specific temples in the Imperial Palace and were generally commissioned as tribute to the emperor. The imposing size would have created a dramatic scene during ritual ceremonies, thus emphasising the importance and solemnity of such events. A set of altar garnitures comprised of two closely related vases, two candlesticks and a censer, was sold in these rooms, 11th April 2008, lot 2826; and an undecorated set of similar large size, in the Xianruo Temple, located in the garden of Cining Gong (Palace of Compassion and Tranquility) within the Forbidden City, where the empress and consorts conducted Buddhist religious ceremonies, is illustrated in situ in Qingdai gongting shenghuo, Hong Kong, 1985, pl. 467.
Compare also a pair of imperial bronze vases of square section cast with dragons and phoenixes, made for one of the buildings of the Yuanming Yuan (Imperial Summer Palace), sold three times in these rooms, 29/30th April 1997, lot 730, 10th April 2006, lot 1537, and again on 9th October 2007, lot 1322.
Sotheby's. Important Chinese Art, Londres, 09 nov. 2016, 11:30 AM