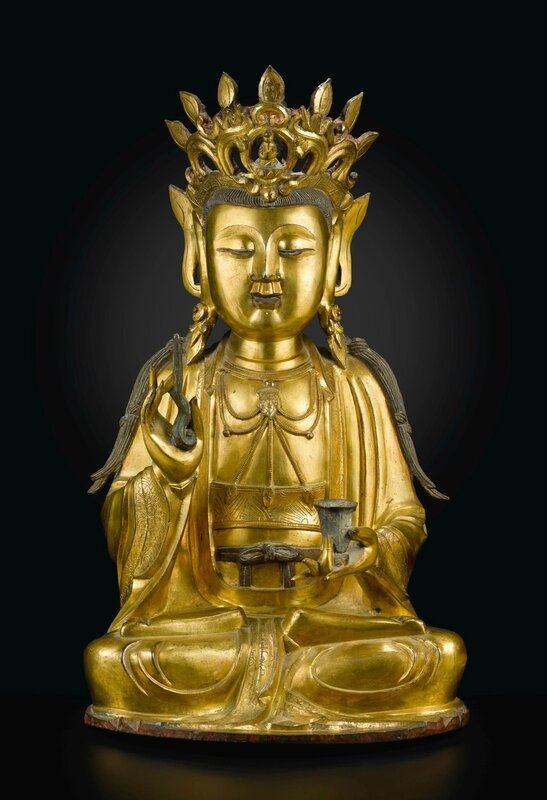 Lot 129. A large gilt-bronze figure of Guanyin, Ming dynasty, 17th century. Estimate GBP 80,000 - GBP 120,000 (USD 99,680 - USD 149,520). Photo Sotheby's.
the figure seated in dhyanasana the right hand holding a willow stem, the left holding a bowl of elixir, wearing loosely fitted robes hemmed with scrolling lotus and open at the chest to reveal a necklace, the face with a serene downcast expression and wearing a crown with Amitabha set into the centre; 52.5 cm, 20 3/4 in.
Notes: This figure is impressive for its large size and crisp casting. The serene facial features reveal the benevolent nature of Guanyin, who, according to the Lotus Sutra, could take any form necessary to save sentient beings. The present piece depicts the bodhisattva in the manifestation of Bhaisajyaraja Avalokitesvara. The bowl of elixir held in the left hand is believed to cure all physical and spiritual illnesses, and the willow, which is used to sprinkle illnesses, and the willow, which is used to sprinkle the elixir over devotees, has evil-dispelling properties.
Buddhist gilt-bronze figures were produced in China almost from the beginning when Buddhism was embraced by various courts of China's division after the Han dynasty (206BC – AD220). Until the Tang dynasty (607-906) however they remained very small. One of the earliest developments away from small votive images took place in the Khitan Liao dynasty (907-1125), when sculptures not only became bigger but also developed stylistically towards a more abstract sculptural aesthetic. During the early Ming period the court took complete control of their production and a distinct classic style was devised that were determine the design of all future Chinese Buddhist gilt-bronze images such as the present.
Related gilt-bronze figures of Bhaisajyaraja Avalokitesvara of this large size include one sold at Christie's New York, 21st November 1979, lot 410; another, but more elaborately bejewelled, sold at Christie's Hong Kong, 30th April 1995, lot 606A; and a third example sold at Christie's London, 29th April 1981, lot 89. Compare also slightly smaller examples, such as one sold in our New York rooms, 1st December 1992, lot 196; and two further figures also sold in our New York rooms, 18th October 1990, lots 195 and 197.
Sotheby's. Important Chinese Art, Londres, 09 nov. 2016, 11:30 AM