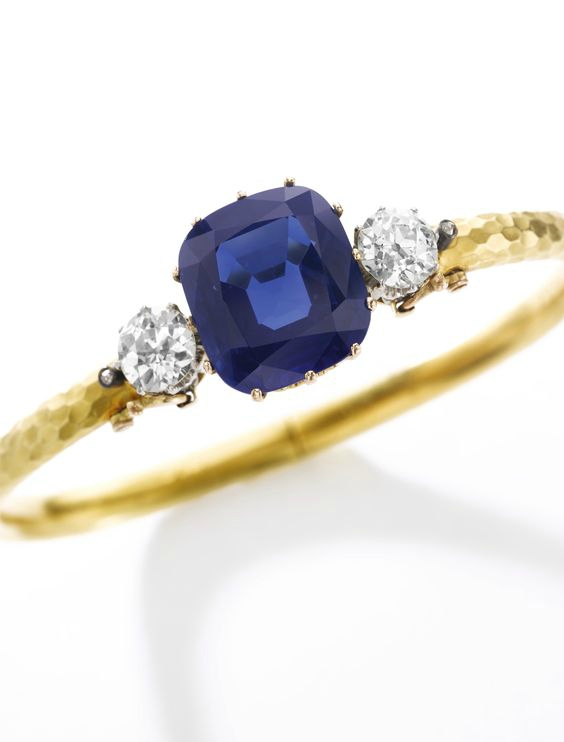 Lot 318. Princess Marie von Hatzfeldt's 20.14 carats Kashmir cushion-shaped sapphire and diamond bangle, 1887. Estimate 500,000 — 800,000 CHF. Photo Sotheby's
Set with a cushion-shaped sapphire weighing 20.14 carats, between circular-cut diamond shoulders, inner circumference approximately 155mm.
Accompanied by SSEF report no. 87520 and Gübelin report no. 16090078, each stating that the sapphire is of Kashmir origin, with no indications of heating, together with appendix letters.
Provenance: Princess Marie von Hatzfeldt, (1820–1897)
Her son Prince Hermann von Hatzfeldt (1848-1933) and his wife, Countess Nathalie von Benckendorff (1854–1931), formerly in Schloss Trachenberg (Silesia)
thence by descent.
Notes: The world's finest and most sought-after sapphires are those from the legendary mines of Kashmir. First discovered in 1881 thanks to a providential landslide, the mines, located at 4,500 meters of altitude in the Himalayas' Kudi valley, produced many crystals of exceptional size and quality between 1882 and 1887. Their popularity and value were immediately recognised. As a result, the Maharajah at the time sent his troops to protect and control the Kashmir mines and prohibited private trading, leading to the end of its exploitation.

Such sapphires rapidly found their way in exquisite jewellery, such as the bangle of lot 318, which was the property of Princess Marie von Hatzfeldt until her death in 1897. It was inherited by her son, Prince Hermann von Hatzfeldt. Prince von Hatzfeldt was a prominent figure, namely the Silesian president between 1894 and 1903, which would correspond to the current role of a state minister-president. He married Countess Nathalie von Benckendorff in 1872, who then wore the bracelet. Considered as family jewellery, it would remain the prince's possession, but was made available to his wife for the duration of her life. She died in 1931. The piece was then handed down in a direct line within the succession of Hermann Fürst von Hatzfeldt after his death in 1933, and remained until today exclusively in the Silesian branch of the princely family von Hatzfeldt.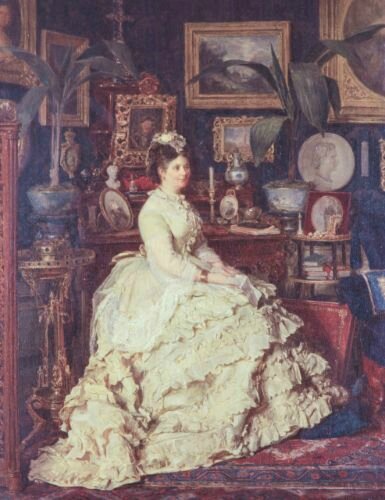 Anton Weber, Marie Fürstin von Hatzfeldt (née von Nimpsch, 1820-1897), Schloss Trachenberg, Silesia, circa 1876. © Private Collection. By family tradition, Marie Fürstin von Hatzfeldt was the original owner of the jewels.
What elevates Kashmir sapphire above all others is the unique combination of a rich, intense blue colour, with a soft and velvety appearance. Such attributes have often been compared to the vibrant blue hue of the cornflower. This outstanding colour, which is accentuated under artificial light, is unlike that of sapphires from any other source.
Sotheby's. Magnificent Jewels and Noble Jewels, Genève, 16 nov. 2016, 10:30 AM