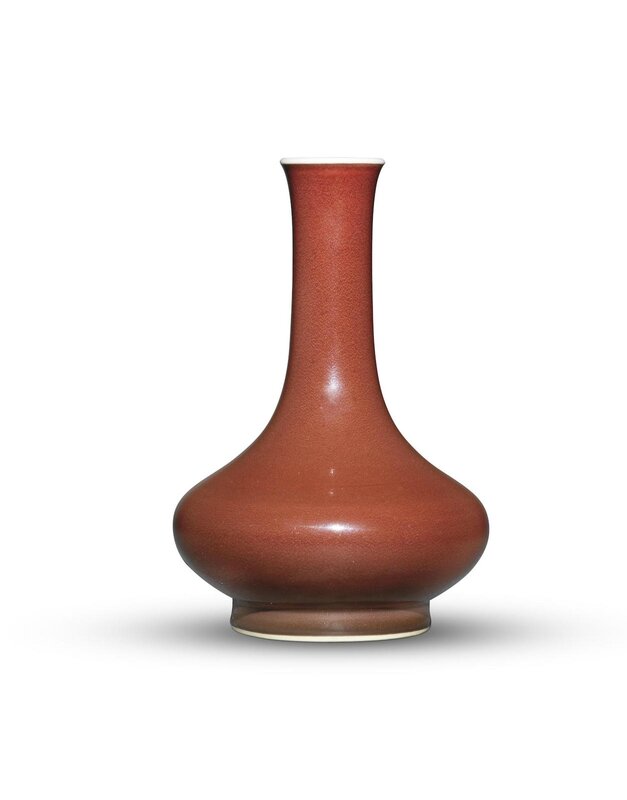 Lot 3. A rare copper-red-glazed bottle vase, Yongzheng six-character mark and of the period (1723-1735). Estimate HK$ 800,000 - 1,200,000 (€96,000 - 140,000). Photo: Bonhams.
The compressed pear-shaped body elegantly rising from a slightly spreading foot to a tall cylindrical neck beneath a lightly flared mouth, richly applied to the exterior with an even copper-red glaze stopping neatly at the rim and foot. 23.3cm (8 7/8in) high.
Provenance: Almira Goodsell Rockefeller (1844-1920), wife of William A. Rockefeller Jr. (1841-1922), and thence by descent, by repute
An American private collection.
Notes: Almira Geraldine Rockefeller (1844-1920), born Almira G. Goodsell, married in 1864 William Avery Rockefeller Jr. (1841-1922), a prominent member of the Rockefeller family. The Rockefeller dynasty dominated the American industrial, political and financial businesses for over one hundred and forty years and is regarded as one of the most powerful families in US history, controlling one of the world's largest fortunes in the oil business during the late 19th and early 20th centuries. Almira Rockefeller was very active with numerous philanthropic activities as well as in war relief work.

Copper-red glazes, which had not been revisited since the Ming dynasty, were not only successfully fired but technically improved during the Kangxi period renowned for its langyao and 'peach bloom' group. These may have been produced under the supervision of Zang Yingxuan and Lang Tingji, who demonstrated a commitment to precision and technological innovation, which would determine the subsequent history of Qing Imperial porcelain production; see J.Hay, 'The Diachronics of Early Qing Visual and Material Culture', in The Qing Formation in World Historical Time, Cambridge, 2004, p.318.

The present vase, with its combination of the compressed globular bottle vase form and use of the copper-red glaze, is a development of the Yongzheng reign, celebrated for its innovative forms and technical virtuosity, demanded by the emperor, a highly discerning connoisseur of art.

The form is related to that of a bottle vase decorated in clair-de lune glaze, Yongzheng mark and of the period, in the Fitzwilliam Museum, Cambridge, no.C.9-1948; as well as that shown in outline, recorded by Geng Baochang in Ming Qing ciqi jianding, Hong Kong, 1993, p.236, fig.9. The compressed globular bottle vase form continued onto subsequent reigns as exemplified in a copper-red glazed compressed bottle vase, Qianlong seal mark and of the period, which was sold at Christie's Hong Kong on 27 November 2013, lot 3506.
Bonhams. FINE CHINESE CERAMICS AND WORKS OF ART, 2016-11-29, 14:00 HKT - HONG KONG, ADMIRALTY