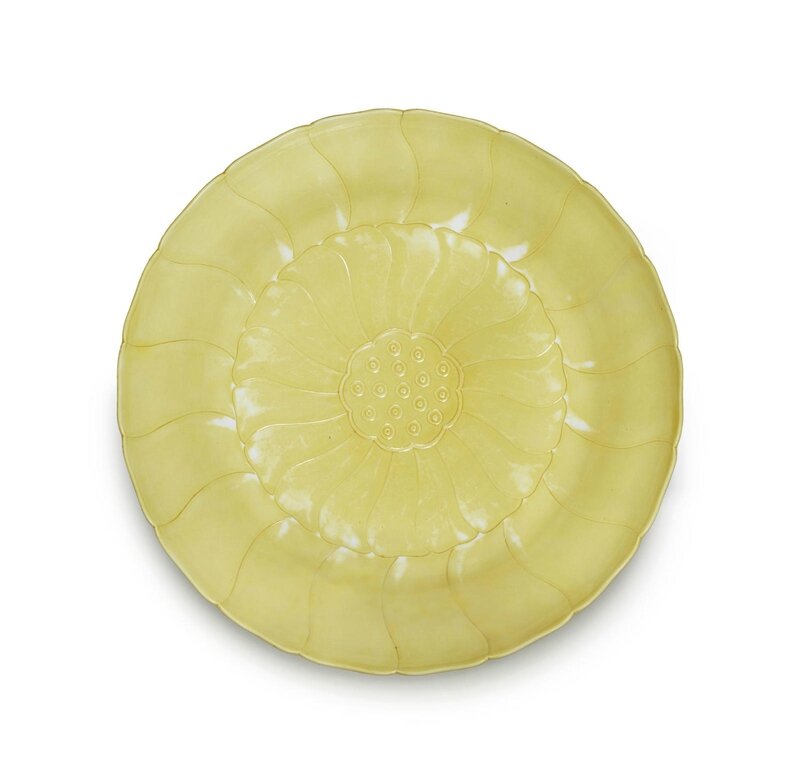 Lot 10. A very rare Imperial yellow-enamelled 'lotus' moulded dish, Yongzheng six-character mark and of the period (1723-1735). Estimate HK$ 100,000 - 150,000 (€12,000 - 18,000). © Bonhams 2001-2016
The shallow rounded dish superbly moulded on the exterior with a band of lotus petals radiating from a short foot towards the barbed rim, the interior decorated with a similar band of undulating lotus petals emanating from a central lotus seed pod, covered overall in an enamel of soft egg-yolk tone, wood stand. 29.5cm (11 1/2in) diam. (2).
Provenance: A distinguished European private collection, and thence by descent.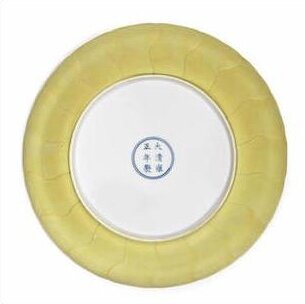 Notes: The European private collection to which these rare Imperial porcelains belong, ranging from the Zhengde to the Yongzheng period, was formed by a highly discerning collector, mostly between the 1930s and the 1960s.

The pieces forming the collection in its entirety, were acquired from some of the foremost dealers of their generation, including in London John Sparks, Bluett's and William Clayton, in Paris L.Wannieck and Pierre Saqué and in New York Frank Caro (as successor to C.T. Loo). In a correspondence between John Sparks and the owner in 1930, the former was informed that a recently acquired piece has arrived safely despite the hard landing of the aeroplane...

The exceptional rarity of many of the pieces stand as a testament to the connoisseur's eye of the collector. The collection moved with the owner and her family across three continents, always beautifully displayed around the home to be enjoyed and admired daily.

This very rare dish is one of the finest examples of Imperial monochrome porcelain produced for the Imperial Court during the Yongzheng reign; combining the vivid yellow enamel glaze with the refined moulded technique, creating a naturalistic open lotus form, reminiscent of the moulded chrysanthemum shaped dishes, achieving a striking result.

Similar examples are preserved in important museum and private collections. See a similar dish illustrated in Gugong bowuyuan cang Qingdai yuyao ciqi, Beijing, 2005, pl.192; another one is illustrated in The Prime Cultural Relics Collected By Shenyang Imperial Palace Museum: The Chinaware Volume The Second Part, Liaoning, 2008, p.85, no.6.; two others in the British Museum, London are published by R.E.Scott, Illustrated Catalogue of Ming and Qing Monochrome Wares in the Percival David Foundation of Chinese Art, London, 1989, nos.PDF,A.521 and PDF,B.538, pl.C; two further dishes are published in the Illustrated Catalogue of Tokyo National Museum: Chinese Ceramics II, Tokyo, 1990, p.181, no.709; and see also another dish in the Fitzwilliam Museum, Cambridge, illustrated by S.Jenyns, Later Chinese Porcelain: The Ch'ing Dynasty (1644-1912), London, 1951, pl.XXXIX.

A lemon-yellow-glazed lotus dish, Yongzheng mark and of the period, was sold at Sotheby's Hong Kong on 15 May 1990, lot 71, illustrated in Sotheby's Hong Kong. Twenty Years, Hong Kong, 1993, p.237, no.348.
Bonhams. FINE CHINESE CERAMICS AND WORKS OF ART, 2016-11-29, 14:00 HKT - HONG KONG, ADMIRALTY