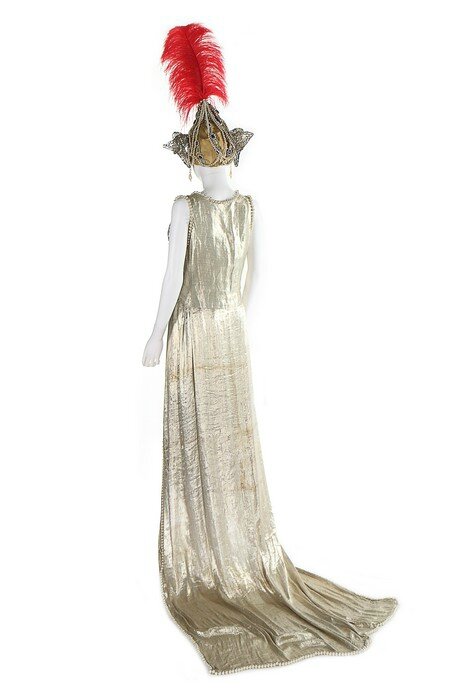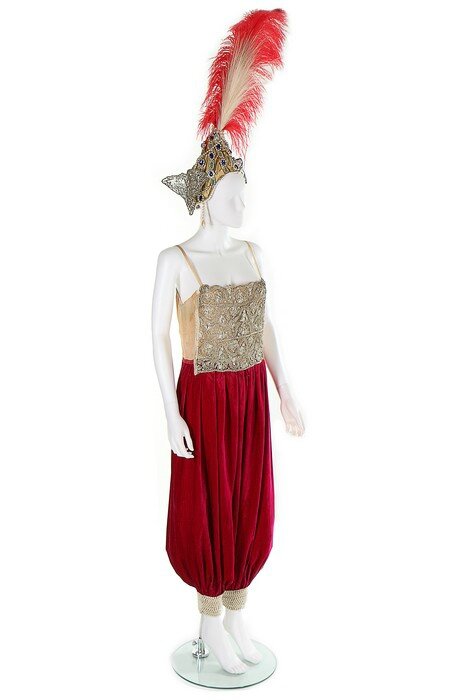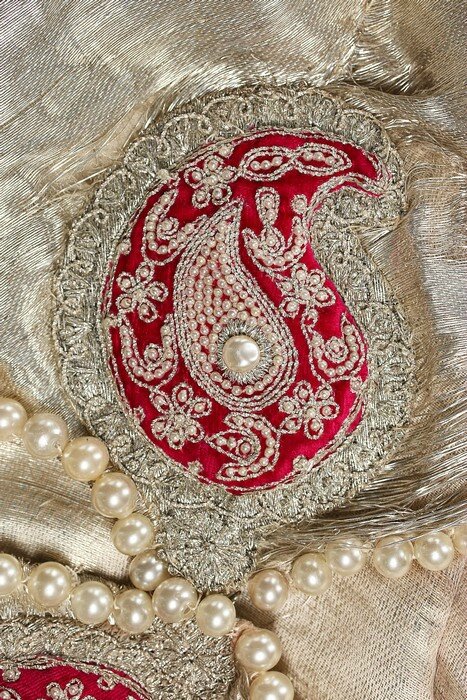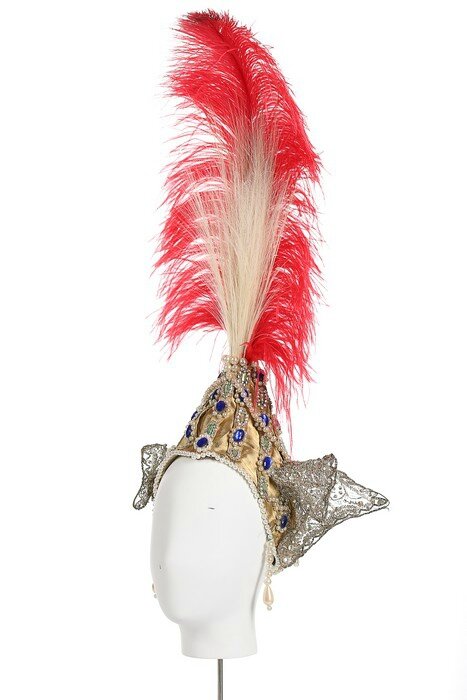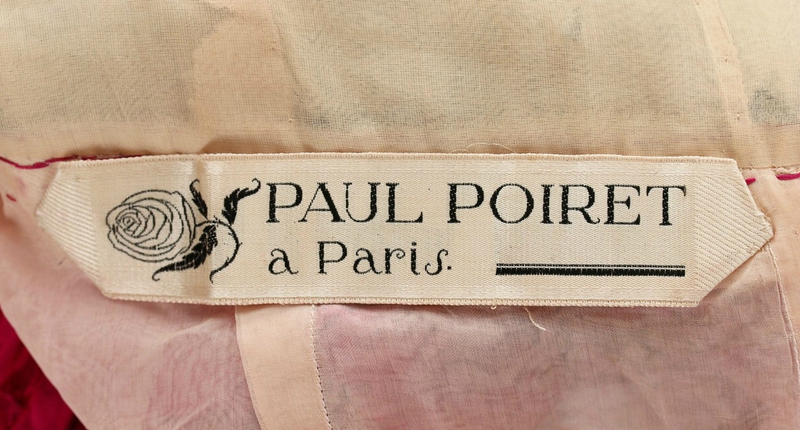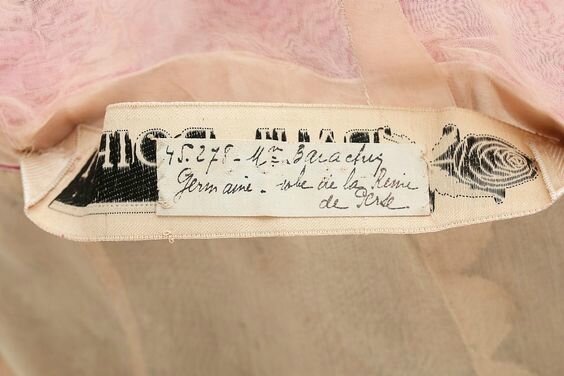 Lot 53 : A rare Paul Poiret ensemble for his famous One Thousand and Second Night party, 10th January 1914. Estimate:£2000 - £3000. © Kerry Taylor Auctions
A rare Paul Poiret ensemble for his famous One Thousand and Second Night party, 10th January 1914. large woven Poiret label, the back annotated in ink '45.278 - Mme Barachin Germaine, Robe de la Reine de Perse', comprising: fuchsia velvet harem pants with attached nude organza bodice richly overlaid with bands of Russian silver bobbin lace, with pearl beaded ankle bands; worn under a cloth of silver tunic with long trained hem, raised fuchsia velvet botehs embroidered in silver thread and seed pearls to the chest closure, entirely edged in large pearl beads; the elaborate conical cloth of gold headdress adorned with emerald and sapphire 'jewelled' medallions, with wing-shaped wired silver lace side panels and earring-like pearl droplets to each side, topped by ostrich plumes, bust 86cm, 34in (3)
Notes: In his memoir 'King of Fashion' 1931 pp98-99, Poiret wrote 'It was on returning from a Bal des Quat'Z'Arts, in the month of May 1911, I think, that I decide to give, in my salons and gardens in Paris, an unforgettable fête, that I called 'The Thousand and Second Night''. He was aided and abetted by his close friend Raoul Dufy. Poiret described how, on the night, his guests had their costumes vetted and if they had arrived in evening dress or fancy dress that bore no relation to his Persian theme they were requested to go upstairs and change into costumes that he had thoughtfully provided, but if they refused then they were asked to leave. Mademoiselle Barachin obviously wanted to look her best and commissioned Monsieur Poiret himself to make her costume. She was rewarded by being dressed by the couturier as 'the Queen of Persia', which was surely a great compliment. His own beautiful wife, Madame Denise Poiret, was dressed as the 'Queen of the Harem'. She was ensconced in a large gilded cage surrounded by her 'ladies of honour'. His guests were treated to a lavish party such as had never been seen before with orchestras, dancers, exotic food, the trees covered with' luminous fruit', exotic birds and monkeys, who all escaped in the dawn over the roof tops of Paris. Poiret himself, was dressed as the Sultan of course. He described how at the beginning of the evening, when all of his 300 guests (composed of artists and 'sensitive amateurs') were assembled, he opened the gate to the cage to restore his 'favourite's freedom'...'She flew out like a bird and I in pursuit of her, cracking my useless whip. She was lost in the crowd.. Did we know, on that evening that we were rehearsing the drama of our lives?'. Poiret sadly recalled, 'These fêtes, in which I gathered together all my friends, did me a great deal of harm among my enemies, and raised against me those who had not the good fortune to be admitted to them.' This opulent party was seen in retrospect as a last great 'hurrah' before World War I was declared later in June that year. Poiret's business post war, with his love of excess, orientalism and fantasy was never to fully recover in a world irrevocably changed by war.
Provenance: Elisabeth Barrachin, the elegant daughter of a rich industrialist (Pierre Barrachin), who became the Marquise de Ségur upon her marriage in 1925 to Philippe, Count de Ségur-Lamoigon.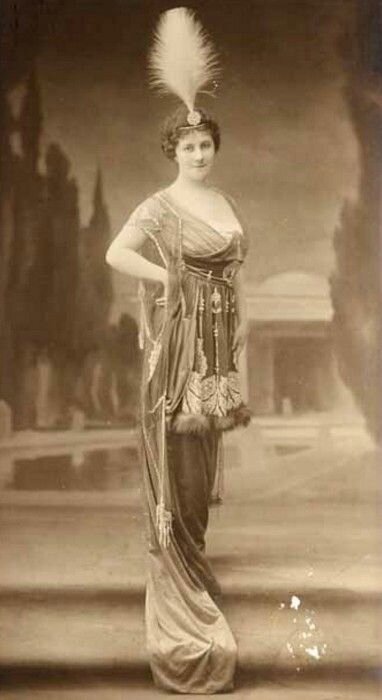 Elisabeth Barrachin, Marquise de Ségur.
Kerry Taylor Auctions. Monday December 12th at 2pm