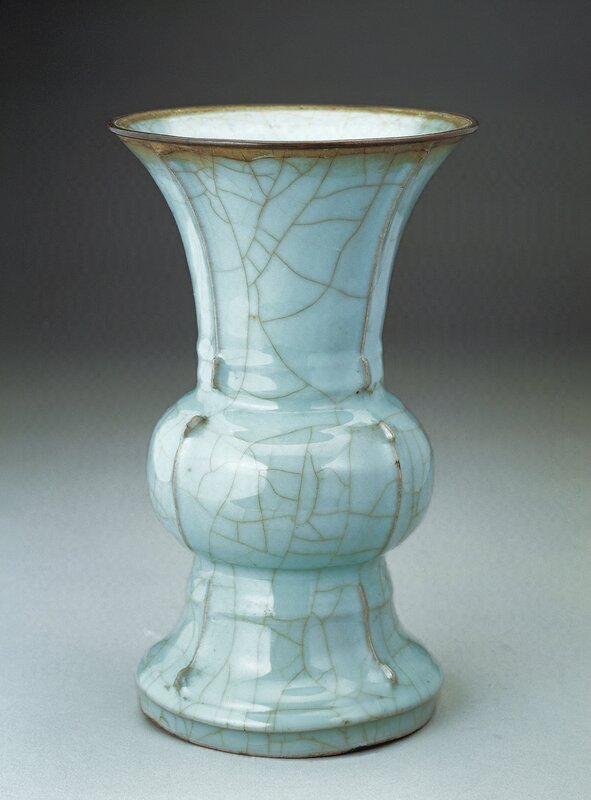 Celadon-glazed zun vessel, Guan ware, Southern Song dynasty (1127–1279). © National Palace Museum
This celadon zun vessel has a flared mouth, compressed round center and solid foot. Its surface is covered in thick and even celadon glaze, the glaze bright and warm. Its outer wall displays four vertical ridgelines, and due to the slightly thinner layer of glaze bordering the ridgelines, one can see the original dark brown color of the clay below. Due to differences in the speed of heat expansion and cold contraction by the glaze and the clay during the firing process, irregular light-colored crack lines appear on the surface of the zun vessel. This is referred to as "cracks" and is a particular characteristic of porcelain made by imperial kilns. The zun vessel is elegant and solemn.
Following the Jingkang Crisis towards the end of the Northern Song Period, the Jin Army conquered northern China and the Song emperor hurriedly traveled southwards, shifting the political center of the country to the south. It was highly necessary for the emperor to hold religious rituals and announce to the people the authenticity of the emperor's political powers. During such war-battered times when so much lay in waste, however, it was difficult to obtain well-made bronze or jade ware to serve as ceremonial vessels. The imperial administration therefore ordered that ceramic, porcelain and wooden wares be used temporarily and be mass produced. The initial kilns for making of imperial porcelain were located in Huiji, Suzhou and Hangzhou, with Hangzhou being the main location. Under imperial supervision, the earliest Southern Song imperial kiln porcelain all had standard forms. As these ceramic and porcelain wares were intended to replace bronze ritualistic vessels, some of the early Southern Song imperial kiln porcelain closely resembled ancient bronze vessels. This particular celadon vessel was made to imitate the shape of ancient bronze "Zun vessels".