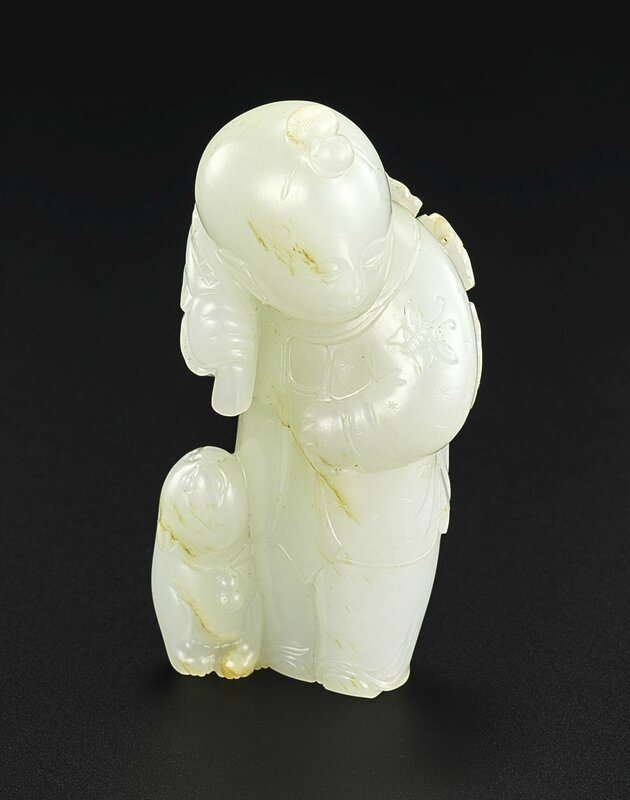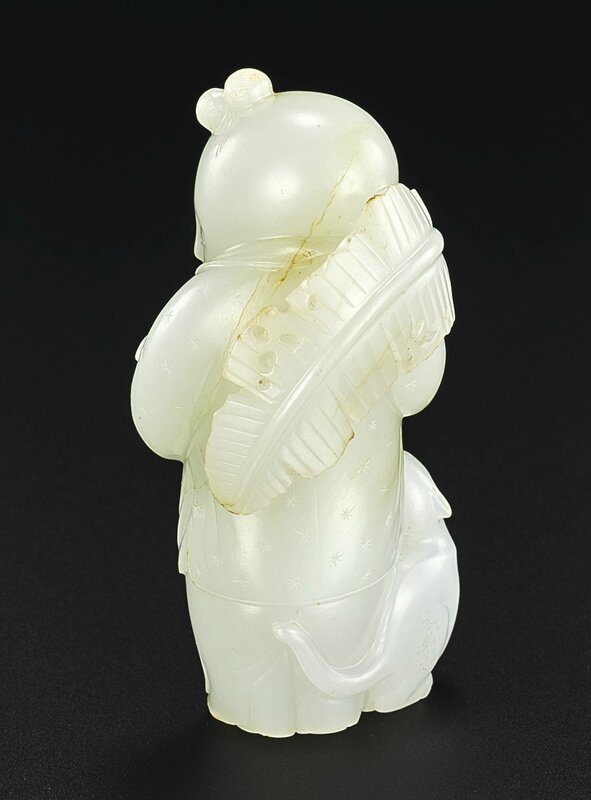 Lot 15. An exceptional white jade 'Boy and Cat' group, Qing dynasty, 18th century. Estimate 200,000 — 300,000 HKD. Photo: Sotheby's.
depicting a young boy standing next to a small cat crouching by his side and looking up at the boy, the figure depicted looking at a small butterfly on his shoulder and holding a large palm leaf in his left hand, the weathered leaf extending over his shoulder and down his back, the cherubic figure accentuated with small tuffets of hair at the top of his head and loose garments picked out with small stars - 7.7 cm, 3 in.
Notes: The theme of boys playing with animals represents a traditional motif developed over a thousand years and favoured on account of its implied wish for the prosperity of male offspring. In this piece, the boy is depicted with a butterfly and a cat, both symbolic of longevity. The two form the pun maodie ('May you live into your seventies and eighties'); hence this piece would have been an appropriate birthday gift.
See a carving of a boy and cat sold in our New York rooms, 18th March 2008, lot 186; another, attributed to the Song dynasty, in the Museum of East Asian Art, Bath, illustrated in Angus Forsyth and Brian McElney, Jades From China, Bath, 1994, pl. 242; a third, attributed to the Ming dynasty in the Palace Museum, Beijing, illustrated in Compendium of Collections in the Palace Museum. Jade, vol. 6, Ming Dynasty, Beijing, 2011, pl. 285; and a plaque in the form of a boy and cat, sold at Christie's Hong Kong, 30th November 2011, lot 3195. For related figures of boys playing with small animals, see one carved with a deer, sold in our New York rooms, 18th September 2007, lot 185; one with a goose, sold in these rooms, 8th October 2008, lot 2304; and another with a dog, from the collection of Gerald Godfrey, sold at Christie's Hong Kong, 20th October 1995, lot 883