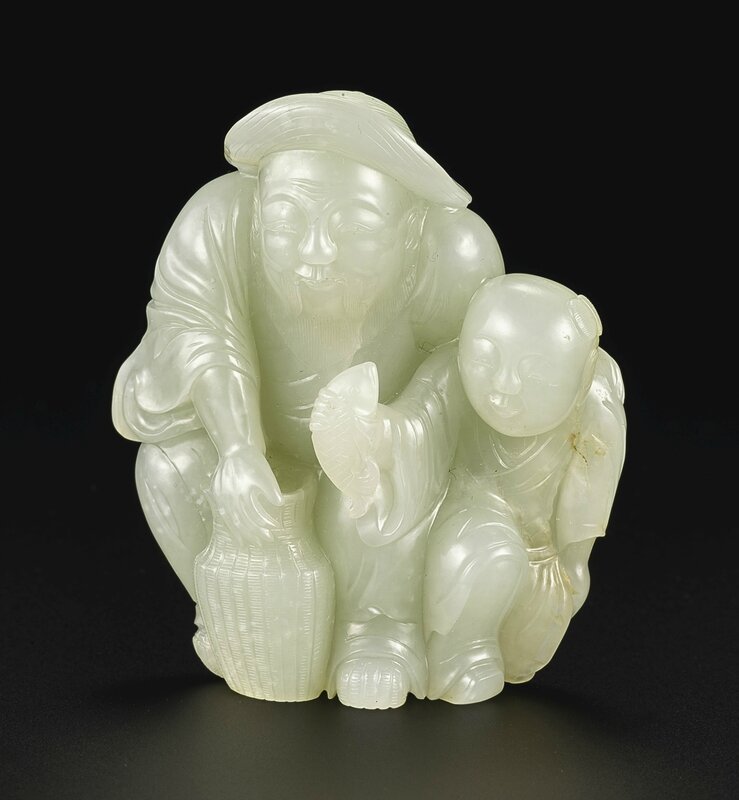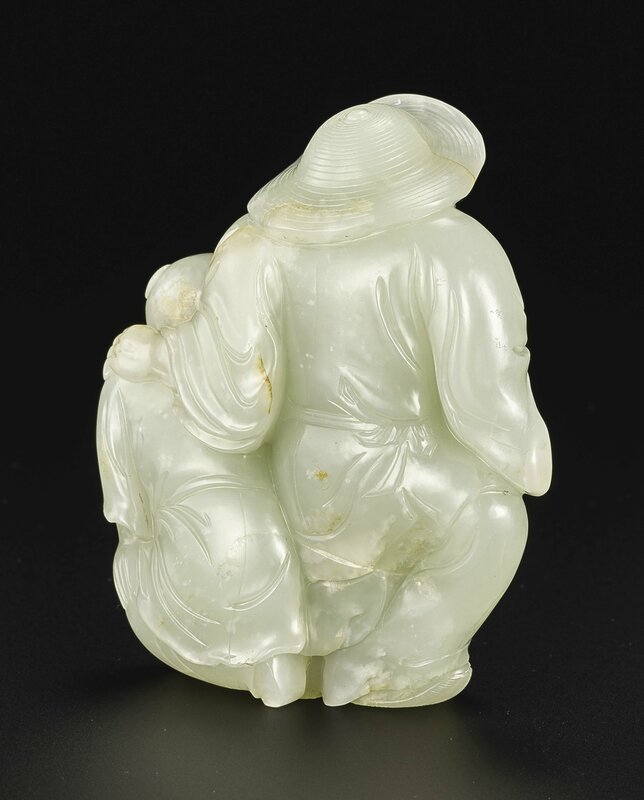 Lot 134. A superb white jade 'Fisherman and Boy' group, Qing dynasty, Qianlong period (1736-1795). Estimate 200,000 — 300,000 HKD. Photo: Sotheby's.
the joyful scene lively rendered, depicting a crouching fisherman resting hand on a basket, his left hand holding the shoulders of a young boy grasping a fish by his side, the elderly gentleman's face detailed with fine features set in a merry expression, framed by a straw hat and a finely incised beard - 8.5 cm, 3 3/8 in.
Notes: This fine quality stone, seen in the clarity and evenness of tone, has been skilfully worked to portray a charming scene of a fisherman and boy. The carver has expertly captured the contrasting textures of the soft folding robes, the slippery fish, the rough basket and gentle facial features of the figures. Fishermen represent one of the Four Basic Occupations, and have long been associated in Chinese folklore with the scholarly ideals of isolation and a simple life. The most famous scholar in Chinese mythology, Jiang Ziya (ca. 11th century BC), a military adviser to King Wen and King Wu of Zhou, became a fisherman during his exile. Moreover, depictions of fisherman (yuweng) and carps (liyu) are homophonous with yuwen deli, a pun on the phrase 'the fisherman received profit'.
A carving of a fisherman and boy in the Fitzwilliam Museum, Cambridge, is illustrated in James C.S. Lin, The Immortal Stone. Chinese Jades from the Neolithic Period to the Twentieth Century, London, 2009, p. 124 (top left); another was sold in our London rooms, 28th October 1959, lot 154; and a third was sold in our New York rooms, 23rd September 1976, lot 143. See also a carving of a single fisherman, in the Tianjin Museum, Tianjin, illustrated in Jade Wares Collected by Tianjin Museum, Beijing, 2012, pl. 202; another included in the exhibition Exquisite Jade Carving: Figures, Animals, Ornaments, University Museum and Art Gallery, University of Hong Kong, Hong Kong, 1996, cat. no. 40; and three sold in our London rooms, the first, 11th November 1990, lot 64, the second, 9th November 2005, lot 587, and the third, 11th May 2016, lot 154.