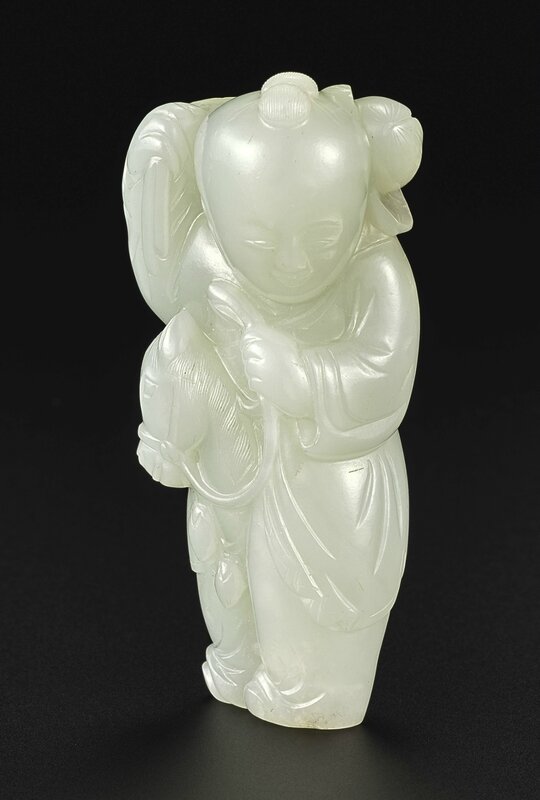 Lot 158. A superb pale celadon jade 'Boy and Hobby Horse' group, Qing dynasty, 18th century. Estimate 100,000 — 150,000 HKD. Photo: Sotheby's.
depicted as a striding boy holding the reins of the hobby horse with one hand, the other holding a long leafy lotus stem, the softly polished stone of an even colour with some opaque inclusions - 8.3 cm, 3 1/4 in.
Exhibited: Auspicious Emblems. Chinese Cultural Treasures - 45th Anniversary Exhibition of the Min Chiu Society, Hong Kong Museum of Art, Hong Kong, 2005, cat. no. 75.
Notes: Exquisitely modelled in the round to depict a boy astride a hobby horse, the reins of which he lovingly clutches whilst slinging stems of lotus over his shoulder, this carving captures the playful ease and charm of the subject. Compare a similarly finely-carved figure, but holding a rattle instead of a lotus stem, in the Museum of East Asian Art, Bath, coll. no. BATEA 1218; another, a hobby horse attached to a wheel and the boy clutching a sprig of lingzhi in his hand, sold in these rooms, 8th April 2014, lot 3172; and a figure of a boy holding a lantern on a pole, from the collection of Florence and Herbert Irving and now in the Metropolitan Museum, New York, acc. no. 2015.500.5.14.

Images of boys playing with a hobby horse comprise part of the popular 'boys at play' and 'Hundred Boys' subjects that emerged from the Song dynasty. This theme is symbolic of the Confucian ideal for the education and advancement of many sons, a wish further emphasised by the lotus he carries which represents 'May you continuously give birth to distinguished sons'. As the boy is depicted riding a hobby horse, this conveys the wish for it to come immediately or soon (mashang) which is a pun for 'to be on top of a horse'.