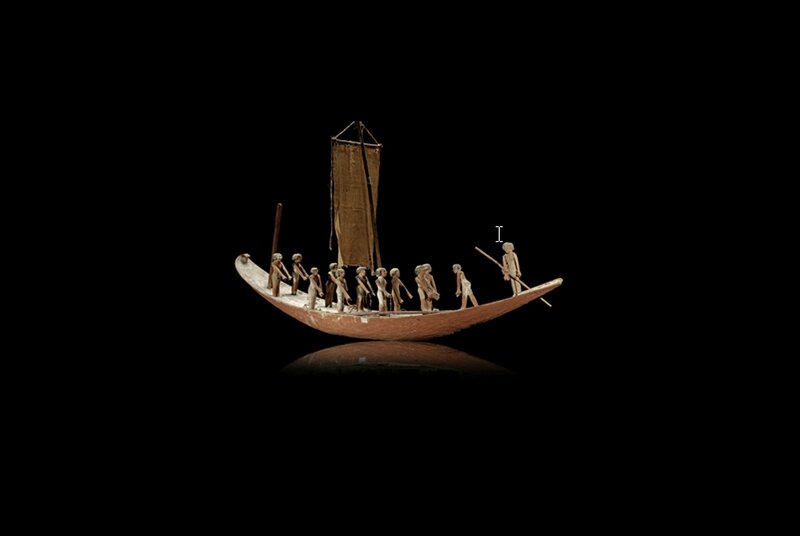 Lot 169. A large Egyptian gesso-painted wood model boat, Middle Kingdom, circa 2133-1797 B.C.. Sold for £161,000 (€188,856). Photo: Bonhams.
LONDON.- A large wooden model boat from the Egyptian Middle Period 2123-1797 B.C, sold for £161,000 at Bonhams Antiquities Sale in London today. The boat had been estimated at £30,000-50,000.
In total the sale made more than £1,310,000.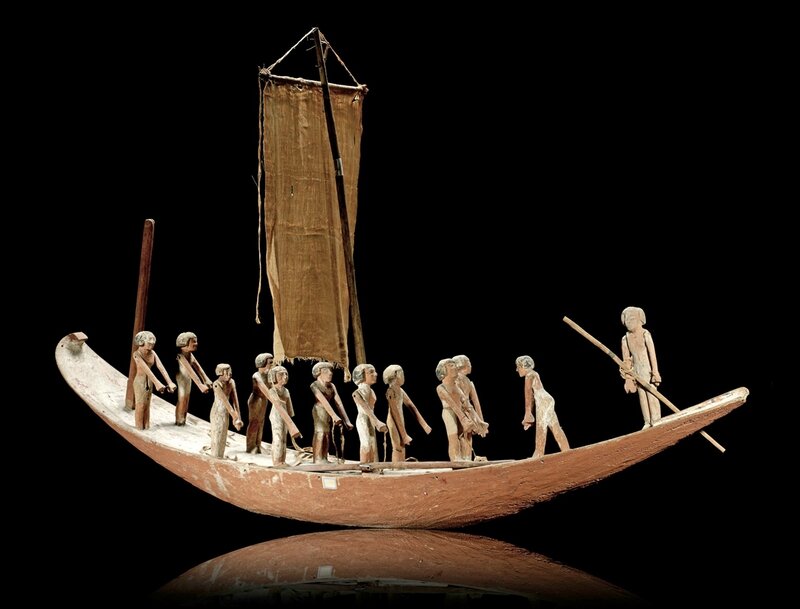 Lot 169. A large Egyptian gesso-painted wood model boat, Middle Kingdom, circa 2133-1797 B.C.. Sold for £161,000 (€188,856). Photo: Bonhams.
The sailing boat manned by ten sailors arranged in two parallel rows, with a further crew member facing forward and helmsman in the curved stern with a rudder, with a linen sail, the hull painted red, 130cm long
Provenance: Scottish private collection, acquired by Esmond Sinauer (d. 1946) in Egypt, possibly Luxor, in the early 20th century, thence by descent.

Esmond Sinauer, born in Australia, moved to London in the early 1900s to attend St. Paul's School, where he became head boy. He then trained as an army officer at the Woolwich Armament School where he passed out as the top cadet and became a career army officer in the Royal Engineers. After winning the MC, he ended his career as the colonel of the regiment and died at the age of sixty-four just before he was due to retire in October 1946.

As a young major in the regiment he was sent to Egypt and Sudan in the early part of the twentieth century. It was during this period that he acquired the boat, said to be from an excavation in Luxor. At the same time he also acquired other Egyptian antiquities, including a bronze Osiris that he mounted on his Rolls Royce car in place of the 'Spirit of Ecstasy'. The car's number plate BL 1059 was inscribed on the base of the Osiris.
Literature: Boats were an integral part of Egyptian everyday life and mythology and as such they were considered necessary in the afterlife. Usually two model boats were provided for each tomb, one showing the crew sailing South with the prevailing wind and the other with the crew rowing North. Both papyrus and wooden boats were recreated as models, representing the variety of Egyptian boats. For examples of model boats, cf. S. D'Auria, P. Lacovara, and C.H. Roehrig, Mummies and Magic: the Funerary Arts of Ancient Egypt, 1993, p. 114-115.
Other highlights included: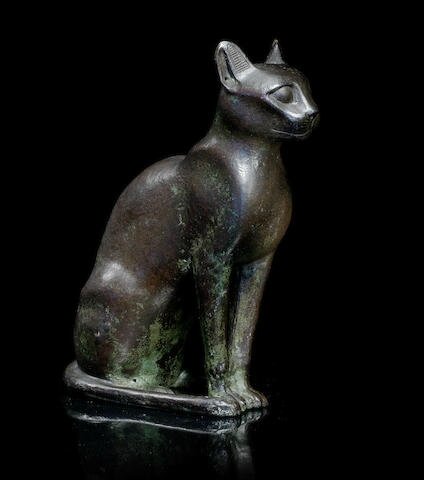 Lot 182. A late Egyptian Bronze Cat, Late Period, circa 664-30 B.C.. Estimate £20,000-30,000. Sold for £137,000 (€160,703). Photo: Bonhams.
Hollow cast, shown seated upright with forepaws together, its tail curling around the proper right side, the head with large pierced ears with incised linear fur detail, depicted with large convex eyes, with recessed nostrils and incised whiskers, 20cm high
Provenance: Raymond William Richardson Collection, London, UK, acquired in the 1950s, thence by descent.
Raymond Richardson of R. W. Richardson Antiques, London, was a well-established Antiquities dealer in the 1950s-1960s, with a gallery in St. Christopher's Place, near Selfridges.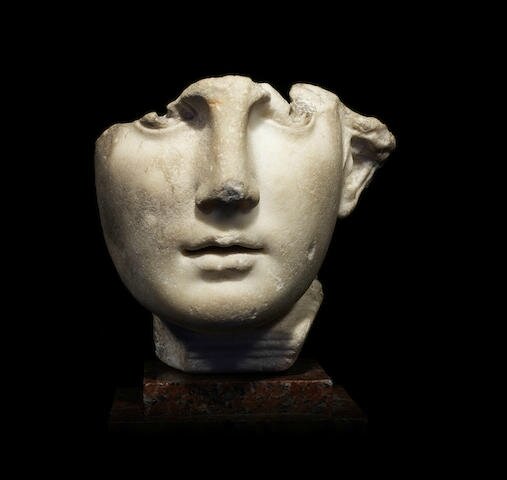 Lot 67. A Roman marble mask of a woman, Circa 1st Century A.D. Estimate £20,000-30,000. Sold for £102,500 (€120,234). Photo: Bonhams.
Possibly Ariadne or a Maenad, the face finely-carved with a straight nose, the lips open and the eyes drilled through, the left ear preserved with tendrils of hair over the top of the ear and at the cheek, the chin resting on an integral stepped angular plinth, the face hollowed out at the back, 18cm high
Provenance: Property from the collection of Eugene Chesrow, Chicago, 1970s-90s.
With Thomas Howard-Sneyd, London, 30 October 1986. Accompanied by a copy of the invoice..
Literature: Similar theatre masks on short plinths can be seen on oscilla, for example one in Rome in the Musei Capitolini, Centrale Montemartini, Inv. no. 2129. There is also a head of a goddess in Turin carved in mask-form with an open mouth and hollowed out at the back: http://arachne.uni-koeln.de/item/objekt/52859.

The closest stylistic parallels appear to be masks from the theatrical frieze from the Propylon of the Sebasteion, Aphrodisias. See. J. Jory, 'The Masks on the Propylon of the Sebasteion at Aphrodisias,' in P. Easterling and E. Hall, Greek and Roman Actors. Aspects of an Ancient Profession, Cambridge, 2002, pp.238–253.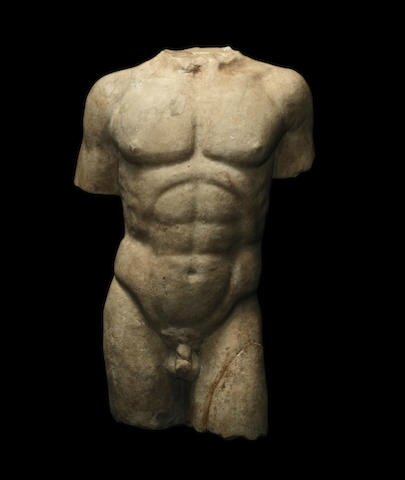 Lot 68. A Roman marble torso of a man, Circa 1st-2nd Century A.D. Estimate £30,000-50,000. Sold for £102,500 (€120,234). Photo: Bonhams.
The athletic figure depicted nude resting in contrapposto with his weight on his left leg, the musculature well defined with modelled pectorals and abdomen, 59cm high
Provenance: Dutch private collection, acquired in the 1960s-70s, thence by descent.
Literature: The stance and build of the torso is reminiscent of the stocky athletic sculptures of the late 5th Century Greek artist, Polykleitos. The highly stylised musculature of this torso is however unusual and indicates that it may depict a young Herakles. For further discussion of the types, see W.G. Moon, Polykleitos, the Doryphoros, and Tradition, Wisconsin, 1995.

There is a similar example of the Doryphoros in Rome in the Musei Vaticani, Galleria Chiaramonti, Inv. no. 1773: D. Kreikenbom, Bildwerke nach Polyklet, Berlin, 1990, 166, no. III, pl. 138; Also Musei Vaticani, Museo Gregoriano Profano. Inv. no. 38555: cf. Vorster, Römische Skulpturen des späten Hellenismus und der Kaiserzeit, MAR XXII, 1993, p.38 ff., no. 10.
Bonhams Senior Specialist in Antiquities, Siobhan Quin, said," The wooden boat was an exceptionally fine work of particularly impressive dimensions which attracted a lot pre-sale interest, reflected in keen bidding in the sale room on the phones and on the internet. In a strong sale, a first-century bronze Egyptian cat also stood out, but many other pieces also exceeded their estimates."