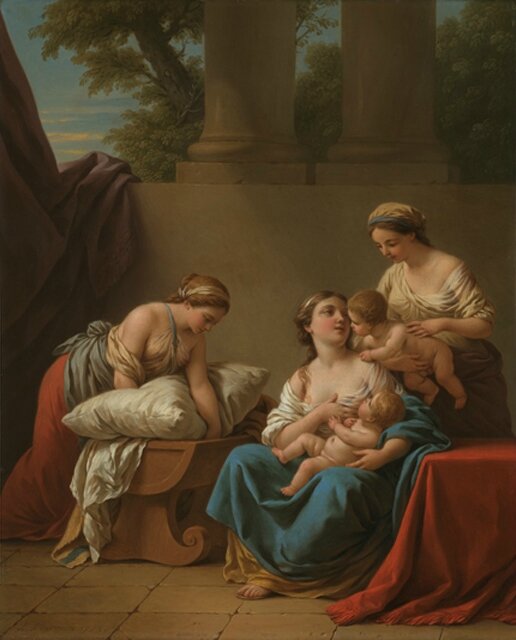 Louis Jean François Lagrenée, 'Maternal Affection', 1773. Oil on copper, 43.5 x 34.5 cm. A gift from the estate of Brian Sewell, 2016. © The National Gallery, London.
LONDON.- "As a child, there was not a major museum or art gallery in London I didn't know, and the National Gallery was my favourite." (Brian Sewell interviewed in 'The Daily Telegraph', June 2012)
The legendary 'Evening Standard' art critic would often talk about the weekly visits he made to the National Gallery as a child imbuing him with his love of art, indeed he once quipped "I'm leaving my body to science, and if there's anything left, they can burn it, mix the ashes with bird food and scatter them on the steps of the National Gallery." ('Mail on Sunday', April 2014)

Therefore it is fitting that a much-loved work from his private art collection will today (Thursday 17 November 2016) go on display in the National Gallery, presented as a gift to the Gallery following his death in September 2015.

Maternal Affection is a small (43.5 x 34.5 cm) oil on copper work from 1773 by the French artist Louis-Jean-François Lagrenée. It can be viewed in Room 33 from this morning, alongside works by fellow French painters such as Fragonard, Vernet, and Watteau.

The subject of 'Maternal Affection' cannot be precisely identified. It takes place in a loggia and shows a woman nursing a child, with another infant held towards her by one of her female companions. Another woman is placing (or removing) bedding in the form of a pillow in or from a wooden crib. In this picture of quiet contentment Lagrenée has sought balance – balance in the colours of the costumes both of, and between, the individual figures, and balance in composition. 'Maternal Affection' is highly typical of the small-scale paintings that the artist made for private collectors.

There are currently 11 paintings by Lagrenée in Great Britain: seven at Stourhead (National Trust) and four at the Bowes Museum, Barnard Castle - therefore 'Maternal Affection' is the only one by the artist on public display in a national collection.

Eighteenth-century French paintings are sparsely represented in Trafalgar Square, and this generous gift helps to extend our collection in this area. 'Maternal Affection' also adds to our understanding of the reception of 17th-century Bolognese painting in 18th-century Europe - Lagrenée's style was greatly influenced by his admiration of the great Bolognese painters of the previous century, in particular the work of Guido Reni.

Christopher Riopelle, National Gallery Curator of Post-1800 Paintings said: "The painting is a beautifully preserved oil on copper of exquisite refinement which allows the National Gallery for the first time to show the work of an artist who was hugely admired by the most discriminating connoisseurs and collectors of contemporary French art, both French and foreign, in the final decades of the 18th century."

National Gallery Director, Dr Gabriele Finaldi said: "Brian Sewell had a profound love for the National Gallery as well as a connoisseur's passion for lesser known masters, so it is especially pleasing that Lagrenée's beautiful and refined 'Maternal Affection' which he owned has come to the Gallery as a gift from his estate."

'Maternal Affection' can now be seen in Room 33 of the National Gallery hanging alongside other French 18th-century paintings by artists such as Boucher, Vigée Le Brun, Boilly, Nattier, Detroy, and Vernet.