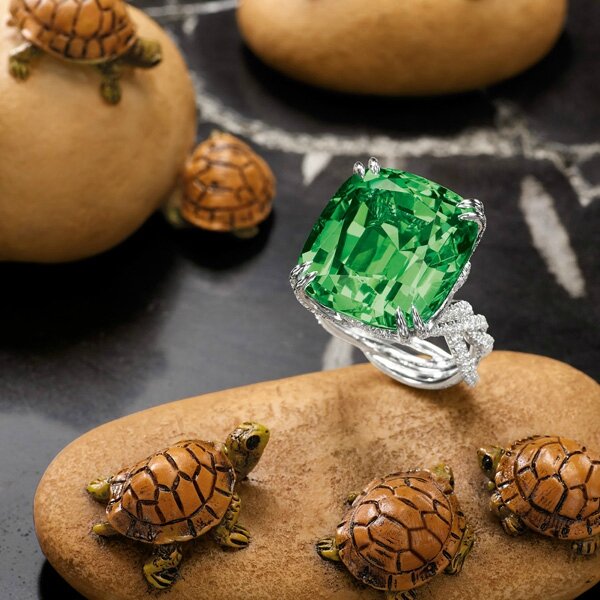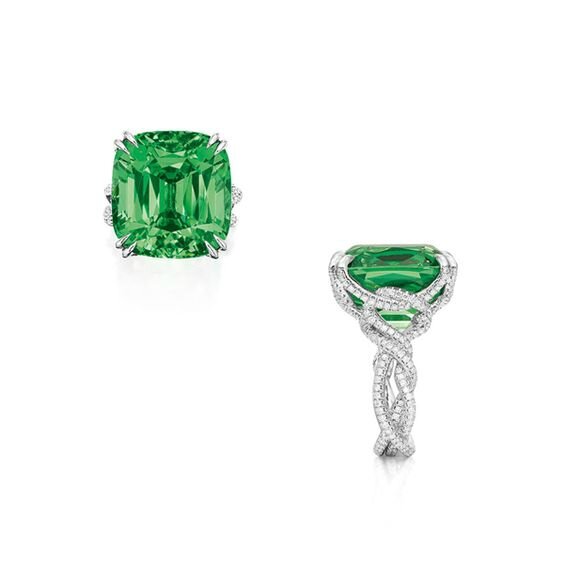 Lot 109. 36.15 carats Tsavorite Garnet and Diamond Ring, David Yurman. Estimate: HK$3,000,000 - 4,000,000 (US$385,000 - 513,000). Sold for HK$3,360,000. Photo Tiancheng International.
The ring centring on a cushion-shaped tsavorite garnet weighing 36.15 carats, to a swirl mount decorated with brilliant-cut diamonds together weighing approximately 1.15 carats, mounted in platinum, signed. Ring size: 6
Accompanied by GIA report numbered 6122496487, dated 30 August 2011, stating that the 36.15 carat grossular garnet is Green colour;
Note: Tsavorite garnet was first discovered by British geologist Campbell R. Bridges in the mountains of Lemsuko in north-east Tanzania in 1967. However, it was not until 1974 when Tiffany & Co. launched a campaign that the general public started to be acquainted with this newly found gemstone of brilliant, vibrant green colour.
Tsavorite is a specific variety of the garnet group species grossular. Its colour ranges from spring-like light green, intense blue-green to deep forest green. Like all other varieties of garnet, tsavorite is simply a piece of pure, unadulterated nature. Therefore, it usually does not need to be treated with heat or oil. Its hardness of 7.5 on the Mohs scale, making the stone robust and less prone to shattering from daily wear, is also another reason of it to remain the popularity through decades.
A tsavorite garnet over 5 carats is very rare. Being offered in this auction includes this 36.15-carat tsavorite garnet ring intricately designed by the famous American brand, David Yurman, commissioned by a private collector. Of the brand's signature look of the twisted cable design, the ring is full of the roots of artistry.
Tiancheng International. AUTUMN AUCTION 2016, JEWELLERY AND JADEITE